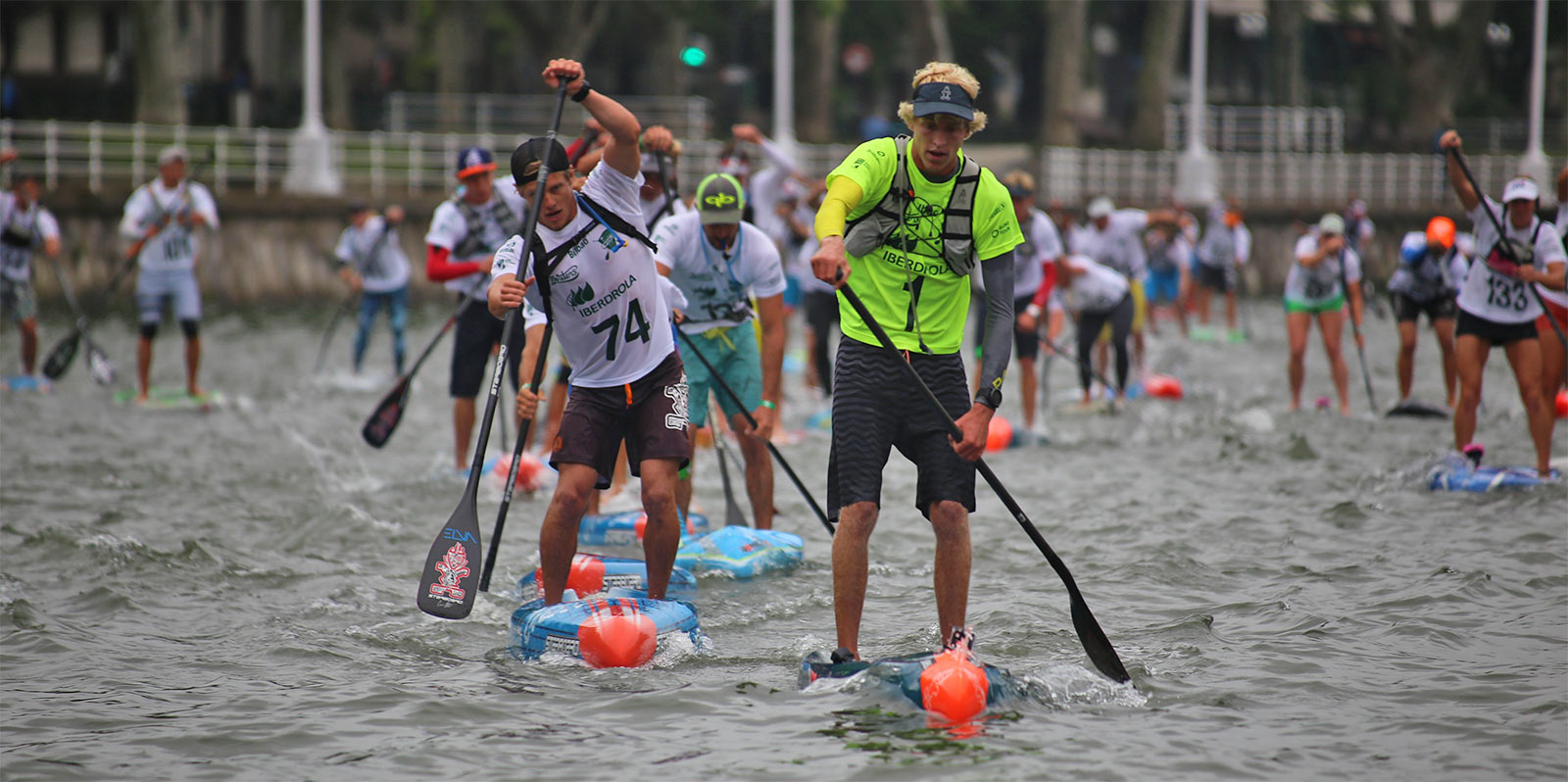 December 30, 2016
by Christopher Parker (@wheresbossman)
The 'Top 16 of 2016' — The Best Paddlers in the World This Year
What a year it's been for our sport, with great performances by incredible athletes at big events all around the world making for an exciting season of racing.
The theme this season was change. In 2016 we saw several new contenders challenge the established world order. Podiums were shaken up, fresh champions were crowned and new rivalries were born. Whereas just a few years ago there were only three or four guys that could realistically win a big race, now just finishing in the top 20 at a major event is a major achievement.
Fresh blood is reinvigorating our sport and making it more exciting than ever.
But who was the best? Who dominated all season long? Who were the standout stand up athletes this year?
The 'Top 11 of 2011' was the first post I ever published on SUP Racer, just a little over five years ago this week, and every 12 months since I've tried to rank the best paddlers in the world based on their results at the biggest races. It's never an easy task, and no doubt you'll disagree with a few of my selections along the way, but I think it's an interesting and entertaining way to analyse our sport.
Fortunately the SUP Racer World Rankings have made my job a lot easier in the past couple of years, lending a statistically-accurate ingredient to what was previously a pseudo-scientific endeavour. As you'll see, the rankings have had a big influence on the Top 16, however a few spots have changed based on my gut feeling.
Today we're looking at the 16 guys, while tomorrow I'll reveal the top 16 women. (UPDATE: We've just revealed Top 16 Women of 2016)
So, without further ado, here are the top 16 paddlers of 2016…
---
#16: Bernd Roediger
Team: Naish
Nation: Hawaii
World Ranking: 16th (92.71)
2nd @ Gorge Paddle Challenge – Double Downwinder
4th @ Maui World Seriess
8th @ OluKai
How much of a weighting can you put on one single race? Bernd's massive effort at the Gorge Paddle Challenge 'Double Downwinder' was surely a contender for performance of the year. He didn't win, but he got so close to upsetting Connor Baxter and was so far ahead of the most-competitive field ever assembled outside Dana Point that his runner-up finish became the real story of the event.
The youngster left several of the biggest names in SUP in his wake as he zig-zagged across the Columbia River Gorge, linking together seemingly-endless bumps to finish just 30 seconds behind Connor after a combined two hours of racing. For some more startling context, Bernd finished with a three minute advantage over renowned downwind masters Travis Grant and Titouan Puyo.
This kid can ride bumps in all conditions as well: In addition to his heroics at the Gorge, Bernd snagged a top 10 finish at OluKai back in May, crossing the line just a second behind Kai Lenny. He finished top four on that same Maliko downwind run at the Maui World Series.
Highlighting just how much of a specialty skill downwind paddling is (and how rapidly the young guys are improving), Bernd's Gorge performance was perfectly mirrored earlier this month at the King of the Cut by another unheralded youngster in 15-year-old Clément Colmas, who would surely win "Junior Performance of the Year" if such a category existed.
https://www.instagram.com/p/BJbx1-TBIYS/
---
#15: Matt Nottage
Team: Starboard
Nation: Australia
World Ranking: 14th (97.65)
3rd @ King of the Cut
3rd @ Maui2Molokai
4th @ The Doctor
4th @ The Japan Cup – distance
7th @ Molokai-2-Oahu
7th @ Gorge Paddle Challenge – Double Downwinder
10th @ Carolina Cup
Matty relinquished his West Oz Downwind Week title to the Frenchies this year, however the under-rated Australian still showed he's on the top-tier of ocean racing by picking up very strong results in Hawaii at OluKai and Maui2Molokai. Nottage also proved he's not a one trick pony, scoring a top 10 finish at the long and flat Carolina Cup.
Don't let his humble, laid-back nature fool you, Matt Nottage is an absolute gun competitor in downwind conditions. Thanks to his outrigger background, this young guy can read ocean swells and bumps better than just about anyone.
He didn't get the result he was looking for at Molokai, though I'll be surprised if he's not on the podium there next year. Same story at the Gorge.
Matty's season will also be remembered for picking up 'Breakthrough Performance of the Year' at the 2016 SUP Awards (for his heroics in West Oz last December), though in true Aussie fashion he was so jet-lagged that he slept through the awards ceremony.
https://www.instagram.com/p/BNtmc6sBY6Q/
---
#14: Toby Cracknell
Team: Infinity
Nation: Australia
World Ranking: 15th (93.75)
1st @ Noosa Festival of Surfing – beach race
2nd @ Jamie Mitchell Survivor Race
4th @ The Japan Cup – beach race
5th @ Molokai-2-Oahu
Toby had a bit of a mixed bag this season, with his raw talent and dedication shining through in some events but going missing in others.
There was a frustratingly-early exit at the Pacific Paddle Games where big things were on the cards (I tipped him to finish top three), but there was also an awesome runner-up performance at Jamie Mitchell's highly competitive Survivor Race in Huntington. Tobes was actually in a position to win that event only to be overrun by Mo Freitas in the final round.
The laid-back larrikin won a great duel with Boothy at the beach race in Noosa, however Toby's most impressive result was probably his fighting fifth at the most prestigious race of the year: Molokai. Just finishing Molokai is an achievement, but if you crack the top five (in the most competitive edition yet, no less), you've certainly got some heart.
If he can keep his mullet under control, look for Toby to be on several more podiums in season 2017.
https://www.instagram.com/p/BIUO3jojweY/
---
#13: Bruno Hasulyo
Team: Starboard
Nation: Hungary
World Ranking: 17th (87.24)
1st @ 11 City Tour
1st @ Paris Crossing
1st @ Thailand SUP Festival
7th @ EuroTour – overall standings
As part of the 'new wave' of SUP athletes that are shaking up the established world order (and rankings), Bruno Hasulyo and his brother Daniel certainly turned a few heads this season.
After showing ominous signs in 2015, this year the Hungarian brothers stepped up to the next level, with Bruno usually leading the way. While the SUPBroz aren't yet able to match the top guys in downwinders and tight, technical sprint races, in the long, flat, grueling events they're often the ones setting the pace.
This pace-setting was evident at the world's largest SUP Race, the Paris Crossing, when Bruno took off like a rocket, broke the field almost immediately and never looked back.
Though clearly the finest achievement of the year was the 1-2 finish at the classic 11 City Tour, the five day, 220km stage race in the Netherlands that is arguably the toughest challenge in the sport of stand up paddling. After their demolition job on the opening stage, where they put almost 10 minutes into defending champ Steeve Teihotaata and the other contenders, Bruno and Daniel proceeded to control the entire week, winning all five stages and cementing their reputations as flat water powerhouses.
Nobody in the sport trains harder than these guys, so I'm sure both Bruno and his older brother Daniel will keep climbing the ranks in season 2017. I also have no doubt they've got their eyes firmly fixed on winning the 11 Cities once again.
https://www.instagram.com/p/BOPusrXDQP5/
---
#12: Leo Nika
Team: Starboard
Nation: Italy
World Ranking: 13th (102.90)
1st @ EuroTour Greece
1st @ EuroTour Portugal
1st @ EuroTour Finland
1st @ EuroTour Italy (Noli)
1st @ EuroTour Italy (Adriatic Crown)
2nd @ Gorge Paddle Challenge – Super Lap
4th @ EuroTour – overall standings
4th @ EuroSUP Championship – beach race
5th @ SUP World Cup – distance
Leo Nika won more races than just about anyone this year, saluting five times on the EuroTour to become the winningest paddler of the summer. He was marginally behind Boothy, Connor and Titou in the bigger Euro events, but his sheer dominance in the regionals proved that Leo is up there as a leading athlete in Europe alongside Titou, Arthur and Casper.
But despite his heroics at home, the biggest result of Leo's season was surely the runner-up effort at the Gorge Paddle Challenge 'Super Lap' race, where he finished just half a board length behind Connor Baxter and ahead of one of the most competitive fields we've ever seen.
Proving he can match it with the best in all conditions, Leo also looked very sharp in the opening rounds of the Jamie Mitchell Survivor Race before succumbing to the cut-throat elimination format and missing the final.
It's also been interesting to watch Leo's compatriots following in his footsteps: There's at least half a dozen more Italian guns that have been hitting the podiums across Europe the past couple of seasons, with plenty more prospects on the rise. France was long the lone superpower in Europe but now Italy is starting to nip at their heels.
https://www.instagram.com/p/BIAcGzKgYL-/
---
#11: James Casey
Team: JP Australia
Nation: Australia
World Ranking: 11th (117.63)
1st @ Saucy Jack Classic
1st @ Paddle Imua
1st @ Da Hui Race
4th @ Molokai
5th @ OluKai
8th @ Pacific Paddle Games
James Casey, or Jimmy as he's known, is a hard one to rank this year (in fact all the guys from 8th-12th were particularly hard to separate, as they've all had some big results but also a few misses; you could throw a blanket over them). He showed incredible strength in a few races, including a runaway win at one of Australia's most competitive events, the Saucy Jack Classic, but failed to get the results he was probably expecting on a few other occasions, such as at the ISA Worlds where he missed the top 10 entirely.
Jimmy is clearly at home in the ocean racing events though, with a couple of wins in the smaller Hawaiian downwind events leading up to an extremely impressive 4th place at the holy grail: Molokai.
After a see-sawing battle between the half a dozen guys that were fighting to fill the top five, Jimmy stormed home to claim a big result at the most prestigious race in the world of paddling (a performance he sums up in the insta-caption below).
The other big result was his top five finish at OluKai — Jimmy must have some Hawaiian blood in him. He's committed to a big season in 2017, so look for this guy to cement a spot in the top 10 next year.
https://www.instagram.com/p/BIjPpmQAowD/
---
#10: Arthur Arutkin
Team: Fanatic
Nation: France
World Ranking: 10th (124.19)
1st @ French National Titles – beach race
1st @ Oxbow SUP Challenge
2nd @ French Titles – distance
2nd @ French Downwind Titles
2nd @ EuroSUP Championship – beach race
2nd @ EuroSUP Championship – distance
3rd @ ISA Worlds – distance
3rd @ SUP World Cup
5th @ Pacific Paddle Games
5th @ Victoria Cup
Arthur had a bit of an up and down season, claiming a string of podium finishes but also hitting the wall in a couple of big races.
His supreme talents were on display most often at home in France, where he had a season-long battle with good friend Titouan Puyo. The duo finished 1-2 at the French National Titles, the French Downwind Titles and the EuroSUP Championship in Lacanau, before heading abroad and claiming a swag of medals for their country at the Worlds in Fiji.
A strong result at the Pacific Paddle Games, where he finished top five, highlighted the fact that Arthur thoroughly deserves a place on the top-tier of the sport.
With a new Red Bull hat sitting proudly on his head, look for Arthur to carry a lot of motivation into season 2017.
https://www.instagram.com/p/BMMeDgeh_F7/
---
#9: Danny Ching
Team: 404
Nation: USA
World Ranking: 8th (129.38)
1st @ Santa Monica Pier Paddle
3rd @ Carolina Cup
4th @ Jamie Mitchell Survivor Race
6th @ Pacific Paddle Games
Danny Ching would probably prefer not to be on this list at all rather than sit at #9, seeing how season 2016 was virtually a year off for the former undisputed king of SUP racing. With the birth of his first child and 404 business responsibilities (not to mention his first love: outrigger) taking up a lot of his time, Danny really only competed at four big races in 2016.
He won the overall title at Santa Monica, was looking good for the win in Carolina before Titou and Travis paddled away in the final kilometre, and he kept pace with the young guns at Jamie Mitchell's Survivor Race in Huntington. The Pacific Paddle Games wasn't exactly his best result at Dana Point (Danny was the king of the old Battle of the Paddle), but he showed enough form this year to prove he's still one of the strongest, fittest and fastest paddlers on his day.
If there's fire in the belly next season, Danny could still win any race he enters.
https://www.instagram.com/p/BLG6w4kjajG/
---
#8: Georges Cronsteadt
Team: SIC
Nation: Tahiti
World Ranking: 9th (125.43)
3rd @ ISA Worlds – distance
4th @ Pacific Paddle Games
6th @ Carolina Cup
6th @ Lost Mills
8th @ Gorge Paddle Challenge
Just like the four guys directly above him, Georges was a really tough one to rank this year. The raging bull from Tahiti had some vintage performances but also a few surprising podium misses. He wound back the clock at Doheny, going toe-to-toe with Connor Baxter all the way to the line in the Pacific Paddle Games distance race. It was a similar story in Fiji, with Georges claiming a bronze for his nation in the long, hot grind from Cloudbreak to Musket Cove.
Georges was a little off the pace at the Gorge, an event that favours his style of paddling, but he definitely showed enough strength and got enough good results to earn a top 10 spot on this list.
Despite a new wave of Tahitian outrigger-turned-SUP-athletes trying to claim his crown (Steeve Teihotaata, Rete Ebb and Niuhiti Buillard to name just a few), Georges Cronsteadt remains the king of the island for another season at least.
---
#7: Casper Steinfath
Team: Naish / Quickblade
Nation: Denmark
World Ranking: 7th (142.93)
1st @ ISA Worlds – surf race
1st @ SUP World Cup – sprints
1st @ Victoria Cup – sprints
1st @ Maui World Series – sprints
2nd @ World Series – overall standings
3rd @ EuroSUP Championship – beach race
3rd @ EuroSUP Championship – distance
If there was a separate list for the 'Top 16 Sprint Paddlers of 2016', Casper Steinfath would certainly be #1. The Danish Viking was literally unbeatable in sprints, taking race wins in Japan, Germany and on Maui to prove there's nobody quicker off the line.
However the biggest result was no doubt his win at the ISA Worlds in Fiji, where he proudly brought home the gold for his nation after outlasting a strong field in the surf race at Cloudbreak. It was Casper's third ISA title, and he'll be super hungry for a fourth at home in Denmark when the ISA Worlds heads to Europe for the first time in September 2017.
Casper had a weekend to forget at the PPGs and was a little bit off the pace in some of the longer races, which pushes him down to #7 on the Top 16, but with the sport becoming more and more specialised each season, and with Casper becoming something of a 'white lightning' in the short course events, he's clearly going to be a top 10 athlete for several years to come.
His string of victories were even more impressive considering Casper racked up almost 150,000 flight miles this year, including a whirlwind trip to Brazil during the Olympic Games where he met with Denmark's Crown Prince to unveil the nation's winning bid for the 2017 Worlds.
Casper is not only one of the best athletes on the water, he's also one of the best off the water. The well-spoken Viking is one of the finest ambassadors our sport has and will surely be a future leader in one form or another.
https://www.instagram.com/p/BM3KFR-AByF/
---
#6: Travis Grant
Team: NSP / Quickblade
Nation: Australia
World Ranking: 3rd (192.29)
2nd @ Molokai-2-Oahu
2nd @ Carolina Cup
2nd @ Maui2Molokai
3rd @ Pacific Paddle Games – overall
4th @ Pacific Paddle Games – distance
4th @ OluKai
5th @ Jamie Mitchell Survivor Race
5th @ Gorge Paddle Challenge – Double Downwinder
6th @ Gorge Paddle Challenge – Super Lap
6th @ Pacific Paddle Games – beach race
Travis Grant was probably the toughest guy to rank this season. In some ways he was actually the best paddler in the world this year, showing remarkable consistency to finish no worse than 6th at every single event he entered, including a string of major podiums. Not even Connor Baxter can claim that distinction.
But while he was the most consistent athlete of the season, Trav didn't actually win a single race — probably his first winless season since he began racing stand up six years ago.
There was the epic duel with Kai Lenny at Molokai, a great battle with his team mate Titou at Carolina, and an almost under the radar top three finish at the Pacific Paddle Games, among many other fine performances, however there were no victories.
So while Trav's world ranking is justifiably #3, I've put him a bit lower on the Top 16. It feels harsh to rate him outside the top five, but this list gives more weighting to major event victories than the more evenly-spread world rankings algorithm, and the next five guys all had big event wins.
Either way, one thing's for sure: Trav is a champion both on and off the water, and is probably the most respected athlete in the racing community. He's also one of the most humble and laidback — I couldn't even find a shot of him racing a SUP on his sparsely-updated Instagram, so instead I chose this photo with his beloved OC-1.
This image is actually quite symbolic of a race Trav did win this year. His victory at the uber-prestigious Molokai Solo outrigger race in May gave him the truly extraordinary and unique distinction of holding both the SUP and OC-1 Molokai titles at the same time. It's never been done before, and there's a good chance that feat will never be repeated, proving the Aussie-turned-Oahu-local is one of the best all-round paddlers on the planet no matter where his name sits on lists and leaderboards.
https://www.instagram.com/p/BDMbuilObMl/
---
#5: Mo Freitas
Team: Focus / Quickblade
Nation: Hawaii
World Ranking: 6th (162.70)
1st @ Jamie Mitchell Survivor Race
1st @ Japan Cup – beach race
2nd @ OluKai
3rd @ Pacific Paddle Games – beach race
3rd @ Gorge Paddle Challenge – Double Downwinder
3rd @ Gorge Paddle Challenge – Super Lap
Mo has enjoyed a stellar year, finishing on the podium at some of the biggest races in the sport and showing he can compete in virtually any race conditions or format.
His biggest result was victory at one of the season's real standout events: Jamie Mitchell's Survivor Race at Huntington. In a cut-throat format that lived up to its name, the JM Survivor was not only a crowd-pleaser but also a huge test of strength, skill and endurance for the athletes. And nobody survived better than Mo, with the young gun outlasting almost all the big names in the sport to claim a well deserved title.
Though just as impressive as his win in Huntington were his podium finishes in the two biggest downwind races of the year: OluKai and the Gorge.
His runner-up finish behind Connor Baxter back in May was as good as a victory (Connor is literally unbeatable in that race; OluKai is basically a race for second), while his third place at Hood River was perhaps even more impressive considering just how deep the field was at the Gorge this year.
Despite carrying a nagging back injury through much of the season, Mo confirmed he's on the same top tier as his fellow Hawaiian stars Connor Baxter and Kai Lenny. Throw in his surfing talents in waves both big and small, and this young man clearly has a bright future in the ocean.
https://www.instagram.com/p/BJdSf-7gxdC/
---
#4: Kai Lenny
Team: Naish
Nation: Hawaii
World Ranking: 5th (171.55)
1st @ Molokai-2-Oahu
1st @ Maui World Series
1st @ ISA Worlds – team relay (anchor leg)
2nd @ Pacific Paddle Games – beach race
2nd @ ISA Worlds – surf race
2nd @ Red Bull Heavy Water
3rd @ Victoria Cup
It's hard to accurately rank a guy who races as selectively as Kai. Though considering the superstar juggles so many different sports – SUP racing, SUP surfing, big wave surfing, windsurfing, kitesurfing, foilboarding – alongside commitments to his big time sponsors such as Tag Heuer and Red Bull, it's a wonder Kai has any time to train and race at all.
But that's what makes Kai Lenny a champion ocean athlete: He simply loves competing.
Depending on how much emphasis you want to put on an athlete's one standout result, Kai could be even higher on the Top 16. And that one standout result for Kai this year was clearly his victory at Molokai-2-Oahu.
Winning Molokai wasn't just another trophy for Kai, it was a huge personal milestone that he's been chasing ever since he asked organisers to change the rules and let him paddle the channel in a prone relay team as a 12-year-old.
And he won in style, outlasting defending champ Travis Grant and three-time winner Connor Baxter along with a dozen more of the world's best ocean racers, setting a new race record in the process.
When he wasn't busy chasing massive swells or creating viral videos with his pioneering foilboarding antics, Kai also had time to represent Team Hawaii at the Worlds in Fiji, where he took a silver medal in the surf race before putting in one of the craziest performances I've ever seen in the team relay. With Hawaii starting the fourth and final leg in fourth place, almost half a minute behind the Aussies and Kiwis, Kai proceeded to put on a masterclass of strength and efficiency over the next few minutes to reel in and then overtake the leaders. It was probably the most memorable performance of the entire Fiji event.
Now that he's won Molokai, and with the amount of exposure he gets from his big wave surfing and foilboarding, I often wonder if Kai will ever just walk away from SUP racing to focus on more rewarding pursuits. I certainly hope not, because nobody brings our sport more attention than the superstar from Maui. Kai Lenny is the one athlete that could single-handedly elevate the sport of SUP racing to a new level; we might all be thanking Kai for keeping us in a job five or ten years from now.
https://www.instagram.com/p/BInxlcEg-mC/
---
#3: Titouan Puyo
Team: NSP / Quickblade
Nation: France (New Caledonia)
World Ranking: 4th (183.75)
Titou book-ended his prolific season with big wins at the Carolina Cup and a clean sweep of West Oz Downwind Week, cementing his reputation as one of the world's finest paddlers in the process.
It was that victory in Carolina that stood out for Titou this season. Coming into a race that's been thoroughly dominated by Danny Ching and Travis Grant over the past half a decade, and with a supremely-elite field assembled for what is one of the true majors on the international calendar, Titou just calmly went about his business with a minimum of fuss.
With a dozen guys sticking together in a tight draft train for the first 12 out of 13 miles around the infamous 'Graveyard' course at Wrightsville Beach, this year's Carolina Cup was certainly there for the taking. But over that final mile, when the real race began, nobody could go with Titou.
Using his silky smooth technique that makes it look like he's not even trying, the New Caledonian simply paddled away from Travis. And Danny. And Georges. And Connor. And everyone else. Before this year, I'd never seen a performance like it. It was spellbinding.
While he had to take a back seat to the Connor/Boothy rivalry in Europe over the summer, Titou picked up plenty of victories at home in France, before ending the season with a bang and cementing his top three spot on this list during West Oz Downwind Week.
Outside of Hawaii and Oregon, Western Australia is home to the most prestigious downwind race in the world: The King of the Cut. Pretty much every top Aussie paddler is there, while there's always a few internationals that want to test their skills in the swells and bumps off the coast south of Perth.
With some of the best wind conditions you could ever wish for, West Oz is a downwind proving ground, and this year Titou proved that he's one of the absolute masters, claiming not only the King of the Cut title but also The Doctor race, giving him a clean sweep of Downwind Week and finishing the year on a high.
One of the nicest (and funniest) guys you'll ever meet off the water – kind of like a French version of Travis Grant – I hope we see Titou at just as many events in season 2017.
1st @ Carolina Cup
1st @ King of the Cut
1st @ The Doctor
1st @ EuroTour San Sebastian
1st @ French National Titles – distance
1st @ French Downwwind Titles
1st @ EuroSUP Championship – distance
1st @ EuroSUP Championship – beach race
3rd @ Lost Mills
3rd @ EuroTour – overall standings
3rd @ Air France Paddle Festival
4th @ Gorge Paddle Challenge – Double Downwinder
5th @ Pacific Paddle Games – distance
https://www.instagram.com/p/BMMiHaqgabB/
---
#2: Michael Booth
Team: Starboard
Nation: Australia
World Ranking: 2nd (217.38)
1st @ ISA Worlds – distance
1st @ Lost Mills
1st @ Pacific Paddle Games – distance
1st @ The Japan Cup
1st @ EuroTour St Maxime – distance
1st @ EuroTour Croatia
2nd @ EuroTour Bilbao
2nd @ EuroTour San Sebastian
2nd @ EuroTour – overall standings
2nd @ Pacific Paddle Games – overall
It's quite amazing to think that Michael Booth was listed as our number one 'dark horse' at the beginning of this year, but that just highlights how meteoric this guy's rise through the ranks has been.
After missing the season-opener in Carolina and losing a shot at valuable points, Boothy went on an absolute tear to make up for lost time and quickly climb the rankings leaderboard. His breakout performances came on the EuroTour, where he went toe-to-toe with team mate Connor Baxter for six straight weekends that included victory at the prestigious Lost Mills race.
That win in Germany would become the first of three major distance race victories for Boothy, who clearly established himself as the world's best distance race paddler. In the second half of the year, the super fit Aussie went on to claim the Pacific Paddle Games distance race (the most competitive event of all time) before striking gold in Fiji. If he had have won Carolina it would have been a 'Grand Slam'.
His ability to simply paddle away from other world class athletes is frightening (that's why I said Titou's performance at Carolina was like nothing I'd ever seen before this year; I've now seen it done a few times). Nobody has ever broken a draft train full of top ranked athletes with the kind of ease that Boothy displays. He's simply just stronger than everyone else in the field right now.
The scary part? This guy is only just warming up. He knows he's still got a lot of improvement left in him, particularly in the short course and downwind events.
Boothy's goal at the start of the year was to finish the season inside the top five on the SUP Racer World Rankings. He absolutely smashed that target, and now he'll be aiming to go one place higher in 2017.
Want to know what Boothy's personal highlights in season 2016 were? He's currently counting down his favourite races over on Instagram.
https://www.instagram.com/p/BOjXw2mhuX0/
---
#1: Connor Baxter
Team: Starboard
Nation: Hawaii
World Ranking: 1st (282.00)
1st @ Pacific Paddle Games
1st @ Gorge Paddle Challenge
1st @ OluKai
1st @ Bilbao
1st @ SUP World Cup
1st @ Red Bull Heavy Water
1st @ SUP Race Cup
1st @ Fastest Paddler On Earth
1st @ Maui2Molokai
1st @ EuroTour (overall champ)
1st @ World Series (overall champ)
I had trouble deciding on the final order with much of this list, however there was absolutely no hesitation in selecting #1. Connor Baxter was quite clearly the top paddler of 2016, and his peers will have to paddle very hard to stop him repeating that feat in 2017.
While he didn't reclaim his prized Molokai crown, Connor won pretty much everything else this season. The victories are too numerous to mention all of them, but some of the standout stand up performances included going back-to-back at both the Pacific Paddle Games (the most competitive race of all time) and the EuroTour, claiming the World Series title, winning Maui2Molokai for a seventh straight year and OluKai for a fifth straight — records that may never be broken (except by Connor himself).
But in my opinion, Connor's best performance of 2016 was at the Gorge Paddle Challenge, where he outlasted the most competitive field ever assembled outside the BOP/PPGs across two whole days to make it a clean sweep of the event and prove he's virtually untouchable no matter what the course or conditions.
Connor's achilles heel continues to be Carolina, where he once again faded late to finish 7th, but that's a tiny blemish on what is an otherwise near-perfect scorecard.
Some say Connor is just a freak of nature that gets by on his natural talents, however that kind of thinking insults what is surely his greatest asset: Committed, unwavering, go-beyond-the-pain-barrier work ethic.
Not only does Connor push himself harder than anyone in a race situation, he also trains the house down. Racing is his job and he takes that job very seriously. Connor put in a massive pre-season this year and it clearly paid off. Literally. Not only did he score countless race wins, Connor also won a big bag full of prize money this year, collecting $33k in October alone. And it's all very well deserved.
The machine from Maui also set another record in season 2016: The highest ever points tally on the world rankings leaderboard (282.00). Will anyone be able to match this guy in season 2017?
I had the pleasure of touring through Europe with Connor and his girlfriend once again this summer, so I can say from personal experience that he's not only a champion on the water, he's a champion off it as well. Congratulations on another massive year buddy.
https://www.instagram.com/p/BJ_HgAJDkmB/
---
The Top 16 of 2016
So there you have it. Those are the top paddlers of season 2016, at least in my opinion. Here's a compact version of the list, and make sure you check back tomorrow for the Women's Top 16 of 2016.
1. Connor
2. Boothy
3. Titou
4. Kai
5. Mo
6. Trav
7. Casper
8. Georges
9. Danny
10. Arthur
11. Jimmy
12. Leo
13. Bruno
14. Toby
15. Nottage
16. Bernd
---
From the archives
Top 11 of 2011
Top 12 of 2012
Top 13 of 2013
Top 14 of 2014
Top 15 of 2015
---
Next read this
---