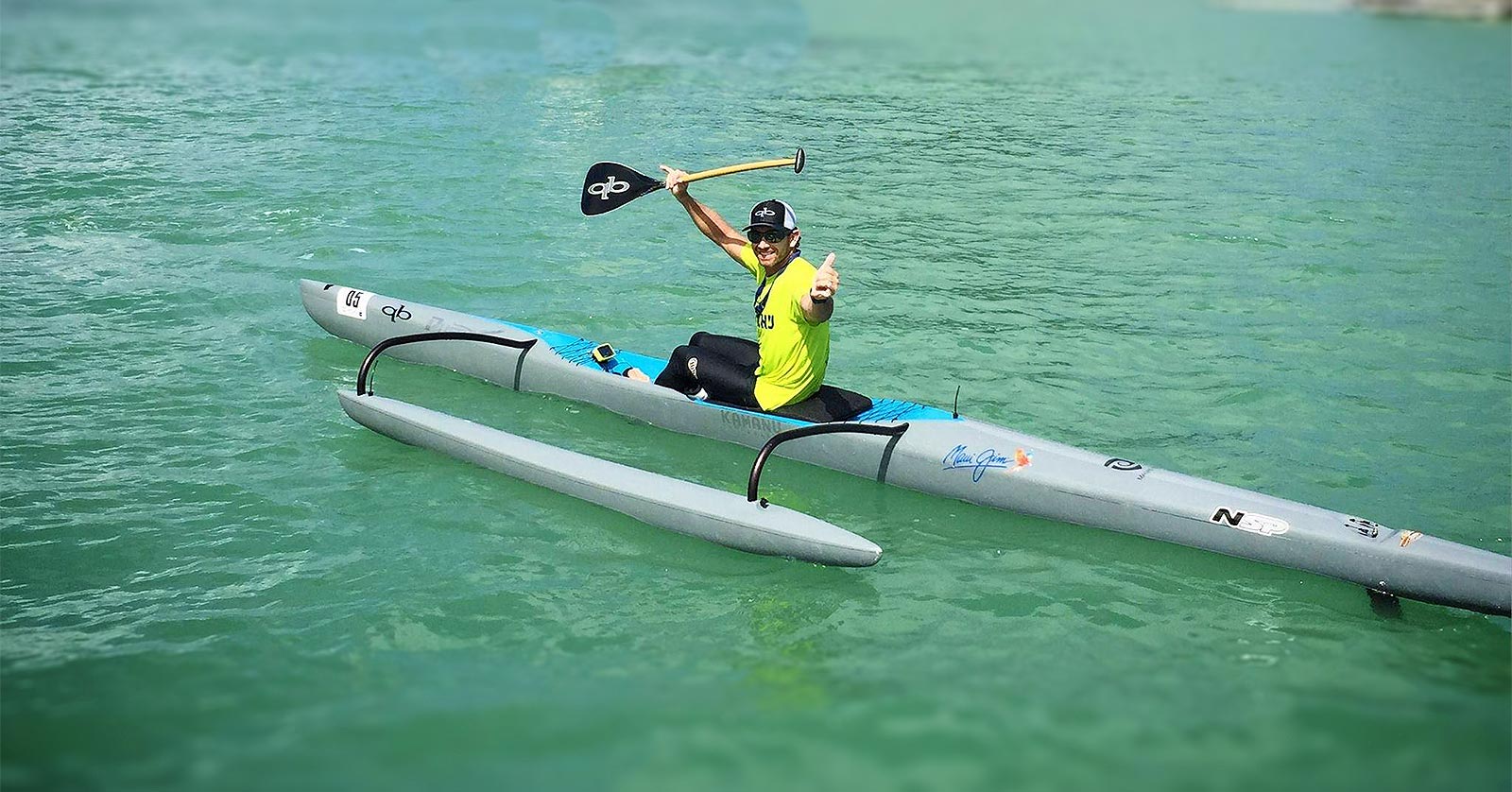 May 17, 2016
by Christopher Parker (@wheresbossman)
Travis Grant Creates History, Becomes First Paddler to Win The "Molokai Double" (SUP + OC)
Travis Grant created history on Saturday, winning the Molokai to Oahu Solo OC1 race to match his victory in the M2O SUP race last July and become the first ever paddler to claim both titles.
It's the Molokai Double.
It's also a fitting reward for a paddler whose skill and talent is matched only by his hard work and humility — very few paddlers are as well respected as Travis, and as the flood of post-race congratulations messages on Facebook show, this is a very popular victory within the paddling community.
But nobody is happier than the man himself; He commented after the race that winning the Molokai Solo title is "a life long dream come true."
Travis Grant is a fairly straightforward paddler. He doesn't care about titles or tours or rankings or points; All that Trav really cares about when it comes to competing is conquering the greatest challenges in the ocean paddling world, and there simply is no greater challenge than Molokai.
The NSP and Quickblade team rider famously won the Molokai 2 Oahu SUP race first in 2014 and again last year, having traded the title back and forth with local hero Connor Baxter. But while most readers of this website know Travis as a stand up paddler, the humble Aussie champ has been paddling sitting down for much longer, and outrigger is probably still his first choice.
[notdevice][/notdevice][device][fbvideo link="https://www.facebook.com/travenormous/videos/10153759654311461/" width="300″ height="168″ onlyvideo="1″][/device]
(Turn the video sound on: The excellent choice of music by wife Blair and the rest of his support boat crew — the patriotic "Land Down Under" — may have been a factor in Travis' victory)
Trav, who paddles the iconic "Pueo" canoe made by Kamanu Composites, has been in excellent form on the OC1 circuit this year, having won virtually every race on Oahu before taking out the OluKai event two weeks ago. He backed that up with victory on Kauai the following weekend, however it's the "Molokai Solo" that every OC1 paddler wants to win. The event is probably even more prestigious in the outrigger world than it is for stand up paddlers.
(The sport of OC1 – one-man outrigger canoe – has two Molokai to Oahu races, the Solo, where competitors paddle on their own, and the Relay, where two person teams share the work, however the Solo is considered the most prestigious.)
And now Travis has the title he has coveted for so long.
In his own words, this was a huge achievement and one that required a flawless race strategy: "I personally ran the perfect race, I did everything right and went as hard and as fast as I could. Made no mistakes."
Though interestingly, Trav actually crossed the line in second place on the weekend, 50 seconds off the pace of pre-race favourite Kevin Ceran of Tahiti. Even that effort – finishing within a minute of a Tahitian powerhouse after a four hour channel crossing – was enough to put a huge smile on Trav's face. But soon after crossing the line, Kevin received a two minute penalty for having paddled on the wake behind his escort boat (no protest was filed by Trav or any other paddler – race officials saw the incident themselves), which meant Trav was awarded the victory.
This created an odd situation at the finish line, with the Aussie not sure how to take the news. Ever the humble champion, Travis actually went and spoke with the Tahitian crew to see what had happened before he claimed any sort of victory. As he said himself on Facebook:
"This was all I ever wanted but when I actually heard the news I won I was unsure how I felt. Mixed emotions. So I went and spoke to the Tahitians, to their credit and respect they accepted the penalty and took responsibility for what happened and said congratulations to me. It might sound weird but that meant so much to me for them to say that, and so I am happy to say I feel like now I deserve the title. Tahiti will be back and I know no one will make that mistake again."
Here's the full post from Trav that sums up his big win:
Coincidentally, Trav crossed the line on Saturday in a time of 4:10:22, which is very similar to his fastest crossing of the Ka'iwi Channel on a stand up paddle board (4:09:15 in 2014, though conditions were much faster that year).
Look for the newly crowned "Molokai Double" title holder to continue his love affair with the Channel of Bones over the next few months as he prepares for the 2016 Molokai 2 Oahu SUP race on July 31st. Given the form he's shown in the ocean so far this season, Trav will surely start as a strong favourite once again.
So now that history has been made and a new title has been created, who else could possibly achieve the "Molokai Double"?
There is surely no better crossover sport for stand up paddle racing than outrigger canoe — it's no coincidence that many of the top ranked SUP athletes (Travis, Danny Ching, Titouan Puyo, Georges Cronsteadt, Matt Nottage, etc) all have a strong outrigger background — so I think someone else from the OC world will eventually match Trav's Molokai Double.
I'm no expert in the world of outrigger canoe racing, but here are a few names that quickly come to mind.
Perhaps Danny Ching would fancy his chances at the Double. He's already won the OC1 race twice and is still an instant favourite in every SUP race he enters. The only thing holding him back is that Danny recently announced that his brand, 404, would stop tinkering with unlimiteds and focus exclusively on boards that actually sell — he's racing Molokai this year on a 14 footer.
I'd also keep an eye on Matt Nottage, the young gun from Australia who's enjoyed a stellar run of ocean racing over the past six months, including a top three finish at OluKai last month and a pair of wins against Travis in West Oz back in December. Nottage competed in the Molokai Solo on the weekend but hit the wall 7kms from Oahu to finish 30th, though he'll surely become a contender as his paddling matures.
And how about Titouan Puyo? He rarely races on an outrigger anymore, so I have absolutely no idea how he'd fare at the Molokai Solo, but his meteoric rise in the stand up paddling world was entirely due to the fact he was an absolute gun of an outrigger paddler, so who knows.
However it's the Tahitians that are clearly the best bet, seeing how they not only dominate the world of outrigger but are also now crossing over into stand up paddling in increasingly large numbers.
Steeve Teihotaata was the two-time defending champ of the Molokai Solo and is quickly improving on a stand up. Steeve skipped Molokai this year to compete at home, where, coincidentally, he defeated Titouan Puyo in the Air France Paddle Festival at the exact same time the Molokai race was happening (we were actually switching back and forth between the Air France and Molokai live streams on Saturday). I suspect that Steeve will be keen to achieve the "Molokai Double" after being inspired by Trav's performance.
Rete Ebb is another name to watch. He finished top three at the Molokai Solo race a couple of years ago and everyone in the OC world knows he has the talent to win it. He's also beginning to show his talents on a stand up, having gone toe-to-toe with Steeve and Titou at the Air France race on the weekend.
But Trav has set the bar pretty high for everyone else: Not only is he the first paddler to have won Molokai on both a SUP and an OC1, he's actually holding both titles at the same time. It's a Grand Slam. I guess the only way it could be any more impressive is if he won them both in the same calendar year (the "Calendar Slam" they call it in tennis), but let's not get ahead of ourselves.
For now let's just celebrate an amazing achievement, one that not only honours a tremendous paddle athlete, but which also creates yet another interesting chapter in the prestigious storybook of the Molokai to Oahu channel crossing.