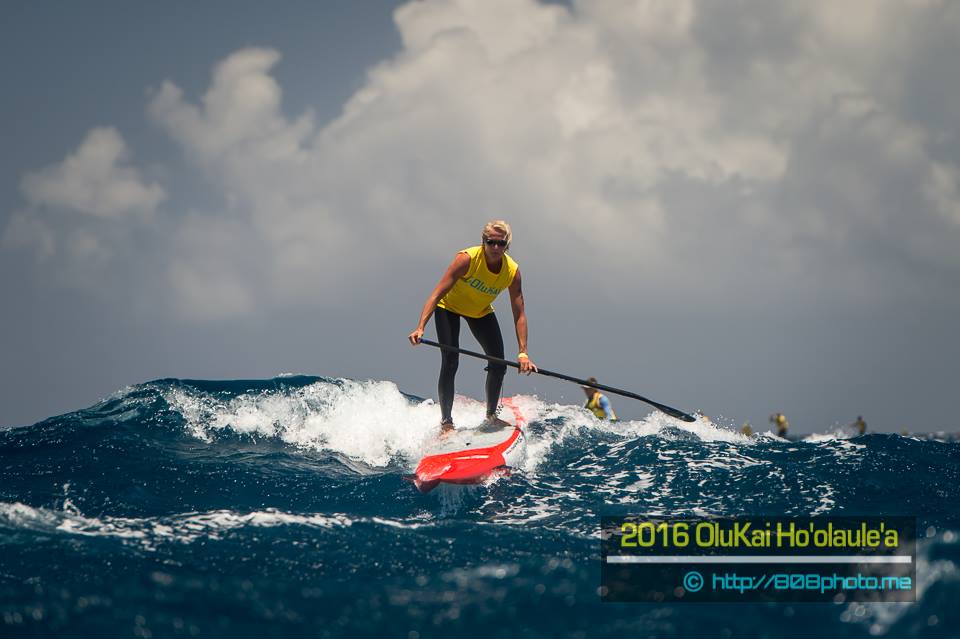 April 30, 2016
by Christopher Parker (@wheresbossman)
RESULTS: Connor Baxter Wins 5th Straight 'OluKai' Crown, Sonni Hönscheid Claims Women's Title
Connor Baxter has won his 5th straight OluKai title, defeating an all-star cast of the world's best downwind paddlers in near-perfect conditions on Maui this afternoon.
After going into the race as red hot favourite – Connor has won every edition of this event stretching back to 2012 – the world number one relished the excellent downwind bumps on the famous "Maliko run" to finish in a time of 47 minutes, 41 seconds, while Mo Freitas put in a commanding performance to claim the runner-up spot.
The result cements Connor's status as one of the true greats of the sport, and, considering the slightly longer course this year (competitors started inside the "bay" of Maliko Gulch, rather than out in the ocean), his time is probably on pace with the course record he set in last year's flawless conditions.
But while we all expected it to be a battle between Connor and three-time runner-up Travis Grant of Australia, clearly nobody ran the script by Mo Freitas. In a truly awesome performance, Mo crossed the line just one and a half minutes behind Connor to claim the runner-up position, half a minute ahead of the highly under-rated Aussie Matt Nottage, while Travis had to settle for fourth.
While Connor is the champion once again, Mo's performance cannot be understated. With Connor virtually (or rather: literally) unbeatable on this stretch of water, the Olukai race has basically become a race for second. We didn't even list Mo in our pre-race top 10 predictions (in our defense, we didn't even know Mo was racing — though if we did, we probably wouldn't have tipped him to finish much higher than 7th or 8th), which added even more of an exclamation mark to his result.
With victories at the whitewater Payette River Games, the surf race-style Pacific Paddle Games (the most competitive race of the year), and now a huge result at one of the world's biggest downwind races, Mo has proved once and for all he's a world class paddler in all conditions.
Matt Nottage's performance was almost equally as impressive, with the humble youngster showing the world what everybody in Australia already knows — that he's an absolute gun. Nottage defeated Travis Grant and the rest of Australia's best to claim his "King of Australian Downwind" crown during the West Oz Downwind Week back in December, and now he's proven once again that he can ride bumps like a master on both a 14 footer and the unlimited boards that are used here in Hawaii (Nottage had strong results during Hawaii's Downwind Month last year and will be a top contender for Molokai 2 Oahu at the end of July).
Travis will be disappointed to finish fourth – he's gotten closer to Connor than anyone over the past couple of years – however he'll surely be delighted that his young compatriot scored such a good result. Trav showed he's a true master in the bumps, however he made a slight mistake by going too wide at the outside reef, whereas several competitors struck a faster, inside line to shore.
Sunday update: Travis Grant rebounds from his 4th place in the SUP race to win the OluKai outrigger race. The Aussie had finished runner-up in both the outrigger and SUP race three times, but now he finally has a well deserved OluKai victory.
Coming home fifth was another highly under-rated talent from down under, James Casey. "Jimmy" is a name to watch just like his mate Nottage, and will carry a lot of confidence from this result into the traditional Downwind Month in July, when he'll return to Hawaii along with a host of Australia's top talents.
The living legend himself, Dave Kalama, turned back the clock and showed everyone that he's still got it, coming home sixth to give an equal balance of three Maui boys and three Aussies on the traditional six man podium. Kalama celebrated his 50th birthday last year; Connor celebrated his 21st.
https://www.instagram.com/p/BE2Nv1-SsuZ/
And while Kai Lenny tried to steal the limelight by posting his crazy new hydrofoil toy on Instagram just minutes after he crossed the line (which, in Kai's defense, looks like a hell of a lotta fun), he could only manage seventh in the race itself. However Kai was paddling on a 14′ stock class board (vs the unlimiteds of the other guys), so it's hard to truly gauge his form ahead of the big Molokai 2 Oahu showdown in July, where he'll step back up to a bigger board and go head to head with many of the other top finishers from today's race. That showdown in in two months is shaping up to be a true epic.
Young gun Bernd Roediger rebounded from a disappointing Carolina Cup result to finish eighth on a 14 footer, while unknown Tahitian Manatea Bopp du Pont was 9th and Travis Baptiste, the perennial hero of the 14′ stock class, came home top 10th (it's not yet clear exactly which guys were on unlimiteds and which were on 14 footers).
Just outside the top 10 was another Tahitian, the ultra dark horse Rete Ebb, with local boys Kody Kerbox (most likely stock), Jeremy Riggs, Livio Menelau and Josh Riccio (stock) rounding out the top 15.
But the day clearly belonged to Connor Baxter, who has proven once again that he is the true king of downwind paddling on Maui. Connor has a big advantage over many of his rivals – the Maliko run is virtually in his backyard – however his sheer dominance of this race over the past half a decade (and his similarly impressive dominance in the Maui 2 Molokai race, where he's going for a record 7th straight title in two month's time) is truly something to behold.
https://www.instagram.com/p/BE18gFzSsom/
In the elite women's race, Sonni Hönscheid claimed her maiden victory, ending seven-time champion Andrea Moller's strangehold on this event. Andrea was unable to defend her crown after a big wave surfing injury kept her off the water, which opened the door for two-time runner-up Sonni to claim the crown.
Sonni's victory gives her the rare OluKai-Molokai double, and she can turn that into a treble if she claims the Maui 2 Molokai race in July. The German is now surely one of the most accomplished all round paddlers in the sport, having won everywhere from the flat waters of Europe to the rolling open oceans of Hawaii. She's also one hell of a surfer, just for good measure.
Sonni didn't have it all her own way today though, with wildcard Kathy Shipman pushing the German all the way to the line. Shipman is a Maui local and former swimming champion that rarely races outside the islands, but, as anyone who's attempted a Maliko run alongside her will tell you, she knows this stretch of water like the back of her hand.
Update: Here's a mini interview with Sonni courtesy of the Bluesmiths crew:
Aussie Terrene Black, a former Molokai winner, claimed third and looks set for another big international season. Another Maui downwind dark horse in a similar vein to Shipman, Devin Blish, was close behind in fourth, while Oahu's Amy Woodward – a recent convert from OC-1 and a definite name to watch in the future – came home fifth just seconds behind Devin.
Another former Molokai Queen, Talia Decoite, rounded out the women's top six podium. Just outside the top six was Fiona Wylde, who was the first of the 14 footers over the line, followed by Mariko Strickland Lum, Slovenian young gun Manca Notar (stock) and Jenn Lee in 10th.
Once again the OluKai Ho'olaule'a was a huge success, with over 300 paddlers turning out for the 8th annual edition of this classic race.
The race has only just wrapped up, so check back tomorrow for plenty of great race photos and video. In the meantime, here are the full results including points for the SUP Racer World Rankings.
2016 OluKai Ho'olaule'a — Women's SUP Race Results
Course: 8 miles (12.8kms)
Conditions: Pretty damn good
Race Index: 40%

| # | Name | Time | Points | Division |
| --- | --- | --- | --- | --- |
| 1 | Sonni Hönscheid | 0:57:13 | 40.00 | Elite Open |
| 2 | Kathy Shipman | 0:57:49 | 30.00 | Elite Open |
| 3 | Terrene Black | 1:00:02 | 24.00 | Elite Open |
| 4 | Devin Blish | 1:00:30 | 20.00 | Elite Open |
| 5 | Amy Woodward | 1:00:39 | 17.00 | Elite Open |
| 6 | Talia Decoite | 1:01:39 | 14.00 | Elite Open |
| 7 | Fiona Wylde | 1:02:14 | 12.00 | Elite Open |
| 8 | Mariko Strickland Lum | 1:05:07 | 10.00 | Elite Open |
| 9 | Manca Notar | 1:06:05 | 9.00 | Elite Open |
| 10 | Jennifer Lee | 1:07:32 | 8.00 | Elite Open |
| 11 | Annie Reickert | 1:08:07 | 7.20 | 14' 17 & Under |
| 12 | Jade Howson | 1:10:36 | 6.40 | REC 17 & Under |
| 13 | Sharon Baldwin | 1:10:39 | 6.00 | REC 40 - 49 |
| 14 | Alyssa Joy | 1:12:01 | 5.60 | 14' 40 - 49 |
| 15 | Tomoe Yasu | 1:12:20 | 5.20 | REC 40 - 49 |
| 16 | Mariya Gold | 1:13:03 | 4.80 | 14' 30 - 39 |
| 17 | Carlo Prado | 1:13:12 | 4.40 | REC 50 - 59 |
| 18 | Jen Fuller | 1:14:21 | 4.00 | 14' 50 - 59 |
| 19 | Suzir Conney | 1:14:51 | 3.60 | REC 40 - 49 |
| 20 | Shanna Upton | 1:15:38 | 3.20 | 14' 40 - 49 |
| 21 | Natalie Fon | 1:16:50 | 3.00 | 14' 50 - 59 |
| 22 | Joanne Hamilton-Vale | 1:16:53 | 2.80 | 14' 40 - 49 |
| 23 | Stacey Huston | 1:18:13 | 2.60 | REC 18 - 29 |
| 24 | Sarah Taylor-Balanga | 1:18:40 | 2.40 | 14' 30 - 39 |
| 25 | Kristy Wright Schell | 1:18:57 | 2.20 | 14' 30 - 39 |
| 26 | Lara Claydon | 1:19:44 | 2.08 | Elite Open |
| 27 | Jenn Biestman | 1:19:47 | 1.96 | REC 30 - 39 |
| 28 | Laola Aea | 1:19:51 | 1.84 | 14' 60 & Over |
| 29 | Kathleen Hagan | 1:20:11 | 1.72 | 14' 40 - 49 |
| 30 | Jill Riggs | 1:20:19 | 1.60 | 14' 40 - 49 |
| 31 | Georgina Bond | 1:20:38 | 1.52 | Elite Open |
| 32 | Tracie Hager | 1:21:24 | 1.44 | 14' 40 - 49 |
| 33 | Elizabeth Campos | 1:21:50 | 1.36 | REC 40 - 49 |
| 34 | Margaret W(peggy) King | 1:21:54 | 1.28 | REC 60 & Over |
| 35 | Lynnette Hazard | 1:22:21 | 1.20 | REC 40 - 49 |
| 36 | Carol Michelson | 1:22:55 | 1.12 | 14' 50 - 59 |
| 37 | Teresa Rogerson | 1:23:12 | 1.04 | 14' 40 - 49 |
| 38 | Angela Correa-Pei | 1:23:31 | 0.96 | REC 40 - 49 |
| 39 | Hillary Runner | 1:23:55 | 0.88 | 14' 40 - 49 |
| 40 | Marjorie Kahookele-Pea | 1:24:41 | 0.80 | Elite Open |
| 41 | Marie Sandbak | 1:25:08 | 0.76 | REC 18 - 29 |
| 42 | Cathy Gillis | 1:30:56 | 0.72 | REC 50 - 59 |
| 43 | Jolieanne Marxen | 1:32:30 | 0.68 | 14' 30 - 39 |
| 44 | Emily Fielding | 1:32:59 | 0.64 | 14' 50 - 59 |
| 45 | Jamie Cahill | 1:33:26 | 0.60 | REC 50 - 59 |
| 46 | Rosie Houghton | 1:33:31 | 0.56 | REC 50 - 59 |
| 47 | Judie Vivian | 1:33:32 | 0.52 | REC 60 & Over |
| 48 | Shawneen Schweitzer | 1:33:33 | 0.48 | 14' 50 - 59 |
| 49 | Emma Gomez | 1:34:12 | 0.44 | 14' 17 & Under |
| 50 | Kahea Waiwaiole | 1:34:17 | 0.40 | 14' 30 - 39 |
| 51 | Audrey Lee | 1:34:37 | 0.00 | REC 50 - 59 |
| 52 | Alysha Sparkunous | 1:35:48 | 0.00 | 14' 40 - 49 |
| 53 | Erika Lane | 1:35:53 | 0.00 | 14' 30 - 39 |
| 54 | Inmi Yoon | 1:37:49 | 0.00 | 14' 18 - 29 |
| 55 | Julie Wood | 1:37:55 | 0.00 | REC 60 & Over |
| 56 | La'akea Washburn | 1:38:25 | 0.00 | 14' 18 - 29 |
| 57 | Janet Hewitt | 1:39:28 | 0.00 | 14' 50 - 59 |
2016 OluKai Ho'olaule'a — Men's SUP Race Results
Course: 8 miles (12.8kms)
Conditions: Pretty damn good
Race Index: 40%

| # | Name | Time | Points | Division |
| --- | --- | --- | --- | --- |
| 1 | Connor Baxter | 0:47:41 | 40.00 | Elite Open |
| 2 | Mo Freitas | 0:49:14 | 30.00 | Elite Open |
| 3 | Matt Nottage | 0:49:42 | 24.00 | Elite Open |
| 4 | Travis Grant | 0:49:53 | 20.00 | Elite Open |
| 5 | James Casey | 0:50:09 | 17.00 | Elite Open |
| 6 | David Kalama | 0:50:17 | 14.00 | Elite Open |
| 7 | Kai Lenny | 0:51:24 | 12.00 | Elite Open |
| 8 | Bernd Roediger | 0:51:25 | 10.00 | Elite Open |
| 9 | Manatea Bopp Du Pont | 0:51:38 | 9.00 | Elite Open |
| 10 | Travis Baptiste | 0:51:46 | 8.00 | Elite Open |
| 11 | Rete Ebb | 0:51:47 | 7.20 | Elite Open |
| 12 | Kody Kerbox | 0:52:33 | 6.40 | Elite Open |
| 13 | Jeremy Riggs | 0:52:41 | 6.00 | Elite Open |
| 14 | Livio Menelau | 0:52:55 | 5.60 | Elite Open |
| 15 | Joshua Riccio | 0:53:44 | 5.20 | Elite Open |
| 16 | Ryan Murphy | 0:54:34 | 4.80 | Elite Open |
| 17 | Scott Trudon | 0:54:38 | 4.40 | REC Men 50 - 59 |
| 18 | Bullet Obra | 0:54:39 | 4.00 | 14' Men 18 - 29 |
| 19 | Zane Schweitzer | 0:54:58 | 3.60 | Elite Open |
| 20 | Ethan Koopmans | 0:55:06 | 3.20 | Elite Open |
| 21 | Riggs Napoleon | 0:55:11 | 3.00 | Elite Open |
| 22 | Peter Dorries | 0:56:11 | 2.80 | REC Men 40 - 49 |
| 23 | Kawika Kinimaka | 0:57:07 | 2.60 | Elite Open |
| 24 | Jimmy Fitt | 0:57:17 | 2.40 | REC Men 30 - 39 |
| 25 | Ralf Sifford | 0:57:35 | 2.20 | REC Men 50 - 59 |
| 26 | Oliver Houghton | 0:57:37 | 2.08 | 14' Men 17 & Under |
| 27 | Kaeo Abbey | 0:57:57 | 1.96 | Elite Open |
| 28 | Masao Fukayama | 0:58:17 | 1.84 | REC Men 40 - 49 |
| 29 | Art Aquino | 0:58:26 | 1.72 | REC Men 50 - 59 |
| 30 | James Donovan | 0:58:30 | 1.60 | 14' Men 18 - 29 |
| 31 | Ryan Funk | 0:58:33 | 1.52 | 14' Men 17 & Under |
| 32 | Shep Nelson | 0:58:52 | 1.44 | REC Men 30 - 39 |
| 33 | Gregg Leion | 0:59:49 | 1.36 | REC Men 50 - 59 |
| 34 | Peter Jones | 0:59:54 | 1.28 | Elite Open |
| 35 | Noah Ho'omaikelani | 1:00:06 | 1.20 | 14' Men 30 - 39 |
| 36 | Chris Pagdilao | 1:00:31 | 1.12 | REC Men 30 - 39 |
| 37 | Rj Whener | 1:00:32 | 1.04 | 14' Men 17 & Under |
| 38 | Kevin Johnson | 1:00:45 | 0.96 | REC Men 50 - 59 |
| 39 | Daniel Russell | 1:00:51 | 0.88 | REC Men 18 - 29 |
| 40 | Bart De Zwart | 1:00:58 | 0.80 | 14' Men 40 - 49 |
| 41 | Chris Levins | 1:01:30 | 0.76 | Elite Open |
| 42 | Haakon Hoyer-Nielsen | 1:01:32 | 0.72 | REC Men 17 & Under |
| 43 | Mark Moquin | 1:01:39 | 0.68 | Elite Open |
| 44 | Justin Ormonde | 1:01:49 | 0.64 | REC Men 40 - 49 |
| 45 | Robert Stehlik | 1:01:56 | 0.60 | 14' Men 40 - 49 |
| 46 | Jason Oliphant | 1:02:00 | 0.56 | REC Men 40 - 49 |
| 47 | Randy Royse | 1:02:07 | 0.52 | REC Men 50 - 59 |
| 48 | Tyler Jaggers | 1:02:08 | 0.48 | Elite Open |
| 49 | Vetea Ribet | 1:02:22 | 0.44 | REC Men 30 - 39 |
| 50 | Martin Giroud | 1:02:27 | 0.40 | 14' Men 40 - 49 |
| 51 | Will Taylor | 1:02:42 | 0.00 | REC Men 18 - 29 |
| 52 | Yves Bouwens | 1:02:54 | 0.00 | REC Men 40 - 49 |
| 53 | John Walsh | 1:02:58 | 0.00 | 14' Men 40 - 49 |
| 54 | William Rich | 1:03:09 | 0.00 | REC Men 30 - 39 |
| 55 | Gavin Ferguson | 1:03:15 | 0.00 | REC Men 50 - 59 |
| 56 | John Bendon | 1:03:18 | 0.00 | 14' Men 30 - 39 |
| 57 | Buzzy Kerboy | 1:03:23 | 0.00 | 14' Men 50 - 59 |
| 58 | Jeff Chang | 1:03:36 | 0.00 | 14' Men 50 - 59 |
| 59 | Jeff Okuna | 1:03:40 | 0.00 | REC Men 30 - 39 |
| 60 | Peter John | 1:04:19 | 0.00 | REC Men 40 - 49 |
| 61 | Paul Cribb | 1:04:23 | 0.00 | REC Men 40 - 49 |
| 62 | Philip Koster | 1:04:24 | 0.00 | REC Men 18 - 29 |
| 63 | Warwick Gray | 1:04:49 | 0.00 | 14' Men 60 & Over |
| 64 | Alain Teurquetil | 1:04:54 | 0.00 | REC Men 50 - 59 |
| 65 | Eddie Ogata | 1:04:56 | 0.00 | 14' Men 50 - 59 |
| 66 | Troy Huston | 1:04:56 | 0.00 | 14' Men 30 - 39 |
| 67 | Sean Bicknell | 1:04:57 | 0.00 | 14' Men 40 - 49 |
| 68 | Kainoa Kaohelaulii | 1:05:00 | 0.00 | 14' Men 30 - 39 |
| 69 | Miguel Martinez | 1:05:06 | 0.00 | 14' Men 40 - 49 |
| 70 | Jeremy Whitted | 1:05:12 | 0.00 | Elite Open |
| 71 | Kanekawaiola Pai | 1:05:16 | 0.00 | 14' Men 30 - 39 |
| 72 | Jeffrey Spencer | 1:05:18 | 0.00 | Elite Open |
| 73 | Jeffrey Oltman | 1:05:26 | 0.00 | REC Men 30 - 39 |
| 74 | Ricardo Chiari | 1:05:33 | 0.00 | Elite Open |
| 75 | Eugene Ancheta | 1:05:33 | 0.00 | 14' Men 50 - 59 |
| 76 | Tom Pace | 1:05:42 | 0.00 | REC Men 50 - 59 |
| 77 | Kaleo Padilla | 1:05:46 | 0.00 | 14' Men 30 - 39 |
| 78 | Lee Monroe | 1:05:46 | 0.00 | 14' Men 30 - 39 |
| 79 | Finn Spencer | 1:05:55 | 0.00 | Elite Open |
| 80 | Erbett Diaz | 1:05:56 | 0.00 | 14' Men 30 - 39 |
| 81 | Gavin Houghton | 1:05:58 | 0.00 | REC Men 30 - 39 |
| 82 | Jack Dyson | 1:06:09 | 0.00 | REC Men 60 & Over |
| 83 | Glenn Tremble | 1:06:11 | 0.00 | REC Men 50 - 59 |
| 84 | Karl Rohlfing | 1:06:13 | 0.00 | REC Men 50 - 59 |
| 85 | Jamie Mihlbauer | 1:06:19 | 0.00 | 14' Men 40 - 49 |
| 86 | Kieran O' Riordan | 1:06:30 | 0.00 | REC Men 30 - 39 |
| 87 | Brad Feldman | 1:06:35 | 0.00 | REC Men 50 - 59 |
| 88 | Dion McAsey | 1:06:36 | 0.00 | 14' Men 40 - 49 |
| 89 | Josef Erlemann | 1:06:43 | 0.00 | Elite Open |
| 90 | Gilles Laborde | 1:06:45 | 0.00 | 14' Men 40 - 49 |
| 91 | Shane Murrell | 1:06:51 | 0.00 | 14' Men 50 - 59 |
| 92 | Ron St. John | 1:06:57 | 0.00 | 14' Men 50 - 59 |
| 93 | Zoltan Bazso | 1:07:00 | 0.00 | Elite Open |
| 94 | Timothy Yates | 1:07:02 | 0.00 | 14' Men 50 - 59 |
| 95 | Scott Shoemaker | 1:07:08 | 0.00 | REC Men 40 - 49 |
| 96 | Peter Shepherd | 1:07:08 | 0.00 | REC Men 50 - 59 |
| 97 | Peter Kosinski | 1:07:10 | 0.00 | 14' Men 18 - 29 |
| 98 | Nick Marvin | 1:07:30 | 0.00 | 14' Men 50 - 59 |
| 99 | Meron Akman | 1:07:31 | 0.00 | 14' Men 30 - 39 |
| 100 | Christian Barber | 1:07:34 | 0.00 | 14' Men 40 - 49 |
| 101 | Alex Mawae | 1:07:38 | 0.00 | REC Men 17 & Under |
| 102 | Austin Kulamu | 1:07:39 | 0.00 | 14' Men 18 - 29 |
| 103 | Steven Dunlop | 1:07:42 | 0.00 | REC Men 40 - 49 |
| 104 | Bryan Altham | 1:07:46 | 0.00 | REC Men 40 - 49 |
| 105 | David Bond | 1:07:50 | 0.00 | REC Men 40 - 49 |
| 106 | Andrew Mencinsky | 1:08:06 | 0.00 | 14' Men 40 - 49 |
| 107 | Bevan Gooch | 1:08:36 | 0.00 | Elite Open |
| 108 | John Townsend | 1:08:38 | 0.00 | REC Men 50 - 59 |
| 109 | Paul Shepherd | 1:08:41 | 0.00 | REC Men 50 - 59 |
| 110 | Abraham Shouse | 1:09:01 | 0.00 | Elite Open |
| 111 | Pierre Coetzee | 1:09:03 | 0.00 | 14' Men 50 - 59 |
| 112 | Doug Feeney | 1:09:06 | 0.00 | REC Men 40 - 49 |
| 113 | Steve Funk | 1:09:14 | 0.00 | 14' Men 40 - 49 |
| 114 | Bojan Bernard | 1:09:24 | 0.00 | 14' Men 50 - 59 |
| 115 | David Oakley | 1:09:28 | 0.00 | 14' Men 60 & Over |
| 116 | Matt Carreras | 1:09:38 | 0.00 | REC Men 40 - 49 |
| 117 | Peter Brereton | 1:09:48 | 0.00 | REC Men 40 - 49 |
| 118 | Robert Picayo | 1:09:56 | 0.00 | 14' Men 40 - 49 |
| 119 | Mike Jucker | 1:09:56 | 0.00 | 14' Men 40 - 49 |
| 120 | Paul Matthews | 1:10:12 | 0.00 | REC Men 50 - 59 |
| 121 | Patrick Fenwick | 1:10:22 | 0.00 | REC Men 40 - 49 |
| 122 | Clyde Weddell | 1:10:24 | 0.00 | 14' Men 50 - 59 |
| 123 | Clyde Kunst | 1:10:37 | 0.00 | REC Men 50 - 59 |
| 124 | John Zevenbergen | 1:10:37 | 0.00 | REC Men 50 - 59 |
| 125 | Gregory Harbottle | 1:10:40 | 0.00 | REC Men 50 - 59 |
| 126 | Matthew Smith | 1:10:58 | 0.00 | 14' Men 30 - 39 |
| 127 | Sharn Mentz | 1:11:06 | 0.00 | REC Men 40 - 49 |
| 128 | Grant McFadyen | 1:11:08 | 0.00 | 14' Men 40 - 49 |
| 129 | Manny Ruiz | 1:11:21 | 0.00 | 14' Men 30 - 39 |
| 130 | William Boyum | 1:11:22 | 0.00 | REC Men 60 & Over |
| 131 | Les Shaw | 1:11:33 | 0.00 | 14' Men 50 - 59 |
| 132 | Rune Hoyer-Nielsen | 1:11:35 | 0.00 | 14' Men 40 - 49 |
| 133 | Adbel Colon | 1:11:44 | 0.00 | 14' Men 30 - 39 |
| 134 | Sven Wesley | 1:11:48 | 0.00 | 14' Men 40 - 49 |
| 135 | Russell Benshaw | 1:11:56 | 0.00 | 14' Men 40 - 49 |
| 136 | Tonis Tutti | 1:12:06 | 0.00 | REC Men 40 - 49 |
| 137 | Andrew Baker | 1:12:07 | 0.00 | 14' Men 30 - 39 |
| 138 | Dauy Posalu | 1:12:24 | 0.00 | REC Men 60 & Over |
| 139 | Robert Howson | 1:12:32 | 0.00 | 14' Men 50 - 59 |
| 140 | Kaleo Bulk | 1:12:34 | 0.00 | 14' Men 30 - 39 |
| 141 | Griff Dempsey | 1:12:45 | 0.00 | 14' Men 40 - 49 |
| 142 | Derek Sproul | 1:12:52 | 0.00 | 14' Men 18 - 29 |
| 143 | Patrick McCarthy | 1:12:55 | 0.00 | REC Men 50 - 59 |
| 144 | Jesse Yonover | 1:12:56 | 0.00 | 14' Men 18 - 29 |
| 145 | Nick Salanoa | 1:13:04 | 0.00 | 14' Men 30 - 39 |
| 146 | Tomas Aguirre | 1:13:05 | 0.00 | REC Men 17 & Under |
| 147 | Bram Denhaan | 1:13:18 | 0.00 | 14' Men 50 - 59 |
| 148 | Adam Schell | 1:13:22 | 0.00 | 14' Men 30 - 39 |
| 149 | Matt Till | 1:13:29 | 0.00 | REC Men 40 - 49 |
| 150 | Geoff James | 1:13:30 | 0.00 | 14' Men 50 - 59 |
| 151 | Joseph Dratz | 1:13:32 | 0.00 | 14' Men 30 - 39 |
| 152 | Searay Beltran | 1:13:34 | 0.00 | 14' Men 50 - 59 |
| 153 | Brian Fishbook | 1:13:52 | 0.00 | 14' Men 40 - 49 |
| 154 | Ryder Tremble | 1:13:56 | 0.00 | 14' Men 17 & Under |
| 155 | Stephen Pugh | 1:13:59 | 0.00 | Elite Open |
| 156 | Thomas Gallagher | 1:14:02 | 0.00 | REC Men 50 - 59 |
| 157 | Slater Fleck | 1:14:18 | 0.00 | 14' Men 17 & Under |
| 158 | Kyle Ellison | 1:14:36 | 0.00 | 14' Men 30 - 39 |
| 159 | Dan Regan | 1:14:44 | 0.00 | REC Men 40 - 49 |
| 160 | Greg McMillan | 1:14:48 | 0.00 | REC Men 60 & Over |
| 161 | Guy Haywood | 1:15:11 | 0.00 | REC Men 30 - 39 |
| 162 | Carlos Siqueira | 1:15:14 | 0.00 | REC Men 30 - 39 |
| 163 | Fred Andersen | 1:15:26 | 0.00 | 14' Men 60 & Over |
| 164 | Robert Stoner | 1:15:37 | 0.00 | REC Men 50 - 59 |
| 165 | Michael Stone | 1:15:37 | 0.00 | REC Men 50 - 59 |
| 166 | Donnie McGean | 1:15:39 | 0.00 | 14' Men 60 & Over |
| 167 | Jeff Hudson | 1:15:44 | 0.00 | REC Men 40 - 49 |
| 168 | Peter Martin | 1:16:09 | 0.00 | REC Men 60 & Over |
| 169 | Justin Lemire | 1:16:15 | 0.00 | 14' Men 30 - 39 |
| 170 | Sam Pae | 1:16:22 | 0.00 | 14' Men 40 - 49 |
| 171 | Antonio Mason | 1:16:25 | 0.00 | 14' Men 17 & Under |
| 172 | Kyler Kerbox | 1:16:32 | 0.00 | 14' Men 17 & Under |
| 173 | Mike Kini | 1:16:32 | 0.00 | 14' Men 60 & Over |
| 174 | Lucas Teixeira | 1:16:51 | 0.00 | 14' Men 18 - 29 |
| 175 | Simon Osner | 1:17:11 | 0.00 | REC Men 50 - 59 |
| 176 | Jb Guard | 1:17:15 | 0.00 | 14' Men 40 - 49 |
| 177 | Gabriel Luly | 1:17:18 | 0.00 | REC Men 30 - 39 |
| 178 | Jamie Rosenfeld | 1:17:19 | 0.00 | 14' Men 30 - 39 |
| 179 | Grant Heinz | 1:17:47 | 0.00 | 14' Men 50 - 59 |
| 180 | Dave Weiss | 1:17:48 | 0.00 | REC Men 50 - 59 |
| 181 | Kevin Solt | 1:17:50 | 0.00 | REC Men 40 - 49 |
| 182 | Scott Bintlff | 1:18:06 | 0.00 | 14' Men 40 - 49 |
| 183 | Bill Babcock | 1:18:26 | 0.00 | REC Men 60 & Over |
| 184 | Douglas Hagan | 1:18:29 | 0.00 | 14' Men 50 - 59 |
| 185 | David Balding | 1:18:36 | 0.00 | 14' Men 40 - 49 |
| 186 | Gavin Kerr Hunter | 1:18:48 | 0.00 | REC Men 50 - 59 |
| 187 | Brandon Larue | 1:19:21 | 0.00 | 14' Men 30 - 39 |
| 188 | Robin Blumberg | 1:19:26 | 0.00 | 14' Men 40 - 49 |
| 189 | Brian Richard | 1:19:48 | 0.00 | 14' Men 40 - 49 |
| 190 | Patrick Russell | 1:19:51 | 0.00 | REC Men 50 - 59 |
| 191 | Kalaeloa Robins | 1:20:07 | 0.00 | 14' Men 30 - 39 |
| 192 | Scott Smith | 1:20:25 | 0.00 | 14' Men 40 - 49 |
| 193 | Jack Starr | 1:20:32 | 0.00 | 14' Men 50 - 59 |
| 194 | Zion Thompson | 1:20:34 | 0.00 | 14' Men 30 - 39 |
| 195 | Bryceen Silva | 1:20:34 | 0.00 | REC Men 18 - 29 |
| 196 | Wayne Robson | 1:20:40 | 0.00 | 14' Men 50 - 59 |
| 197 | Julio Kimmel | 1:20:55 | 0.00 | 14' Men 17 & Under |
| 198 | Alec Fierman | 1:21:15 | 0.00 | REC Men 30 - 39 |
| 199 | David Salangsang | 1:21:21 | 0.00 | 14' Men 50 - 59 |
| 200 | Kai Jenkins | 1:21:24 | 0.00 | REC Men 17 & Under |
| 201 | Jackson Green | 1:21:25 | 0.00 | 14' Men 17 & Under |
| 202 | Kyle Kurakake | 1:21:40 | 0.00 | 14' Men 30 - 39 |
| 203 | William Worthington | 1:21:42 | 0.00 | 14' Men 50 - 59 |
| 204 | Kala'e Correa | 1:22:03 | 0.00 | 14' Men 17 & Under |
| 205 | Michael Leone | 1:22:03 | 0.00 | 14' Men 40 - 49 |
| 206 | John Correa | 1:22:26 | 0.00 | REC Men 40 - 49 |
| 207 | Stephen Ross | 1:22:29 | 0.00 | REC Men 50 - 59 |
| 208 | Steve Meyer | 1:22:52 | 0.00 | 14' Men 40 - 49 |
| 209 | Michael Lowcher | 1:23:01 | 0.00 | 14' Men 60 & Over |
| 210 | Killa Nikaido | 1:23:11 | 0.00 | 14' Men 50 - 59 |
| 211 | James Kimmel | 1:23:49 | 0.00 | REC Men 50 - 59 |
| 212 | Kevin Hager | 1:24:04 | 0.00 | 14' Men 50 - 59 |
| 213 | Xander Robertson | 1:24:27 | 0.00 | 14' Men 18 - 29 |
| 214 | Kailer Jones | 1:24:52 | 0.00 | 14' Men 18 - 29 |
| 215 | Bryon Stevens | 1:25:14 | 0.00 | 14' Men 50 - 59 |
| 216 | Robin Vivian | 1:26:14 | 0.00 | REC Men 60 & Over |
| 217 | Vicente Cacal | 1:26:24 | 0.00 | 14' Men 30 - 39 |
| 218 | Chad Beitler | 1:26:26 | 0.00 | 14' Men 30 - 39 |
| 219 | Kainoa Correa | 1:26:29 | 0.00 | 14' Men 18 - 29 |
| 220 | Eric Edwards | 1:26:33 | 0.00 | REC Men 30 - 39 |
| 221 | Conrad K. Pasco | 1:26:41 | 0.00 | 14' Men 40 - 49 |
| 222 | Darren Flail | 1:27:03 | 0.00 | 14' Men 40 - 49 |
| 223 | Wes Anderson | 1:28:13 | 0.00 | 14' Men 30 - 39 |
| 224 | Patrick Meyer | 1:28:18 | 0.00 | REC Men 18 - 29 |
| 225 | Kaipo Hanakeawe | 1:28:18 | 0.00 | REC Men 30 - 39 |
| 226 | Daniel Kalahiki | 1:29:15 | 0.00 | 14' Men 40 - 49 |
| 227 | Zane Murasko | 1:29:19 | 0.00 | REC Men 17 & Under |
| 228 | Matt Murasko | 1:29:20 | 0.00 | REC Men 50 - 59 |
| 229 | Craig Harris | 1:29:26 | 0.00 | 14' Men 30 - 39 |
| 230 | David Daunhauer | 1:29:31 | 0.00 | 14' Men 40 - 49 |
| 231 | Shawn Tierney | 1:29:48 | 0.00 | 14' Men 40 - 49 |
| 232 | Kale Bertelmann | 1:30:58 | 0.00 | REC Men 40 - 49 |
| 233 | Monty Schmitt | 1:31:13 | 0.00 | 14' Men 40 - 49 |
| 234 | Sidney Sparkunous | 1:32:04 | 0.00 | 14' Men 50 - 59 |
| 235 | Adam Buechler | 1:33:12 | 0.00 | REC Men 18 - 29 |
| 236 | Greg Dronkert | 1:33:50 | 0.00 | 14' Men 50 - 59 |