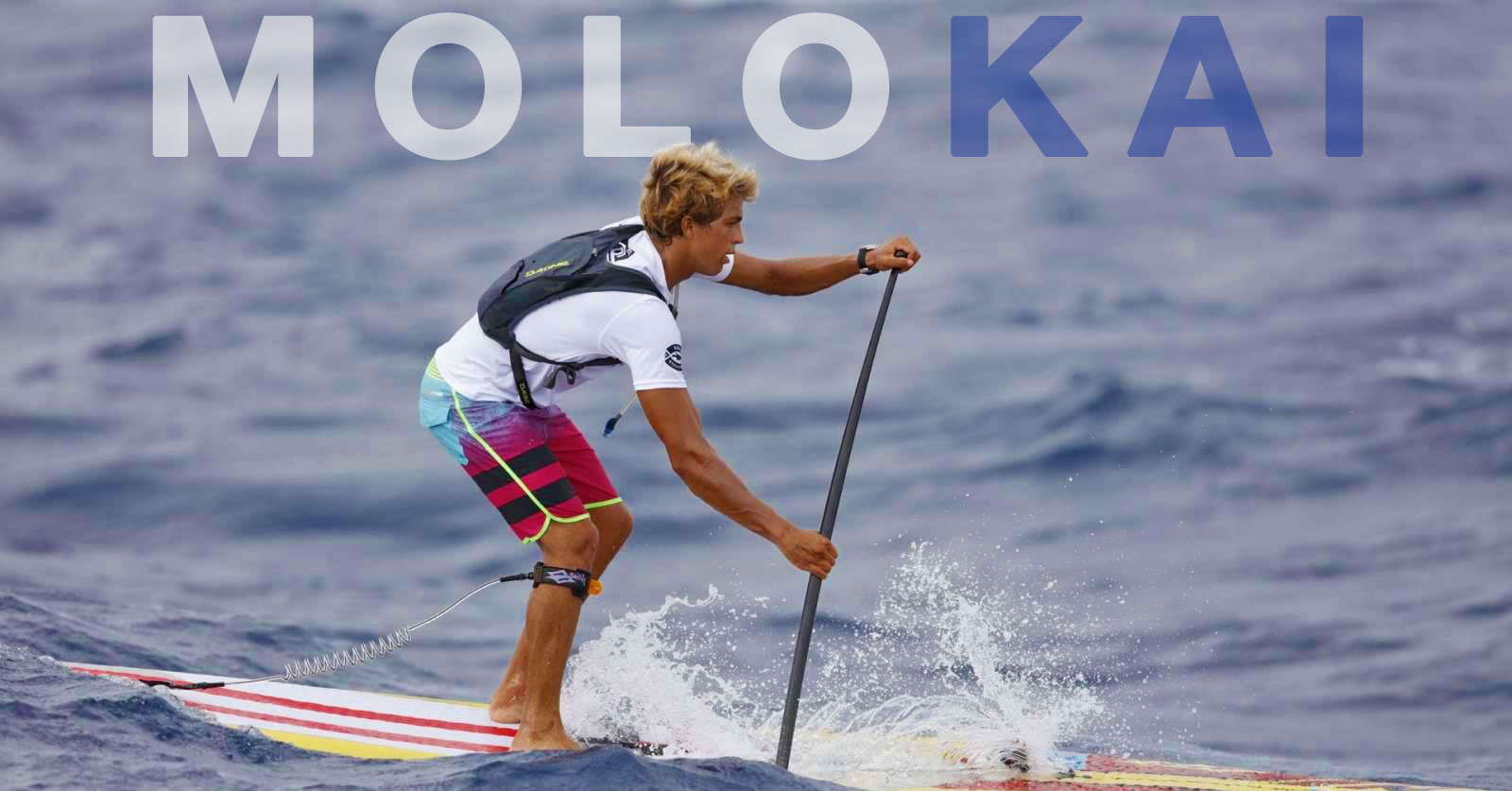 Kai Lenny WINS Molokai-2-Oahu, Outlasts Travis Grant to Set New Course Record; Sonni Hönscheid Overpowers Annabel Anderson to Claim Third Straight Title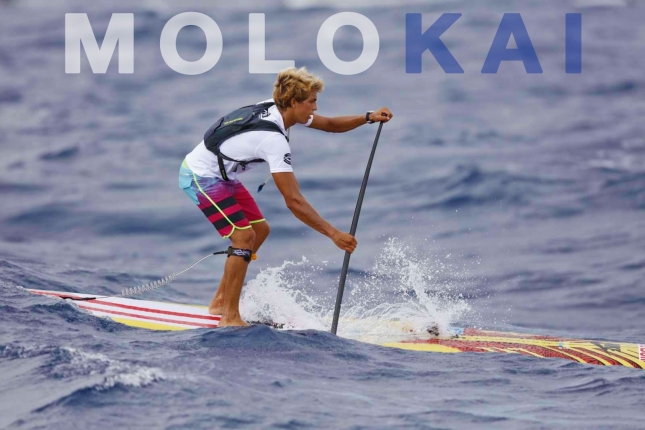 Kai Lenny has achieved one of his biggest goals in life, claiming the prestigious Molokai 2 Oahu title after outlasting defending champ Travis Grant in a four hour epic, setting a new course record and further cementing his reputation as one of the all-time greats.
After a see-sawing battle across the Channel of Bones, Kai triumphantly crossed the line in a time of 4:07:41, half a minute ahead of Connor Baxter's 2014 benchmark. The downwind bumps were solid but not exactly all-time, however favourable currents, a hungry lineup of elite talent and the superstar on a yellow board helped make this a record-breaking year.
"Really special and surreal," was how Kai summed up his hugely impressive victory moments after crossing the line, adding that "this is by far the hardest event I've ever done in my life."
Amazingly, this is only the second race of the season for the Maui superstar — Kai has been flying under the radar all year, however he's clearly been putting in the miles behind the scenes. The pre-race focus was squarely on the battle between Travis and Connor, but Kai stepped up when it mattered most to prove yet again that he's an absolute freak of nature in the ocean.
Kai shared more thoughts via Instagram on Sunday evening, explaining that winning Molokai had been one of the biggest goals in his life.
https://www.instagram.com/p/BIjcR3xAumK/

Special mention has to go to shaper Billy Robello, who designed Kai's winning board and was also behind Travis' maiden victory back in 2013.
The results this weekend see Kai jump +3 on the SUP Racer World Rankings to #4 in the world, while Travis' runner-up finish sees him close the gap on Connor at the top of the table.
Travis, the two-time champion, was once again phenomenal. The Aussie, who now calls Oahu home, steered his NSP production unlimited board as perfectly as possible, pushing Kai all the way to the line to record yet another amazing result. This is Trav's fourth straight top two finish at Molokai, including victories in 2013 and 2015 and a runner-up performance in 2014, where he only narrowly lost to Connor.
Although he didn't get the victory this time, the strong result reinforces Trav's status as one of the Kings of Molokai. Just a few months ago he became the first paddler to win the crossing on both a stand up and an outrigger, claiming the prestigious OC-1 Molokai Solo race in May.
As usual, the humble Aussie star was gracious in defeat. When I asked him to sum up his race, this is what he had to say:
"It was a really fast and very technical race this year. I felt I had a good crossing — I conserved energy all day and surfed the bumps as well as I could, but Kai simply did it better. He's such a talented athlete and deserves everything he gets. I did everything I could but couldn't match it with him the whole way — he was just too consistent today."
After a titanic tussle, in which Trav, Kai and Connor broke away in the final hour of the race, Kai pulled clear to setup a big lead heading into the final few miles. Trav never gave up though — he dug deep and closed the gap over the final two miles but was unable to repeat his heroics from 12 months ago.
This was Kai Lenny's day.
Below: Kai crosses the line to claim a memorable victory (includes post-race interview)
[notdevice][/notdevice][device][/device]
In the women's, two-time defending champ Sonni Hönscheid overpowered world number one Annabel Anderson to claim her third straight M2O title and reinforce her status as the Queen of the open ocean.
No other stand up paddler has ever won three Molokai crowns in a row, while Sonni's time of 5:01:40 is the second-fastest ever crossing, just outside Talia Gangini's 4:55:02 high water mark from 2012.
The result also makes Sonni the new world number two (though Annabel still enjoys a healthy lead atop the table – check out the updated SUP Racer World Rankings for more).
Sonni and Annabel enjoyed a close battle in the opening half of the race, however the two-time defending champ's experience in these conditions helped her pull ahead over the second half of the 32 mile crossing. Annabel was originally set to race on her 14 footer but made a late decision during the week to go unlimited.
Aussie Terrene Black, the 2013 champion, finished a strong 3rd, with Brazil's Lena Ribeiro impressive in 4th.
https://www.instagram.com/p/BIjdjzYgTqy/

While Kai and Travis dominated the men's race, there was no shortage of big names and standout performances further down the results sheet.
Connor Baxter, the 2011, 2012 and 2014 champion, crossed the line in third place, some six minutes adrift but still in a lightning fast time.
Connor almost got reeled in by the supremely impressive, fast-finishing Australian James "Jimmy" Casey, who cracks the top 10 on the World Rankings leaderboard with yet another head-turning performance.
https://www.instagram.com/p/BIjPpmQAowD/

It was a special effort from Jimmy's compatriot Toby Cracknell, who charged home for a top five finish that will hopefully earn him the respect his under-rated talents deserve. Brazil's Vinnicius Martins and Matt Nottage also enjoyed very strong performances to finish in 6th and 7th respectively.
Japan's national champion Kenny Kaneko crossed in four and a half hours to secure a well deserved top 10 result, while the highly under-rated Josh Riccio snuck into the top 10 five minutes later.
Aussie legend Kelly Margetts crossed five minutes later, securing a very solid 10th place finish to give the Aussies a hugely impressive 5 out of the top 10 spots in the solo unlimited division.
[notdevice][fbvideo link="https://www.facebook.com/molokai2oahu/videos/10157265584130525/" width="645″ height="363″ onlyvideo="1″][/notdevice][device][fbvideo link="https://www.facebook.com/molokai2oahu/videos/10157265584130525/" width="322″ height="181″ onlyvideo="1″][/device]
In the stock class race, aka battle of the 14 footers, Tahitian Niuhiti Buillard caused a major upset by defeating Danny Ching and stock class supremo Travis Baptiste. Niuhiti was five minutes clear of his 404 team boss by the time he reached Oahu.
For the trivia buffs, take a closer look at the 23rd place finisher: Kevin Horgan, aka the first ever champion of the Molokai SUP race way back in 2006 (there were two-man SUP teams competing as early as 2004 and 2005, however 2006 was the first official year of the solo SUP division).
One of the most famous paddling families in the Hawaiian islands, the Napoleons, enjoyed a triumphant day, with father-son team Aaron and Riggs easily claiming another title in the two-man SUP relay. Bullet Obra and Alex Look were the runners-up, while the young gun team of Noa Hopper/Ryland Hart claimed third place.
Speaking of the teams, it was an inspiring performance from Brazil's Jonas Letiero (see the video below), who conquered the Channel of Bones along with his teammate Anthony Vela.
It was another stand out stand up performance from young guns Lara Claydon and Kali'a Alexiou, the first women's team to cross the line.
https://www.instagram.com/p/BIjYei1BLBq/
https://www.instagram.com/p/BIinWu1hiC8/

In the traditional prone paddleboarding divisions, Aussie Queen Jordan Mercer claimed her sixth-straight Molokai crown, while compatriot Matt Bevilacqua finally knocked off Jamie Mitchell's record time, winning the unlimited division in 4:29:32.
Molokai 2016 was a 5-star event on the SUP Racer World Rankings, meaning it scored a guaranteed minimum of 50% on the Race Index. Given its weighty contribution, it's no surprise to see plenty of post-Molokai changes to the leaderboards.
The champs were the most significant movers, with Kai jumping up to four in the world, and Sonni taking over as the new world number two on the women's Top 50. Following a massive fourth placed finish, James "Jimmy" Casey has cracked the top 10 for the first time, while compatriot Toby Cracknell's similarly-impressive top five result sends him up towards the top 20 in the world.
Check out the latest World Rankings to see who all the movers and shakers are this week, then scroll down to see the full results from the most prestigious race of the year.
You can also get plenty more great photos over on the official Molokai-2-Oahu Facebook and Instagram.
https://www.instagram.com/p/BInTCOhAbbn/
---
Molokai 2016: Women's Solo
Race Index: 50%
Check out the updated SUP Racer World Rankings

| # | Athlete | Time | Nation | Points |
| --- | --- | --- | --- | --- |
| 1 | Sonni Hönscheid | 5:01:40 | Germany | 50.00 |
| 2 | Annabel Anderson | 5:17:26 | New Zealand | 37.50 |
| 3 | Terrene Black | 5:31:45 | Australia | 30.00 |
| 4 | Lena Ribeiro | 6:03:58 | Brazil | 25.00 |
| 5 | Amy Woodward | 6:29:03 | Hawaii | 21.25 |
| 6 | Victoria Burgess | 6:37:36 | USA | 17.50 |
| 7 | Siri Schubert | 6:46:21 | Switzerland | 15.00 |
| 8 | Tomoe Yasu | 6:51:57 | Japan | 12.50 |
| 9 | Kerstin Ouellet (stock) | 7:16:20 | USA | 11.25 |
Molokai 2016: Men's Solo
Race Index: 50%
Check out the updated SUP Racer World Rankings

| # | Athlete | Time | Board | Nation | Points |
| --- | --- | --- | --- | --- | --- |
| 1 | Kai Lenny | 4:07:41 | Unlimited | Hawaii | 50.00 |
| 2 | Travis Grant | 4:10:14 | Unlimited | Australia | 37.50 |
| 3 | Connor Baxter | 4:16:19 | Unlimited | Hawaii | 30.00 |
| 4 | James "Jimmy" Casey | 4:16:53 | Unlimited | Australia | 25.00 |
| 5 | Toby Cracknell | 4:19:03 | Unlimited | Australia | 21.25 |
| 6 | Vinnicius Martins | 4:21:17 | Unlimited | Brazil | 17.50 |
| 7 | Matt Nottage | 4:21:44 | Unlimited | Australia | 15.00 |
| 8 | Kenny Kaneko | 4:30:39 | Unlimited | Japan | 12.50 |
| 9 | Josh Riccio | 4:35:15 | Unlimited | Hawaii | 11.25 |
| 10 | Niuhiti Buillard | 4:40:50 | Stock | Tahiti | 10.00 |
| 11 | Kelly Margetts | 4:40:58 | Unlimited | Australia | 9.00 |
| 12 | Luiz Carlos Guida | 4:44:50 | Unlimited | Brazil | 8.00 |
| 13 | Danny Ching | 4:45:59 | Stock | USA | 7.50 |
| 14 | Takuji Araki | 4:46:47 | Unlimited | Japan | 7.00 |
| 15 | Travis Baptiste | 4:48:11 | Stock | Hawaii | 6.50 |
| 16 | Tomoyasu Murabayashi | 4:51:07 | Unlimited | Japan | 6.00 |
| 17 | Rory Chapman | 4:57:51 | Stock | Australia | 5.50 |
| 18 | Kaihe Chong | 4:58:30 | Stock | Hawaii | 5.00 |
| 19 | Yoshiaki Nagamatsu | 5:16:07 | Stock | Japan | 4.50 |
| 20 | Sam Thom | 5:18:07 | Unlimited | New Zealand | 4.00 |
| 21 | Ethan Koopmans | 5:26:40 | Stock | South Africa | 3.75 |
| 22 | Noah Ho'omaikelani Garfield | 5:31:52 | Unlimited | Hawaii | 3.50 |
| 23 | Heath Meldrum | 5:32:09 | Unlimited | Australia | 3.25 |
| 24 | Will Anido | 5:34:59 | Unlimited | Australia | 3.00 |
| 25 | James Martindale | 5:53:53 | Unlimited | USA | 2.75 |
| 26 | Craig Winnett | 5:54:32 | Stock | Singapore | 2.60 |
| 27 | Patrick Broemmel | 5:55:07 | Unlimited | USA | 2.45 |
| 28 | Jason Stephens | 5:56:51 | Stock | USA | 2.30 |
| 29 | Andrew Logreco | 6:00:02 | Unlimited | Hawaii | 2.15 |
| 30 | Belar Diaz | 6:00:42 | Unlimited | Spain | 2.00 |
| 31 | Scott McPhail | 6:03:48 | Unlimited | USA | 1.90 |
| 32 | Harry Lee | 6:04:32 | Stock | Australia | 1.80 |
| 33 | Kieran O'Riordan | 6:09:02 | Unlimited | Ireland | 1.70 |
| 34 | Chuck Glynn | 6:10:28 | Stock | USA | 1.60 |
| 35 | John Walsh | 6:11:55 | Stock | USA | 1.50 |
| 36 | Robert Stehlik | 6:15:31 | Stock | Hawaii | 1.40 |
| 37 | Kevin Horgan | 6:26:12 | Unlimited | Hawaii | 1.30 |
| 38 | Will Schmidt | 6:46:08 | Unlimited | USA | 1.20 |
| 39 | John Alexiou | 6:49:48 | Stock | Hawaii | 1.10 |
| 40 | Terry Stevens | 6:50:34 | Stock | Virgin Islands | 1.00 |
| 41 | Brad Feldman | 6:54:40 | Unlimited | USA | 0.95 |
| 42 | Chikara Tsumura | 6:56:20 | Unlimited | Japan | 0.90 |
| 43 | Vince Longo | 7:25:38 | Stock | USA | 0.85 |
| 44 | Bob Arnot | 7:43:49 | Unlimited | USA | 0.80 |
View the official live results page to see times for the SUP teams and prone paddleboard divisions