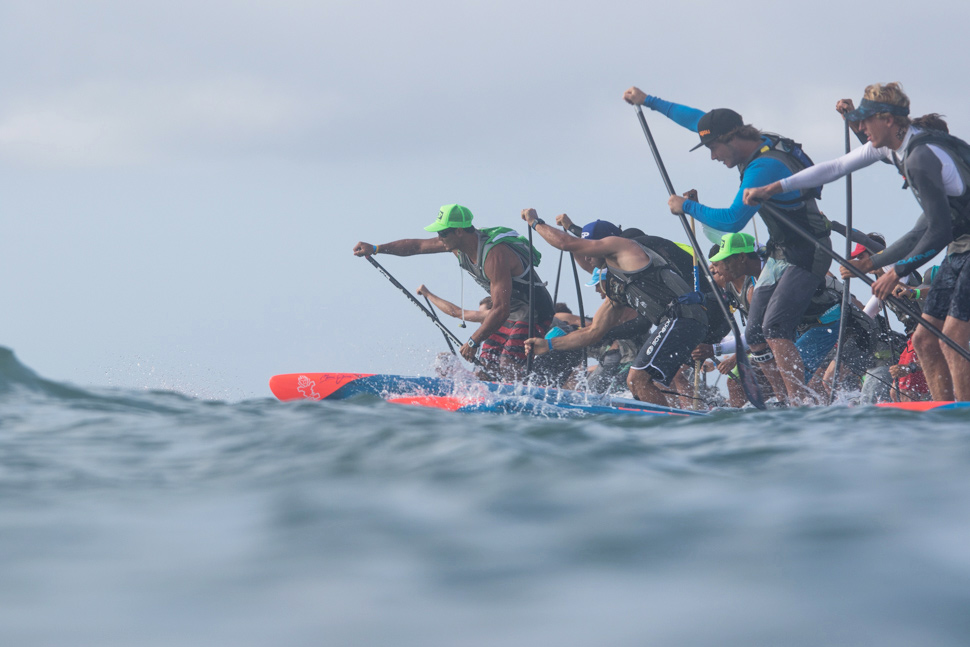 October 2, 2016
by Christopher Parker (@wheresbossman)
Pacific Paddle Games: Overall Results from the Biggest Race of the Year as Candice Appleby and Connor Baxter Go Back-to-Back
The 2016 Pacific Paddle Games presented by Salt Life are complete. And what an event it was. The words "drama", "action" and "excitement" don't even begin to describe what we saw out there, especially on the final day as it all came down to the wire for the overall results. I don't even know where to begin…
Congratulations to Candice Appleby and Connor Baxter for rising above the all-star field and claiming back-to-back PPGs titles. And huge efforts from Shae Foudy, Annabel Anderson, Michael Booth and Travis Grant to stand on the podium with them.
Big effort from Kai Lenny to claim second in the hectic surf race final, with defending champ Mo Freitas third, James Casey fourth and Slater Trout fifth. Georges Cronsteadt turned the clock back, finishing half a second behind Connor to claim a well-deserved third in the distance and fourth overall. Titouan Puyo looked very good in the distance race as well, lapping up the small bumps that were on offer.
Also a special shout out to the Pro Junior stars: Champions Martin Vitry and Kali'a Alexiou, runners-up Ryan Funk and Jade Howson (who was also on fire in the elite women's surf race final), and third place-getters Noa Hopper and Honoka Araki. You'll be hearing these names a lot more in the future. Very impressive.
But anyway, here's what you really want: The complete, full, final, overall results.
Recap? For once I'm actually kinda speechless… I couldn't even sit down in the commentary booth during those surf race finals. It was intense. There will be absolutely no recap until at least tomorrow, but fortunately you can go and read the official recap of what happened here in Doheny today over on the PPGs site.
You can also watch the full webcast replay from both days, while you might want to check out the official final day photo gallery as well.
---
SKIP TO RESULTS: Pro Men's Overall | Pro Women's Overall | Pro Men's Distance | Pro Women's Distance | Pro Men's Technical Final | Pro Women's Technical Final | Men's Semi-Finals | Women's Semi-Finals | Pro Junior Boys | Pro Junior Girls
(click here for the quarter-finals, open division and grom race results)
---
https://www.instagram.com/p/BLFIgxbDy0V/
---
Pro Men's Overall

Race Index: 92.5%
View the latest World Rankings
| # | Athlete | Points | World Rankings | Age |
| --- | --- | --- | --- | --- |
| 1 | Connor Baxter | 1900 | 92.50 | 22 |
| 2 | Michael Booth | 1500 | 69.38 | 25 |
| 3 | Travis Grant | 1400 | 55.50 | 33 |
| 4 | Georges Cronsteadt | 1250 | 46.25 | 36 |
| 5 | Arthur Arutkin | 1201 | 39.31 | 19 |
| 6 | Danny Ching | 1200 | 32.38 | 33 |
| 7 | Kai Lenny | 1175 | 27.75 | 23 |
| 8 | James Casey | 1150 | 23.13 | 25 |
| 9 | Lincoln Dews | 1000 | 20.81 | 20 |
| 10 | Mo Freitas | 825 | 18.50 | 20 |
| 11 | Titouan Puyo | 800 | 16.65 | 25 |
| 12 | Slater Trout | 775 | 14.80 | 21 |
| 13 | Casper Steinfath | 630 | 13.88 | 23 |
| 14 | Bullet Obra | 590 | 12.95 | 26 |
| 15 | Giorgio Gomez | 535 | 12.03 | 20 |
| 16 | Leonard Nika | 515 | 11.10 | 29 |
| 17 | Vinnicius Martins | 471 | 10.18 | 20 |
| 18 | Bruno Hasulyo | 446 | 9.25 | 21 |
| 19 | Jake Jensen | 445 | 8.33 | 21 |
| 20 | Zane Schweitzer | 430 | 7.40 | 23 |
| 21 | Matt Nottage | 420 | 6.94 | 21 |
| 22 | Niuhiti Buillard | 415 | 6.48 | 24 |
| 23 | Lorenzo Bennett | 385 | 6.01 | 19 |
| 24 | Guilherme Batista de Souza | 373 | 5.55 | 18 |
| 25 | Martin Letourneur | 370 | 5.09 | 20 |
| 26 | Trevor Tunnington | 360 | 4.81 | 19 |
| 27 | Noa Hopper | 350 | 4.53 | 17 |
| 28 | Kody Kerbox | 300 | 4.26 | 22 |
| 29 | Thomas King | 293 | 3.98 | 32 |
| 30 | Paolo Marconi | 276 | 3.70 | 25 |
| 31 | Manatea Bopp du Pont | 266 | 3.52 | 27 |
| 32 | Bernd Roediger | 250 | 3.33 | 19 |
| 32 | Dylan Frick | 250 | 3.15 | 21 |
| 34 | Guy Barel | 248 | 2.96 | 18 |
| 35 | Toby Cracknell | 242 | 2.78 | 22 |
| 36 | Joshua Riccio | 233 | 2.59 | 27 |
| 37 | Daniel Hasulyo | 214 | 2.41 | 25 |
| 38 | Beau O'Brian | 205 | 2.22 | 33 |
| 39 | Chase Kosterlitz | 200 | 2.04 | 30 |
| 40 | Kenny Kaneko | 177 | 1.85 | 28 |
| 41 | Claudio Nika | 166 | 1.76 | 20 |
| 42 | Eric Leou On | 156 | 1.67 | 30 |
| 43 | Kelly Margetts | 148 | 1.57 | 44 |
| 44 | Garrett Fletcher | 147 | 1.48 | 25 |
| 45 | Martin Vitry | 140 | 1.39 | 17 |
| 45 | Ryan Helm | 140 | 1.30 | 42 |
| 47 | Fernando Stalla | 137 | 1.20 | 29 |
| 48 | Kieran Grant | 118 | 1.11 | 24 |
| 49 | Gregory Closier | 116 | 1.02 | 41 |
| 50 | Martino Rogai | 115 | 0.93 | 28 |
| 51 | Tomoyasu Murabayashi | 111 | 0.00 | 38 |
| 52 | Carlos Gomez | 110 | 0.00 | 27 |
| 53 | Lucas Do Camo Belchior | 109 | 0.00 | 31 |
| 54 | Kaihe Chong | 108 | 0.00 | 26 |
| 55 | Cyril Burguiere | 103 | 0.00 | 37 |
| 55 | Dave Boehne | 103 | 0.00 | 40 |
| 57 | Vincent Verhoeven | 100 | 0.00 | 31 |
| 58 | Belar Diaz | 94 | 0.00 | 39 |
| 59 | Jeramie Vaine | 92 | 0.00 | 37 |
| 60 | Daniel Russell | 91 | 0.00 | 19 |
| 61 | Chuck Glynn | 90 | 0.00 | 28 |
| 62 | Michael Tavares | 87 | 0.00 | 33 |
| 63 | Ryan Funk | 86 | 0.00 | 16 |
| 63 | Callan Dick | 86 | 0.00 | 23 |
| 65 | Yann Lauletta | 85 | 0.00 | 22 |
| 65 | Taylor Rambo | 85 | 0.00 | 29 |
| 67 | Patrick Vero | 84 | 0.00 | 27 |
| 68 | Byron Kurt | 83 | 0.00 | 52 |
| 69 | Caio Vaz | 82 | 0.00 | 22 |
| 70 | Norman Hann | 80 | 0.00 | 47 |
| 70 | Tommy Buday | 80 | 0.00 | 40 |
| 72 | Riggs Napoleon | 79 | 0.00 | 18 |
| 73 | Maui Harehoe | 76 | 0.00 | 34 |
| 73 | Brian Meyer | 76 | 0.00 | 29 |
| 75 | Jayden Jensen | 74 | 0.00 | 24 |
| 76 | Rob Rojas | 73 | 0.00 | 43 |
| 77 | Jeremie Mandin | 69 | 0.00 | 41 |
| 78 | Chance Fielder | 68 | 0.00 | 44 |
| 79 | Damien Girault | 66 | 0.00 | 31 |
| 79 | Itzel Delgado | 66 | 0.00 | 17 |
| 81 | Nick Scheel | 65 | 0.00 | 17 |
| 82 | Brennan Rose | 62 | 0.00 | 27 |
| 82 | Sean Poynter | 62 | 0.00 | 27 |
| 84 | Jeffrey Spencer | 56 | 0.00 | 15 |
| 85 | Andrew Dima | 55 | 0.00 | 29 |
| 86 | Ricardo Chiari | 53 | 0.00 | 47 |
| 87 | Spencer Lacy | 52 | 0.00 | 24 |
| 87 | Brenden Clark | 52 | 0.00 | 46 |
| 89 | Daniel Parres-Puerto | 50 | 0.00 | 48 |
| 89 | Colin McPhillips | 50 | 0.00 | 41 |
| 91 | Larry Cain | 46 | 0.00 | 53 |
| 91 | Kyle O'Kelly | 46 | 0.00 | 43 |
| 93 | Jorge Quintana- | 45 | 0.00 | 34 |
| 94 | Ryan Knysh | 44 | 0.00 | 29 |
| 94 | Zibi Wadzynski | 44 | 0.00 | 43 |
| 96 | Matt Hartnett | 38 | 0.00 | 31 |
| 96 | George Plsek | 38 | 0.00 | 47 |
| 98 | Rodney Ellis | 27 | 0.00 | 43 |
| 99 | Chris Murphy | 10 | 0.00 | 34 |
* UPDATED October 11th with a few corrected results (most notably Zane Schweitzer, who finished 20th, not 38th as originally listed)
---
Pro Women's Overall

Race Index: 71.5%
View the latest World Rankings
| # | Athlete | PPGs Points | World Rankings | Age |
| --- | --- | --- | --- | --- |
| 1 | Candice Appleby | 1825 | 71.50 | 31 |
| 2 | Shae Foudy | 1725 | 53.63 | 17 |
| 3 | Annabel Anderson | 1650 | 42.90 | 35 |
| 4 | Olivia Piana | 1450 | 35.75 | 25 |
| 5 | Terrene Black | 1400 | 30.39 | 33 |
| 6 | Fiona Wylde | 1300 | 25.03 | 19 |
| 7 | Sonni Honscheid | 1200 | 21.45 | 35 |
| 8 | April Zilg | 1025 | 17.88 | 30 |
| 9 | Jenny Kalmbach | 1000 | 16.09 | 33 |
| 10 | Morgan Hoesterey | 801 | 14.30 | 35 |
| 11 | Seychelle Hattingh | 800 | 12.87 | 29 |
| 12 | Lexi Alston | 751 | 11.44 | 14 |
| 13 | Hannah Hill | 750 | 10.73 | 16 |
| 14 | Jade Howson | 702 | 10.01 | 14 |
| 15 | Kimberly Barnes | 701 | 9.30 | 40 |
| 16 | Tarryn King | 700 | 8.58 | 26 |
| 17 | Susak Molinero | 625 | 7.87 | 28 |
| 18 | Shannon Bell | 525 | 7.15 | 42 |
| 19 | Jennifer Lee | 425 | 6.44 | 35 |
| 20 | Alyson Fromm | 380 | 5.72 | 22 |
| 21 | Kenzie Carlstrom | 350 | 5.36 | 19 |
| 22 | Teanatea Tetoe | 340 | 5.01 | 36 |
| 23 | Bailey Rosen | 330 | 4.65 | 20 |
| 24 | Genna Flinkman | 310 | 4.29 | 29 |
| 25 | Giannisa Vecco | 260 | 3.93 | 37 |
| 26 | Isabella Gomez | 251 | 3.72 | 16 |
| 27 | Stephanie Shideler | 250 | 3.50 | 41 |
| 28 | Natalie Tiralongo | 160 | 3.29 | 17 |
| 29 | Alejandra Brito | 140 | 3.07 | 33 |
| 30 | Jolieanne Marxen | 130 | 2.86 | 39 |
---
Pro Men's Distance Race
| # | Athlete | Time | PPGs Points | Age |
| --- | --- | --- | --- | --- |
| 1 | Michael Booth | 48:25.27 | 1000 | 25 |
| 2 | Connor Baxter | 48:32.52 | 900 | 22 |
| 3 | Georges Cronsteadt | 48:32.88 | 825 | 36 |
| 4 | Travis Grant | 49:27.31 | 750 | 33 |
| 5 | Titouan Puyo | 49:27.35 | 700 | 25 |
| 6 | Danny Ching | 49:34.58 | 650 | 33 |
| 7 | Arthur Arutkin | 49:34.60 | 600 | 19 |
| 8 | Lincoln Dews | 50:03.51 | 550 | 20 |
| 9 | Bullet Obra | 50:07.59 | 500 | 26 |
| 10 | Casper Steinfath | 50:16.16 | 450 | 23 |
| 11 | Leonard Nika | 50:21.02 | 425 | 29 |
| 12 | James Casey | 50:36.79 | 400 | 25 |
| 13 | Vinnicius Martins | 50:43.83 | 375 | 20 |
| 14 | Bruno Hasulyo | 50:44.28 | 350 | 21 |
| 15 | Niuhiti Buillard | 50:56.53 | 325 | 24 |
| 16 | Matt Nottage | 50:57.10 | 300 | 21 |
| 17 | Kai Lenny | 51:20.60 | 275 | 23 |
| 18 | Zane Schweitzer | 51:20.93 | 250 | 23 |
| 19 | Lorenzo Bennett | 51:21.04 | 225 | 19 |
| 20 | Trevor Tunnington | 51:21.25 | 200 | 19 |
| 21 | Paolo Marconi | 51:22.37 | 190 | 25 |
| 22 | Manatea Bopp du Pont | 51:24.52 | 180 | 27 |
| 23 | Guy Barel | 51:41.58 | 170 | 18 |
| 24 | Giorgio Gomez | 51:53.66 | 160 | 20 |
| 25 | Bernd Roediger | 52:19.46 | 150 | 19 |
| 26 | Daniel Hasulyo | 52:20.32 | 140 | 25 |
| 27 | Chase Kosterlitz | 52:48.41 | 130 | 30 |
| 28 | Martin Letourneur | 52:53.69 | 120 | 20 |
| 29 | Dylan Frick | 52:53.94 | 110 | 21 |
| 30 | Eric Leou On | 53:11.90 | 100 | 30 |
| 31 | Kenny Kaneko | 53:13.24 | 95 | 28 |
| 32 | Ryan Helm | 53:23.01 | 90 | 42 |
| 33 | Beau O'Brian | 53:25.72 | 85 | 33 |
| 34 | Claudio Nika | 53:45.71 | 80 | 20 |
| 35 | Slater Trout | 53:47.05 | 75 | 21 |
| 36 | Kelly Margetts | 54:30.10 | 70 | 44 |
| 37 | Garrett Fletcher | 54:31.60 | 65 | 25 |
| 38 | Gregory Closier | 54:32.02 | 60 | 41 |
| 39 | Fernando Stalla | 54:36.24 | 55 | 29 |
| 40 | Vincent Verhoeven | 54:41.28 | 50 | 31 |
| 41 | Martino Rogai | 54:55.90 | 49 | 28 |
| 42 | Guilherme Batista de Souza | 54:56.60 | 48 | 18 |
| 43 | Cyril Burguiere | 55:08.01 | 47 | 37 |
| 44 | Larry Cain | 55:08.01 | 46 | 53 |
| 45 | Jake Jensen | 55:13.48 | 45 | 21 |
| 46 | Carlos Gomez | 55:17.18 | 44 | 27 |
| 47 | Thomas King | 55:17.62 | 43 | 32 |
| 48 | Toby Cracknell | 55:18.83 | 42 | 22 |
| 49 | Daniel Russell | 55:35.82 | 41 | 19 |
| 50 | Kieran Grant | 55:48.07 | 40 | 24 |
| 51 | Lucas Do Camo Belchior | 55:48.33 | 39 | 31 |
| 52 | Belar Diaz | 55:49.00 | 38 | 39 |
| 53 | Tomoyasu Murabayashi | 55:50.04 | 37 | 38 |
| 54 | Tommy Buday | 55:51.72 | 36 | 40 |
| 55 | Riggs Napoleon | 55:54.32 | 35 | 18 |
| 56 | Patrick Vero | 55:55.75 | 34 | 27 |
| 57 | Joshua Riccio | 56:26.77 | 33 | 27 |
| 58 | Maui Harehoe | 56:56.97 | 32 | 34 |
| 59 | Michael Tavares | 56:58.29 | 31 | 33 |
| 60 | Kaihe Chong | 57:30.67 | 30 | 26 |
| 61 | Dave Boehne | 57:43.33 | 29 | 40 |
| 62 | Damien Girault | 58:02.93 | 28 | 31 |
| 63 | Rodney Ellis | 58:08.37 | 27 | 43 |
| 64 | Brian Meyer | 58:32.09 | 26 | 29 |
| 65 | Jeremie Mandin | 58:32.77 | 25 | 41 |
| 66 | Norman Hann | 58:57.28 | 24 | 47 |
| 67 | Yann Lauletta | 59:13.35 | 23 | 22 |
| 68 | Jeramie Vaine | 59:14.12 | 22 | 37 |
| 69 | Byron Kurt | 59:43.37 | 21 | 52 |
| 70 | Brenden Clark | 59:48.48 | 20 | 46 |
| 71 | Taylor Rambo | 1:00:13 | 19 | 29 |
| 72 | Chance Fielder | 1:00:15 | 18 | 44 |
| 73 | Rob Rojas | 1:00:32 | 17 | 43 |
| 74 | Callan Dick | 1:00:37 | 16 | 23 |
| 75 | Nick Scheel | 1:00:57 | 15 | 17 |
| 76 | Spencer Lacy | 1:01:14 | 14 | 24 |
| 77 | Jorge Quintana- | 1:02:16 | 13 | 34 |
| 78 | Daniel Parres-Puerto | 1:02:45 | 12 | 48 |
| 79 | Andrew Dima | 1:05:21 | 11 | 29 |
| 80 | Chris Murphy | 1:07:54 | 10 | 34 |
| 81 | Ricardo Chiari | 1:09:46 | 9 | 47 |
| 82 | Kyle O'Kelly | 1:12:23 | 8 | 43 |
* UPDATED October 11th with a few corrected results (most notably Zane Schweitzer, who finished 18th, not 57th as originally listed)
---
Pro Women's Distance Race
| # | Athlete | Age | Time | PPGs Points |
| --- | --- | --- | --- | --- |
| 1 | Annabel Anderson | 35 | 54:18.19 | 1000 |
| 2 | Shae Foudy | 17 | 56:01.81 | 900 |
| 3 | Candice Appleby | 31 | 56:01.99 | 825 |
| 4 | Fiona Wylde | 19 | 56:20.47 | 750 |
| 5 | Olivia Piana | 25 | 56:31.14 | 700 |
| 6 | April Zilg | 30 | 56:55.32 | 650 |
| 7 | Sonni Honscheid | 35 | 57:09.23 | 600 |
| 8 | Jenny Kalmbach | 33 | 57:18.87 | 550 |
| 9 | Terrene Black | 33 | 57:34.75 | 500 |
| 10 | Hannah Hill | 16 | 57:45.30 | 450 |
| 11 | Susak Molinero | 28 | 58:01.95 | 425 |
| 12 | Seychelle Hattingh | 29 | 58:23.54 | 400 |
| 13 | Kim Barnes | 40 | 58:42.79 | 375 |
| 14 | Tarryn King | 26 | 1:00:06 | 350 |
| 15 | Lexi Alston | 14 | 1:00:06 | 325 |
| 16 | Morgan Hoesterey | 35 | 1:00:35 | 300 |
| 17 | Shannon Bell | 42 | 1:01:10 | 275 |
| 18 | Stephanie Shideler | 41 | 1:01:54 | 250 |
| 19 | Jennifer Lee | 35 | 1:02:06 | 225 |
| 20 | Alyson Fromm | 22 | 1:02:26 | 200 |
| 21 | Kenzie Carlstrom | 19 | 1:03:08 | 190 |
| 22 | Teanatea Tetoe | 36 | 1:05:52 | 180 |
| 23 | Genna Flinkman | 29 | 1:08:10 | 170 |
| 24 | Natalie Tiralongo | 17 | 1:08:45 | 160 |
| 25 | Bailey Rosen | 20 | 1:09:18 | 150 |
| 26 | Giannisa Vecco | 37 | 1:11:07 | 140 |
| 27 | Jolieanne Marxen | 39 | 1:27:34 | 130 |
---
Pro Men's Technical Final
| # | Athlete | Time | Age |
| --- | --- | --- | --- |
| 1 | Connor Baxter | 14:31.08 | 22 |
| 2 | Kai Lenny | 14:43.27 | 23 |
| 3 | Mo Freitas | 14:43.53 | 20 |
| 4 | James Casey | 14:57.03 | 25 |
| 5 | Slater Trout | 14:59.79 | 21 |
| 6 | Travis Grant | 15:03.20 | 33 |
| 7 | Arthur Arutkin | 15:11.69 | 19 |
| 8 | Danny Ching | 15:13.39 | 33 |
| 9 | Michael Booth | 15:13.44 | 25 |
| 10 | Lincoln Dews | 15:19.11 | 20 |
| 11 | G Cronsteadt | 15:32.74 | 36 |
| 12 | Jake Jensen | 15:39.61 | 21 |
| 13 | Giorgio Gomez | 15:57.97 | 20 |
| 14 | Noa Hopper | 16:04.88 | 17 |
| 15 | Guilherme Batista de Souza | 16:05.08 | 18 |
| 16 | Kody Kerbox | 16:40.36 | 22 |
---
Pro Women's Technical Final
| # | Athlete | Time | Age |
| --- | --- | --- | --- |
| 1 | Candice Appleby | 18:11.93 | 31 |
| 2 | Terrene Black | 18:15.44 | 33 |
| 3 | Shae Foudy | 18:16.75 | 17 |
| 4 | Olivia Piana | 18:30.53 | 25 |
| 5 | Jade Howson | 18:45.82 | 14 |
| 6 | Annabel Anderson | 18:59.65 | 35 |
| 7 | Sonja Honscheid | 19:20.56 | 35 |
| 8 | Fiona Wylde | 19:32.11 | 19 |
| 9 | Morgan Hoesterey | 19:32.21 | 35 |
| 10 | Jennifer Kalmbach | 19:33.90 | 33 |
| 11 | Lexi Alston | 19:37.73 | 14 |
| 12 | Seychelle Hattingh | 19:48.79 | 29 |
| 13 | April Zilg | 19:49.00 | 30 |
| 14 | Tarryn King | 20:22.07 | 26 |
| 15 | Kimberly Barnes | 20:40.60 | 40 |
| 16 | Hannah Hill | 20:55.36 | 16 |
---
Pro Men's Technical Semi-Final #1
| # | Athlete | Time | Age |
| --- | --- | --- | --- |
| 1 | Connor Baxter | 13:31.90 | 22 |
| 2 | Kai Lenny | 13:33.33 | 23 |
| 3 | Danny Ching | 13:35.85 | 33 |
| 4 | Travis Grant | 13:37.90 | 33 |
| 5 | James Casey | 13:38.19 | 25 |
| 6 | Arthur Arutkin | 13:39.41 | 19 |
| 7 | Noa Hopper | 13:40.26 | 17 |
| 8 | Georges Cronsteadt | 13:42.77 | 36 |
| 9 | Martin Letourneur | 13:59.51 | 20 |
| 10 | Joshua Riccio | 14:02.26 | 27 |
| 11 | Zane Schweitzer | 14:07.82 | 23 |
| 12 | Lorenzo Bennett | 14:19.05 | 19 |
| 13 | Dylan Frick | 14:22.02 | 21 |
| 14 | Matt Nottage | 14:22.06 | 21 |
| 15 | Titouan Puyo | 14:22.29 | 25 |
| 16 | Bruno Hasulyo | 14:35.89 | 21 |
Pro Men's Technical Semi-Final #2
Top 8 advanced to the final
| # | Athlete | Time | Age |
| --- | --- | --- | --- |
| 1 | Mo Freitas | 13:30.58 | 20 |
| 2 | Giorgio Gomez | 13:36.99 | 20 |
| 3 | Michael Booth | 13:37.06 | 25 |
| 4 | Slater Trout | 13:37.16 | 21 |
| 5 | Lincoln Dews | 13:46.01 | 20 |
| 6 | Kody Kerbox | 14:01.68 | 22 |
| 7 | Guilherme Batista de Souza | 14:05.54 | 18 |
| 8 | Jake Jensen | 14:06.01 | 21 |
| 9 | Thomas King | 14:06.33 | 32 |
| 10 | Toby Cracknell | 14:24.99 | 22 |
| 11 | Casper Steinfath | 14:25.24 | 23 |
| 12 | Trevor Tunnington | 14:25.43 | 19 |
| 13 | Martin Vitry | 14:25.54 | 17 |
| 14 | Beau O'Brian | 15:48.05 | 33 |
| 15 | Bernd Roediger | 15:50.33 | 19 |
| 16 | Vinnicius Martins | 17:01.49 | 20 |
---
Pro Women's Technical Semi-Final #1
| # | Athlete | Time | Age |
| --- | --- | --- | --- |
| 1 | Candice Appleby | 14:13.13 | 31 |
| 2 | Shae Foudy | 15:01.91 | 17 |
| 3 | April Zilg | 15:02.98 | 30 |
| 4 | Jenny Kalmbach | 15:04.81 | 33 |
| 5 | Olivia Piana | 15:06.91 | 25 |
| 6 | Terrene Black | 15:20.79 | 33 |
| 7 | Jade Howson | 15:23.39 | 14 |
| 8 | Morgan Hoesterey | 16:40.71 | 35 |
| 9 | Isabella Gomez | 16:41.74 | 16 |
| 10 | Susak Molinero | 16:42.12 | 28 |
| 11 | Bailey Rosen | 16:46.91 | 20 |
| 12 | Kenzie Carlstrom | 17:23.31 | 19 |
| 13 | Genna Flinkman | 17:34.98 | 29 |
| 14 | Giannisa Vecco | 17:50.68 | 37 |
Pro Women's Technical Semi-Final #2
Top 8 advanced to the final
| # | Athlete | Time | Age |
| --- | --- | --- | --- |
| 1 | Annabel Anderson | 15:33.59 | 35 |
| 2 | Fiona Wylde | 16:06.82 | 19 |
| 3 | Tarryn King | 16:43.24 | 26 |
| 4 | Lexi Alston | 16:55.98 | 14 |
| 5 | Kimberly Barnes | 17:10.71 | 40 |
| 6 | Sonja Honscheid | 17:22.15 | 35 |
| 7 | Hannah Hill | 18:37.21 | 16 |
| 8 | Seychelle Hattingh | 19:53.28 | 29 |
| 9 | Shannon Bell | 21:27.16 | 42 |
| 10 | Jennifer Lee | 22:17.93 | 35 |
| 11 | Alyson Fromm | 22:31.35 | 22 |
| 12 | Teanatea Tetoe | 26:54.66 | 36 |
| 13 | Alejandra Brito | 28:13.34 | 33 |
---
Pro Junior Boys – Overall
| # | Athlete | Points | Age |
| --- | --- | --- | --- |
| 1 | Martin Vitry | 1900 | 7 |
| 2 | Ryan Funk | 1725 | 6 |
| 3 | Noa Hopper | 1700 | 7 |
| 4 | Tiavairau Chang | 1525 | 5 |
| 5 | Jeffrey Spencer | 1400 | 5 |
| 6 | Nick Scheel | 1201 | 7 |
| 7 | Ryland Hart | 1200 | 5 |
| 8 | Christian Anderson | 1050 | 5 |
| 9 | Haakon Hoyer-Nielsen | 975 | 6 |
| 10 | Itzel Delgado | 950 | 17 |
| 11 | Tyler Bashor | 826 | 14 |
| 12 | Trent Carter | 825 | 14 |
| 13 | Patrick Cleveland | 725 | 16 |
| 14 | Keahi Agnieray | 650 | 15 |
| 15 | Elijah Schoenig | 625 | 15 |
| 16 | Max Fleming | 601 | 17 |
| 17 | Keoni Sulpice | 600 | 12 |
| 18 | Charlie Cindric | 501 | 15 |
| 19 | Hanson Siverts | 500 | 15 |
---
Pro Junior Girls – Overall
| # | Athlete | Points | Age |
| --- | --- | --- | --- |
| 1 | Kali'a Alexiou | 1825 | 15 |
| 2 | Jade Howson | 1800 | 14 |
| 3 | Honoka Araki | 1575 | 14 |
| 4 | Erika Benitez | 1550 | 16 |
| 5 | Annie Reickert | 1400 | 15 |
| 6 | Delila Quinn | 1350 | 12 |
| 7 | Lara Claydon | 1300 | 16 |
| 8 | Valeria Salustri-Soto | 1150 | 15 |
| 9 | Jane Staples | 1000 | 14 |
---