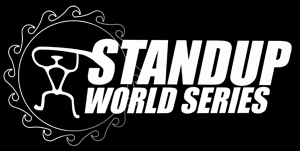 Heavy: Stand Up World Series Pulls The Pin On Huntington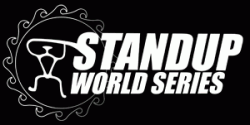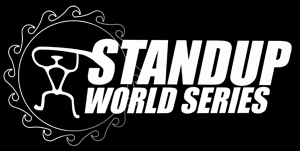 The Stand Up World Series announced today that the Huntington Beach Pro Grand Slam has been cancelled. The event was set to combine both the Stand Up World Series (SUP racing) and the Stand Up World Tour (SUP surfing) in a week-long, marquee event.
The racing part of the event was going to be held on the weekend of October 6th. That's just one week after the Battle of the Paddle, so a whole bunch of pros would have still been in town and this probably would have been the biggest Stand Up World Series event ever.
But now it's been canned. The official word is that it's due to "last minute sponsorship pitfalls", which means either a major sponsor pulled the pin or the event simply couldn't raise the money it needed to run. As soon as the Waterman League (the organisers behind both the Stand Up World Series and Stand Up World Tour) announced the news on Facebook, it was met with frustration from paddlers.
The general consensus seems to be that it's "heavy…".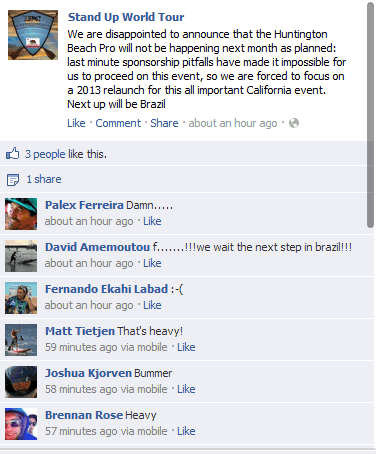 Plenty of pros have booked flights and accommodation based around this event, so to have it cancelled just a few weeks out is a major blow. It's not he first time this has happened either; earlier this year the Waterman League cancelled the CamSur World Paddle Challenge just days before the event started.
But Stand Up Paddle racing is a new sport that's still in its growing stages. Not everything is going to run smoothly and most people probably appreciate the effort involved with organising (and financing) a pro SUP race. The Waterman League has been very ambitious with the Stand Up World Series, so it's probably not a huge surprise that it didn't pull off every event in 2012.
Though maybe that's the problem; that the Series has been overly-ambitious and hasn't been able to pull it off. I'm sure this wasn't an easy decision, but either way, this cancellation is going to leave a bad taste for many paddlers and it could be tough for the Series to recover.
Despite pulling off great events in places such as France, Chicago and Florida, the SUP World Series has had a pretty rocky first year. In addition to the last-minute Huntington and Philippines cancellations, there's been several other changes to the Stand Up World Series schedule since it was announced 12 months ago.
Huntington Beach was also going to be the last event before the World Series Finals, scheduled for October 12th-14th on Oahu. This cancellation will take away a lot of the momentum from that event, especially seeing it's billing itself as the "World Championships". This is despite fact that less than half of the world's Top 10 male SUP racers (and only one of the world's leading women) have actually competed in a Stand Up World Series event this year.
It might simply be a case of promising too much and not being able to deliver. For the good of the sport, let's hope the Waterman League can recover and deliver a bigger and better Series next year. They've got ambitious goals and an exciting racing format that would seriously grow our sport if they could pull it all off. So let's just hope they get their events 100% nailed down before they announce the 2013 Stand Up World Series schedule.