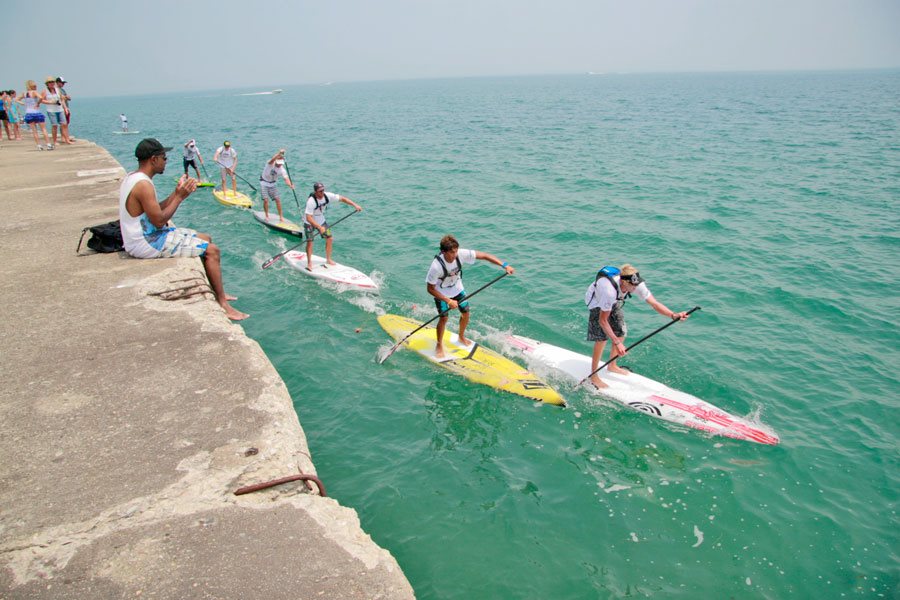 July 1, 2012
by Christopher Parker (@wheresbossman)
[RESULTS] Stand Up World Series Chicago (updated+video)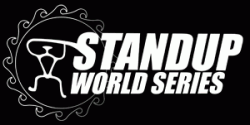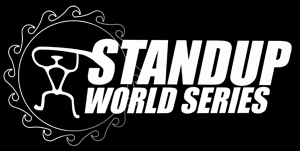 The latest stop in the Stand Up World Series has just wrapped in Chicago.
Plenty of SUP racing stars were in town for the weekend, including Connor Baxter, Slater Trout, Jake Jensen, Eric Terrien, Annabel Anderson, Kai Lenny, Bart de Zwart and Zane Schweitzer.
The event featured two main races: Knockout Beach Sprints and a Long Distance Race, with results from each race combined to produce the overall champion.
Young gun Connor Baxter took the early lead, coming from behind to win the Knockout Beach Sprint final ahead of an in-form Kai Lenny. Kai reversed the result on Monday though, crossing the line ahead of Connor in the Long Distance Race.
However that put both Kai and Connor on 1x first and 1x second place each, meaning they were tied for the overall victory. So it came down to a tie-breaker sprint paddle, which Kai Lenny narrowly won and therefore became the inaugural Stand Up World Series Chicago Champion.
Third overall was underrated Ryan Helm from Mexico, a massive result considering he beat the likes of Slater Trout, Eric Terrien, Jake Jensen, Bart de Zwart and his compatriot Fernando Stalla.
Check out pics and video of the action below or scroll down for full race results.
Day 1 (Sunday): Sprints

Day 2 (Monday): Long Distance

*****
OVERALL RESULTS
1st: Kai Lenny (beat Connor in a tie-breaker)
2nd: Connor Baxter
3rd: Ryan Helm
4th: Slater Trout (beat Eric in a tie-breaker)
5th: Eric Terrien
6th: Jake Jensen
7th: Fernando Stalla
8th: Bart de Zwart
Full results coming soon…
*****
RESULTS: Long Distance Race
1st: Kai Lenny
2nd: Connor Baxter
3rd: Slater Trout
4th: Eric Terrien
5th: Ryan Helm
6th: Jake Jensen
7th: Fernando Stalla
8th: Bart de Zwart
9th: Annabel Anderson (1st in the women's division)
Full results coming soon…
*****
RESULTS: Knockout Beach Sprints
FINAL
1st: Connor Baxter
2nd: Kai Lenny
3rd: Ryan Helm
4th: Jake Jensen
5th: Eric Terrien
6th: Slater Trout
Consolation Final
1st: Fernando Stalla (7th overall)
2nd: Bart De Swart (8th overall)
3rd: Zane Schweitzer (9th overall)
4th: Annabel Anderson (1st women's division)
5th: Jen Scully (2nd women's division)
6th: Ian Jacobsen (10th overall)
Semi Final #1
1st: Kai Lenny
2nd: Jake Jensen
3rd: Ryan Helm
4th: Zane Schweitzer
5th: Bart De Swart
6th: Ian Jacobsen
Semi Final #2
1th: Connor Baxter
2nd: Slater Trout
3rd: Eric Terrien
4th: Fernando Stalla
5th: Annabel Anderson
6th: Jen Scully