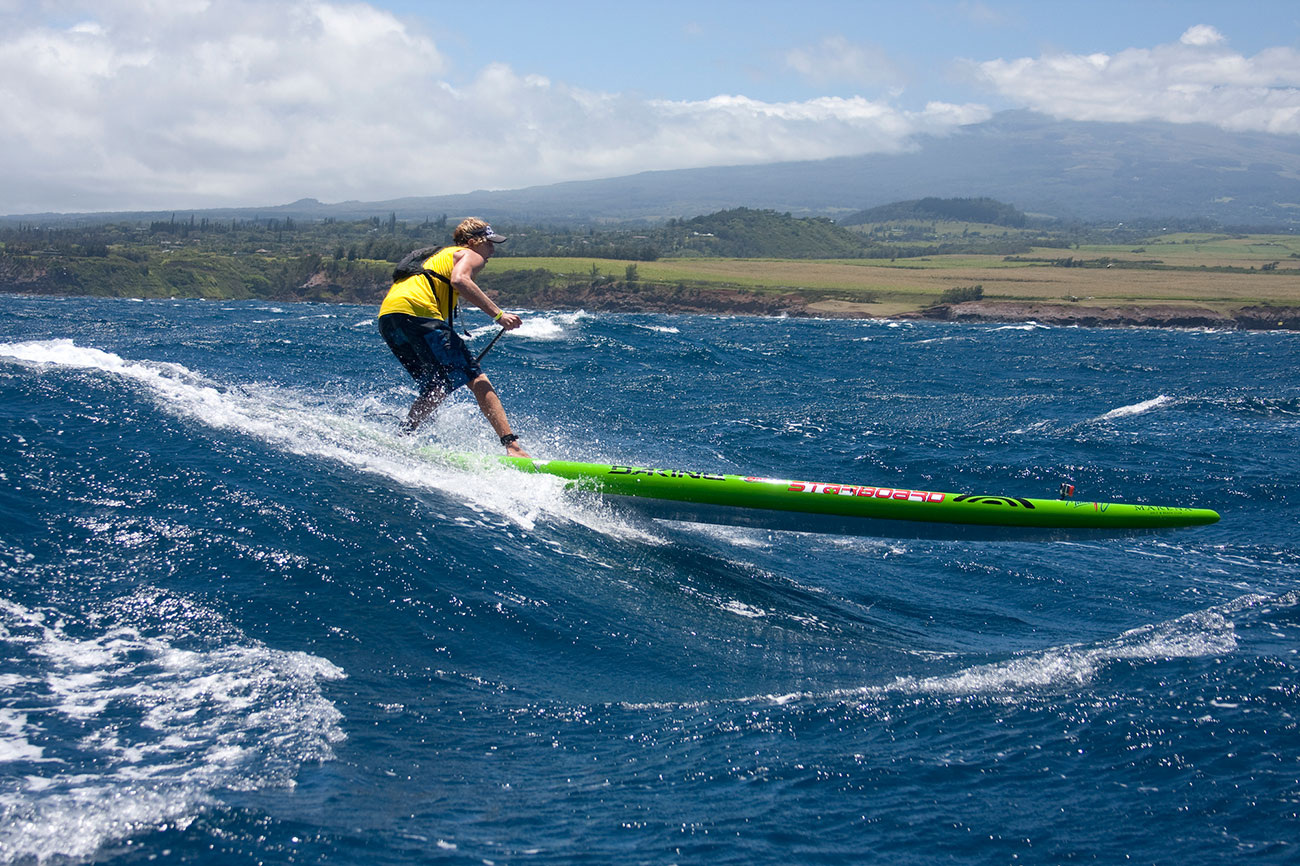 April 29, 2016
by Christopher Parker (@wheresbossman)
Preview and Predictions: OluKai and Key West Set to Headline Another Big Weekend of Racing
---
SATURDAY UPDATE:
Be the first to know who wins with our LIVE RESULTS from the 2016 OluKai Ho'olaule'a on Maui
---
We're still coming down from the high of Carolina, but there's no time to rest as the paddling world heads straight into another big weekend of racing. From the Key West Classic in Florida to the big downwind showdown on Maui, there will be plenty of results to keep track of on Saturday.
Here's a quick preview and a few not-so-bold predictions…
8th Annual OluKai Ho'olaule'a
Maui, Hawaii
(Race Index: 40%)
OluKai is one of the grandest races on the calendar. Now in its 8th year, the event has established itself as not only a great race (when the wind cooperates, that is) but also a great event.
OluKai is more than just a race, it's a festival of paddling with a strong emphasis on giving back to the local community. It's become a true pillar of the paddling world, and so this year SUP Racer has designated the OluKai Ho'olaule'a as a 40% "protected event" on our new Race Index, which means the results will give the SUP Racer World Rankings a good nudge (there are 40.00 world ranking points on offer for the winners).
Conditions always play a big part in this race — it's still relatively early in the Hawaiian downwind season, so the trade winds on Maui aren't as reliable as during "Downwind Month" in July. But the good news is the wind has been cranking all week, with the local and international crew enjoying perfect Maliko runs every day. Although the forecast is calling for slightly lighter winds on Saturday, it should still be a great ride along the famed Maliko downwind run.
In the elite men's field, OluKai 2016 is shaping up to be a "Maui vs Australia" showdown, with a trio of Aussie guys (and one particularly fast woman) looking to upset the local contenders.
Leading the charge for Team Australia will be Travis Grant, who's been runner-up at OluKai three times in the past. Trav looked fit and firing at Carolina last weekend, where the NSP rider only narrowly relinquished his crown to team mate and good friend Titouan Puyo. The scary part about Trav's result last weekend is that he hasn't trained on flat water in six months — all he's been doing every day is downwinders. The Aussie world beater is now based on Oahu, where he paddles the famous Hawaii Kai run half a dozen times a week. That kind of "training" will put him in a perfect position to go one better on Maui this year. Trav is also quietly confident that he's figured out how and why Connor is so damn quick on the Maliko run; if he has, it'll setup an enthralling battle between two of the world's absolute best on Saturday.
Charging into battle alongside Trav will be the new king of Australian downwind, Matt Nottage, who defeated Trav and the rest of Australia's best twice in two weeks at West Oz's "Downwind Week" back in December. Nottage was also runner-up at the last big Maliko race, the Maui Paddleboard Champs in July 2015 (which he backed up with a runner-up in the Maui 2 Molokai race a week later). Nottage is a supremely under-rated talent in the world of ocean paddling, while he showed last weekend in Carolina that he can match it with the best in any conditions, finishing top 10 in what was a largely flat water affair. Look for the Starboard team rider to be right up near the pointy end of the field this weekend.
The third part of the Aussie assault is Sydney boy James Casey, who spends a lot of time on Maui and is very comfortable on an unlimited board. "Jimmy" has been in fine form this year, pushing inside the world's top 20 after victory at Australia's elite Saucy Jack Classic last month. The JP Australia team rider also had a big result at Molokai last year, which would have given him a good boost of confidence heading into the 2016 Hawaiian season. Like many of the Aussies, Jimmy will return to Hawaii for 'Downwind Month' in July to back up his OluKai campaign.
But Team Australia will have their work cut out for them this weekend — Maui is the undisputed mecca of downwind paddling both in terms of conditions and talent. And nobody is more talented than Connor Baxter.
To say Connor has dominated downwind paddling on Maui is an understatement. He's triumphed at OluKai each of the past four years, in addition to his record six straight Maui 2 Molokai titles. When it comes to riding bumps on an unlimited board, especially on his "home ground" of Maliko, Connor is virtually unbeatable.
I chatted with Connor yesterday and he seemed particularly fired up for a big result this weekend, especially given his poor finish (at least by his own lofty standards) at Carolina last weekend. I think Travis will get closer than ever before this year – and I mean he'll get really close – but I still can't see anyone surpassing Conbax on this stretch of water. It'll be a great contest between these two on Saturday, and I wouldn't be shocked if Trav caused an upset, but it'll probably be five straight titles for the Maui boy by Saturday afternoon.
Though the great thing about downwind racing is that it's relatively difficult to predict, with additional variables coming into play in the ocean that you don't find in any other type of race. One paddler could find a good rhythm and effortlessly connect bump after bump, whereas another could get "stuck" and quickly lose ground — it's not uncommon to see two paddlers side by side one minute, only for a hundred metre gap to open up the next. Another great part of downwind paddling in Hawaii is the unlimited boards, where the rudders bring in a whole new element of skill, strategy and fun.
One guy that's capable of anything on an unlimited is the living legend Dave Kalama, who's almost always a top finisher at OluKai. Dave finished third at OluKai 2015 and is always a strong chance when the bumps are firing — there are very few paddlers that can stay within sight of Kalama on the Maliko run.
Other Maliko experts that deserve a spot on the podium are Jeremy Riggs, who's probably logged more hours on this stretch of water than any other paddler on the planet, and the Brazilian-turned-Maui-local Livio Menelau, who won the second ever OluKai race back in 2010 (where he defeated Ching, Kalama and Baxter) and is always a podium contender.
Travis Baptiste is another overall top five contender, however he's more or less guaranteed to win the 14′ stock division. The performances from this kid at OluKai and Molokai over the past few years have been nothing short of extraordinary, especially considering he gives up a 3ft board advantage to his closest rivals. Look for young Trav to add another feather to his cap tomorrow.
Also keep an eye on Maui boys Zane Schweitzer, who will be keen to race after illness kept him off the water in Carolina, Josh Riccio, who finished strong on the Graveyard course last weekend and now returns to his favoured ocean conditions, and Kody Kerbox, who had a bit of a shocker in Carolina and will therefore be extra motivated to snag a good result on his home turf.
Though the big wildcard might be Kai Lenny, who lives right in the middle of the Maliko run but who has a famously light race schedule. I'm not sure if Kai is racing (he didn't the past two years) but if he does, look for him to push for a top five spot (though I still don't think anyone can match Connor and Trav).
There are plenty of other wildcards, with the Hawaiian islands full of paddling talent that hasn't had much international exposure. I'm particularly interested to see what Kaihe Chong can do. This guy took line honours at Molokai last year in a team relay with Danny Ching, and while he's more of an outrigger paddler, he clearly knows what he's doing on a stand up. Kaihe is just one of a dozen dark horses that could easily sneak inside the top 10 on Saturday.
In the women's, the big question mark is whether or not Andrea Moller is racing, and if she is, whether or not she's in race shape. If Connor has "dominated" the OluKai race, Andrea has absolutely owned the event, winning every single race in its seven year history. "Seven straight" is the longest winning streak in stand up paddling history, but it may end there.
Andrea suffered a serious leg injury surfing massive waves on Maui over the winter and is still recovering. Her bravery earned her a prestigious WSL Big Wave Award last week, but it's also kept her out of the water for two months. She ditched the crutches just last week, so it would be an amazing effort if she hopped straight back on the race board. I doubt Andrea is ready to race, but if the wind is firing she may not be able to resist a classic Maliko run. And if she does race, she could do anything — there are very few men who can keep up with Andrea on Maliko, let alone any women.
Whether or not Andrea lines up, Sonni Hönscheid is going to be a strong contender. The powerful German has been runner-up the past two years, and it feels almost inevitable that she'll eventually break Andrea's stranglehold on this event. The two-time Molokai champ looked to be in good shape at Carolina last weekend, where she finished third, and will be looking for a big result on her adopted home of Maui before heading back to Europe for the start of the Euro Tour.
Though keep a very close eye on two strong locals who rarely race outside Maui but know the Maliko run better than just about anyone: Devin Blish (4th in 2015) and Kathy Shipman (3rd).
I'm also hedging my bets on Terrene Black, Australia's former Queen of Molokai who is very familiar with the unlimited downwind boards. Though she doesn't get to spend as much time on Maui as the other leading women, Terrene is a strong contender in every race she enters. In a similar position to Terrene is Hood River's Fiona Wylde, who is one of the finest downwind paddlers on the planet (she grew up on the famed Gorge after all) but may opt for the stock 14′ class as she did last year, which would keep her out of line honours contention.
After Andrea, the rest of hte top six last year was Sonni, Kathy, Devin, Terrene, Fiona (stock), and I'd say those ladies will be the contenders once again. Also keep an eye on whether or not Talia Gangini lines up — she was runner-up at OluKai in both 2012 and 2013. If she does race she'll almost certainly be top five.
However one ultra dark horse to keep an eye on could be Amy Woodward from Oahu, one of Hawaii's top outrigger paddlers and a recent convert to stand up paddling. Given that OluKai is a SUP race one day and an outrigger race the next, I *assume* Amy will be on Maui this weekend. And if she is, she could be the surprise packet of the race. I chatted with Travis Grant about Amy last week and he gave her big wraps, suggesting that if she's even half as good on a SUP as she is on an OC, she'll be a name to watch in Hawaii over the next couple of seasons.
Not only does OluKai attract many of the world's best downwind paddlers, it has a massive turnout in general, with over 300 competitors usually on the start line. So no matter who wins on Saturday afternoon, it's going to be a cracker of a race. We'll hopefully have live results updated as soon as the paddlers start crossing the line, while the boys from SUP the Mag will be on the scene, so give them a follow on Facebook and Insta for more coverage.
Race starts at 12 noon Hawaii time on Saturday (3pm California, 6pm Florida, midnight Europe, 8am Sunday in Oz).
OluKai Predictions: Top Men
1st: Connor Baxter (Maui)
2nd: Travis Grant (Australia) close behind
3rd: Matt Nottage (Australia)
4th: Travis Baptiste (Maui) [stock]
5th: Dave Kalama (Maui)
6th: James Casey (Australia)
7th: Jeremy Riggs (Maui)
8th: Livio Menelau (Maui)
9th: Josh Riccio (Maui) [stock]
10th: Zane Schweitzer or Kody Kerbox (both from Maui and probably both in the stock class)
*Wildcard: Kai Lenny (Maui) — will he race?
Friday evening update: Sounds like Kai *is* going to race OluKai for the first time in three years. I'd say he'll finish around 4th, just behind Nottage, though I wouldn't be surprised if he went top 3. This is assuming he's on an unlimited and not in the stock class.
Saturday morning update: Kai will probably race the stock 14 class, which will push him down the order a little ways — maybe ~7th.
OluKai Predictions: Top Women
1st: Sonni Honscheid (Germany)
2nd: Terrene Black (Australia)
3rd: Devin Blish (Maui)
4th: Kathy Shipman (Maui)
5th: Fiona Wylde (Oregon) [probably in the stock class]
6th: Amy Woodward (Oahu)
*Wildcard: Andrea Moller (Maui) — will she race?
Friday evening update: The official word is that Andrea is *not* racing, so we'll see a new women's champ this year. Oh and Talia *is* racing, so look for her to go top five.
---
20th Annual Key West Classic
Key West, Florida
(Race Index: 20%)
Maui isn't the only big race happening this weekend; Florida's premiere event, the Key West Classic, celebrates its 20th anniversary on Saturday.
What started out as a small prone paddleboard and kayak race in the late 90s has evolved over the years into one of America's largest stand up paddleboard races. I've heard several people describe Key West as "horrible race, awesome event," summing up the fact that it's a grueling and tiring race in a very fun part of the world. The 12 mile Key West Classic navigates all the way around an island, meaning competitors are pretty much guaranteed to get wind blowing in every direction at various points of the race.
The Key West Classic always sees a big turnout, while this year several international crew have headed down to Florida from Carolina, including top five finisher Kelly Margetts.
I can't see anyone getting past the Aussie, who cemented his spot inside the world's top 10 with his Graveyard heroics. However keep an eye on the likes of Vinnicius Martins from Brazil, East Coast rising prospect Connor Bonham, and the master himself, Larry Cain, who took down plenty of big names on his way to a top 25 Carolina finish. Larry is the two-time defending champ of this event.
After her top 10 finish at Carolina on the weekend, I'm going with Florida's own Seychelle Hattingh for the win. Seychelle is definitely a name to watch this year, particularly in these longer distance races that suit her strong endurance base. The reigning 11 City Tour champ will take plenty of momentum into this weekend's event, not only after her strong finish at Carolina, but also because she just had her 24 hour paddleboard world record from back in December certified by Guinness.
Though Seychelle will have stiff competition from fellow East Coast power April Zilg. April finished 8th at the Carolina Cup last weekend (an event that featured seven of the world's top eight women) while Seychelle finished 9th, so it should be a good battle between these two tomorrow.
The Key West Classic, which has become Florida's premiere race, has been given a guaranteed 20% Race Index score as part of the 2016 SUP Racer World Rankings, so look for the race to give the leaderboards a push when they're updated on Monday morning.
Key West Predictions: Kelly Margetts and Seychelle Hattingh
No matter who wins, we'll try and give you the results as soon as they happen, so check back on Saturday afternoon for the latest.