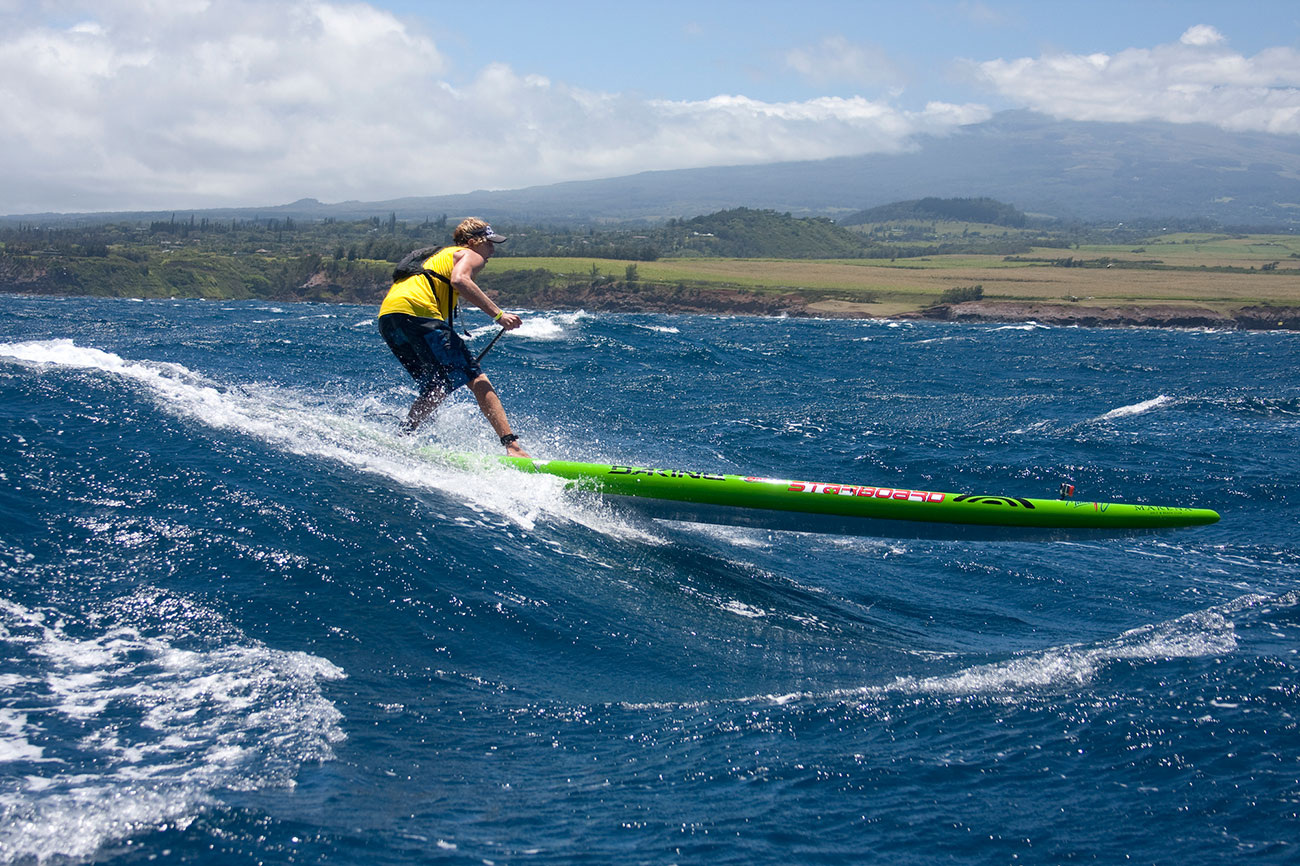 May 2, 2015
by Christopher Parker (@wheresbossman)
Andrea Moller Wins 7th Straight OluKai Crown, Connor Baxter Makes It Four-In-A-Row Ahead Of Travis Grant And Dave Kalama
Skip to: Men's Results | Women's Results
Connor Baxter has won his 4th straight OluKai Ho'olaule'a SUP Race title, claiming a strong victory ahead of Travis Grant, Dave Kalama, Travis Baptiste and Danny Ching on Maui today.
Minutes after Connor crossed the line, Andrea Moller triumphed in the women's race for an extraordinary 7th straight year, further extending the greatest winning streak in the sport of stand up paddling.
Connor's record finishing time of 44 minutes 26 seconds was 2 minutes faster than Travis, showing just how dominant the local boy is on his home turf. Travis' runner-up finish mirrors his result from last year and caps off a big couple of weeks for the Aussie, following his heroic victory at the Carolina Cup last weekend. An elated Travis Grant had this to say at the finish line:
"I'm super happy to finish runner-up against this amazing field of paddlers. Connor was in a different league today and I felt we were all just battling for second place. The kid is surely unbeatable out here on his home turf. I was trying out the new prototype NSP unlimited – pretty stoked considering it was the maiden voyage. Feeling confident for Molokai now, though it'll be hard to catch Connor…"


It was an exceptional effort from Dave Kalama in third considering he's more than twice the age of most of his rivals. Dave very rarely competes outside of Hawaii but when the wind is blowing and the unlimited boards are firing, Kalama is one of the fastest paddlers in the world.
Another huge performance came from young Travis Baptiste. The reigning Molokai stock champ claimed 4th overall, just seconds behind Kalama, despite paddling a 14 footer. Most of the other guys were on 17s or 18s. Baptiste finished just in front of his 404 team mate Danny Ching, who takes 5th place for the second year in a row.
Crossing the line just seconds outside the Top 5 were SIC team mates Georges Cronsteadt and Livio Menelau, who paddled the same board as 90% of the rest of the field: The famed SIC Bullet that was born and raised on Maui. Aussie pair Beau O'Brian and Dave Kissane, along with local hero Jeremy Riggs, filled out the Top 10 in a race that attracted a very strong level of competition.


Speaking of SIC, it was a clean sweep in the women's, with the first four ladies paddling the Bullet. Andrea's win was vintage form, with the Brazilian-turned-Maui-local crossing 2 minutes ahead of her SIC team mate and reigning Molokai champ Sonni Hönscheid, while the supremely under rated local dark horse Kathy Shipman took third. Another downwind specialist was next in Devin Blish, before a very solid Terrene Black from Australia rounded out the top 5 ahead of Fiona Wylde (who was racing stock) and Angie Jackson.
The 7th Annual OluKai Ho'olaule'a saw great conditions and super fast times. The world famous Maliko downwind run was firing as 20 knot winds whipped up plenty of bumps for the 340 starters. From all reports it sounds like OluKai 2015 was another great race, with the Ho'olaule'a title (which means "celebration" in Hawaiian) seeming rather fitting.
Apparently there was some confusion at the start, with the horn sounding a few minutes early and some paddlers getting caught back in the pack (sounds like a repeat of last year), but apart from that OluKai has cemented its position as a top-tier event.


Today's OluKai race also had a big impact on the
SUP Racer World Rankings
, particularly on the women's Top 50 Leaderboard. Andrea Moller jumped +5 to move inside the Top 10 for the first time, while Terrene Black (now ranked #13 in the world), Devin Blish (#15), Kathy Shipman (#20), Rachel Bruntsch (#23) all made very solid gains.
Unlucky is Angie Jackson, who, despite a strong showing on an unlimited board she's barely paddled, drops one spot to world #6 after Sonni's runner-up performance saw her move into the uber elite Top 5.
On the men's Top 100 Leaderboard there was little movement at the pointy end, however several paddlers made solid gains in the middle and lower order. Dave Kalama, still holding a pair of donuts in his "best 5 results" overall points tally, now sits #23 in the world after jumping a massive 18 spots. Travis Baptiste is knocking on the door of the world's Top 20 after today's result bumped him up to position #22. There were also good gains from Matt Nottage, Niuhiti Buillard, Sam Parker and Kenny Kaneko.
Check out the updated World Rankings Top 100 Men / Top 50 Women Leaderboards.
Oh and here's some great raw & unedited footage from the Ocean Paddler TV chopper, which shows just how awesome the conditions were for today's OluKai race (click here to view the full B-roll).
---
2015 OluKai Ho'olaule'a SUP Race: Men's Overall
Course: 8 miles from Maliko Gulch to Kanaha Beach Park
Conditions: Firing
SUP Racer World Rankings "Race Index" score: 32.5%
View the updated World Rankings – Top 100 Men

| # | Name | Time | Category | Points |
| --- | --- | --- | --- | --- |
| 1 | Connor Baxter | 0:44:26 | Elite Open | 32.50 |
| 2 | Travis Grant | 0:46:28 | Elite Open | 24.38 |
| 3 | David Kalama | 0:47:16 | Elite Open | 19.50 |
| 4 | Travis Baptiste | 0:47:21 | 14' 18 - 29 | 16.25 |
| 5 | Danny Ching | 0:47:26 | Elite Open | 13.81 |
| 6 | Georges Cronsteadt | 0:47:35 | Elite Open | 11.38 |
| 7 | Livio Menelau | 0:47:38 | Elite Open | 9.75 |
| 8 | Jeremy Riggs | 0:48:25 | Elite Open | 8.13 |
| 9 | Beau O'Brian | 0:49:02 | Elite Open | 7.31 |
| 10 | Dave Kissane | 0:49:40 | Elite Open | 6.50 |
| 11 | Matt Nottage | 0:49:53 | Elite Open | 5.85 |
| 12 | Niuhiti Buillard | 0:50:33 | Elite Open | 5.20 |
| 13 | Kody Kerbox | 0:50:36 | Elite Open (14') | 4.88 |
| 14 | Paul Jackson | 0:50:46 | Elite Open | 4.55 |
| 15 | James Casey | 0:51:08 | Elite Open | 4.23 |
| 16 | Ryan Murphy | 0:51:15 | Elite Open | 3.90 |
| 17 | Kai Bartlett | 0:51:26 | Elite Open | 3.58 |
| 18 | Josh Riccio | 0:51:55 | Elite Open (14') | 3.25 |
| 19 | Sam Parker | 0:52:42 | Elite Open | 2.93 |
| 20 | Amir Arbel | 0:53:11 | Rec. 30 - 39 | 2.60 |
| 21 | Tomoyasu Murabayashi | 0:53:16 | Elite Open | 2.44 |
| 22 | Buzzy Kerbox | 0:53:41 | Rec. 50 - 59 | 2.28 |
| 23 | Kenny Kaneko | 0:53:42 | Elite Open | 2.11 |
| 24 | Vierra Kalani | 0:53:56 | Rec. 40 - 49 | 1.95 |
| 25 | Robert Teriiterau | 0:54:16 | Rec. 30 - 39 | 1.79 |
| 26 | Ralf Sifford | 0:54:24 | Rec. 50 - 59 | 1.69 |
| 27 | Christin Bradley | 0:54:41 | 14' 18 - 29 | 1.59 |
| 28 | Robert Stehlik | 0:55:42 | Rec. 40 - 49 | 1.50 |
| 29 | Kaeo Abbey | 0:55:47 | Elite Open | 1.40 |
| 30 | Jimmy Fitt | 0:55:50 | Rec. 30 - 39 | 1.30 |
| 31 | Ridge Lenny | 0:56:07 | 14' 18 - 29 | 1.24 |
| 32 | Will Reichensted | 0:56:35 | Rec. 18 - 29 | 1.17 |
| 33 | Belar Diaz | 0:56:46 | Elite Open | 1.11 |
| 34 | Mark Raaphorst | 0:56:53 | Rec. 40 - 49 | 1.04 |
| 35 | Todd Sera | 0:57:35 | 14' 40 - 49 | 0.98 |
| 36 | Bill Hofmann | 0:57:43 | Rec. 60 & Over | 0.91 |
| 37 | James Donavan | 0:58:07 | 14' 18 - 29 | 0.85 |
| 38 | Shep Nelson | 0:58:11 | Rec. 30 - 39 | 0.78 |
| 39 | Daniel Chun | 0:58:27 | Elite Open | 0.72 |
| 40 | Yves Bouwens | 0:58:51 | Rec. 40 - 49 | 0.65 |
| 41 | Noa Ginella | 0:59:20 | Elite Open | 0.62 |
| 42 | Art Aquino | 0:59:29 | Rec. 40 - 49 | 0.59 |
| 43 | Gregg Leion | 0:59:37 | Rec. 50 - 59 | 0.55 |
| 44 | Hunter Eggers | 0:59:59 | Rec. 40 - 49 | 0.52 |
| 45 | Rj Whener | 1:00:01 | 14' 17 & Under | 0.49 |
| 46 | Andy Davies | 1:00:06 | Elite Open | 0.46 |
| 47 | Jack Dyson | 1:00:17 | Rec. 60 & Over | 0.42 |
| 48 | Vetea Ribet | 1:00:59 | Rec. 30 - 39 | 0.39 |
| 49 | Meron Akman | 1:01:10 | 14' 30 - 39 | 0.36 |
| 50 | Cory Nakamura | 1:01:13 | 14' 30 - 39 | 0.33 |
| 51 | Tyler Jaggers | 1:01:15 | Elite Open | 0 |
| 52 | Masao Fukayama | 1:01:47 | Rec. 40 - 49 | 0 |
| 53 | Trey Cox | 1:01:48 | Elite Open | 0 |
| 54 | Jeff Chang | 1:02:10 | 14' 50 - 59 | 0 |
| 55 | Eugene Ancheta | 1:02:47 | 14' 40 - 49 | 0 |
| 56 | Junya McGurn | 1:03:02 | Rec. 40 - 49 | 0 |
| 57 | Randy Royse | 1:03:06 | Rec. 50 - 59 | 0 |
| 58 | Alex Levorin | 1:03:07 | Rec. 40 - 49 | 0 |
| 59 | Gavin Ferguson | 1:03:16 | Rec. 50 - 59 | 0 |
| 60 | Martin Giroud | 1:03:23 | 14' 40 - 49 | 0 |
| 61 | John Walsh | 1:03:54 | 14' 30 - 39 | 0 |
| 62 | Mark Moquin | 1:04:03 | 14' 50 - 59 | 0 |
| 63 | Bojan Bernard | 1:04:15 | 14' 50 - 59 | 0 |
| 64 | Lee Wnuk | 1:04:30 | Rec. 50 - 59 | 0 |
| 65 | Brad Feldman | 1:04:32 | Rec. 50 - 59 | 0 |
| 66 | Miguel Martinez | 1:04:36 | 14' 40 - 49 | 0 |
| 67 | Chris Pagdilao | 1:04:41 | Rec. 30 - 39 | 0 |
| 68 | Brad Albert | 1:04:54 | 14' 40 - 49 | 0 |
| 69 | Kamuela Aea | 1:04:58 | 14' 50 - 59 | 0 |
| 70 | Crille Forsberg | 1:05:00 | Elite Open | 0 |
| 71 | Kanekawaiola Pai | 1:05:02 | 14' 30 - 39 | 0 |
| 72 | Justin Ormonde | 1:05:05 | Rec. 40 - 49 | 0 |
| 73 | Karl Rohlfing | 1:05:05 | Rec. 50 - 59 | 0 |
| 74 | Stephen Ross | 1:05:13 | Rec. 50 - 59 | 0 |
| 75 | Will Rich | 1:05:21 | Elite Open | 0 |
| 76 | John Bendon | 1:05:32 | 14' 30 - 39 | 0 |
| 77 | Jeff Okuna | 1:05:36 | Rec. 30 - 39 | 0 |
| 78 | Matty Schweitzer | 1:05:39 | Elite Open | 0 |
| 79 | Ben Chalmers | 1:05:41 | 14' 40 - 49 | 0 |
| 80 | Fernando Corouel | 1:05:49 | Rec. 50 - 59 | 0 |
| 81 | Rafael Cruet | 1:05:54 | Rec. 40 - 49 | 0 |
| 82 | David Oakley | 1:06:07 | 14' 60 & Over | 0 |
| 83 | Freddie Hampe | 1:06:21 | Rec. 18 - 29 | 0 |
| 84 | Jeffrey Oltman | 1:06:24 | Rec. 30 - 39 | 0 |
| 85 | Pierre Coetzee | 1:06:37 | 14' 50 - 59 | 0 |
| 86 | Diego Femenia | 1:06:38 | 14' 18 - 29 | 0 |
| 87 | Jason Contor | 1:06:58 | Rec. 18 - 29 | 0 |
| 88 | Gilles Laborde | 1:07:18 | 14' 40 - 49 | 0 |
| 89 | Brad Kingsley | 1:07:20 | 14' 40 - 49 | 0 |
| 90 | Andreas Svensson | 1:07:29 | Elite Open | 0 |
| 91 | Sam Pae | 1:07:49 | 14' 40 - 49 | 0 |
| 92 | Walter Machado | 1:07:49 | 14' 60 & Over | 0 |
| 93 | Cory Mellein | 1:07:54 | Rec. 30 - 39 | 0 |
| 94 | Ron St. John | 1:07:56 | 14' 50 - 59 | 0 |
| 95 | Austin Kalama | 1:08:02 | Rec. 17 & Under | 0 |
| 96 | Jon Hjertstrom | 1:08:16 | Elite Open | 0 |
| 97 | Mike Jucker | 1:08:20 | 14' 40 - 49 | 0 |
| 98 | J P Mihlban | 1:08:46 | Rec. 40 - 49 | 0 |
| 99 | Kekoa Kahookele Santos | 1:09:03 | 14' 18 - 29 | 0 |
| 100 | William Boyum | 1:09:11 | Rec. 60 & Over | 0 |
| 101 | David Kennedy | 1:09:21 | Rec. 40 - 49 | 0 |
| 102 | Alex Mawae | 1:09:26 | 14' 17 & Under | 0 |
| 103 | Christian Barber | 1:09:40 | 14' 40 - 49 | 0 |
| 104 | Josef Erlemann | 1:10:39 | Rec. 40 - 49 | 0 |
| 105 | Eric Walker | 1:10:56 | Elite Open | 0 |
| 106 | Warwick Gray | 1:11:29 | 14' 50 - 59 | 0 |
| 107 | Ed Price | 1:11:36 | 14' 50 - 59 | 0 |
| 108 | Cyrus Motamed | 1:11:47 | 14' 40 - 49 | 0 |
| 109 | Justin Lemire | 1:12:18 | 14' 30 - 39 | 0 |
| 110 | Rower Casey | 1:12:27 | Rec. 50 - 59 | 0 |
| 111 | Doug Feeney | 1:12:32 | Rec. 40 - 49 | 0 |
| 112 | Kaleo Amadeo | 1:12:33 | 14' 30 - 39 | 0 |
| 113 | Slater Fleck | 1:12:38 | 14' 17 & Under | 0 |
| 114 | Matt Carreras | 1:12:49 | Rec. 40 - 49 | 0 |
| 115 | Geoff James | 1:13:10 | 14' 50 - 59 | 0 |
| 116 | Kainoa Kaohelaulii | 1:13:26 | 14' 30 - 39 | 0 |
| 117 | Robert Picayo | 1:13:35 | 14' 30 - 39 | 0 |
| 118 | Timothy Yates | 1:13:36 | 14' 50 - 59 | 0 |
| 119 | Chris Levins | 1:13:38 | Rec. 40 - 49 | 0 |
| 120 | Ryan Eugenio | 1:13:39 | 14' 40 - 49 | 0 |
| 121 | Clyde Weddell | 1:13:41 | 14' 50 - 59 | 0 |
| 122 | Doug Posefer | 1:13:47 | Rec. 60 & Over | 0 |
| 123 | Anthony Scaturro | 1:14:06 | Rec. 40 - 49 | 0 |
| 124 | Sven Wesley | 1:14:11 | 14' 30 - 39 | 0 |
| 125 | Carlo Prado | 1:14:25 | Rec. 50 - 59 | 0 |
| 126 | Emery Tavares | 1:14:29 | Rec. 40 - 49 | 0 |
| 127 | Fred Andersen | 1:14:33 | 14' 60 & Over | 0 |
| 128 | Joseph Dratz | 1:14:38 | 14' 30 - 39 | 0 |
| 129 | John Zevenbergen | 1:14:52 | Rec. 50 - 59 | 0 |
| 130 | Matt Johnson | 1:15:18 | Rec. 30 - 39 | 0 |
| 131 | Andrew Baker | 1:15:38 | 14' 18 - 29 | 0 |
| 132 | Lee Harrison | 1:15:54 | 14' 50 - 59 | 0 |
| 133 | Donnie McGean | 1:15:57 | 14' 60 & Over | 0 |
| 134 | Chris Freeman | 1:15:58 | 14' 30 - 39 | 0 |
| 135 | Gregory Harbottle | 1:16:00 | Rec. 50 - 59 | 0 |
| 136 | Searay Beltran | 1:16:29 | 14' 50 - 59 | 0 |
| 137 | Ryder Tremble | 1:17:11 | 14' 17 & Under | 0 |
| 138 | David Bond | 1:17:17 | Rec. 40 - 49 | 0 |
| 139 | Glenn Tremble | 1:17:24 | 14' 50 - 59 | 0 |
| 140 | Gary Miyamoto | 1:17:42 | 14' 50 - 59 | 0 |
| 141 | Fendall Moraitis | 1:18:00 | 14' 40 - 49 | 0 |
| 142 | Les Shaw | 1:18:15 | 14' 50 - 59 | 0 |
| 143 | Christoph Dworzak | 1:18:34 | Rec. 18 - 29 | 0 |
| 144 | Bill Babcock | 1:19:02 | Rec. 60 & Over | 0 |
| 145 | Pat McCarthy | 1:19:04 | Rec. 50 - 59 | 0 |
| 146 | Kevin Solt | 1:19:06 | Rec. 40 - 49 | 0 |
| 147 | Robert Bouchard | 1:19:07 | Rec. 60 & Over | 0 |
| 148 | Rigo Sandoval | 1:19:07 | 14' 30 - 39 | 0 |
| 149 | Pete Martin | 1:19:26 | Rec. 60 & Over | 0 |
| 150 | Stephen Puigh | 1:19:26 | 14' 50 - 59 | 0 |
| 151 | Konosuke Akao | 1:19:36 | Rec. 40 - 49 | 0 |
| 152 | Josh Sands | 1:19:54 | 14' 30 - 39 | 0 |
| 153 | Erik Estren | 1:20:02 | Rec. 40 - 49 | 0 |
| 154 | Adam Cumming | 1:20:03 | 14' 30 - 39 | 0 |
| 155 | Matt Till | 1:20:05 | Rec. 40 - 49 | 0 |
| 156 | Dave Weiss | 1:20:24 | Rec. 50 - 59 | 0 |
| 157 | Roger Fraefel | 1:20:35 | 14' 40 - 49 | 0 |
| 158 | Douglas Hagan | 1:20:39 | 14' 50 - 59 | 0 |
| 159 | Michael Stone | 1:20:40 | 14' 50 - 59 | 0 |
| 160 | Robin Blumberg | 1:20:52 | 14' 40 - 49 | 0 |
| 161 | Eddie Kondo | 1:21:09 | Rec. 60 & Over | 0 |
| 162 | Kai Binney | 1:21:17 | 14' 17 & Under | 0 |
| 163 | Tommy Hale | 1:21:29 | Rec. 40 - 49 | 0 |
| 164 | Ben Holz | 1:21:57 | 14' 40 - 49 | 0 |
| 165 | Colin Lee | 1:22:09 | Rec. 50 - 59 | 0 |
| 166 | Tim Smith | 1:22:17 | Rec. 50 - 59 | 0 |
| 167 | Adam Schell | 1:22:49 | 14' 30 - 39 | 0 |
| 168 | Payce Duryea | 1:22:59 | 14' 17 & Under | 0 |
| 169 | Travis Ronk | 1:23:18 | Rec. 40 - 49 | 0 |
| 170 | Reggie Balidoy | 1:23:34 | Rec. 50 - 59 | 0 |
| 171 | Dannel Dino Miran | 1:23:37 | 14' 50 - 59 | 0 |
| 172 | Shae Eugenio | 1:23:38 | 14' 18 - 29 | 0 |
| 173 | Clyde Kunst | 1:24:05 | Rec. 50 - 59 | 0 |
| 174 | David Daunhauer | 1:24:11 | 14' 40 - 49 | 0 |
| 175 | Xander Robertson | 1:24:15 | Rec. 17 & Under | 0 |
| 176 | Michael Leone | 1:24:19 | 14' 40 - 49 | 0 |
| 177 | David Kuwada | 1:24:34 | 14' 40 - 49 | 0 |
| 178 | Darren Flail | 1:25:06 | 14' 40 - 49 | 0 |
| 179 | James Giroux | 1:25:10 | 14' 40 - 49 | 0 |
| 180 | Dylan Ross | 1:25:12 | 14' 18 - 29 | 0 |
| 181 | Michael Lawcher | 1:25:12 | 14' 60 & Over | 0 |
| 182 | David Salangsang | 1:25:34 | 14' 50 - 59 | 0 |
| 183 | Zoltan Bazso | 1:25:50 | Elite Open | 0 |
| 184 | Scott Fleck | 1:26:03 | Rec. 50 - 59 | 0 |
| 185 | Brandon La Rue | 1:26:36 | 14' 30 - 39 | 0 |
| 186 | Alika Mullen | 1:27:40 | Rec. 30 - 39 | 0 |
| 187 | Christopher Caisey | 1:27:48 | 14' 40 - 49 | 0 |
| 188 | Joseph Delorenzo | 1:28:01 | Rec. 50 - 59 | 0 |
| 189 | Scott Smith | 1:28:10 | 14' 40 - 49 | 0 |
| 190 | Scooter Metcalfe | 1:28:19 | 14' 50 - 59 | 0 |
| 191 | Antonio Mason | 1:28:23 | 14' 17 & Under | 0 |
| 192 | Takaaki Ishii | 1:28:48 | 14' 40 - 49 | 0 |
| 193 | Kyler Kerbox | 1:28:56 | 14' 17 & Under | 0 |
| 194 | Goran Sivertsson | 1:29:03 | Elite Open | 0 |
| 195 | Danny Kalahiki | 1:29:16 | Rec. 40 - 49 | 0 |
| 196 | Vicente Cacal | 1:29:36 | Rec. 30 - 39 | 0 |
| 197 | Scott Bintliff | 1:29:38 | 14' 40 - 49 | 0 |
| 198 | Nicholas Corbet | 1:29:40 | 14' 30 - 39 | 0 |
| 199 | Mark Driessen | 1:30:01 | 14' 30 - 39 | 0 |
| 200 | Jason Fretse | 1:30:08 | 14' 30 - 39 | 0 |
| 201 | Jason Watanabe | 1:30:11 | 14' 40 - 49 | 0 |
| 202 | Grant MacDonald | 1:30:40 | 14' 40 - 49 | 0 |
| 203 | Al Sagon | 1:30:49 | 14' 50 - 59 | 0 |
| 204 | Paddler Unknow | 1:30:51 | 14' 40 - 49 | 0 |
| 205 | Brian Richard | 1:31:31 | 14' 40 - 49 | 0 |
| 206 | David Dutro | 1:31:55 | Rec. 40 - 49 | 0 |
| 207 | Adam Buechler | 1:32:40 | Rec. 18 - 29 | 0 |
| 208 | Cary Riter | 1:33:05 | 14' 50 - 59 | 0 |
| 209 | Mark Martinez | 1:33:10 | 14' 50 - 59 | 0 |
| 210 | Killa Nikaido | 1:33:49 | 14' 50 - 59 | 0 |
| 211 | Darren Lee | 1:34:24 | 14' 18 - 29 | 0 |
| 212 | Kale Berlelmann | 1:34:31 | Rec. 40 - 49 | 0 |
| 213 | Grant McFadyen | 1:34:38 | 14' 40 - 49 | 0 |
| 214 | Edward Shasek | 1:34:45 | 14' 60 & Over | 0 |
| 215 | Jason Sabia | 1:35:18 | 14' 18 - 29 | 0 |
| 216 | Grant Heinz | 1:35:36 | 14' 50 - 59 | 0 |
| 217 | Gregg Okamoto | 1:35:43 | 14' 40 - 49 | 0 |
| 218 | Edward Kaleikini | 1:35:51 | 14' 30 - 39 | 0 |
| 219 | Cash Berzolla | 1:35:55 | 14' 17 & Under | 0 |
| 220 | Ola Shaw | 1:36:15 | 14' 60 & Over | 0 |
| 221 | Ty Kane | 1:36:22 | 14' 17 & Under | 0 |
| 222 | Jeff Berzolla | 1:36:36 | 14' 30 - 39 | 0 |
| 223 | Billy McKee | 1:36:58 | 14' 30 - 39 | 0 |
| 224 | Paul Williams | 1:37:29 | Rec. 60 & Over | 0 |
| 225 | Bill Freese | 1:37:45 | 14' 40 - 49 | 0 |
| 226 | Matt Murasko | 1:37:51 | 14' 50 - 59 | 0 |
| 227 | Zane Murasko | 1:37:51 | 14' 17 & Under | 0 |
| 228 | Hamiel Schorr | 1:38:06 | Elite Open | 0 |
| 229 | Jerin Dunsmoor | 1:38:15 | 14' 40 - 49 | 0 |
| 230 | Doug Chapman | 1:38:16 | 14' 40 - 49 | 0 |
| 231 | Charles Stoddard | 1:38:18 | Rec. 60 & Over | 0 |
| 232 | Alexandru Pricope | 1:38:28 | Rec. 40 - 49 | 0 |
| 233 | Bill Worthington | 1:38:32 | 14' 50 - 59 | 0 |
| 234 | Robert Stoner | 1:38:34 | Rec. 50 - 59 | 0 |
| 235 | unnamed | 1:38:44 | 14' 50 - 59 | 0 |
| 236 | Al Garr | 1:39:01 | 14' 18 - 29 | 0 |
| 237 | Spencer Wendt | 1:40:28 | Rec. 18 - 29 | 0 |
| 238 | Joseph Chambers | 1:40:42 | Rec. 60 & Over | 0 |
| 239 | Rob Dubin | 1:40:50 | 14' 60 & Over | 0 |
| 240 | Roberto Campos | 1:43:39 | Rec. 50 - 59 | 0 |
| 241 | Cody Angeles | 1:43:57 | Rec. 18 - 29 | 0 |
| 242 | Brady Flaherty | 1:44:57 | 14' 40 - 49 | 0 |
| 243 | Conrad K. Pasco | 1:47:15 | 14' 40 - 49 | 0 |
| 244 | Brandon Rodrigues | 1:47:33 | Rec. 30 - 39 | 0 |
| 245 | Philip Binnky | 1:48:51 | Rec. 50 - 59 | 0 |
| 246 | Thomas Chen | 1:49:59 | 14' 40 - 49 | 0 |
| 247 | Craig Harris | 1:58:53 | 14' 30 - 39 | 0 |
| 248 | James Neil | 2:02:10 | 14' 60 & Over | 0 |
| 249 | Jerry Ledesma | 2:02:55 | 14' 30 - 39 | 0 |
2015 OluKai Ho'olaule'a SUP Race: Women's Overall
Course: 8 miles from Maliko Gulch to Kanaha Beach Park
Conditions: Firing
SUP Racer World Rankings "Race Index" score: 38.0%
View the updated World Rankings – Top 50 Women

| # | Name | Time | Division | Points |
| --- | --- | --- | --- | --- |
| 1 | Andrea Moller | 0:53:20 | Elite Open | 38.00 |
| 2 | Sonni Honsched | 0:55:38 | Elite Open | 28.50 |
| 3 | Kathy Shipman | 0:55:57 | Elite Open | 22.80 |
| 4 | Devin Blish | 0:56:27 | Elite Open | 19.00 |
| 5 | Terrene Black | 0:57:24 | Elite Open | 16.15 |
| 6 | Fiona Wylde | 1:00:14 | Elite Open (14') | 13.30 |
| 7 | Angela Jackson | 1:02:19 | Elite Open | 11.40 |
| 8 | Rachel Bruntsch | 1:02:26 | Elite Open | 9.50 |
| 9 | Mariko Strickland Lum | 1:04:13 | 14' 18 - 29 | 8.55 |
| 10 | Lance Leasure | 1:05:35 | 14' 40 - 49 | 7.60 |
| 11 | Gail Walker | 1:05:58 | Elite Open | 6.84 |
| 12 | Gillian Gibree | 1:08:10 | Elite Open | 6.08 |
| 13 | Sarah Hauser | 1:08:22 | Elite Open | 5.70 |
| 14 | Jane McKee | 1:09:26 | Elite Open | 5.32 |
| 15 | Deja Howard | 1:10:16 | Rec. 30 - 39 | 4.94 |
| 16 | Suzie Cooney | 1:12:01 | Rec. 40 - 49 | 4.56 |
| 17 | Alyssa Joy | 1:13:00 | 14' 40 - 49 | 4.18 |
| 18 | Jennifer Lee | 1:13:43 | Elite Open | 3.80 |
| 19 | Lani Gomes | 1:14:44 | 14' 40 - 49 | 3.42 |
| 20 | Tomoe Yasu | 1:15:16 | Elite Open | 3.04 |
| 21 | Giselle Delgado | 1:15:22 | Rec. 30 - 39 | 2.85 |
| 22 | Jennifer Fuller | 1:16:59 | Elite Open | 2.66 |
| 23 | Sharon Baldwin | 1:17:55 | Rec. 40 - 49 | 2.47 |
| 24 | Kelsa Gabehart | 1:18:04 | Elite Open | 2.28 |
| 25 | Natalia Fon | 1:18:08 | 14' 50 - 59 | 2.09 |
| 26 | Laola Aea | 1:20:09 | 14' 60 & Over | 1.98 |
| 27 | Kathleen Hagan | 1:20:38 | 14' 40 - 49 | 1.86 |
| 28 | Kim Herrera | 1:20:53 | Rec. 50 - 59 | 1.75 |
| 29 | Lynn Christensen | 1:21:16 | 14' 50 - 59 | 1.63 |
| 30 | Megan Abubo | 1:22:32 | 14' 30 - 39 | 1.52 |
| 31 | Hillary Runner | 1:22:45 | 14' 40 - 49 | 1.44 |
| 32 | Carol Michelson | 1:22:47 | 14' 50 - 59 | 1.37 |
| 33 | Annie Reickert | 1:23:22 | 14' 17 & Under | 1.29 |
| 34 | Angela Correa-Pei | 1:23:38 | Rec. 40 - 49 | 1.22 |
| 35 | Maya Persson | 1:23:38 | Elite Open | 1.14 |
| 36 | Clare Mawae | 1:24:08 | 14' 40 - 49 | 1.06 |
| 37 | Margaret (Peggy) King | 1:24:27 | Rec. 60 & Over | 0.99 |
| 38 | Margareta Engstrom | 1:25:17 | Elite Open | 0.91 |
| 39 | Chyna Colorado | 1:25:18 | 14' 30 - 39 | 0.84 |
| 40 | Emily Fielding | 1:26:04 | 14' 50 - 59 | 0.76 |
| 41 | Kim Reilly | 1:26:58 | 14' 50 - 59 | 0.72 |
| 42 | Kristy Wright Schell | 1:27:18 | 14' 30 - 39 | 0.68 |
| 43 | Marjorie Kahookele-Pea | 1:27:51 | Rec. 40 - 49 | 0.65 |
| 44 | Tricia Rodriguez | 1:28:25 | 14' 30 - 39 | 0.61 |
| 45 | Sierra Hess | 1:30:22 | 14' 18 - 29 | 0.57 |
| 46 | Melissa Rajesh | 1:30:52 | 14' 30 - 39 | 0.53 |
| 47 | Susie Grace | 1:31:01 | 14' 30 - 39 | 0.49 |
| 48 | Marion Buchenau | 1:32:10 | 14' 40 - 49 | 0.46 |
| 49 | Amy Marshall | 1:32:10 | 14' 40 - 49 | 0.42 |
| 50 | Judith Shasek | 1:32:11 | 14' 60 & Over | 0.38 |
| 51 | Linda Nguyen | 1:32:19 | Rec. 30 - 39 | 0.00 |
| 52 | Jennifer Rosenblad | 1:34:03 | 14' 40 - 49 | 0.00 |
| 53 | Sandra Fraefel | 1:35:35 | 14' 40 - 49 | 0.00 |
| 54 | Sheryl Yee | 1:36:14 | 14' 40 - 49 | 0.00 |
| 55 | Rulan Waikiki | 1:36:23 | 14' 40 - 49 | 0.00 |
| 56 | Erin Davis | 1:36:53 | Rec. 40 - 49 | 0.00 |
| 57 | Jamie Cahill | 1:37:25 | Rec. 50 - 59 | 0.00 |
| 58 | Nancy Sagon | 1:37:47 | Rec. 50 - 59 | 0.00 |
| 59 | Jenn Biestman | 1:38:26 | 14' 18 - 29 | 0.00 |
| 60 | Julia Schonberg | 1:38:27 | Rec. 50 - 59 | 0.00 |
| 61 | Jill Caisey | 1:38:29 | 14' 50 - 59 | 0.00 |
| 62 | Makayla Marrs | 1:39:25 | 14' 17 & Under | 0.00 |
| 63 | Cathy Gillis | 1:39:28 | Rec. 50 - 59 | 0.00 |
| 64 | Kimberly Vanderlaan | 1:39:56 | 14' 50 - 59 | 0.00 |
| 65 | Terri Kimmel | 1:40:18 | Rec. 50 - 59 | 0.00 |
| 66 | Audrey Lee | 1:41:37 | Rec. 50 - 59 | 0.00 |
| 67 | Michiko Tanaka | 1:41:48 | 14' 40 - 49 | 0.00 |
| 68 | Joy Brahmst | 1:42:01 | 14' 50 - 59 | 0.00 |
| 69 | Hillary Hardy | 1:43:30 | Rec. 50 - 59 | 0.00 |
| 70 | Emma Gomez | 1:44:14 | 14' 17 & Under | 0.00 |
| 71 | Jules Bardos | 1:45:17 | 14' 17 & Under | 0.00 |
| 72 | Janet Hewitt | 1:46:02 | 14' 50 - 59 | 0.00 |
| 73 | Adrianna Baca | 1:47:21 | 14' 30 - 39 | 0.00 |
| 74 | Ashley Orr | 1:48:18 | Rec. 40 - 49 | 0.00 |
| 75 | Heidi Wu | 1:50:00 | 14' 40 - 49 | 0.00 |
| 76 | Melia Tavares | 1:51:12 | 14' 30 - 39 | 0.00 |
| 77 | Emily Johnston | 1:51:27 | Rec. 30 - 39 | 0.00 |
| 78 | Bo Jaymes Forster | 1:52:23 | 14' 18 - 29 | 0.00 |
| 79 | Barbara Coda-Chambers | 2:05:11 | Rec. 60 & Over | 0.00 |