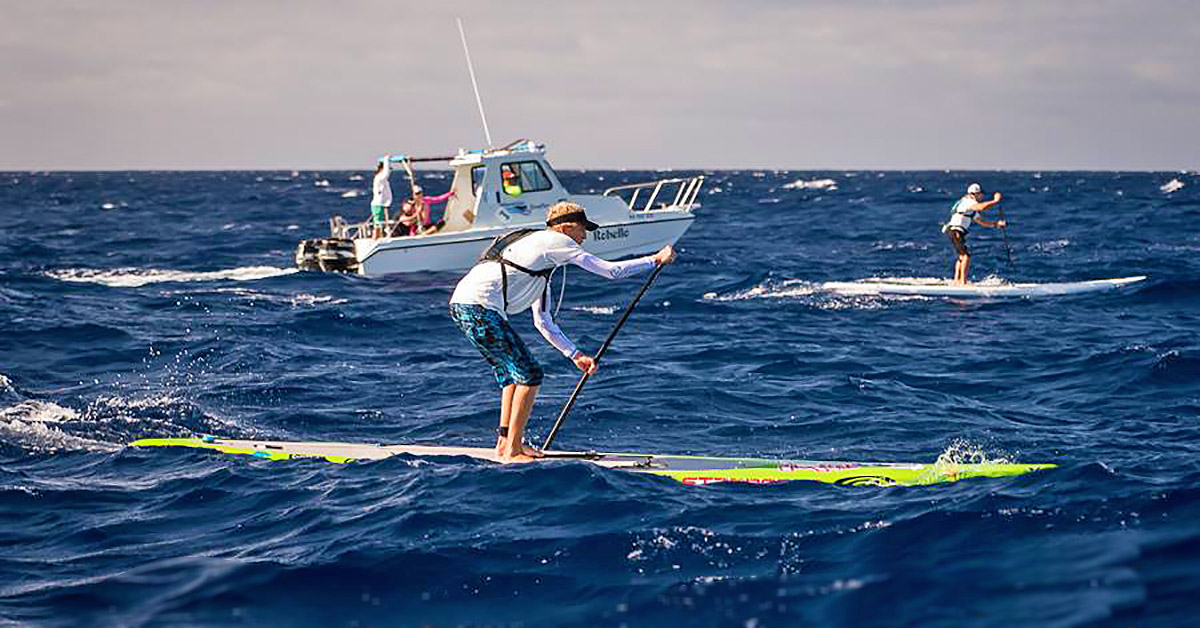 July 29, 2016
by Christopher Parker (@wheresbossman)
Molokai "Preview & Predictions" — Who's Going to Win the Most Prestigious Race of the Year?
UPDATE: Kai Lenny WINS Molokai!
MORE >> 2016 Molokai 2 Oahu live results
---
We're just over 24 hours away from the most prestigious race of the season, and what a race it's shaping up to be. The 20th annual crossing of the Ka'iwi Channel between Molokai to Oahu is already destined for the history books, but a record level of talent and a few last-minute twists should ensure we'll be talking about this one for many years to come.
The Molokai-2-Oahu Paddleboard World Championships, aka M2O or just simply Molokai, has become the ultimate event of the international stand up paddle racing season. The race has taken on an almost mythical status over the years, and it's surely one of the toughest trophies in the sport to get your hands on. Becoming a Molokai champion makes you an instant hero, while many paddling legends have built their reputations by conquering this epic, dangerous, thirty-two mile stretch of open ocean between these two imposing Hawaiian islands.
Molokai is so much more than just a race, with many competitors looking at this event as a personal mission rather than a contest against others. Indeed, Molokai has become the "pilgrimage to Mecca" of the paddleboarding world. However it is still a race, which means there are going to be winners, which means it's time to make some predictions…
It's going to be mighty tough to predict the M2O results this year for several reasons: There's a record level of elite competitors on the start line, the always-difficult-to-read forecast, which has a big impact on the order of the top 10, is being as vague as ever, while a couple of the favourites are still deciding whether they'll go for glory in the unlimited division or stick to the stock class.
But it wouldn't be SUP Racer without a few bold predictions, so based on recent results, historical data and a bit of good old gut instinct, here's who I think is going to win Molokai this year.
---
The Women to Watch
The women's race is going to be very interesting this year, with an all-time number of champions on the start line and a last-minute change of plans by one of the best paddlers our sport has ever known.
Amazingly, every woman that's ever won this race is going to be out on the water tomorrow, including Jenny Kalmbach (2009), Andrea Moller (2010, 2011), Terrene Black (2013), and Sonni Honscheid (2014, 2015). Those four will be racing in the solo unlimited division; The 2012 solo champ Talia Decoite will be in a three-woman team with Mariko Strickland-Lum and Ehiku Rademacher this year, while 2008 winner Morgan Hoesterey is in a two-person team with SUP the Mag editor Will Taylor.
(UPDATE: Jenny Kalmbach has withdrawn from the race due to injury – see below – while I'm hearing Andrea Moller might be another late withdrawal.)
The four solo women listed above are clearly the ones to watch, however there's one more name that starts an instant-favourite in virtually every race she enters: Annabel Anderson.
[notdevice][/notdevice][device][/device]
Annabel returns to Molokai for her third crossing, after having won the stock division with her second attempt last year (where she finished second overall to Sonni). But the late mail from Molokai says the famously-secretive Kiwi is living up to her reputation, with a potential last-minute switch from the stock division to the unlimited class on the cards.
Apparently Annabel arrived on the island with two options: Her 14′ Lahui Kai custom downwind board, and a 17′ production NSP unlimited, which is the same model board Travis Grant won Molokai on last year.
Although Annabel has probably only had a week to get accustomed to the rudder of the unlimited, and although a rudder takes years of practice to truly master, the prospect of the world number one stepping up to the unlimited division is a tantalising prospect that would instantly make this race even more exciting.
While I'm sure Annabel would love to make a statement and win from the stock division, I just don't see that happening. So assuming she does step up to the unlimited and go for the win, then I think the only woman standing in her way is Sonni Hönscheid, aka the two-time defending champion and one of the finest female ocean racers we've ever seen.
[notdevice][/notdevice][device][/device]
Sonni is definitely the one to beat right now, and no matter what her rivals choose to do on race day, she has earned the respect of being labeled the favourite to go three-straight. The German has shown great form the past few months, cleaning up on the EuroTour in May and June after claiming her maiden OluKai crown at the end of April.
I'm predicting a very entertaining battle between these two. Annabel has the edge when all other things are equal – as we saw in Carolina when she finished five minutes ahead of third-placed Sonni – but the open oceans of Hawaii are a great equaliser, and Sonni will have a huge advantage with her intimate knowledge of both the Ka'iwi Channel and the rudder that makes the unlimited board such a strong but difficult weapon.
Though while I see it as a likely race between Sonni and Annabel for the win, I wouldn't be shocked if one of the other women caused an upset. After all, we've got three other former champions in Jenny, Andrea and Terrene.
The hero of the green and gold, Terrene Black, is the most in-form of that trio. She definitely knows the ocean and feels right at home on unlimited boards. Terrene was a "surprise" winner in 2013, but for everyone back home in Australia it was no surprise at all. If she repeats this year it'll be hailed as an upset, but I'm sure a few of the Aussies are quietly confident she can match it with Sonni and Annabel.
Andrea Moller is the former Queen of ocean paddling, having won M2O twice and OluKai a record seven-straight times. However a big wave surfing injury totally wiped out her pre-season this year – Molokai will be her first race of 2016 – and therefore she probably doesn't have the miles under her belt to go all the way.
(UPDATE: I'm hearing from Molokai that Andrea might be out of the race)
Jenny Kalmbach is one of the most determined competitors you'll ever meet, and has both the talent and the ocean knowledge required to repeat her 2009 heroics. But I get the feeling this year's crossing is less of a race for Jenny and more of a personal battle. The Costa Rican, who calls the Big Island of Hawaii home, hasn't been racing much at all the past couple of seasons, while her father sadly passed away a few months ago, something that will have no doubt drained a lot of energy but will also drive her to complete the crossing in his honour.
UPDATE: Unfortunately Jenny has had to withdraw from the race, with an injury forcing her off the water.
https://www.instagram.com/p/BIfnsItACr8/

Another name to watch is Penelope Strickland, who has finished top three the past two years and is another fierce competitor. Penelope, who hails from New Zealand, loves it when the ocean gets rough, so the stronger the wind and tougher the conditions, the better she'll do.
(UPDATE: I'm hearing from Molokai that Penelope might be out of the race – that could be three late withdrawals from top female contenders! It might also help explain this cryptic Instagram post from Pea…)
Though perhaps the one name you really need to keep an eye on is Amy Woodward, who Travis Grant described to me as the "dark, dark, dark horse" of the women's event. Travis has been helping Amy out over the past six months — she'll be on an NSP unlimited with a QB paddle — and the Aussie is confident his Hawaiian friend will turn a few heads. Amy is also one of Hawaii's strongest outrigger paddlers, which means she'll have more experience of the Ka'iwi Channel than most of her rivals.
(I also thought Maui2Molokai champion Devin Blish was racing tomorrow, but I don't see her name on the official start list so I'm guessing not.)
But no matter what happens tomorrow, one thing is for sure: Conditions will play a big part in the order of the results sheet. The lighter the conditions, the more of an advantage Annabel will have, while the bigger the bumps, the better it'll be for the more experienced unlimited paddlers such as Sonni and Terrene.
Right now the wind is forecast to be relatively light, though at least it'll be blowing in the right direction from east to west, so there should definitely be a few bumps on offer.
Here are my predictions, though the only thing I'm positive about is that the women's race will be an intense and very entertaining battle.
---
M2O 2016: Women's Solo
1st: Sonni Hönscheid
2nd: Annabel Anderson
3rd: Amy Woodward
4th: Terrene Black
5th: Jenny Kalmbach late withdrawal
6th: Penelope Strickland – possible late withdrawal
7th: Andrea Moller – possible late withdrawal
8th: Lena Ribeiro
9th: Tomoe Yasu
10th: Victoria Burgess
---
If the women's top 10 was tough to predict, the men's is virtually impossible. However I think I know who's going to be at the pointy end of the field as Oahu draws near…
While the Molokai-2-Oahu paddleboard race has included an official solo SUP division since 2006 (with two-man teams competing as early as 2004), and although some of the legends of the sport have won this race in the past 11 years, there are only two guys that have comprehensively dominated M2O over the past half a decade: Travis Grant and Connor Baxter.
Below: The epic back-and-forth between Travis and Connor at M2O 2014
[notdevice][/notdevice][device][/device]
Travis Grant is the defending champ and will once again start as one of the hot favourites, looking to add a third title to his 2013 and 2015 victories. Connor Baxter, on the other hand, already has three Molokai crowns – 2011, 2012 and 2014, and will be looking to continue his see-sawing battle with his Aussie rival.
I'm going to call it right now: No matter what the conditions, and no matter which paddlers are on what board, I think Connor and Travis are the only guys that can finish top two. There are plenty of other world class ocean athletes capable of causing an upset, but Conbax and Trav have the experience and the runs on the board to thoroughly deserve top-tier favouritism.
It's really hard to split these two, as we saw in the Maui2Molokai race two weeks ago where Connor won by just over a minute after three hours of racing. But while Connor claimed his seventh M2M title this year, Travis did something unusual: He got closer to beating Connor in that race than anyone else ever has.
Travis was 10 minutes behind Connor in his previous M2M attempt two years ago, so the fact he was within sight of the Maui superstar for the entire crossing this year suggests he's closed the gap significantly. That one fact alone is what I'm using to separate these two legends in my predictions — I'm saying Travis Grant will win Molokai 2016.
[notdevice][/notdevice][device][/device]
Of course there are other factors that swayed me… Travis Grant is Travis Grant after all. He's proven himself time and time again as one of the greatest of all time, despite being almost universally under-rated. He can read the ocean better than just about anyone, something he showed a couple of months ago when he created history on this very channel crossing, becoming the first paddler to ever win Molokai on both a SUP and an OC-1.
Looking elsewhere in the form guide, although Carolina is a world away from Molokai, that event back in April could be another bellweather result: Travis powered home to claim runner-up behind team mate Titouan Puyo, while Connor hit the wall in the final mile to finish well behind.
Trav has also had an easier preparation, spending most of the year on his adopted home of Oahu, whereas Connor has been traveling and racing around the world virtually non-stop since April. All that travel takes its toll eventually.
Another factor is the mental game, which is just as important as the physical fitness when it comes to Molokai. Connor is probably the toughest young competitor you'll ever meet, and he has a freakish ability to push himself beyond the pain barrier, but he has to overcome the fact he retired mid-channel with exhaustion last year, whereas Travis cruised home to win in style.
Will that make a difference? I'm pretty sure Connor will bounce back from last year's disappointment just fine, but even if it only makes a 1% difference, then it could make all the difference.
Speaking of mind games, at least on a lighter note, here's Trav's Facebook post on the eve of the race, encouraging Kai and Connor to take a very southward line across the channel…
[notdevice][/notdevice][device][/device]
But while Travis is a proven champion, so is Connor, particularly at home in Hawaii where he absolutely loves to triumph. So while I'm leaning towards Trav for the win, I think it'll be a monumental battle between these two modern greats, and I wouldn't be surprised if either of them won (though I would be surprised if anyone else did).
Outside of Trav and Connor, I see another group that will be battling for the third spot on the podium, and who could realistically (but probably won't) cause a big upset.
The first of them is Matt Nottage from Australia, who has gone from a complete unknown to one of the best ocean paddlers in the space of just 12 months. Nottage defeated Travis in Australia's two premiere ocean races last December (The Doctor and King of the Cut), while he was the only one anywhere near Trav and Connor at Maui2Molokai the other week.
The only asterisk I usually have on Matty is the conditions: If there are big bumps rolling, he has the ocean knowledge, talent and speed to win Molokai, but if it's light conditions (and it's leaning that way), he won't be having as much fun and won't be as much of a threat. Then again I said the same thing when his sponsor dragged him to Carolina in April, and in that race he ended up finishing a solid top 10 to show he's a great all-rounder.
So yeah, Matt Nottage could do absolutely anything out there tomorrow.
He'll also be riding one of the most unusual boards in the field, with him and fellow Aussie James Casey on custom unlimiteds shaped back home by Marcus Tardrew.
[notdevice] [/notdevice]
https://www.instagram.com/p/BH6e0gzhMyZ/
[notdevice] [/notdevice]
Speaking of James Casey, or "Jimmy" as he's known, he's definitely another big contender tomorrow. In fact I wouldn't be at all surprised to see him standing somewhere on the podium tomorrow night, such has been his form this year. Jimmy took out a couple of big races in Australia earlier in the year, while he went top five at Maui2Molokai in the lead-up to the big dance.
The other guy I see as a solid bet on the top five is Brazil's Vinnicius Martins, who was one of the feelgood stories of Molokai 2015. Vinni was forced to retire with a broken rudder during the 2014 race (when he was on track for the top five) but returned beautifully 12 months later to claim a memorable fourth place finish behind Travis Grant, Kai Lenny and Lincoln Dews.
Vinni is one of the nicest guys you'll ever meet. But don't let the smile fool you: He's as tough as anyone out in the open ocean, and has the expertise with unlimited boards that few other paddlers can match. I'm picking him to go top five once more (I think it'll be a very entertaining battle for third place between Jimmy, Nottage and Vinni).
[notdevice][/notdevice][device][/device]
Perhaps the biggest wildcard in this year's men's race will be Kai Lenny, who would normally start as one of the favourites, but who can't seem to decide which board he'll be riding this year.
Kai was originally entered in the unlimited division, then if my memory serves me correctly he was switched to the stock class a couple of months ago. Right now the official start list has him back in the unlimited division, however the official press release earlier this week mentioned the stock class once again. So I'm not sure what to believe.
Kai is famous for being very private and guarded about his plans, so we probably won't know until Sunday morning what he intends to paddle. I believe he's taken his 14′ Naish downwind board with him to Molokai, however I also believe he took over a custom unlimited design from Billy Robello (very similar to the one he paddled last year), to which he famously purchased the master rights last year in an effort to defeat Travis.
If Kai is racing an unlimited, he's gotta start as one of the favourites. The kid is just too talented. He's a freak in the ocean. He will win this race eventually, no question, but will it be this year? I don't think so…
[notdevice][/notdevice][device][/device]
If the bumps are running I think Travis, Connor and Nottage will stay in front of Kai. If conditions go light he'll be right near the pointy end of the field, but I still don't see him overcoming his Maui rival or the defending champ. Alternatively, if Kai chooses to race stock – where he holds the course record – he'll be up against another world beater in Danny Ching and 14′ ocean master Travis Baptiste, so either way he's going to have some stiff competition.
There's also the fact that Kai has had a virtually non-existent race season so far, with a weekend in Japan back in May the only time we've seen him on a race board all year. It's hard to stay in good race form when you're not racing, but then again this is Kai Lenny we're talking about. I also believe Kai wants to win Molokai more than any other event (so much so that he'll probably retire from racing when he eventually claims the crown), so motivation is not an issue.
Outside of the top five or six, it's going to be a huge battle for the final spots in the top 10. There are too many names to mention, but here are a few to watch out for…
Former Molokai stock class winner Andrew Logreco is stepping up to the big boards this year. The North Shore lifeguard will be an outside chance of cracking the podium, though I think he'll probably end up around 6th or 7th.
[notdevice] [/notdevice]
https://www.instagram.com/p/BIHMyeRj7Ps/
[notdevice] [/notdevice]
One of the fittest blokes you'll ever meet, Kelly Margetts, deserves top tier favouritism every time he stands on a race board, however it may surprise you to hear that Kelly is a relative newcomer to the downwind/ocean paddling world. He's always trained and excelled in surf races and on long, grinding flat water events (such as at the no-winder Gorge race last year, where he defeated one of the strongest fields of talent we saw all season). Kelly has been camped out on Maui the past six weeks getting ready for this race, and showed he's a quick learner with a solid top 10 finish at Maui2Molokai. So while he'll hate me for saying it, I think he's one of the top 5 contenders and an absolute certainty for the top 10.
I expect Kelly to finish right around the same time as Japan's national champion, Kenny Kaneko, who has plenty of experience in the Ka'iwi Channel thanks to his outrigger canoe background. Kenny finished right behind Kelly at M2M two weeks ago, and I think it'll be a similar story tomorrow. Kenny is also one of the most dedicated and hardest working guys on the training track, so if conditions get tough and competitors have to dig deep over the final few miles, look for Kenny to power home.
Flying under the radar will be yet another Aussie, who could potentially give Team Green & Gold a 50% take of the top 10 spots. Toby Cracknell. The laid-back lad from New South Wales has been training super hard this season, with some impressive results at home leading up to a top 10 finish at M2M earlier in the month. Although Maui2Molokai is 6 miles shorter and more of a pure downwinder than Molokai2Oahu, I think the results from that race have given us a pretty good form guide for tomorrow.
Another name that very rarely gets the attention he thoroughly deserves is Josh Riccio, who lives on Maui and goes about his business with a minimum of fuss. Riccio is one of the nicest guys you'll ever have the pleasure of sharing the water with, however he's also one of the most experienced and determined, and I have no doubt he'll use his years of open ocean knowledge to secure a solid spot somewhere in the top 10.
[notdevice] [/notdevice]
https://www.instagram.com/p/BISXxkYAj_P/
[notdevice] [/notdevice]
But that's only the unlimited boys. There's a whole nother race, albeit a smaller one, happening in the 14′ stock class, and it features one of the biggest names in the sport.
Danny Ching will be the one to watch in the battle of the 14 footers tomorrow, and if conditions turn super light and the unlimiteds lose most of their natural advantage, he'd probably fancy himself to go all the way and claim line honours. That's what he did last year on a 14 footer, however he was in a two-man team with Kaihe Chong. The Ka'iwi Channel is a much tougher proposition when you don't get to take a break every half an hour.
Speaking of Kaihe Chong, he'll be racing against his former relay partner (and current 404 team boss) out there tomorrow, and they'll be joined fellow fluro green guys Niuhiti Buillard and Travis Baptiste, the latter of which has owned Molokai on a stock board the past couple of years. If Kai Lenny skips the stock class, then I wouldn't be surprised to see Team 404 take the top 4 spots on the 14 footers, which would be a nice little alignment of the numbers.
The dark horse pick for a top three finish in the stock class is South Africa's Ethan Koopmans, who I believe now calls Maui home, while we've also got the likes of Chuck Glynn in the 14′ division.
Elsewhere, keep an eye on yet Noa Hopper and Ryland Hart in the team relay, while one of the most inspiring guys you'll ever meet, Jonas Letieri from Brazil, will be competing in the teams event with Anthony Vela. See their training session on the way from Maui to Molokai yesterday.
Oh and for the trivia buffs, the first ever winner of the solo SUP division – 2006 champ Kevin Horgan – will be competing once again at the tender age of 51 years.
[notdevice][/notdevice][device][/device]
Just like in the women's race, conditions will play a huge role in determining the order of the men's top 10, with the downwind specialists praying for strong winds and everyone else probably hoping it's a little milder.
Right now wind is forecast to be moderate about 15-16 knots in the Ka'iwi Channel during the race, which would peg it as a moderate downwinder but nothing all-time. (Update: I'm hearing from Molokai that the forecast has dropped down to around 10 knots, which isn't great news for the downwind specialists.)
But enough rambling. Who's it gonna be? Who's going to finish top 10 in the most prestigious race of the year?
It's a very hard race to predict this year, but here goes…
---
M2O 2016: Men's Solo Unlimited
1st: Travis Grant
2nd: Connor Baxter
3rd: Matt Nottage
(4th: Kai Lenny*)
4th: James "Jimmy" Casey
5th: Vinnicius "Vinni" Martins
6th: Andrew Logreco
7th: Kelly Margetts
8th: Kenny Kaneko
9th: Josh Riccio
10th: Toby Cracknell
---
M2O 2016: Men's Solo Stock
1st: Danny Ching
(2nd: Kai Lenny*)
2nd: Travis Baptiste
3rd: Niuhiti Buillard
4th: Kaihe Chong
5th: Ethan Koopmans
* Not sure if Kai Lenny is racing unlimited or stock. I'm predicting 4th overall if he's on an unlimited (though he's clearly got the talent to win). If he's on a 14 footer, he'll probably be 2nd in his division (behind Ching) and around 6th or 7th overall.
---
So there you go. That's Molokai. How accurate are these predictions? We'll find out in just over 24 hours time — the teams race starts at 7:30am local time, while the main event, the solo divisions, go off at 8:00am sharp.
As always you'll be able to follow the race with the DotVision live GPS tracking map, while the official Molokai site will have a live blog. I won't be doing a live blog this year, but follow SUP Racer on Facebook for a few mid-channel updates.
Molokai 2016 is rated as a 5-star event on the SUP Racer World Rankings (which gives it a guaranteed minimum Race Index score of 50%), so expect the results to give the Top 100 and Top 50 leaderboards a good nudge on Monday morning.
But the paddlers aren't worried about chasing points this weekend. They're not interested in prize money either. Paddlers take on the almighty Ka'iwi Channel in search of personal milestones, and, at least for some, the possibility of etching their name in the history books.
Who will add their name to the honoured list this year? We'll find out tomorrow…
[notdevice]
---
[tminus t="2016-07-31 08:00:00″ style="hoth" omitweeks="true" /]
---
[/notdevice]