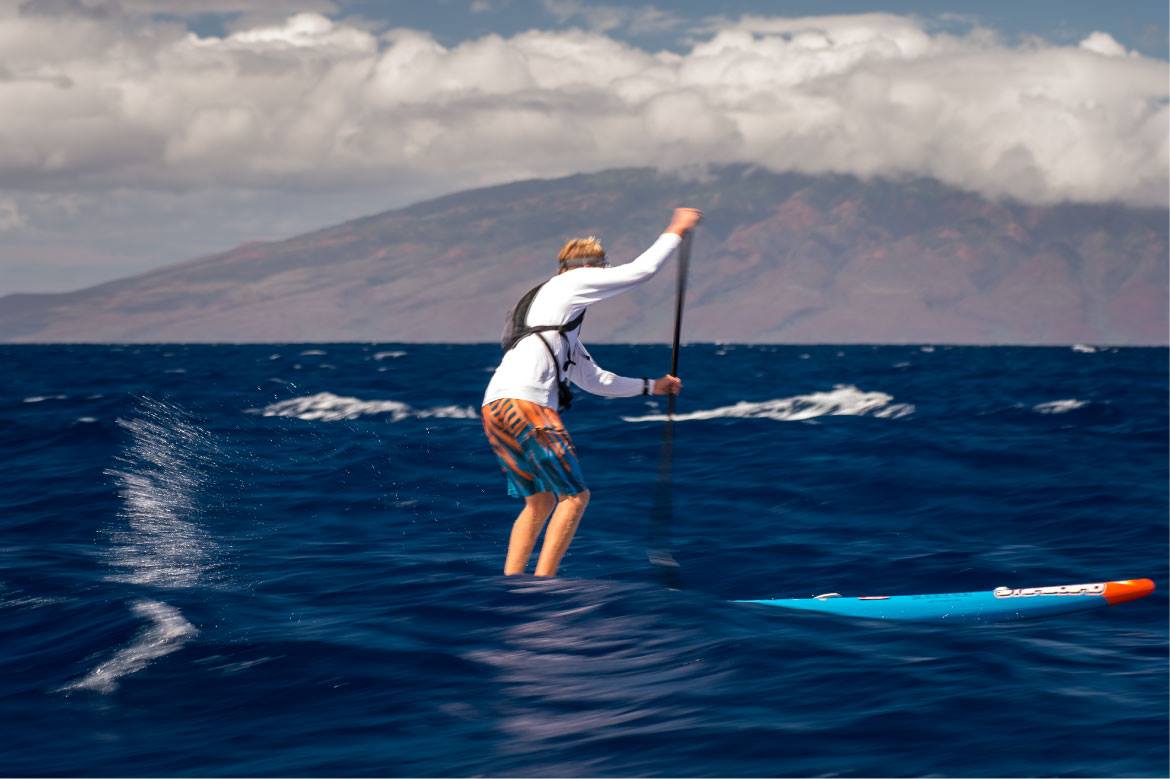 July 16, 2016
by Christopher Parker (@wheresbossman)
Connor Baxter Outlasts Travis Grant and Matt Nottage to Win Seventh Straight Maui2Molokai; Devin Blish Claims Women's Title
Connor Baxter has won a record seventh-straight Maui 2 Molokai (M2M) title, narrowly edging out Travis Grant in one of the fastest ever channel crossings, and setting up a mouth-watering clash at the major Molokai 2 Oahu (M2O) showdown later this month.
Connor finished in a time of 2:58:51, less than two minutes ahead of Travis, with conditions firing in the middle part of the course but stormy weather preventing it from being an all-time downwinder.
Matt Nottage was extremely impressive in third, and even though he finished one place lower than his runner-up effort last year, this was an even more impressive result given the greatly increased level of competition this year.
Brazilian Vinni Martins, one of the heroes of last year's M2O, looks to be in great form after finishing fourth, crossing just seconds ahead of another rising star, Australian James "Jimmy" Casey. Finishing sixth was yet another Aussie, the supremely under-rated ocean paddler Dave Kissane.
The Aussies were out in force this year, claiming six of the top ten spots after Kelly Margetts and Toby Cracknell also showed great form.
Maui boy Josh Riccio and Japan's #1 Kenny Kaneko also went top 10, however it was an unlucky day for Mo Freitas, who was in contention for one of the top spots before snapping his paddle and being left stranded mid-channel. Fortunately one of the escort boats eventually passed by with a spare paddle, allowing him to safely finish the race.
In the women's, dark horse Devin Blish charged across the channel to claim a strong victory, finishing a few minutes ahead of Terrene Black, while world number one Annabel Anderson was close behind in third. Annabel's effort was particularly impressive considering she was paddling in the 14′ stock class against the unlimiteds of the other top athletes.
But it was definitely Devin's day. This is the Maui local's second M2M title in three years, and once again highlights how incredibly under-rated she is in the ocean paddling world, and how hard she is to catch when the bumps are running.
Although conditions weren't all-time there were still plenty of great glides on offer. Nottage described it as "not epic but still pumping for most of it" while Jimmy said "that middle 15km was as much fun as I've had in a race in a while."
Indeed, the finishing times suggested this was a particularly fast crossing — Connor went sub-three hours for only the second time ever, and was only a few minutes shy of the 2:55:46 course record he set in 2012.
In what is a true testament to the freakish abilities of the world number one, Connor's victory extends the longest winning streak in the men's sport, and equals Andrea Moller's seven OluKai titles as the greatest streak in the entire sport. Not only has Connor never lost this race but nobody else has ever won it — the Maui local took out the inaugural event as a scrawny teenager way back in 2010, and he's triumphed every 12 months ever since.
But while it was Connor's day, it was an equally impressive effort from Travis Grant, with the world number two getting closer than anyone ever has to stealing the crown. Trav's narrow deficit of 1 minute 42 seconds eclipses the 2 minute 26 second gap between Connor and runner-up Dave Kalama in 2012. For context, the last time Trav did this race, back in 2014, he finished 10 minutes behind Connor.
The results setup a mouth-watering clash at the 5-star Molokai 2 Oahu race in two weeks' time, where Connor and Travis will start favourites, and where guys like Nottage, Vinni and Jimmy will all be in contention as well. The quintet is likely to be joined by Kai Lenny, who sat out today's race but who sees M2O as the only feather missing from his cap.
Between them, Travis and Connor have won the five previous M2O battles, with Trav claiming 2013 and 2015, and Connor saluting in 2011, 2012 and 2014.
It'll be the same on the women's side, where Devin will now start as one of the favourites, Terrene is looking to reclaim her title from 2013, Annabel is looking to cause an upset from the stock class, and everyone will be trying to chase down two-time defending champ Sonni Honscheid, who was missing from today's race.
We'll have more photos, videos and athlete reactions coming soon, but in the meantime here are the full results. There are more photos up on 808photo.me's Facebook.
Maui 2 Molokai was rated as a 3-star event on the SUP Racer World Rankings this year, meaning it scored a guaranteed minimum of 30% on the Race Index (it exceeded its minimum on the men's side to score 33%).
2016 Maui2Molokai – Men's Race Results
Course: 26 miles (41.84kms)
Conditions: Moderate
Race Index: 33%
SUP Racer World Rankings will be updated Monday morning
| # | Athlete | Time | Board | Nation | Points |
| --- | --- | --- | --- | --- | --- |
| 1 | Connor Baxter | 2:58:51 | Unlimited | Hawaii | 33.00 |
| 2 | Travis Grant | 3:00:33 | Unlimited | Australia | 24.75 |
| 3 | Matt Nottage | 3:04:03 | Unlimited | Australia | 19.80 |
| 4 | Vinnicius Martins | 3:13:55 | Unlimited | Brazil | 16.50 |
| 5 | James Casey | 3:14:09 | Unlimited | Australia | 14.03 |
| 6 | Dave Kissane | 3:17:04 | Unlimited | Australia | 11.55 |
| 7 | Josh Riccio | 3:18:27 | Unlimited | Hawaii | 9.90 |
| 8 | Kelly Margetts | 3:18:57 | Unlimited | Australia | 8.25 |
| 9 | Kenny Kaneko | 3:20:21 | Unlimited | Japan | 7.43 |
| 10 | Toby Cracknell | 3:20:41 | Unlimited | Australia | 6.60 |
| 11 | Jeremy Riggs | 3:22:23 | Unlimited | Hawaii | 5.94 |
| 12 | Livio Menelau | 3:24:10 | Unlimited | Brazil | 5.28 |
| 13 | Tomoyasu Murabayashi | 3:25:12 | Unlimited | Japan | 4.95 |
| 14 | Ryan Murphy | 3:27:55 | Unlimited | Hawaii | 4.62 |
| 15 | Bullet Obra | 3:29:04 | 14' | Hawaii | 4.29 |
| 16 | Ethan Koopmans | 3:29:37 | 14' | South Africa | 3.96 |
| 17 | Luiz Guida | 3:35:57 | Unlimited | Brazil | 3.63 |
| 18 | Romuald Mamadou | 3:37:12 | 14' | Guadeloupe | 3.30 |
| 19 | Phil Gregory | 3:39:17 | Unlimited | Australia | 2.97 |
| 20 | Mo Freitas | 3:41:45 | Unlimited | Hawaii | 2.64 |
| 21 | Kawika Kinimaka | 3:42:44 | Unlimited | Hawaii | 2.48 |
| 22 | Sam Parker | 3:43:45 | Unlimited | Australia | 2.31 |
| 23 | Ryan Funk | 3:44:22 | 14' | Hawaii | 2.15 |
| 24 | Sam Thom | 3:47:31 | Unlimited | New Zealand | 1.98 |
| 25 | Mark Huxley | 3:47:54 | Unlimited | Australia | 1.82 |
| 26 | Kosuke Matsuyama | 3:53:18 | Unlimited | Japan | 1.72 |
| 27 | Americo Pinheiro Junior | 3:56:42 | Unlimited | Brazil | 1.62 |
| 28 | Bojan Bernard | 3:58:30 | Unlimited | Slovenia | 1.52 |
| 29 | Kieran O'Riordan | 4:04:21 | Unlimited | Australia | 1.42 |
| 30 | Fabrice Chaminade | 4:06:42 | Unlimited | New Caledonia | 1.32 |
| 31 | Harry Lee | 4:07:56 | 14' | Australia | 1.25 |
| 32 | Alexandre Bicrel | 4:09:17 | Unlimited | France | 1.19 |
| 33 | Tim Wyers | 4:11:15 | Unlimited | Australia | 1.12 |
| 34 | Nathan Decker | 4:13:22 | Unlimited | ? | 1.06 |
| 35 | Yasuke Fukui | 4:16:16 | 14' | Japan | 0.99 |
| 36 | Evan Green | 4:17:21 | Unlimited | Australia | 0.92 |
| 37 | Warwick Gray | 4:19:33 | 14' | New Zealand | 0.86 |
| 38 | John Walsh | 4:20:01 | 14' | USA | 0.79 |
| 39 | Jade Howson Team (+ Ryder and Jack) | 4:20:27 | 14' team | USA | 0.00 |
| 40 | Naoki Marutani | 4:25:22 | Unlimited | Japan | 0.66 |
| 41 | Leonardo Lorang | 4:29:45 | Unlimited | Brazil | 0.63 |
| 42 | John Alexiou | 4:32:49 | Unlimited | USA | 0.59 |
| 43 | Jeffrey Spencer | 4:33:24 | Unlimited | USA | 0.56 |
| 44 | Jay Gomez | 4:34:02 | 14' | ? | 0.53 |
| 45 | Justin Ormonde | 4:37:35 | Unlimited | Australia | 0.50 |
| 46 | Jeffrey Oltman | 4:45:55 | Unlimited | ? | 0.46 |
| 47 | Chris Ting | 4:47:25 | Unlimited | Australia | 0.43 |
| 48 | Alec Stewart | 4:48:06 | 14' | Canada | 0.40 |
| 49 | Derek Sproul | 4:49:29 | 14' | USA | 0.36 |
| 50 | Zoltan Bazso | 4:55:20 | Unlimited | ? | 0.33 |
| 51 | Grant Heinz | 5:02:01 | Unlimited | ? | 0.00 |
| 52 | Renato Costa | 5:07:40 | 14' | Brazil | 0.00 |
| 53 | John Fuglsang | 5:11:57 | Unlimited | Australia | 0.00 |
| 54 | Nigel Milnes | n/a | Unlimited | Australia | 0.00 |
| 55 | Paul Matthews | n/a | Unlimited | Australia | 0.00 |
| 56 | Laurent Waho | n/a | Unlimited | New Caledonia | 0.00 |
2016 Maui2Molokai – Women's Race Results
Course: 26 miles (41.84kms)
Conditions: Moderate
Race Index 30%
SUP Racer World Rankings will be updated Monday morning
| # | Athlete | Time | Board | Nation | Points |
| --- | --- | --- | --- | --- | --- |
| 1 | Devin Blish | 3:42:52 | Unlimited | Hawaii | 30.00 |
| 2 | Terrene Black | 3:44:52 | Unlimited | Australia | 22.50 |
| 3 | Annabel Anderson | 3:45:01 | 14' | New Zealand | 18.00 |
| 4 | Jenn Lee 2-person Team | 3:56:53 | 14' | Hawaii | 0.00 |
| 5 | Kali'a Alexiou | 4:07:58 | 14' | USA | 15.00 |
| 6 | Lena Ribeiro | 4:18:12 | Unlimited | Brazil | 12.75 |
| 7 | Annie Reickert | 4:38:23 | 14' | Hawaii | 10.50 |
| 8 | Alison Wood | 4:56:16 | Unlimited | Canada | 9.00 |
| 9 | Jaecey Suda | 4:56:48 | 14' | Hawaii | 7.50 |
| 10 | Vanessa Smith | 4:56:52 | 14' | Australia | 6.75 |
| 11 | Jenn Biestman | n/a | Unlimited | USA | 6.00 |