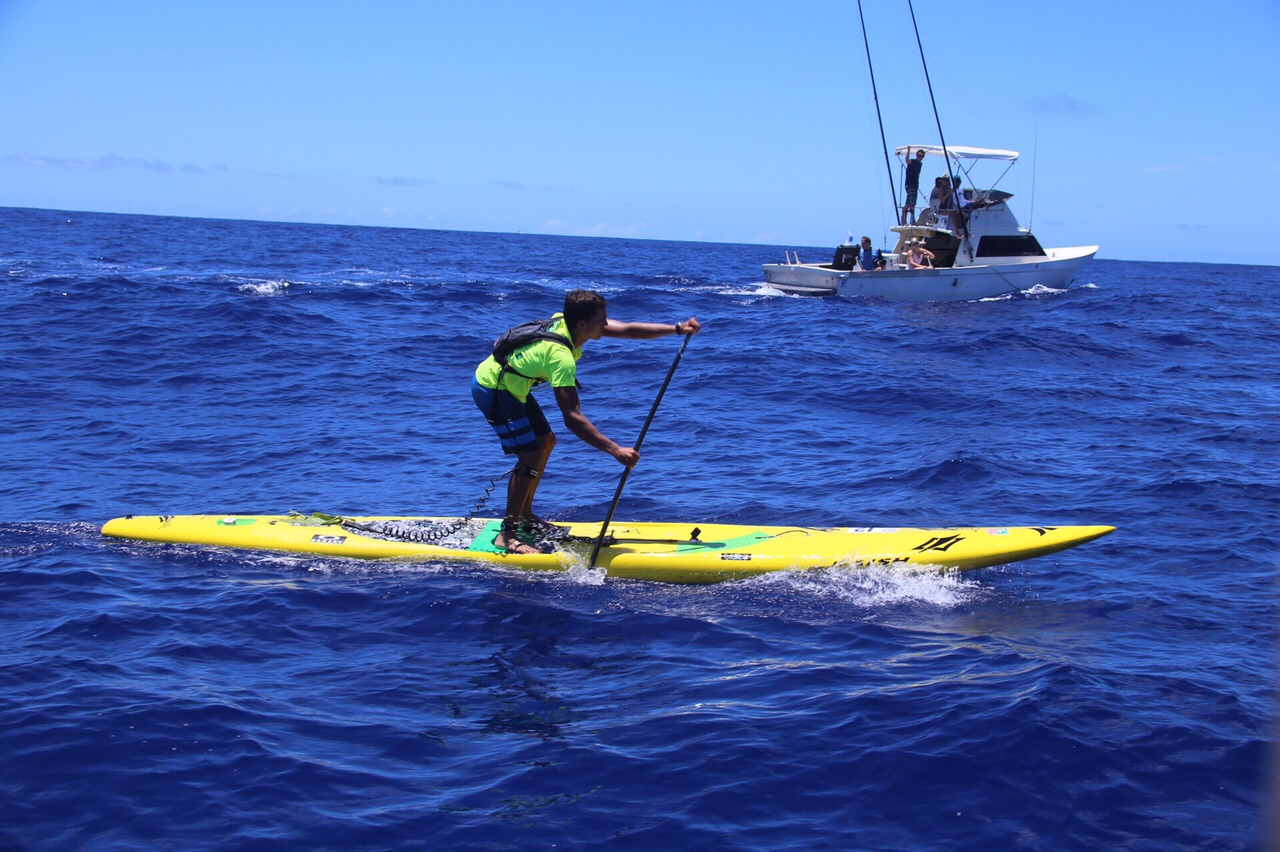 August 1, 2015
by Christopher Parker (@wheresbossman)
If You Can't Beat 'Em, Buy 'Em: The Amazing Story Of Kai Lenny's Secret Plan To Win Molokai
Kai Lenny really wants to win Molokai. He really, really wants to win. So much so that he and his sponsors went to extraordinary lengths to achieve greatness this year.
To understand this story is to understand how incredibly driven, determined and extraordinarily competitive Kai Lenny is. It's a story of winning at all costs. But it's also a story of mutual respect and admiration between two incredible ocean athletes, as you'll discover at the end.
Kai Lenny is on a different level to everyone else in our sport. He knows it's only a matter of time before he's the single biggest superstar in the entire ocean, yet he still seems impatient to get there. But for all the Red Bull, GoPro, Hurley and Tag Heuer sponsorship deals, all the billboards, all the cover shots, all the likes on Instagram and all the photos in GQ magazine, there's one thing Kai wants more than anything else: He wants to win.
And there's no race more highly prized in the sport of stand up paddling than Molokai 2 Oahu.
Kai Lenny went all out in the hunt for a Molokai crown this year. There was the professional training, the pair of support boats filled with two of the most experienced escort captains, a trainer, nutritionist and a Hurley film crew to document his journey. That's in addition to the general backing and support from some of the biggest (and richest) brands that Kai receives on a daily basis.
But apart from the massive entourage and media focus, there was one thing in particular that Kai spent a lot more on than any of his rivals: His board.
Kai Lenny's board probably cost 10x as much as what anyone else in the race shelled out for theirs. Kai gets two dozen free boards a year from Naish, but this year he paid for his Molokai board. A lot. And the reason why exposes a fascinating sub-plot to what was an already fascinating race.
My suspicions that something was going on were first raised when I asked 2013 Molokai champion (and 2014 runner-up) Travis Grant who'd be escorting him this year. I assumed he'd go with his usual team of Oahu-based shapers/paddlers/ocean masters Billy Robello and Marshall Rosa. They escorted him to victory in 2013 and went close to a repeat last year. They're considered some of the best in the business.
When Trav told me he'd have a different boat captain escorting him across the Ka'iwi Channel this year, I thought it was a bit odd. Why would you get rid of the winning team?
I thought perhaps it was because Trav had a new board. In 2013 he paddled a green and yellow Billy Robello unlimited design to victory (and used an identical shape when he finished runner-up last year), but this year switched to his new NSP unlimited (aka the Magic Molokai Board). Perhaps for that reason Billy didn't want to help him out as much. Or perhaps the Robello/Rosa team simply got an offer they couldn't refuse from another paddler.
I wasn't sure but I didn't really think too much about it until race day.
Despite the fact I was several thousand miles away in the California desert while Molokai was happening, I had several spotters on the ground and in the water helping me do my Molokai Live Blog. And one early piece of trivia that got relayed to me right before the race regarded Kai: He was sitting at the start line on a "new" and "never before seen" prototype from Naish. Or at least, it was stickered up to look like a Naish. Nobody was quite sure what it was.
I was instantly intrigued.
While he hadn't done any of the Downwind Month warm-up races, Kai had been posting training photos in the lead up to the big one, which gave us a slight glimpse of the Naish unlimited that we assumed he'd be using for Molokai. Almost every year, Naish builds Kai a new unlimited board for Molokai, refusing to go down the Starboard/Connor Baxter route of buying an SIC Bullet (which, in fairness to Connor and Starboard, pretty much every other sponsored athlete does for Molokai as well).
Naish is a smart brand, and they want their star team rider winning on one of their own boards. It's virtually their entire marketing platform. So when the reports came through of a totally new design under Kai's feet, and that perhaps it wasn't a Naish original, I immediately began digging.
[notdevice] [/notdevice]
[notdevice] [/notdevice]
I got as much info as I could from my spotters on the beach in Molokai, my friends at the finish line on Oahu and out in the water on the media boats. But it wasn't until I found out who was on Kai's support boats that everything started to click.
Kai Lenny was being escorted across the channel this year by Billy Robello and Marshall Rosa, aka Travis Grant's dream team from 2013/2014.
I immediately realised what Kai's board must be: A Billy Robello design. Clearly he'd paid Robello and Rosa to escort him across the channel, and he'd obviously purchased one of Billy's boards while he was at it. I assumed the board would have been very similar to the one Travis used the past couple of years. Perhaps identical in shape. And sure enough, when the mid-channel photos started dropping in, my suspicions were confirmed: Kai's board looked exactly like Travis' old board.
It had been dressed up to look like a Naish, but there was no mistaking it was a Robello.
But that wasn't even half the story…
It turns out this board wasn't just a similar shape to Travis' winning board from 2013. This was Travis' winning board from 2013.
Kai Lenny was paddling the exact same board in this year's Molokai 2 Oahu that Travis Grant paddled to victory in 2013. Kai not only bought Travis' winning support team, he'd bought Travis' winning board as well.
If you can't beat 'em, join 'em. Or perhaps: If you can't beat 'em, buy 'em.
This fascinating discovery encouraged me to dig further after the race was finished, and as the story unraveled it became even more intriguing.
I called a couple of contacts on Maui to fill the gaps and began to form a rough outline. Kai's secret plan to win Molokai had been in motion for months. He really, really wanted to win Molokai this year and didn't want to leave anything to chance. He wanted to be on the fastest board he could find.
Kai flew to Oahu earlier in the year to test Billy Robello's design. The young superstar was unhappy with his Naish unlimited and knew he needed to switch, however he couldn't do something as obvious as buying an SIC Bullet. So his only other option, and a pretty damn good option I must say, was to seek out the same model board that Travis had been paddling for the past couple of years.
[notdevice] [/notdevice]
[notdevice] [/notdevice]
Travis was the champion in 2013 and runner-up in 2014 (Kai finished 4th both years), so the young superstar probably figured Trav's board was a good bet. Sure enough, Kai loved the board on his first test run on Oahu and was determined to buy it.
There was just one problem: Naish.
While Kai is allowed to ditch his sponsor and race with a QB paddle (which, in fairness to Kai, a lot of other top ranked athletes do as well), using a non-Naish board would be way too obvious. I can only assume Naish didn't want him on the Robello, especially not if Travis was going to be paddling the same design in the same race.
But Travis switched over to his new NSP unlimited this year, so perhaps that opened up some wriggle room for Kai to convince Naish to let him use the Robello.
Though Kai didn't want to buy just any old custom from Billy, even if it came from the same mould as Travis' board. He wanted Travis' actual winning board from 2013. Perhaps Kai is more superstitious than we realise…
But then, another twist.
This is where it gets kind of vague but I'm going to assume the storyline goes like this:
Billy Robello didn't want Kai buying just one single board and then painting it/stickering it up to look like a Naish. If he was going to dress it up as a Naish and use it in the most prestigious race of the year, Team Kai had to buy the complete master design rights to the board, not just a one off copy.
It's well known that Robello has been shopping around the rights to his board design ever since Travis used it to win Molokai two years ago, and here was the perfect opportunity to force a sale. I'm not sure if it was Naish or Kai (or both) who paid for the board, but I do know that Naish now owns the master rights to the Billy Robello unlimited SUP board design.
So for that reason, Kai actually *was* paddling a Naish board on the weekend. They own the exclusive rights to it, even if they didn't design or shape it themselves.
How much they paid Robello is anyone's guess. I've asked around but everyone in this story is being tight-lipped. I assume Robello signed an NDA, while obviously Kai/Naish would prefer this story not be published. But after speaking with a couple of shapers and brand managers, my estimate is somewhere in the $15,000-$25,000 range.
Yes. That much. Kai really wants to win Molokai…
[notdevice] [/notdevice]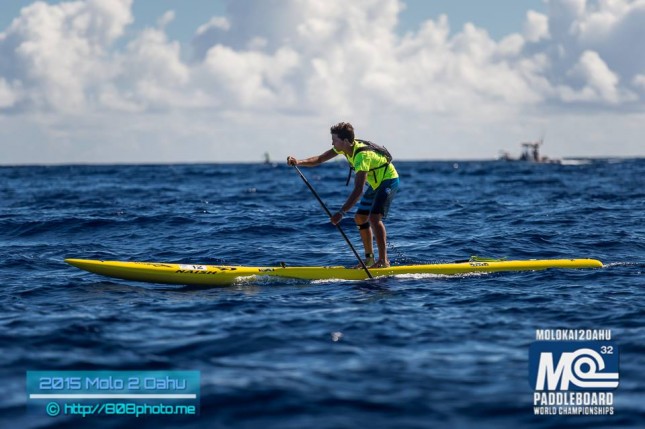 Above, Kai Lenny on his 2015 Molokai 2 Oahu board; Below, Travis Grant on the exact same board back in 2013… (photo credits: Johann Meya/808photo.me)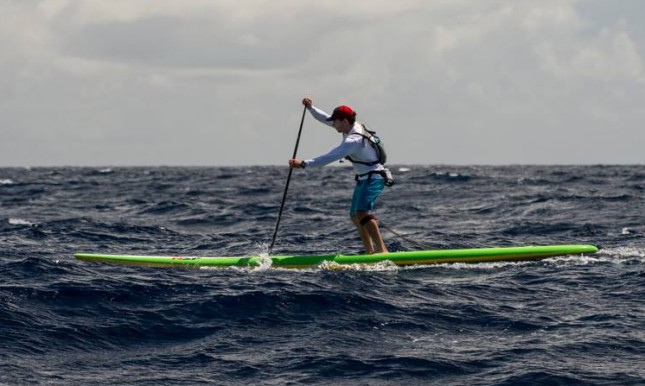 [notdevice] [/notdevice]
I don't believe Naish has any plans to put their newly-acquired design into production. They likely paid $15-$25k for one single board, which gives Kai Lenny the unique distinction of owning the single most expensive stand up paddle board in the world. And he bought it second-hand…
So with their purchase of the master design rights, Naish and Kai were able to do whatever they wanted with Travis' old board (Travis never actually owned the board, he was simply borrowing it from Billy Robello during 2013). Team Kai promptly had it painted in "Naish Yellow" (though from the photos it looks less like paint and more like some kind of covering, as if the board has been wrapped in a giant yellow sticker) and then added the necessary decals to make it look like a Naish original.
But wait, there's more.
I'm assuming that as part of this lucrative deal, Robello and Rosa had to include their Molokai boat captain services free of charge. This was a smart move from Kai, as it not only gave him an all star support team, it also denied one of his key rivals the all star support team he was accustomed to. Like the proverbial "eight point game" in Australian football, this was a double win for Kai.
And it almost paid off. Except that it didn't…
We all know how the story ends from here. In brutal conditions, Travis Grant breaks every other paddler (except Lincoln Dews) in the opening few miles before storming home in the second half to win by 16 minutes.
After a brief surge, Kai was actually only one minute behind Travis halfway through the 32 mile crossing, which means Travis then gapped him at a rate of one minute per mile in the second half of the race. Travis' performance was one of the greatest I've ever seen. After winning the two biggest races of the year so far – Carolina and Molokai – Trav is surely the world's #1 paddler right now.
Kai was mighty impressive as well. This was one of the longest, hottest, toughest Molokai 2 Oahu crossings of all time. Many elite athletes didn't even make it to the finish line. But as far as Kai is concerned, he *only* finished runner up, and he still doesn't have that coveted Molokai crown. For just about any other paddler on the planet, runner-up at Molokai would be a huge result. And while I'm sure this race made Kai stronger and more determined than ever, he still would have been bitterly disappointed with the result. Kai wanted this victory more than anything, as this whole fascinating story highlights.
The great irony of Kai's bold strategy is two-fold:
Firstly, it gave Travis Grant more motivation to win. The humble Aussie rarely lets anything bother him, but I could sense this whole episode added fuel to his already intense desire for victory. He said as much in his post-race interview. When asked about Kai's brief surge halfway through the race, when the gap closed to just a few hundred metres, Travis told us that; "There was no way I was letting Kai catch me, not today…"
In hindsight those words, and the manner in which he spoke them, were a clear reference to the board issue. I'm not sure how much of this story Travis knew before the race, but given his past connection with Robello I assume he knew most of it.
The second great irony is that Kai forced himself into a position where he would have been second guessing himself out in the channel. Here he was with the prized winning board under his feet, yet it was Travis who was in front of him the entire race. Perhaps he began asking why the board had worked for Travis but not for him. Was it the paddler or the board? Was he doing something wrong? The Ka'iwi Channel is no place to start doubting your abilities, but I imagine it would be hard for anyone to remain composed in that unique situation.
[notdevice] [/notdevice]
[notdevice] [/notdevice]
Though perhaps the biggest psychological impact of all was having to stare down at Travis Grant's name the whole way across the channel…
If you look closely at Travis' Kai's board in the shot above, you can see a few green patches where Robello was unable to completely mask the original colour. One of those green patches is right in front of Kai's feet and would have been clearly visible to him while he paddled.
It looks like the green patch was left untouched because the steering system or something else made it too difficult to wrap the yellow Naish cover all the way around the board. However I suspect a different reason: I saw this board when it was still green and there's something unique on that part of the deck.
Travis Grant's signature.
Yes, Kai Lenny had to stare at Travis' signature the whole race, including while he watched Travis paddle off into the distance and claim the crown he wanted so badly for himself. That's gotta mess with your head.
Normally it would be an inspiration to know you're using a champion's equipment, but not when they're beating you. It'd be like running around a basketball court in a pair of Michael Jordan's personal Air Jordan's while Jordan himself dunks one over your head.
I don't think we'll ever know for sure, but I suspect the Robello team left that part of the board untouched as a sign of respect to its original owner and champion. Whatever the reason, this small piece of trivia caps off what is a truly remarkable story. A fascinating sub-plot to an already fascinating race.
[notdevice] [/notdevice]
[notdevice] [/notdevice]
So there you go. That's the story of Kai Lenny vs. Travis Grant at the 2015 Molokai 2 Oahu Paddleboard World Championships. Paddler vs. paddler. Board vs. board. It's incredibly fitting that they finished first and second, and perhaps quite fitting that Travis was the victor.
It's a feelgood story: The story of a determined underdog triumphing against a superstar that gets far more attention and has far greater financial backing. That's a Hollywood script right there…
To highlight his underdog status: Travis Grant had to wake up on Monday morning, tired and sore after winning one of the toughest races of all time, and go to work. Kai Lenny went surfing.
Travis has a 9-5 day job like most normal people do. His boss was actually on his support boat out in the channel because they're good mates. That's the thing about Travis: He's not a superstar, he's a regular guy that just happens to be the best paddler in the world.
Though I don't think Kai did anything wrong with all of this, and I'm certainly not trying to paint him as the villain. I actually respect him even more than I already did because of this whole saga.
Sure, he was being extremely aggressive in his quest for glory, but we all know Kai is an aggressive competitor. What Kai was really doing was showing his fanatical commitment to the Molokai 2 Oahu race and the sport of SUP racing in general. And for that, Kai has my unwavering admiration.
Many paddlers in the elite community don't give Molokai the credit it deserves, or perhaps they know they'd be swallowed whole if they dared attempt a solo crossing. But not Kai. Say what you will about his methods, but Kai is committed to Molokai 110%. He believes in this race and he believes in himself. He wants to win this event more than anything, and he's going to keep coming back again and again until he gets his title.
And considering Kai is by far the biggest star in the world of stand up paddling, that's a great thing for us. Kai's presence in this race is a huge bonus not just for Molokai but for the entire sport.
I also want to point out that Kai was commendable in congratulating Travis on Instagram after the race (something that a couple of other big names forgot to do), which raises his stature even further in my opinion.
Travis confirmed it, telling me that Kai was very gracious at the finish line and that he showed the Aussie a great deal of respect, which is awesome to see. As they recounted their epic battle, Travis told Kai he thought it was only a matter of time before the young superstar wins this race.
Trav also told me that he never felt relaxed out in the channel and was always concerned Kai might be catching him. Part of the reason he caught "that wave" near the finish was because he thought Kai was breathing down his neck.
I really admire how high Kai Lenny has risen and how much attention he brings to our sport. Hopefully he keeps racing for the next decade because he'll go a long way to keeping all of us in a job (myself included).
As this story highlights, Kai is extraordinarily competitive. But it also highlights that he's very respectful and hard working, so I believe he deserves all the bonuses he gets in life.
So thank you, Kai, for giving us such a great story to add to such a great race. You're a star and we look forward to seeing you on the start line again next year, though we will be looking very closely at what's under your feet 😉
[notdevice] [/notdevice]