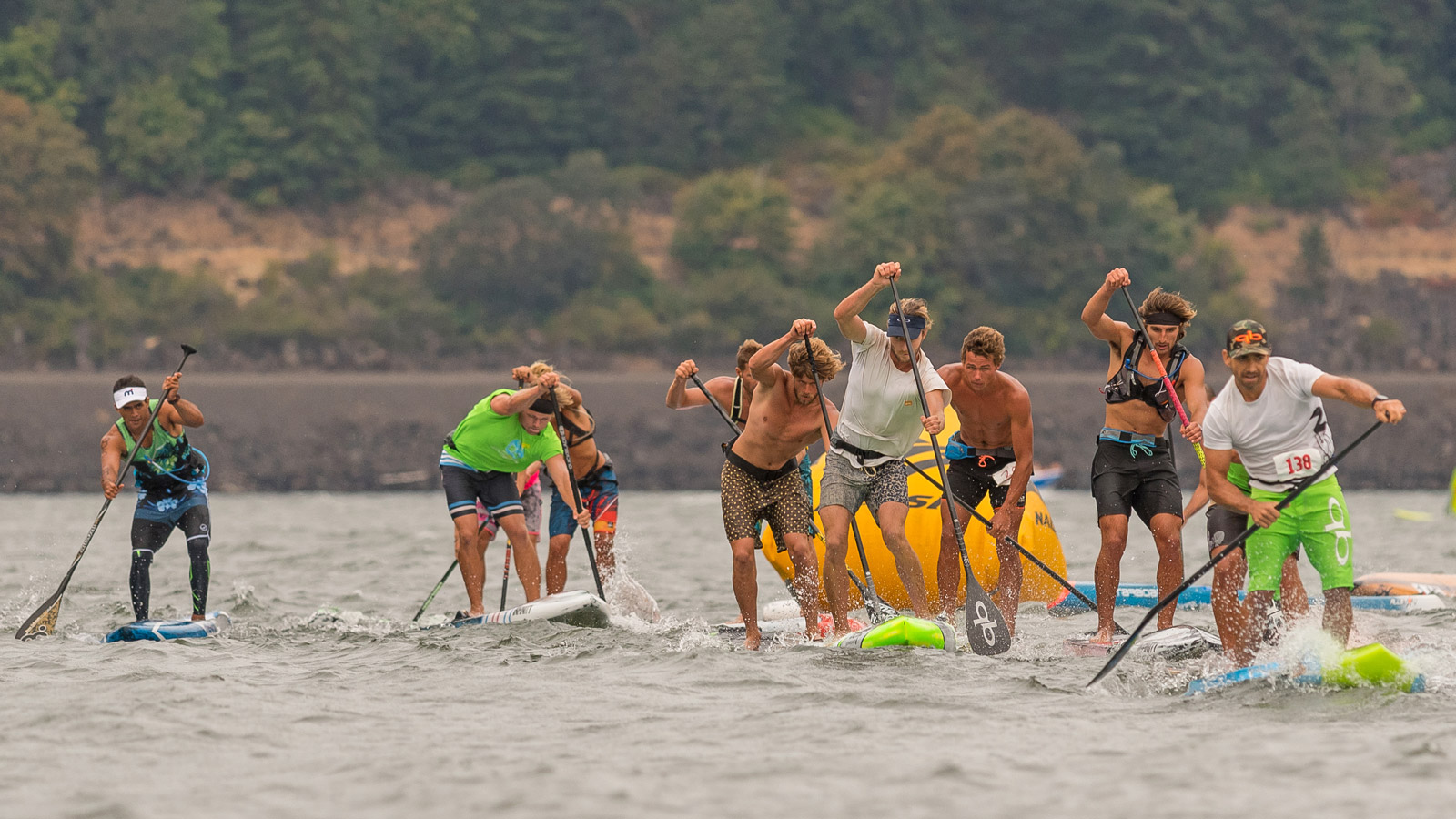 December 30, 2017
by Christopher Parker (@wheresbossman)
The 'Top 17 of 2017' – These guys were the best paddlers in the world this year.
SUP Racer quietly celebrated its 6th birthday a couple of weeks ago (time flies), and if one thing has defined this site over the past half a dozen years it's analysis.
I love analysing this sport. The stats, the stories and the stories behind those stories.
It all began with one of the earliest posts on the site: The Top 11 of 2011. That story got a lot of attention and helped kickstart SUP Racer as we know it, and from there it followed with year-end "best of" lists in 2012, 2013, 2014, 2015 and 2016.
Even the arrival of the SUP Racer World Rankings didn't dent a desire to sort the season's best paddlers each December. Because while the SUP Racer World Rankings are a big influence on these lists, one-off performances and my general gut feeling get a bigger weighting in the "Top X" than on the leaderboard, which means a few athletes inevitably move up or down.
And either way, these lists are a good excuse to simply reflect back on the incredible season that was.
But before we get into this year's Top 17, I'd like to take this end-of-year opportunity to say a big thank you to everyone that's made the past six years possible. The athletes, the events, the brands, the fans, the passionate supporters to the constant heckler and everyone in between. It's been a hell of a ride, and I have a feeling the rollercoaster is only going to get bigger in season 2018…
But for now, here are the top 17 men of 2017 (and we'll follow up tomorrow with the top 17 women of 2017).
Quick disclaimer: This list gets harder and harder to compile each season. The depth of talent in the men's sport these days is astonishing, and just making the top 20 at a major race in 2017 was a major achievement. For that reason, several very talented paddlers were left out of this list. Doesn't mean they weren't worthy, just means there were only 17 spots on the list…
---
#17: Steeve Teihotaata
Nation: Tahiti
Brand: Mistral
Part of the "new wave" of Tahitians that have followed in Georges Cronsteadt's footsteps and crossed over from the outrigger world, Steeve is still a bit of an unknown quantity in the world of SUP racing but clearly has the talent to be ranked a lot higher on the Top 18 of 2018.
This guy is one of the greatest outrigger (or "va'a" as it's known locally) paddlers on the planet, and each race he seems to get more comfortable standing on his feet. Steeve's talent was best on display at the Carolina Cup, where he was the only guy who could stay within shouting distance of Titou when the New Caledonian made his heroic move in the final mile.
He eventually settled for fourth, just a few seconds behind Travis Grant and his compatriot Georges, but Steeve made a big statement in Wrightsville Beach this year, and if he's given the opportunity to compete internationally next season will be a serious threat to the top-line establishment.
The eagerly-anticipated showdown with the Hasulyo Brothers at the 11 City Tour failed to materialise (Steeve won in 2015, the brothers dominated in 2016, and we were all expecting fireworks this year) after the early arrival of his first-born child in September changed his late-season plans, but when Steeve was on the water this year he showed glimpses of sheer brilliance.
He also picked up yet another Hawaiki Nui title with his va'a (and SUP) team mate Rete Ebb. The three-day Hawaiki Nui stage race is basically the super bowl of six-man outrigger canoe (and that's in a nation where outrigger canoe is basically the national sport).
https://www.instagram.com/p/BSJ_APKgxpa/
---
#16: Trevor Tunnington
Nation: New Zealand
Brand: Starboard
A quieter season by his own lofty standards, Trev had hits and misses this year that saw him competing for major podiums one month before having frustratingly middle-of-the-road results the next.
Trev's best results were a three-week run of fourth-place finishes during the EuroTour, which delivered him the same position on the overall summer leaderboard behind only the "Big Three" (Boothy, Connor and Titou) and ahead of top performers such as Bruno, Leo and Mo.
The Kiwi-turned-Aussie-local has more than enough natural talent and competitive drive to match it with the big names on his day, and with a thirst for adventure that would make even a seasoned travel blogger proud, Trev definitely makes the most of his time on tour.
One of the fastest sprinters on the water, and one of the nicest guys off it, we're looking forward to seeing Trevor Tunnington reach his full potential in Season 2018.
https://www.instagram.com/p/BaTOSJEFAx6/
---
#15: Georges Cronsteadt
Nation: Tahiti
Brand: 425
It's no secret that Tahiti is the strongest paddling nation on the planet. They're virtually unbeatable in outrigger/va'a canoe racing and have been turning their attention to SUP racing in greater numbers over the past few seasons.
But while there's now half a dozen Polynesian powerhouses at every big race, the original kind of the islands is stubbornly refusing to cede his crown. Every year Georges Cronsteadt gets a bit older, a bit wiser and seemingly a bit stronger as well.
Given the ageless competitive nature of guys like Kelly Margetts, it's not a stretch to see the ultra-fit Georges competing for the podiums for another few years at least.
And with Tahiti's Air France Paddle Festival in early April shaping up to be the first big international race of Season 2018 (an event where Georges was runner-up this year behind his unheralded brother Yoann), Georges and his fellow Tahitian warriors will have an even bigger spotlight under which to flex their muscles.
https://www.instagram.com/p/Bb00ApDAyKI/
---
#14: Daniel Hasulyo
Nation: Hungary
Brand: Starboard
This guy is a difficult one to rank. He won arguably the toughest race in the sport, the 11 City Tour, and podium'd at the ISA marathon in Denmark, but Daniel's season was so short – he didn't really start racing until September – that it's hard to accurately peg him against the other top guys (he has the honour of being the only guy ranked outside the top 17 to make this list).
Daniel has the talent and work ethic to beat anyone on his day, as he proved on that final day in Friesland where he broke both his brother and the Tahitian army to claim the individual time trial and his maiden 11 Cities crown. He played second fiddle to his brother at the ISA Worlds, but they were both so impressive that week that Daniel's efforts in Denmark still deserve a shout out.
Always smiling off the water and always tenacious on it, I daresay we'll see Daniel Hasulyo much higher on the Top 18 of 2018.
https://www.instagram.com/p/BZcrbEGh5t9/
---
#13: Arthur Arutkin
Nation: France
Brand: Fanatic
Arthur Arutkin is a bit of an enigma. At times it seems like he couldn't care less about SUP racing, while at others he's a determined competitor grinding out a result all the way to the line.
Which Arthur turns up on which day is always a guess, but when he's focused, he's damn hard to beat. Whether it be downwind, surf or flat water, this guy is one of the most complete athletes in the sport. Arthur clearly has the raw natural talent to beat anyone, the only question is his motivation.
He's been leading the French Resistance for the past few years along with Titou, but now with a new generation of young Frenchies rising through the ranks it'll be interesting to see if Arthur continues to race seriously or simply focuses more on his first loves, windsurfing and waves.
Winning the Paris Crossing was the highlight of season 2017, and hopefully that momentum will carry him into 2018 while he enjoys a nice and warm (and very windy) off-season break with his girlfriend in South Africa.
https://www.instagram.com/p/BaQhOzwHEKO/
---
#12: James Casey
Nation: Australia
Brand: Sunova
James, or Jimmy as he's known in Oz, is another tough one to accurately rank. On his day he was damn near unbeatable this season, as we saw in Hawaii when he won the storm-affected OluKai race and had a podium finish at Maui2Molokai.
But there were also a few less-than-flattering results, such as Denmark where he picked up a 14th and 17th in the marathon and beach race respectively. Though he did manage to finish the year in style with a victory at The Doctor.
At home in the ocean but more fond of a foil board than a racing stick, we're eager to see whether Jimmy steps up to the top level next year or takes the far more tempting (and often: far more rewarding) lifestyle-athlete route. Definitely has the talent and professionalism to be the best but would be the first to admit he needs more consistency to crack the exclusive 'Top Five' club.
https://www.instagram.com/p/BTizV4UDA1a/
---
#11: Bernd Roediger
Nation: Hawaii/USA
Brand: Naish
Seems like the trend among the top guys this year is world-beating performances one month and non-results the next. That makes it incredibly difficult to formulate an end-of-year "best of" list, but it also made the season incredibly exciting as we saw the podiums switch up more than ever.
That was the case at the Gorge Paddle Challenge when Bernd Rodeiger put in one of the single greatest performances of recent memory, sweeping the highly prestigious "Double Downwinder" event ahead of one of the most competitive fields ever assembled.
Bernd didn't just win the Gorge race, he downright destroyed it. Few paddlers could even stay within sight of Bernd as he zig-zagged his way down the Columbia River, while most competitors were happy if they *only* lost 10 minutes to the wunderkind on each run.
Bernd certainly isn't a one-hit wonder, either, as we saw in Hawaii where he was regularly beating the vast majority of the unlimited fleet on his trusty 14 footer. Watching Bernd walk up and down his race board while surfing bumps is probably as close as our sport will ever get to dancing on water. The kid is a freak. And just for good measure, he's also one of the best windsurfers you'll ever watch.
Despite taking a few years to get hooked on racing, Bernd is passionate about the future of the sport he's become heavily involved in. Defying his relatively young age, Bernd, or "Birdo" as Travis Grant affectionately nicknamed him (something to do with his name being hard to pronounce and his hairdo being hard to miss) has taken on something of a leadership role off the water as the athletes have begun to band together and organise themselves into a cohesive unit.
Bernd Roediger is an asset to our sport no doubt.
https://www.instagram.com/p/BcbfI2vBojh/
---
#10: Matt Nottage
Nation: Australia
Brand: Starboard
Matty's performances over the past few months were one of the feelgood stories of season 2017. With plenty of raw talent but very little discipline, Nottage limped through the first half of the season before a result at the Gorge that was, in his own words, embarrassing, saw him change attitudes for the final few events.
In the six weeks between Oregon and Doheny, Matt shedded six kgs and picked up a world of confidence that saw him finish on the podium at the Battle of the Bay and the almighty Pacific Paddle Games.
His great performances in some of the flatter races – Nottage has always been an "ocean guy" – gave rise to the affectionate nickname "Flat Matt," something the humble Aussie is quick to tell you is just that: a nickname (we've tried with little success to get him signed up for the 11 Cities).
Now that he's traded the meat pies for trail runs, it'll be interesting to see if Matty can hold his ascendant form through the off-season and hit season 2018 with a bang. We sure hope he does.
https://www.instagram.com/p/BaGn_nfA9VC/
---
#9: Mo Freitas
Nation: Hawaii
Brand: Focus/QB (changing board brands in the new year)
Mo was another one of the rollercoaster success stories of 2017 and another one of the guys that's virtually impossible to rank. Momo started the season with big results on Maui and in Japan before some middling performances on the EuroTour. He hit his stride with an emotional victory over Hawaiian team mate Connor Baxter and local hero Casper Steinfath at the ISA beach race, but then failed to make the final in the corresponding race in Dana Point.
But results aside, if you combine "raw talent" (whatever that means) between SUP surfing and the various SUP racing disciplines, there's probably no better all-round athlete in the sport than Mo Freitas (at least now that Kai Lenny has is no longer seriously racing). Mo is simply a freak.
The young gun (Mo is, somewhat surprisingly, a few years younger than the Connors and Kais of the world) is looking to race less and surf more in season 2018, but Mo will be the first to admit he loves standing on the podium and will surely be at a few of the big stops. A change of team in the off season (announcement coming soon) will no doubt give him an added boost of confidence and motivation as well.
https://www.instagram.com/p/BY0qoPTDJ_4/
---
#8: Danny Ching
Nation: USA
Brand: 404
Juggling a family, a business and a career as a professional athlete can't be easy, and that act clearly took a toll on the original king of SUP racing over the past couple of seasons. Danny had a disappointing 2016 and was at risk of repeating in 2017 before his performance at the PPGs showed he's still definitely one of the very best.
On the biggest stage of the year, Danny wound back the clock and put in a vintage performance that almost saw him win the biggest race of the year. Halfway through the PPGs distance race Danny had broken well clear of the other contenders such as Connor, Titou and Boothy. But perhaps he broke too far clear: While the tight chase pack headed in a nice straight line to the mid-way maker buoy, Danny misread the course and headed for the wrong turn.
It's hard to say exactly how much ground the mistake cost him, but considering he still finished third in the most competitive race of the year despite the brain fade suggests he's still pretty damn fast.
No doubt he'll be determined to show in season 2018 that he's still got what it takes to be the best, and a beefier race schedule will give him plenty of chances to prove it.
Equal parts selfless pioneer and selfish competitor, Danny's tenacious athletic drive is only trumped by his big heart and genuine desire to see the sport move forward.
https://www.instagram.com/p/BSOUKlShI69/
---
#7: Bruno Hasulyo
Nation: Hungary
Brand: Starboard
Misunderstood by some as an exceptionally driven competitor that borders on the robotic, Bruno can actually be one of the most relaxed guys off the water. But as soon as he steps on a race board and the horn blows, all bets are off.
I've never seen anyone sprint so hard at the start of a 45km race the way Bruno (and his brother Daniel) does at the 11 City Tour. A tireless training regimen and incredible level of determination mixed with pure self-belief have made another unlikely nation, Hungary, something of a stand up paddling powerhouse over the past two seasons.
While he relinquished his beloved 11 Cities crown to his older brother, Bruno picked up another title at the ISA Worlds in Denmark where not even the efforts of masters Connor Baxter and Titouan Puyo could stop Bruno from claiming gold in front of Copenhagen's iconic opera house that one day in September. The fact he picked up another medal in the beach race a few days later shows that, with the exception of downwinding, there are very few holes in Bruno's racing armour.
Has the skill, fitness and drive to go land even higher on the Top 18 of 2018.
https://www.instagram.com/p/BaDx6SXlI9O/
---
#6: Casper Steinfath
Nation: Denmark
Brand: Naish/QB
The Danish Viking gave the host nation a fairytale script to follow at this year's ISA Worlds. Despite the strain of being the face of the event (quite literally) and juggling scores of media interviews, Casper managed to claim gold in the cut-throat 200 metre sprints while the race was getting beamed across the country on live television.
He failed to defend his coveted beach race title after Mo's final lap heroics, but he did give the Danes a sweet finish when he anchored their relay team to an unlikely medal in the team relay. The roar on the beach would have suggested the medal was gold, not copper, but the mere fact Denmark is even remotely competitive in the world of paddleboarding is almost entirely thanks to Casper's pioneering young career.
Casper also won the gnarliest (and richest) race of the year: Red Bull Heavy Water.
Whether he maintains the will to compete when so many other adventures await is still to be seen, but no matter where his competitive career goes in 2018 one thing is for sure: Casper Steinath has already well and truly earned his spot in the history books of our sport.
https://www.instagram.com/p/BdXLJ8YhqWn/
---
#5: Lincoln Dews
Nation: Australia
Brand: DEEP/QB
Lincoln has been one of the most under-rated guys on the circuit over the past few years despite some major results at events like Molokai and the Worlds. He's always seemed to fly under the radar, while a succession of board sponsors hasn't helped his competitive consistency.
But season 2017 was a breakout year for the Australian, with strong results in virtually all conditions highlighting just how talented and well-rounded this kid is.
While he had big results throughout the season, the pinnacle definitely came on the biggest stage of the year: Finals day at the Pacific Paddle games, where Lincoln went quite literally stroke-for-stroke with world number one and two-time defending event champion Connor Baxter in an epic final lap duel.
If there's one criticism you could have leveled at Linc in seasons past, it's that he was too nice. The younger Lincoln didn't seem to have the confident self-belief and competitive aggression of some of his rivals, but this year something has definitely ticked. You can see in his eyes and the way he speaks that Lincoln Dews knows he belongs on top of the podium. And if he keeps his 2017 form going into season 2018, that's exactly where he's going to be.
https://www.instagram.com/p/BYoaiAmBakU/
---
#4: Michael Booth
Nation: Australia
Brand: Starboard
An intensely driven competitor whose self-belief is only trumped by the size of those impressive muscles honed over years of competing in the ocean, Boothy didn't have the complete year he hoped for but still showed why he's considered a perennial favourite and is damn near impossible to beat in a raw paddling contest.
Season 2017 started off with an unlikely capitulation in Carolina, an event many of us (Boothy included) expected the Aussie to win. But after briefly licking his wounds back home in Oz, Boothy returned with a vengeance in Europe, absolutely dominating the 2017 EuroTour despite stiff opposition from Connor, Titou and a dozen more of the world's best. He was virtually unbeatable by the second half of the Tour, and he finished with the biggest points haul in Euro history.
Boothy carried the undesirable (and rather unfair) tag of being "just a flat water guy" for a season or two, but his win in the turbulent San Sebastian race (an event that combines the open ocean with waves, flat water and tidal currents; i.e. almost every condition you could imagine) showed that he's become a true all-round assassin.
The most impressive memory I have of Boothy this season is his win in Thonon during the EuroTour. It was a long and flat race, so the fact he won wasn't a huge shock. Rather, it was the way he won it. Without a breath of wind to provide the draft train-breaking bumps the contenders were hoping for, Boothy had to do it the hard way, out-muscling half a dozen of the world's fastest paddlers and simply paddling away on his own despite receiving no help from mother nature. To break a glassy, flat water train that features guys like Connor and Titou is something very few other (if any) paddlers can do.
One of the most focused athletes both on and off the water, Boothy will have a big career in this sport for as long as he can stay motivated. It would also be safe money to bet he'll be ranked even higher on the Top 18 of 2018…
https://www.instagram.com/p/BbZIksaB0xO/
---
#3: Travis Grant
Nation: Australia
Brand: NSP/QB
Travis Grant says he's on the verge of retirement after every single race. "I can't keep up with the kids," "I'm getting too old," and "Not feeling it anymore," are common phrases from the mouth of this living legend, yet every time he steps on a race board he seems to be faster than the last.
Trav showed that he's well and truly earned a ticket to the Hall of Fame club by winning a third Molokai title back in July. It's arguably the most prestigious race in the world of paddling, and it's definitely the one event Travis wants to win above all others.
This year was yet another epic duel with his cross-channel rival from Maui, Connor Baxter (Trav is now an Aussie expat happily living on Oahu). With a mile to go, the two were neck-and-neck as they roared past China Walls and entered the final, mind-testing flat water stretch to the finish line. It could have gone either way, and when Connor pulled a few board lengths clear it looked like the Hawaiian would hold on for the home team.
But while very little separates these two heroes on the water, one major thing separates them off it: Travis has a young family.
As the race hung in the balance, Trav's brother yelled from his escort boat to "Do it for Hugo!" — referring to Trav's nine-month-old son. That emotional motivational boost did the trick, with Trav paddling clear to record not only a victory but a new race record of 3 hours and 59 minutes, smashing a barrier in the process that seemed quite literally impossible just a few years ago.
As if winning Molokai wasn't enough, Trav also picked up runner-up finishes at two of the other majors – Carolina and the Gorge – along with yet another solid result at his less-favoured hunting ground of Doheny. Like a good bottle of red, Travis Grant seems to only get better with age.
Trav doesn't believe in Instagram, but here's a shot we posted of him winning Molokai:
https://www.instagram.com/p/BXQd5_ZliJg/
---
#2: Titouan Puyo
Nation: France/New Caledonia
Brand: NSP/QB
After the first major race of the season we were all naming Titou as the inevitable year-end world number one, such was the New Caledonian's sheer brilliance en route to back-to-back Carolina Cup titles. Season 2017 didn't quite pan out that way, but it wasn't far off, with Titou finishing the year ranked #2 in the world and doing more than enough to earn the same spot on our Top 17 of 2017.
While he could only watch as Boothy and Connor dueled for the EuroTour crown, Titou enjoyed a massive second half of the season highlighted by podiums at Molokai, the Gorge (where he won the beach race) and the King of the Cut along with a top five result at the PPGs. There were too many other podiums throughout the season to even begin to mention.
Always nearly untouchable in the bumps, and having gone from zero to hero in virtually every other race format over the past few seasons, there are very few athletes that can match the humble Frenchman these days.
There are also very few athletes that are easier to spend time with off the water than Titouan. He never seems stressed, never seems to frown and always seems up for an adventure. Despite being one of the most talented paddlers on the planet, he'll go out of his way to help you no matter who you are.
I often feel like the humble little world of SUP racing doesn't deserve the attention of guys like Titou et al, but our sport is certainly a hell of a lot richer for them choosing to be part of it.
Let's just hope they choose to be part of it for many years to come.
https://www.instagram.com/p/BVAcwXPhEKh/
---
#1: Connor Baxter
Nation: Hawaii
Brand: Starboard
We started the SUP Racer World Rankings back in 2014, which means we've now had four potential "season-ending world number one" athletes. But we've only had one: Connor Baxter.
Connor has finished on top of the world rankings leaderboard every year it's existed, and he's only dropped off the perch mid-season for a total of five weeks (Danny Ching and Travis Grant are the only other guys to hold the mantle). So that's 216 weeks at world number one out of a possible 221. With the incredible level of competition now permeating throughout the men's field at each big race, that's quite simply mind boggling.
Connor didn't just finish on top this year, either, he added an exclamation mark. While season 2014 saw him rest a mere point ahead of Kai Lenny, this season he'll see out the year with a gap you could drive a truck through.
Connor currently holds 265.00 points on the men's Top 100 leaderboard. That's almost 50 ahead of world number two Titou. Though even more incredible is the fact Connor briefly reached "unicorn" status mid-season after crossing the mythical 300-point barrier (the equivalent of holding 5x six-star wins in his pocket at the one time).
It's not just the rankings that tell the tale of Connor's continued dominance–you only need to look at the results sheet to see why the superstar from Maui has earned another #1 spot on our year-end best-of list.
Connor won the biggest race of the year, the Pacific Paddle Games, for the third year in a row. Since the "super bowl" event evolved from the BOP into the PPGs, no other guy has won it. He won a record-breaking 8th-straight Maui2Molokai title, and he was part of that epic duel for the M2O title with Travis.
Sure, he ceded the EuroTour title to Boothy, and he fell a few seconds short in both of the ISA events, but Connor's extraordinary consistency at a time when many guys are having rollercoaster seasons highlights why he's currently leading the race to be named GOAT.
Can he keep this unbelievable performance level up for another season? You'd be a brave person to bet against Connor, and the fact he's getting married next June will only give him more motivation to succeed: no other athlete has made a better career from this sport out of simply winning than Connor Baxter.
Though perhaps the most impressive thing I can say about Connor is not what he did on the water this year, but what he did off it. At a time when the sport and industry is in a funky sort of limbo, Connor stepped up and helped lead the formation of a paddlers' group while offering his own selfless advice on the future direction of the sport he loves.
For that reason alone Connor deserves an award, but when you add in his freakish performances on the water, naming him number one on our Top 17 of 2017 is one of the easiest calls I've made all year on SUP Racer.
https://www.instagram.com/p/BbAyV9zFxKZ/
---
The Top 17 Men of 2017
#17: Steeve Teihotaata
#16: Trevor Tunnington
#15: Georges Cronsteadt
#14: Daniel Hasulyo
#13: Arthur Arutkin
#12: James Casey
#11: Bernd Roediger
#10: Matt Nottage
#9: Mo Freitas
#8: Danny Ching
#7: Bruno Hasulyo
#6: Casper Steinfath
#5: Lincoln Dews
#4: Michael Booth
#3: Travis Grant
#2: Titouan Puyo
#1: Connor Baxter
…and check back tomorrow for the top 17 women of 2017 (no prizes for guessing who's number one).
UPDATE: TOP 17 WOMEN OF 2017
---