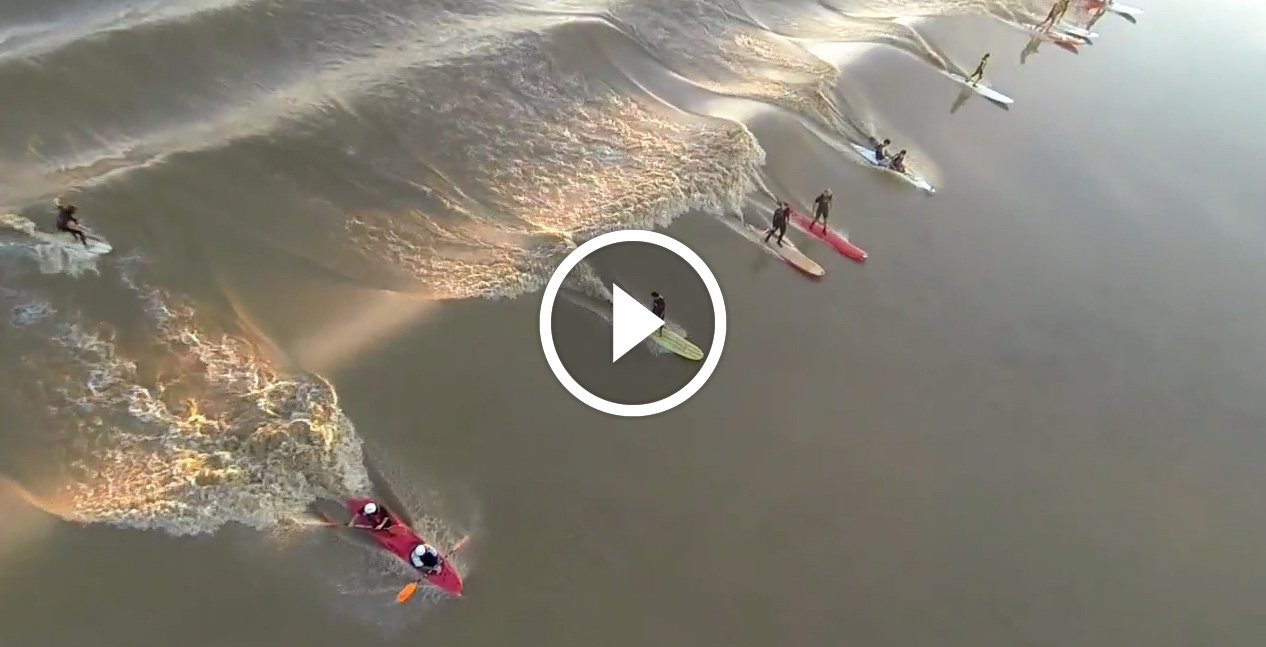 December 28, 2015
by Christopher Parker (@wheresbossman)
Top 15 of 2015: The Most Popular Videos of the Year
As the year draws to a close and we reflect back on 12 months of paddling adventures, one thing that stands out is just how many awesome SUP videos were released in 2015. From California to Carolina to Paris to Perth and virtually everywhere in between, there have been a tonne of awesome edits from the paddling community this year.
And while we've posted over 400 stand up paddling videos over the years, some stand out more than others. Below are the Top 15 Videos of 2015, based on total plays each video scored here on supracer.com and/or over on our Facebook page.
There are a few recurring themes in this year's list: The Paris Crossing, now the single largest race in the world, features three times. The Gorge is on there twice, while the other "majors" such as Carolina and the PPGs also make an appearance.
Though, oddly enough considering this is SUP Racer, around half the entries in the Top 15 of 2015 have little or nothing to do with actual racing…
Starboard's SUP polo video went viral earlier in the year, as did a behind-the-scenes training clip of Tahiti's champion outrigger team. There was also a drone's eye view of dolphins off the coast of Maui, a bold bid to paddle across the Atlantic Ocean, and some random fun in the Slovenian snow.
So, without further ado, here are the Top 15 Videos of 2015…
---
#15: King of the Cut Highlights Reel
The King of the Cut has become Australia's premiere stand up paddle race, and 2015 set a new standard for ocean racing down under. Virtually all of Australia's big names were there, alongside handful of international elite. But while all eyes were on the rematch between Molokai champ Travis Grant and his vanquisher from 12 months ago, Beau O'Brian, it was a relatively newcomer that stole the show.
Matt Nottage had a massive two weeks in West Oz this year, first claiming The Doctor before capturing the double just one week later. The young gun's meteoric rise saw him jump to 13th on the end of season world rankings. He started the year ranked 62nd.
---
#14: Rogue Recap of the Pacific Paddle Games
Rogue has been putting out some mighty impressive "Rogue Recap" clips this year (hit up their YouTube page for the full collection), and it should come as no surprise that one of their biggest hits came from the #1 most competitive and most carnage-filled race of the year: The Pacific Paddle Games.
---
#13: Paris Pool Sprints
This is the first of three entries for the Paris Crossing, an event that has quickly grown into the world's largest stand up paddle race. Earlier this month we witnessed 500 paddlers standing on the River Seine at dawn, which is the most crowded start line our humble little sport has ever seen.
What's even more amazing is that the race sold out in just 26 minutes when registration opened several months ago. Word is the organisers will keep increasing the entries every year until it hits 1,000 paddlers.
The video below isn't of the main race out on the River Seine, but rather the exhibition sprints that happened in the pool back at the host venue, the Paris Boat Show. Below we see Casper Steinfath doing his best impression of the Energizer Bunny for the "Rest of the World" team as he desperately tries try to reel in Team France on the anchor leg. Fun times.
This clip was also our second most popular Instagram post of 2015.
---
#12: Rogue Recap of the Carolina Cup
Another great edit from the Rogue crew, this time from the second most competitive race of the year: The Carolina Cup.
Carolina went next level in 2015, with a unique mix of dozens of world class athletes and hundreds of first timers reminding us what this sport is all about. I can't wait to head back to Wrightsville Beach and do it all again next April…
---
#11: Lemmings in the Gorge
This is one of my favourite clips of the year.
From my vantage point up in the commentary tower, I had an awesome view of the 2015 Gorge Paddle Challenge. With the fourth most competitive lineup of 2015, the Gorge course race was a fairly intense affair. At the end of the first lap, virtually the entire field was together in one big, long draft train, which made for a very entertaining run through the chicane.
While the weekend will long be remembered for the tragic death of young Floridian paddler Andres Pombo, we also won't forget the amazing displays of athleticism and competition that we saw out on the water.
The "Gorge" is one for your bucket list.
---
#10: Zane Schweitzer's Dolphin Drone
If there was a "Top 15 of 2015" based on which paddlers have the most fun throughout the season, Zane Schweitzer would surely have a lock on the #1 ranking. This guy is always full of smiles and stoke, and seems to treat every day as if it were a rare gift.
Case in point below: Zane paddling with a pod of dolphins right near his home on West Maui, as filmed by his brother and drone aficionado, Matty Schweitzer from Mat5o Media.
---
#9: Travis Grant Wake Surfing in West Oz
One of the newest videos on the list, this clip has no racing footage whatsoever but is definitely one of the funnest SUP videos we came across all year. World number two Travis Grant wake surfing in West Oz with the NSP crew. Trav is actually using the exact same model board in this clip as the one that took him to glory in Molokai (the NSP 17'10 unlimited).
---
#8: Transatlantic SUP Crossing
This has gotta be one of the most incredible adventures I've ever heard of. Nicolas Jarossay, a firefighter and endurance paddler from France, wants to paddle across the Atlantic Ocean. Solo. Unsupported. On a stand up paddle board…
Nicolas will be setting off in February from the West Coast of Africa, before spending 60-70 days paddling and drifting across one of the most open expanses of water on the planet. If all goes to plan, he'll hit the Caribbean in one piece and set a record that probably won't be broken any time soon.
I actually met up with Nicolas at the Paris Crossing and got to see his crazy-looking board up close. I don't think he's going to be getting too many comfortable nights sleep, but from speaking with Nicolas I do believe he's got what it takes to succeed.
Check out our original post about Nicolas' Transatlantic SUP Crossing for more details on this crazy adventure. Good luck my friend…
---
#7: Danny Ching vs Travis Grant at the Gorge
The second entry from the Gorge Paddle Challenge, this is another basic little mini clip I grabbed on my phone from up in the watch tower.
After leading on his own for much of the race, Danny Ching made one small mistake at the end of the final lap: He started paddling towards the wrong buoy. By the time he'd realised his mistake, the uber-powerful chase group, which featured Travis Grant, Titouan Puyo, Connor Baxter, Georges Cronsteadt and Kai Lenny, had closed the gap.
This last-minute drama made for one of the most exciting flat water race finishes I've ever seen, as Travis almost stole victory from Danny in the final metres. As you can see below, Danny held on for a well earned win, though Trav would go on to have the last laugh after finishing runner-up again in the distance race to claim the overall event title.
---
#6: Paris Crossing Preview
It says something about the popularity of the Paris Crossing when even a simple preview video, featuring year-old footage, managed to become one of the most popular videos of 2015.
---
#5: Starboard's SUP Polo
Amazingly, four of the top five videos have nothing to do with SUP racing.
In at number five is one of the craziest/whackiest/funnest new events in the world of stand up paddling: SUP Polo.
The game, which has been popularised by Starboard, is a cross between polo, lacrosse, soccer and a destruction derby, all played out on stand up paddle boards. It's seriously good fun, and somehow I was lucky enough to be part of an early test version at Starboard HQ in Thailand earlier this year…
---
#4: Paris Crossing Highlights
Here's a quick recap of the 2015 Paris Crossing, aka the world's largest SUP race.
Against the backdrop of the horrific Paris terrorist attacks, which happened just a few weeks prior, the paddling world came out in force to produce one of the most extraordinary spectacles stand up paddling has ever seen: 500 paddlers standing on the River Seine at dawn.
The race was eventually won by world number five Titouan Puyo, who outlasted a strong Casper Steinfath to mirror last year's result. Though without wanting to sound too cheesy, I think the sport of stand up paddling was the real winner of this event.
If this race isn't already on your bucket list, add it immediately.
---
#3: Inside The World's Greatest Paddling Team
Those who closely follow the world of ocean paddling know that the Tahitians are the undisputed masters. When it comes to outrigger canoe paddling (or Va'a), the Tahitians are quite literally unbeatable. And no team has been more unbeatable in recent years than the mighty EDT.
In the lead up to this year's "superbowl" event, the Hawaiki Nui race, EDT released a behind the scenes video of their training regime. It gives a great insight into the world's greatest paddling team. Or at least it did.
Unfortunately the filmmakers were caught up in a dispute over payment with the EDT company bosses, and now the video has been set to private despite being one of the most popular clips of the year.
Chances are you already saw the original video anyway. If not, hopefully it'll be back online soon. In the meantime here's the 30 second trailer which gives you some idea of what the full video was like.
And while this clip doesn't feature any SUP racing, there is a strong connection with the world of stand up paddling: One of EDT's captains, Steeve Teihotaata, recently crossed over into the world of stand up paddling and found immediate success, making a clean sweep of this year's five-day, 200+ kilometre "11 City Tour" race in Holland.
https://vimeo.com/143579806
---
#2: Manca Notar's Snow SUP Adventure
Manca Notar, one of the top junior prospects in the world of women's paddling, has racked up some pretty impressive results in warm-water races around the world the past few years. Those results are even more impressive considering Manca lives in a really, really cold (though also really beautiful) part of the world: Slovenia.
So to make the most of the wintery conditions, Manca helped invent a new sport: Snow SUP. The sheer novelty and pure fun of this video helped send it viral when we posted it way back in February…
---
#1: That Epic Party Wave in France
This year's #1 video wasn't just popular, it was the absolute, runaway, massive viral hit of the year. In fact this clip was so popular, it's had more views than every other video on this list combined. Watch it below and you'll see why…
The crazy part? The views on the original version that we uploaded were only just over 10% of the total plays this clip received.
The short film below is a remix that I whipped up in about five minutes when I was bored a couple of months ago. I took some famous footage from Jean-Marc Chauvet's famous French tidal bore video that was released last year, trimmed it down to the best parts, added some Massive Attack, sped the whole thing up and threw it up on Facebook not thinking it'd get all that many views.
I woke up the next day with thousands of Facebook notifications, as the video had quickly spread beyond the confines of the paddling community and gone absolutely viral. Within a few days it had reached over a quarter of a million plays and become far and away the most popular thing SUP Racer had ever posted.
It's now up to almost half a million plays.
In an odd twist, the video's popularity piqued the curiosity of one of Facebook's biggest viral video machines, LANCE, a page with over 3 million of their own followers. LANCE downloaded the clip and then uploaded it as their own – without any credit to the original cameraman (or SUP Racer) I might add – and proceeded to give this footage almost 4 MILLION additional views.
Combine that with our own original views and we're closing in on 4.5 million video plays. There were probably another 1-2 million plays of Jean-Marc's original, full length footage, which itself went crazily viral on Facebook earlier this year. So all up I'd say this humble river in France has had over 6 million hits in the past 12 months.
It's pretty obvious why this video has become so insanely popular. Just look at it. There are 77 guys and girls riding all sorts of paddling craft on one big, long, endless wave. All captured by a Jean-Marc Chauvet's silky smooth drone cam. It's beyond epic.
I'm actually planning a trip to this river in the summer of 2016 with local legend Rico Leroy, so hopefully this won't be the last we see of du mascaret.
If you want to know more about this crazy French tidal bore, check out our original post: "WATCH: 77 Paddlers Surfing The Same Wave… In A River… In France…"
Or just enjoy our little remix below.
Not surprisingly, this video was also our #1 Instagram post of the year (and of all time).
---
So there you go. Those were the Top 15 Most Popular Videos of 2015.
Want more? Head on over to /videos for a collection of 400 of the best stand up paddling videos from around the world.
Oh and stay tuned for the Top 15 of 2015 main event: The Best Paddlers of the Year. That's coming tomorrow…