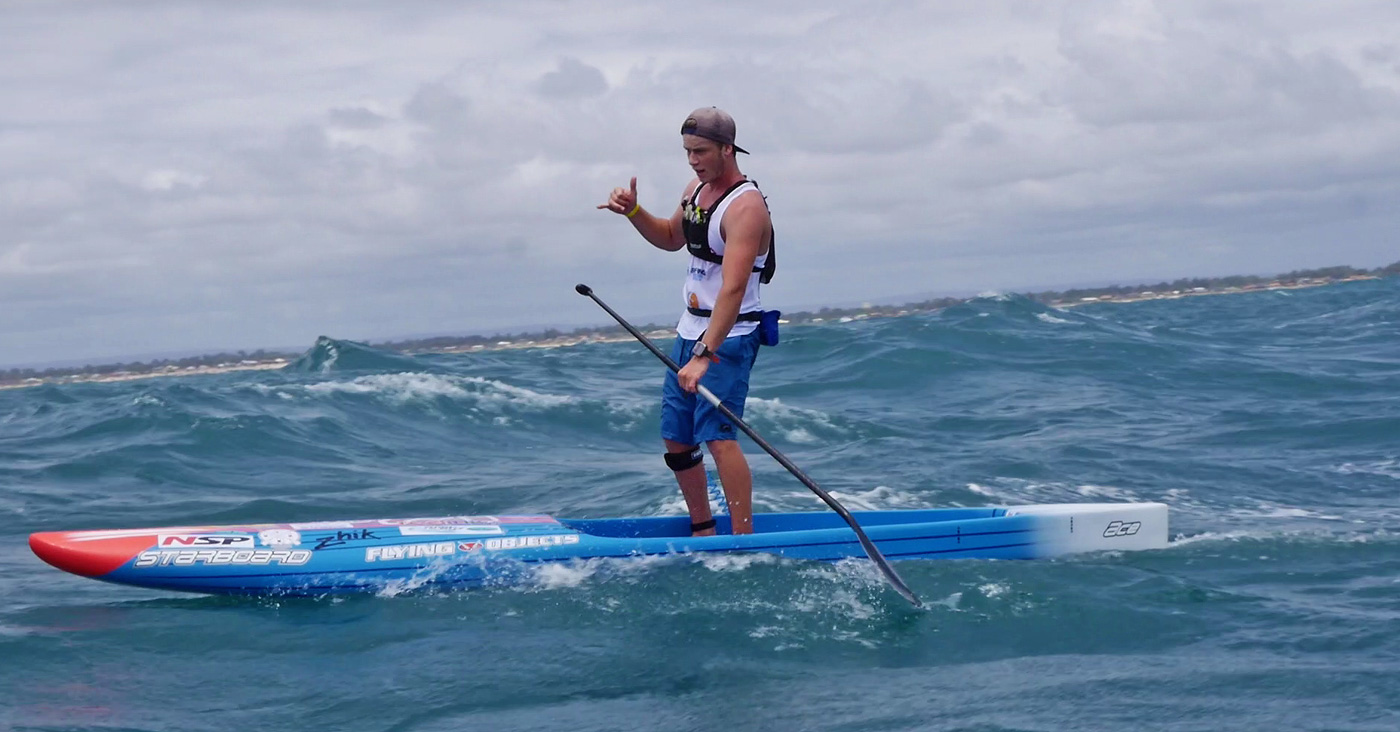 September 28, 2016
by Christopher Parker (@wheresbossman)
Matt Nottage Won 'Breakthrough Performance of the Year' at the SUP Awards (…but fell asleep before the show even started)
Australia's Matt Nottage took out the 'Male Breakthrough Performer' award at the SUP Awards in Dana Point on Thursday night, however in a truly Aussie twist, he wasn't there to accept his award after succumbing to jet lag and falling asleep before the show even started (in his defense he only arrived in California Thursday morning).
Though perhaps even more memorable was Toby Cracknell, sporting a fresh new mullet, getting on stage to make the acceptance speech on behalf of his good mate.
But jokes aside, this is a thoroughly well-deserved win from Matty.
The award was in recognition of the Starboard team rider's epic double win during Aussie Downwind Week back in December, where he announced himself as a world-class ocean paddler by defeating Travis Grant, Beau O'Brian, Jake Jensen, James Casey, Michael Booth and pretty much every other top Aussie paddler to win The Doctor and King of the Cut on back-to-back weekends, the latter of which is considered Australia's most prestigious SUP race.
On a side note: The 2016 editions of those two races are just around the corner, with Aussie Downwind Week running from the last weekend in November to the first weekend of December.
In announcing his victory, the SUP Awards crew also mentioned his very impressive top three finish at the big OluKai race on Maui, while Matty has enjoyed a string of other great results all year long.
The SUP Awards used to have a bit of a reputation for having its USA blinders on (the San Clemente SUP Awards was a common dig), so it's great to see the crew from SUP the Mag recognising young Matty for his awesome performances on the other side of the planet. You can see all the winners over on the official site.
(Oh and a special shout to Dave Boehne from Infinity, who stole the show with his Between Two Gomez' skit.
Matty is one of the funniest and most humble young guys you'll ever meet. The kid is an absolute champ (future Travis Grant for sure), so it's great to see him up there in the bright lights alongside the superstars of the sport.
Oh and the moment wasn't lost on fellow Aussie world-beater James Casey 😛
https://www.instagram.com/p/BK94PvXBQfM/