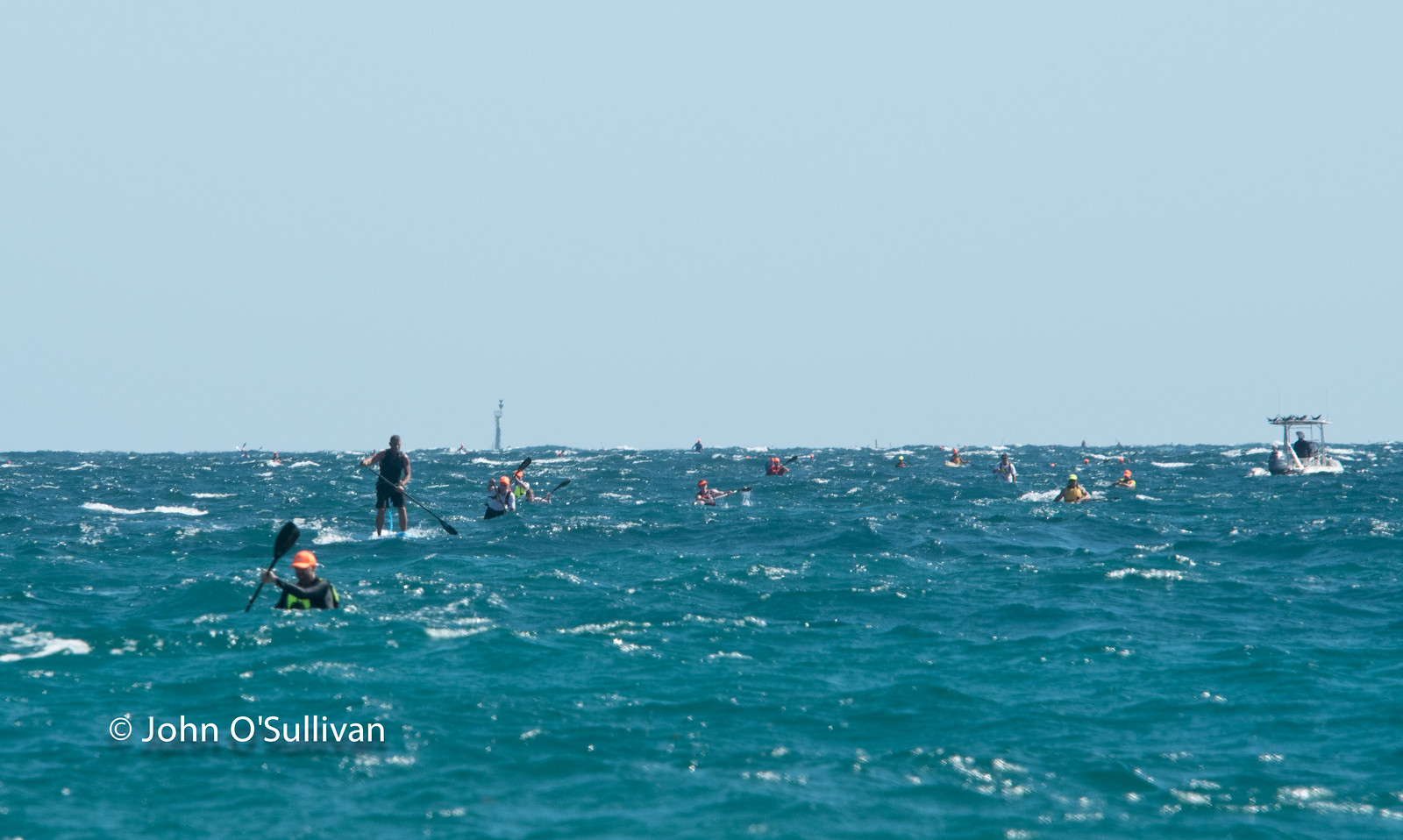 November 28, 2015
by Christopher Parker (@wheresbossman)
Matt Nottage Defeats Travis Grant and Beau O'Brian to Win 'The Doctor' in West Oz
Matt Nottage has shown he's one of the best ocean paddlers in the world right now, defeating world number two Travis Grant, defending champ Beau O'Brian and a dozen more international level athletes to win The Doctor ocean race as part of Aussie Downwind Week.
The unheralded youngster, who recently joined Team Starboard, outlasted his compatriots after more two hours of racing, with Trav crossing the line just 17 seconds behind Matt, while Beau a further 33 seconds adrift. Trav was leading for much of the race but faded about half an hour from the finish, while Matt powered home in what he described as the race of his life.
The Doctor is only one half of Western Australia's Downwind Week double header – next weekend's King of the Cut is Australia's premiere race – however this result already caps off a big year for Matt; In July he finished runner-up to Connor Baxter in both the Maui Paddleboard Race and the Maui 2 Molokai crossing, and will definitely be one to watch at the big international ocean races in 2016.
Keeping pace with the front trio was Dave Kissane on his unlimited board, who almost hit his target of stealing line honours from the main 14 ft division. Outside the top four there was a 6 minute gap to Jake Jensen, who held off a very impressive Ben Tardrew and his brother and Marcus (who was on an unlimited but broke his rudder mid-crossing), before James Casey, Sam Parker (over 40's winner) and Italy's Leo Nika rounded out the top 10.
I chatted with Trav after the race and he had this to say:
"First km or so was flat as we paddled away from Rottnest Island and out into the channel. James Casey and the Hasulyo Bros set a mean pace off the line, which broke the field up pretty quick. As soon as we turned the first marker buoy the bumps were on and it a technical but fun downwind stretch with the wind slightly to the side. Matt and I took off around here and only Beau and Dave stayed within shouting distance.

After we turned the final marker buoy, about 6-7km from home, it became a pure downwinder. Awesome bumps. Whole race was at a fast pace actually. It was around here that Matt really took off and I couldn't keep up. Kind of annoyed with myself that I've lost two years in a row by less than half a minute but stoked for Matt to win. He's a good guy.

Should be interesting at King of the Cut next week. You could throw a blanket over Beau, Matt and myself, so the winner is anyone's guess. Though I reckon Dave and Marcus will beat us for line honours on their unlimiteds. Dave almost pipped us today and Marcus would have been right there if his rudder didn't break.

Maybe they could make The Doctor and King of the Cut open board class races next year, then we'd see more guys on unlimiteds which I think would be good for the sport. I'd love to see Australia have big open ocean races like they do in Hawaii, where everyone's an a 17 or 18 footer. Just throwing it out there but I reckon it'd make the racing more exciting, and I think the downwind conditions here in WA would suit it.

I'm feeling a little tired this late in the season but I'm going to do everything I can to hold the boys off next week. Should be a good race."
In the women's race, where unfortunately there were only four competitors (seems to be a recurring theme around the world this year, but that's a whole nother debate), world number six Terrene Black triumphed by a wide margin, defeating half the men in the process.
Terrene will look to keep her winning streak alive at King of the Cut next weekend, however she'll have to deal with defending champ Angie Jackson, who'll be flying over to the west coast through the week, as well as Maui's Downwind Queen Andrea Moller.
As part of Aussie Downwind Week (aka 'Wardan Marr Week'), "The Doctor" attracted virtually all of Australia's top paddlers and a small contingent of international imports to West Oz.
The event will have a slight impact on the men's World Rankings after it snagged a 18% score on our Race Index (any race in the world that scores 15% and above counts towards the rankings). We'll update the leaderboard later today. Next week's King of the Cut will give the Top 100 Leaderboard another bump, with that race predicted to reach 21% on the Race Index.
Sunday update: The SUP Racer World Rankings have just been updated; Matt Nottage is +2 to #17 (he could crack the top 15 next weekend.
Today's race, a 27km (16.7 mile) crossing from Rottnest Island back to the mainland near Perth, was run at a very fast pace, with the top four guys averaging around 4:45 minutes per kilometre (7:38 minutes per mile).
In an amazing coincidence, Trav's losing margin of 17 seconds is identical to last year, when Beau O'Brian defeated him by the same margin. Another interesting side note from the race is that Michael Booth finished 4th in the main surf ski division (The Doctor is primarily a ski race). Boothy, who's been making a name for himself on the international SUP scene this year, is one of the world's top ocean ski paddlers. He'll be standing back up next weekend for King of the Cut and will be a definite podium contender.
Aussie Downwind Week continues tomorrow (Sunday) with the Ship2Shore event, a "social downwinder" where newer paddlers are chaperoned by the pros and encouraged to get out into the bumps. We'll have pics from that event and The Doctor as soon as we can round them up, but in the meantime here are the full results.
More photos available via John O'Sullivan and Ocean Paddler
Couldn't find many SUP action shots, but these photos of the ski paddlers sum up the conditions pretty well. That final pic is of race winner Cory Hill racing a pair of dolphins (not sharks, as some people assumed).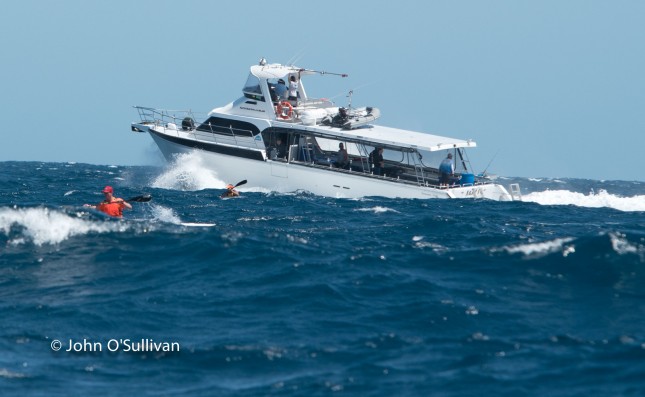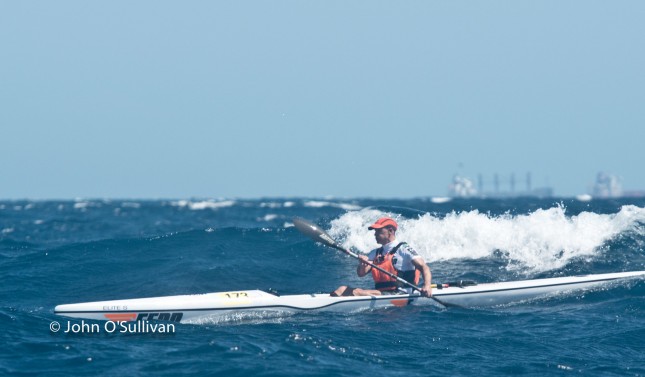 The Doctor presented by Starboard
Course: 27km (16.7 miles)
Conditions: Solid downwinder (20 knots)
Race Index: 18.0% (only men's 14′ division counted)
Click here for the raw results
View the updated men's World Rankings

| # | Name | Time | Division | Div # | Pace | World Rankings |
| --- | --- | --- | --- | --- | --- | --- |
| 1 | Matt Nottage | 2:08:21 | Men's 14' | 1 | 4:45 min/km | 18.00 |
| 2 | Travis Grant | 2:08:38 | Men's 14' | 2 | 4:45 min/km | 13.50 |
| 3 | Beau O'Brian | 2:09:11 | Men's 14' | 3 | 4:47 min/km | 10.80 |
| 4 | Dave Kissane | 2:09:30 | Men's Unlimited | 1 | 4:47 min/km | - |
| 5 | Jake Jensen | 2:15:48 | Men's 14' | 4 | 5:01 min/km | 9.00 |
| 6 | Ben Tardrew | 2:17:03 | Men's 14' | 5 | 5:04 min/km | 7.65 |
| 7 | Marcus Tardrew | 2:17:29 | Men's Unlimited | 2 | 5:05 min/km | - |
| 8 | James Casey | 2:18:22 | Men's 14' | 6 | 5:07 min/km | 6.30 |
| 9 | Sam Parker | 2:19:52 | Men's 14' over 40 | 1 | 5:10 min/km | 5.40 |
| 10 | Leonard Nika | 2:20:19 | Men's 14' | 7 | 5:11 min/km | 4.50 |
| 11 | Bruno Hasulyo | 2:21:46 | Men's 14' | 8 | 5:15 min/km | 4.05 |
| 12 | William Lee | 2:22:13 | Men's 14' | 9 | 5:16 min/km | 3.60 |
| 13 | Ryan Keck | 2:24:35 | Men's Unlimited | 3 | 5:21 min/km | - |
| 14 | Michael Hastie | 2:26:07 | Men's 14' | 10 | 5:24 min/km | 3.24 |
| 15 | Daniel Hasulyo | 2:26:34 | Men's 14' | 11 | 5:25 min/km | 2.88 |
| 16 | James Knowles | 2:31:57 | Men's 14' | 12 | 5:37 min/km | 2.70 |
| 17 | Terrene Black | 2:40:11 | Women's 14' | 1 | 5:55 min/km | - |
| 18 | Dale Chapman | 2:42:59 | Men's Unlimited | 4 | 6:02 min/km | - |
| 19 | Cameron Mckay | 2:43:54 | Men's Unlimited | 5 | 6:04 min/km | - |
| 20 | Craig Winnett | 2:50:05 | Men's 14' over 40 | 2 | 6:17 min/km | 2.52 |
| 21 | Gordon Stimson | 2:51:30 | Men's 14' over 40 | 3 | 6:21 min/km | 2.34 |
| 22 | Belinda Stowell Brett | 2:51:44 | Women's 14' | 2 | 6:21 min/km | - |
| 23 | Roger Goodwin | 2:53:38 | Men's 14' over 40 | 4 | 6:25 min/km | 2.16 |
| 24 | Jurgi Zulaika | 2:56:39 | Men's 14' | 13 | 6:32 min/km | 1.98 |
| 25 | Greg Kerr | 3:00:19 | Men's Unlimited | 6 | 6:40 min/km | - |
| 26 | Peter Hayes | 3:06:46 | Men's 14' over 40 | 5 | 6:55 min/km | 1.80 |
| 27 | Gordon Salvage | 3:08:05 | Men's 14' over 40 | 6 | 6:57 min/km | 1.62 |
| 28 | Luke Jenkins | 3:08:26 | Men's 14' over 40 | 7 | 6:58 min/km | 1.44 |
| 29 | Cristiana Chessa | 3:13:36 | Women's 14' | 3 | 7:10 min/km | - |
| 30 | Shane Lynch | 3:27:39 | Men's 14' over 40 | 8 | 7:41 min/km | 1.35 |
| 31 | Garth Civil | 3:29:47 | Men's 14' over 40 | 9 | 7:46 min/km | 1.26 |
| 32 | Ane Zulaika | 3:30:00 | Women's 14' | 4 | 7:46 min/km | - |
| 33 | Greg Farleigh | 3:35:32 | Men's 14' over 40 | 10 | 7:58 min/km | 1.17 |
| 34 | Kent Wright | 3:40:17 | Men's 14' over 40 | 11 | 8:09 min/km | 1.08 |
| 35 | Andrew Picker | 3:46:47 | Men's 14' | 14 | 8:23 min/km | 0.99 |
| 36 | Andrej Percic | 4:16:27 | Men's 14' over 40 | 12 | 9:29 min/km | 0.94 |