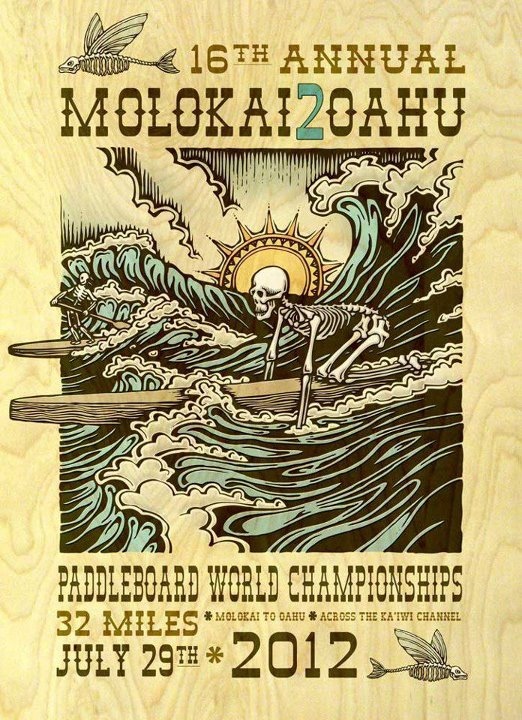 July 25, 2012
by Christopher Parker (@wheresbossman)
Molokai Preview/Predictions: Baxter, Kalama, Gamble And Moller The Ones To Beat?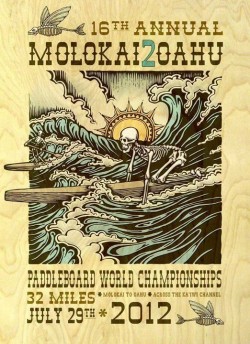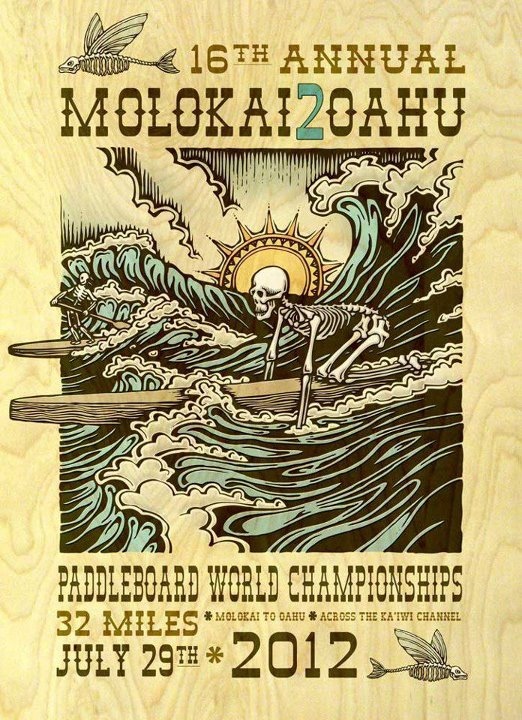 One of the biggest Stand Up Paddle races of the year, the epic Molokai-2-Oahu, is happening this Sunday in Hawaii.
Although Molokai started out as a prone paddleboarding race 15 years ago, the Stand Up Paddleboard division that was added a few years ago has taken on a life of its own to become one of the most prestigious SUP events.
However 2012 will see a changing of the guard at Molokai, with 10x Champion Jamie Mitchell sitting this one out.
JM was planning on switching over to the SUP division this year, but a paddling injury cut short his preparations a month or two ago.
So who's going to take the glory @ Molokai this year? Here's a quick look at some of the main contenders…
Connor Baxter, who won the Solo SUP Division @ the 2011 Molokai race (in a record time), will be one of the instant favourites (as he is at every single SUP race). However the Maui wunderkind skipped last weekend's Naish Paddle Championships  (the traditional Molokai warm-up race) through illness, so he may not be in peak form.
Dave Kalama, the winner of the Solo SUP Division in 2010, has been training hard and will be another one to watch. Despite approaching 50, he's regularly beating kids a third his age. The big guy got a virtual equal first with Kai Lenny at the Naish race on the weekend, went toe-to-toe with Baxter at the Maui to Molokai the weekend before that, and was also on the podium at the epic OluKai race back in May.
One paddler who's always on the heels (or in front of) Connor and DK is Livio Menelau. The Maui gun is hard to beat in downwinders and could be right up there, especially if the conditions are right.
Another guy who's already proved he can fly across the channel of bones is the highly underrated Scott Gamble. The Oahu paddler got 2nd behind Baxter in last year's race (with the 2nd fastest time ever) and could easily go one better this year.
The four guys above will all be riding Unlimited SUP boards, which everyone assumes is what you need to win the Molokai race. However Kai Lenny has been doing his best to turn that idea on its head recently. The young superstar has recently enjoyed a string of impressive ocean race results on his new ultra-light, ultra-narrow 14′ Naish race board. If the conditions are mild across the channel on Sunday, he could very well spring an upset.
Andrew Logreco from Oahu is another paddler who will be competing against the Unlimited guys on a 14 foot board (or possibly even 12'6″…). Logreco is no stranger to long distance paddles and has the results to prove it, most recently claiming the stock 12'6″ division @ the Waikiki Long Distance race (and finishing top 5 overall, well ahead of most 14′ and Unlimited paddlers). Again, if conditions are mild and the Unlimited boards lose much of their usual advantage, guys like Logreco and Lenny have the power to snatch victory.
There's also a tonne of other local and international paddlers in contention, but I'm picking the guys above to feature prominently.
On the women's side it's going to take a miracle to knock downwind queen Andrea Moller off her perch, though expect paddlers such as Talia Gangini, Jenny Kalmbach, Devin Blish and Terrene Black to give Andrea a good run for her money.
*****
So who's it gonna be? We're going out on a limb and predicting the top finishers (…leave a comment below if you're feeling bold enough to make your own prediciton 😉
PREDICTION: 2012 Molokai-2-Oahu (Solo SUP Division)
Top 6 Men
1st: Scott Gamble
2nd: Dave Kalama
3rd: Connor Baxter
4th: Kai Lenny
5th: Livio Menelau
6th: Andrew Logreco
Top 3 Women
1st: Andrea Moller
2nd: Talia Gangini
3rd: Jenny Kalmbach
But no matter who wins, you can be sure that SUPracer.com will give you the Molokai-2-Oahu results first, so check back on Sunday night and see how the action went down.