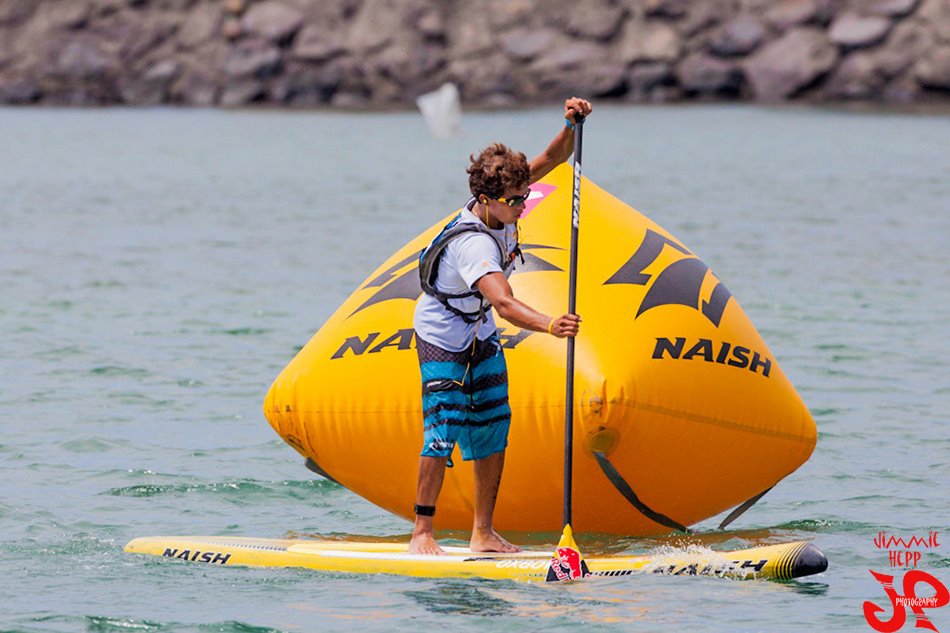 July 22, 2012
by Christopher Parker (@wheresbossman)
[RESULTS] Naish Paddle Championships (UPDATED)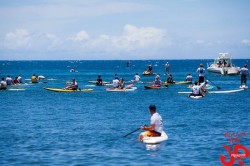 The 7th annual Naish Paddle Championships were held today on Maui, with plenty of the world's best SUP racers tackling the famous Maliko Downwind Run.
Despite the light winds providing less than ideal downwind conditions, over 200 paddlers took part, with 80% of those being Stand Up Paddlers (and the rest were prone paddlers).
It was Kai Lenny took the overall victory, just 11 seconds ahead of the man himself, Dave Kalama. That's quite a feat for the young Maui charger when you think just how much downwinding experience Kalama has. It's even more impressive considering Kai Lenny was paddling a 14 footer (the soon-to-be-released Naish Javelin LE, for the record), while DK and the other top guys were on Unlimited boards. Obviously the lighter winds took away from the usual advantage the bigger boards enjoy on the Maliko run, but that's still a pretty awesome result either way.
Keep in mind this is all from a kid who splits his time on the water between five or six different sports, SUP racing being just one of them. Imagine if he trained for racing full time…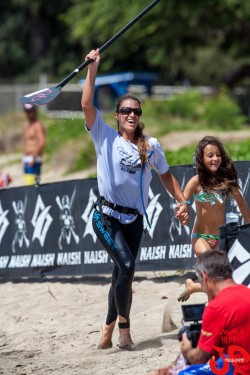 Coming in behind Kai and Dave was the Aussie dark horse Dave Kissane, squeezing out a couple of local all stars in Slater Trout and Livio Menelau.
Meanwhile in the women's race it was Andrea Moller who added yet another trophy to her collection, proving she's virtually unrivalled in downwind racing. Talia Gangini was 2nd with Devin Blish rounding out the podium.
Take a look at some great photos of the Naish Paddle Championships below (courtesy of Jimmie Hepp Photography) and then scroll down for the full race results.
Times have been adjusted for the staggered start (we think…), though it's still a little confusing as the race organisers chose a complex Division system: There were 33 separate divisions, plus the paddlers who chose the Elite Division (to be eligible for prize money) haven't had their results broken down by board class, so we've just assumed they were all on Unlimited boards.
*****
*****
2012 Naish Paddle Championships RESULTS
Click "Class" or "Division" to sort results by Board Class/Gender/Age Division
Click "#" to reset the results

| # | Name | Time | Class | Division | Div # |
| --- | --- | --- | --- | --- | --- |
| 1 | Kai LENNY | 1:11:21 | 14' | Men's 14' 17-29 | 1 |
| 2 | David KALAMA | 1:11:32 | Unlimited | Men's Elite | 1 |
| 3 | Dave KISSANE | 1:13:17 | Unlimited | Men's Elite | 2 |
| 4 | Slater TROUT | 1:13:24 | Unlimited | Men's Elite | 3 |
| 5 | Livio MENELAU | 1:13:34 | Unlimited | Men's Elite | 4 |
| 6 | Travis BAPTISTE | 1:15:25 | 12'6" | Men's 12'6" 1-16 | 1 |
| 7 | Scott TRUDON | 1:15:25 | Unlimited | Men's Elite | 5 |
| 8 | Daniel SHADE | 1:17:17 | prone | Men's prone 1-29 | 1 |
| 9 | Jeremy RIGGS | 1:17:42 | 14' | Men's 14' 30-35 | 1 |
| 10 | Brad GAUL | 1:18:06 | prone | Men's prone 30-45 | 1 |
| 11 | Cowan TAMARUA | 1:18:16 | Unlimited | Men's Unlimited 1-29 | 1 |
| 12 | Eric TERRIEN | 1:18:21 | Unlimited | Men's Elite | 6 |
| 13 | Tomo MURABAYASHI | 1:18:32 | Unlimited | Men's Elite | 7 |
| 14 | Tim FORAN | 1:20:07 | prone | Men's prone 30-45 | 2 |
| 15 | Andrea MOLLER | 1:20:08 | Unlimited | Women's Elite | 1 |
| 16 | Bart DEZWART | 1:20:41 | 14' | Men's 14' 30-35 | 2 |
| 17 | Kody KERBOX | 1:21:12 | 14' | Men's 14' 17-29 | 2 |
| 18 | Luiz GUIDA | 1:21:19 | Unlimited | Men's Unlimited 1-29 | 2 |
| 19 | Iron Phil GREGORY | 1:22:41 | Unlimited | Men's Unlimited 46-59 | 1 |
| 20 | Michael PORRA | 1:23:07 | prone | Men's prone 46-59 | 1 |
| 21 | Danny SHEARD | 1:23:55 | 14' | Men's 14' 46-59 | 1 |
| 22 | Jeremy STEPHENSON | 1:24:11 | Unlimited | Men's Elite | 8 |
| 23 | Alan CADIZ | 1:24:36 | Unlimited | Men's Unlimited 46-59 | 2 |
| 24 | Jerry BESS | 1:24:47 | 14' | Men's 14' 46-59 | 2 |
| 25 | Yves BOUWENS | 1:25:25 | Unlimited | Men's Unlimited 30-45 | 1 |
| 26 | Ralf SIFFORD | 1:25:43 | Unlimited | Men's Unlimited 46-59 | 3 |
| 27 | Matt BECKER | 1:25:55 | Unlimited | Men's Elite | 9 |
| 28 | Talia GANGINI | 1:25:59 | Unlimited | Women's Elite | 2 |
| 29 | Devin BLISH | 1:26:46 | Unlimited | Women's Elite | 3 |
| 30 | Renato SPIRITUS | 1:26:56 | 14' | Men's 14' 30-35 | 3 |
| 31 | Chuck PATTERSON | 1:27:14 | 14' | Men's 14' 30-35 | 4 |
| 32 | Zavier DE LONGEAUX | 1:27:48 | Unlimited | Men's Unlimited 30-45 | 2 |
| 33 | Dale CHAPMAN | 1:28:13 | Unlimited | Men's Unlimited 30-45 | 3 |
| 34 | Cameron HOSKING | 1:28:19 | Unlimited | Men's Unlimited 30-45 | 4 |
| 35 | Yoshiaki NAGAMATSU | 1:28:35 | 14' | Men's 14' 30-35 | 5 |
| 36 | Zane SCHWEIGER | 1:28:36 | 12'6" | Men's 12'6" 17-29 | 1 |
| 37 | Zeb WALSH | 1:28:36 | prone stock | Men's prone stock 1-29 | 1 |
| 38 | Chris PAGDILAO | 1:29:50 | prone | Men's prone 30-45 | 3 |
| 39 | Michi SCHWEIGER | 1:30:32 | 12'6" | Men's 12'6" 30-45 | 1 |
| 40 | George PLSEK | 1:30:54 | prone | Men's prone 30-45 | 4 |
| 41 | Belar DIAZ | 1:31:05 | 14' | Men's 14' 30-35 | 6 |
| 42 | Eddie OGATA | 1:31:24 | 14' | Men's 14' 46-59 | 3 |
| 43 | Fletcher DAVIS | 1:31:24 | prone stock | Men's prone stock 1-29 | 2 |
| 44 | Lee ISHIKAWA | 1:31:25 | Unlimited | Men's Unlimited 46-59 | 4 |
| 45 | Tucker INGALLS | 1:31:30 | 14' | Men's 14' 1-16 | 1 |
| 46 | Justin GORDON | 1:31:44 | Unlimited | Men's Unlimited 30-45 | 5 |
| 47 | Terrene BLACK | 1:31:48 | Unlimited | Women's Elite | 4 |
| 48 | Phil NICOLLE | 1:31:56 | 14' | Men's 14' 46-59 | 4 |
| 49 | Claudio CHAIN | 1:32:02 | Unlimited | Men's Unlimited 30-45 | 6 |
| 50 | Kathy SHIPMAN | 1:32:17 | 14' | Women's 14' 46-99 | 1 |
| 51 | Brian SZYMANSKI | 1:32:29 | 14' | Men's 14' 30-35 | 7 |
| 52 | Randy ROYSE | 1:32:31 | Unlimited | Men's Unlimited 46-59 | 5 |
| 53 | Mike NEWBRO | 1:32:43 | 14' | Men's 14' 46-59 | 5 |
| 54 | Jamie STERLING | 1:33:25 | 14' | Men's 14' 30-35 | 8 |
| 55 | Sonni HOENSCHEID | 1:33:35 | 14' | Women's 14' 30-45 | 1 |
| 56 | Dean CHRISTENER | 1:33:43 | 12'6" | Men's 12'6" 17-29 | 2 |
| 57 | Roberto LOPES DE AVAUJO | 1:33:43 | Unlimited | Men's Unlimited 30-45 | 7 |
| 58 | Izaak TYRRELL | 1:34:01 | Unlimited | Men's Unlimited 30-45 | 8 |
| 59 | Loch EGGERS | 1:34:06 | 14' | Men's 14' 30-35 | 9 |
| 60 | Francois FRICK | 1:34:10 | 14' | Men's 14' 30-35 | 10 |
| 61 | Joel COMER | 1:34:21 | Unlimited | Men's Unlimited 46-59 | 6 |
| 62 | Kurt LAGER | 1:34:44 | prone stock | Men's prone stock 30-45 | 1 |
| 63 | Maleko LORENZO | 1:35:00 | Unlimited | Men's Unlimited 1-29 | 3 |
| 64 | Kevin SHY | 1:35:15 | Unlimited | Men's Unlimited 46-59 | 7 |
| 65 | George LOREN | 1:35:40 | prone | Men's prone 30-45 | 5 |
| 66 | Keith COLEMAN | 1:35:42 | Unlimited | Men's Unlimited 30-45 | 9 |
| 67 | David OAKLEY | 1:35:43 | 14' | Men's 14' 60-99 | 1 |
| 68 | Pete NAPOLITANO | 1:35:44 | Unlimited | Men's Unlimited 46-59 | 8 |
| 69 | Dylan FRICK | 1:36:03 | 12'6" | Men's 12'6" 17-29 | 3 |
| 70 | Nick MOLONEY | 1:36:19 | Unlimited | Men's Unlimited 30-45 | 10 |
| 71 | Manny RUIZ | 1:36:25 | 14' | Men's 14' 30-35 | 11 |
| 72 | Yannick LII | 1:36:53 | 14' | Men's 14' 46-59 | 6 |
| 73 | Roch FREY | 1:37:12 | prone | Men's prone 30-45 | 6 |
| 74 | Davin LUM | 1:37:16 | prone stock | Men's prone stock 30-45 | 2 |
| 75 | Bryan ALTHAM | 1:37:16 | Unlimited | Men's Unlimited 30-45 | 11 |
| 76 | Alain TEURQUETIL | 1:37:31 | Unlimited | Men's Unlimited 46-59 | 9 |
| 77 | Nakoa DECOITE | 1:38:19 | Unlimited | Men's Unlimited 1-29 | 4 |
| 78 | Stephen WINIARSKI | 1:38:37 | 14' | Men's 14' 46-59 | 7 |
| 79 | Micheal CHEAPE | 1:38:47 | prone stock | Men's prone stock 46-59 | 1 |
| 80 | Armadillo MAUI | 1:38:49 | Unlimited | Men's Unlimited 46-59 | 10 |
| 81 | Gustavo FERREIRA DE OLIVEIRA | 1:39:11 | 14' | Men's 14' 30-35 | 12 |
| 82 | Victor LOPEZ | 1:39:13 | 14' | Men's 14' 60-99 | 2 |
| 83 | Gregory HARBOTTLE | 1:39:17 | Unlimited | Men's Unlimited 46-59 | 11 |
| 84 | Black ABRAHAM | 1:39:32 | 14' | Men's 14' 46-59 | 8 |
| 85 | Rouys ALEXANDRE | 1:39:34 | 12'6" | Men's 12'6" 17-29 | 4 |
| 86 | Karl ROHLFING | 1:39:34 | Unlimited | Men's Unlimited 46-59 | 12 |
| 87 | Patrick WONG | 1:39:44 | prone stock | Men's prone stock 46-59 | 2 |
| 88 | Roger CASEY | 1:39:49 | 14' | Men's 14' 46-59 | 9 |
| 89 | Glenn TREUBLE | 1:39:53 | Unlimited | Men's Unlimited 46-59 | 13 |
| 90 | Bronte HARTLAND | 1:39:54 | prone stock | Women's prone stock 1-99 | 1 |
| 91 | Mike WOODWARD | 1:40:02 | 14' | Men's 14' 17-29 | 3 |
| 92 | Robert STONER | 1:40:29 | Unlimited | Men's Unlimited 46-59 | 14 |
| 93 | Jim GLINN | 1:40:49 | Unlimited | Men's Unlimited 30-45 | 12 |
| 94 | Rod TAYLOR | 1:40:51 | prone stock | Men's prone stock 46-59 | 3 |
| 95 | Bruce BAPTISTE | 1:41:25 | 12'6" | Men's 12'6" 46-59 | 1 |
| 96 | John GANGINI | 1:41:25 | prone stock | Men's prone stock 46-59 | 4 |
| 97 | Bill BOYUM | 1:41:56 | Unlimited | Men's Unlimited 60-99 | 1 |
| 98 | Karen WRENN | 1:42:16 | Unlimited | Women's Unlimited 30-45 | 1 |
| 99 | Yuri SOLEDADE | 1:42:50 | 12'6" | Men's 12'6" 30-45 | 2 |
| 100 | Lani GOMES | 1:43:08 | 14' | Women's 14' 30-45 | 2 |
| 101 | Renato MOVRO | 1:43:10 | Unlimited | Men's Unlimited 30-45 | 13 |
| 102 | Paul TUCKER | 1:43:18 | 12'6" | Men's 12'6" 30-45 | 3 |
| 103 | Rory FRAMPTON | 1:43:31 | prone stock | Men's prone stock 46-59 | 5 |
| 104 | Darren BENNETT | 1:43:47 | 14' | Men's 14' 30-35 | 13 |
| 105 | Sandy PARKER | 1:43:59 | prone | Firefighters prone | 1 |
| 106 | Kevin SOLT | 1:44:04 | Unlimited | Men's Unlimited 30-45 | 14 |
| 107 | Tomoe YASU | 1:44:10 | Unlimited | Women's Unlimited 30-45 | 2 |
| 108 | Mike KINI | 1:44:12 | 14' | Men's 14' 46-59 | 10 |
| 109 | Pierre COETZEE | 1:44:53 | 14' | Men's 14' 46-59 | 11 |
| 110 | Dave WARD | 1:44:54 | prone stock | Men's prone stock 46-59 | 6 |
| 111 | Vetea RIBET | 1:45:00 | 14' | Men's 14' 30-35 | 14 |
| 112 | Heimoana DE LONGEAUX | 1:45:28 | 14' | Men's 14' 1-16 | 2 |
| 113 | Thor AKRE | 1:45:42 | Unlimited | Men's Unlimited 30-45 | 15 |
| 114 | Jordan JOKIEL | 1:45:49 | prone stock | Men's prone stock 30-45 | 3 |
| 115 | Buck EGSTROM | 1:46:23 | 14' | Men's 14' 46-59 | 12 |
| 116 | Scott SHIMADA | 1:46:53 | prone stock | Men's prone stock 30-45 | 4 |
| 117 | Ridge LENNY | 1:47:05 | 14' | Men's 14' 1-16 | 3 |
| 118 | Meghan DUNN | 1:47:18 | Unlimited | Women's Unlimited 1-29 | 1 |
| 119 | John SMALLEY | 1:48:07 | 14' | Men's 14' 30-35 | 15 |
| 120 | Troe HERLONG | 1:48:22 | prone stock | Men's prone stock 46-59 | 7 |
| 121 | Mark EUGENIO | 1:48:29 | prone stock | Men's prone stock 46-59 | 8 |
| 122 | Mark SARVER | 1:48:35 | Unlimited | Men's Unlimited 46-59 | 15 |
| 123 | Mark WHITE | 1:48:42 | Unlimited | Men's Unlimited 46-59 | 16 |
| 124 | Shawn COULLAHAN | 1:48:50 | 14' | Men's 14' 46-59 | 13 |
| 125 | Wally BOUCHARD | 1:49:02 | Unlimited | Men's Unlimited 60-99 | 2 |
| 126 | Jeff DENHOLM | 1:49:29 | prone | Men's prone 30-45 | 7 |
| 127 | Sharon LI | 1:49:38 | 14' | Women's 14' 30-45 | 3 |
| 128 | Chris LEVINS | 1:50:03 | 14' | Men's 14' 30-35 | 16 |
| 129 | Deja HOWARD | 1:50:04 | Unlimited | Women's Unlimited 30-45 | 3 |
| 130 | Jeff PETERSON | 1:50:10 | prone stock | Men's prone stock 46-59 | 9 |
| 131 | Marjorie KAHOOKELE-PEA | 1:50:36 | Unlimited | Women's Unlimited 30-45 | 4 |
| 132 | Alex SUMIBCAY | 1:50:39 | 14' | Men's 14' 46-59 | 14 |
| 133 | Oren MASSERMAN | 1:50:41 | 12'6" | Men's 12'6" 30-45 | 4 |
| 134 | Randall MORIKAWA | 1:50:41 | 14' | Men's 14' 46-59 | 15 |
| 135 | Colleen TESSLER | 1:50:42 | prone stock | Women's prone stock 1-99 | 2 |
| 136 | Blair THORNDIKE | 1:50:45 | prone stock | Men's prone stock 46-59 | 10 |
| 137 | Richard LADERA | 1:50:50 | prone | Men's prone 46-59 | 2 |
| 138 | Quintin CISZEK | 1:51:07 | prone stock | Men's prone stock 1-29 | 3 |
| 139 | Tehani GANGINI | 1:51:08 | prone stock | Women's prone stock 1-99 | 3 |
| 140 | Megan ABUBO | 1:51:09 | Unlimited | Women's Unlimited 30-45 | 5 |
| 141 | Rj WHENER | 1:51:14 | 14' | Men's 14' 1-16 | 4 |
| 142 | Mike LOWCHER | 1:51:15 | 14' | Men's 14' 46-59 | 16 |
| 143 | Michael TROESH-WORRELL | 1:51:18 | Unlimited | Men's Unlimited 30-45 | 16 |
| 144 | Joseph DRATZ | 1:51:21 | 14' | Men's 14' 30-35 | 17 |
| 145 | Doug POSELEY | 1:51:30 | Unlimited | Men's Unlimited 60-99 | 3 |
| 146 | Kim HERRERA | 1:52:02 | Unlimited | Women's Unlimited 46-99 | 1 |
| 147 | Courtney BROWN | 1:52:05 | 14' | Women's 14' 30-45 | 4 |
| 148 | Annette WENZLER | 1:52:20 | Unlimited | Women's Unlimited 46-99 | 2 |
| 149 | Sam PAE | 1:52:32 | 14' | Men's 14' 46-59 | 17 |
| 150 | Ron ERICKSON | 1:52:40 | prone stock | Men's prone stock 30-45 | 5 |
| 151 | Sue COOPER | 1:53:04 | Unlimited | Women's Elite | 5 |
| 152 | Peggy KING | 1:53:12 | Unlimited | Women's Unlimited 46-99 | 3 |
| 153 | David WEISS | 1:53:14 | Unlimited | Men's Unlimited 46-59 | 17 |
| 154 | Julia SCHWEIGER | 1:53:28 | 12'6" | Women's 12'6" 30-45 | 1 |
| 155 | Bram DENHAAN | 1:53:31 | prone | Firefighters prone | 2 |
| 156 | Mark COLEMAN | 1:53:37 | 14' | Men's 14' 46-59 | 18 |
| 157 | Dave BUDIMAN | 1:53:39 | 14' | Men's 14' 30-35 | 18 |
| 158 | Samantha CAMPBELL | 1:53:56 | 14' | Women's 14' 1-29 | 1 |
| 159 | Daniel KOPYCIENSKI | 1:53:57 | 14' | Men's 14' 30-35 | 19 |
| 160 | Sue SHEARD | 1:54:50 | 14' | Women's 14' 30-45 | 5 |
| 161 | Mike JUCKER | 1:54:51 | 14' | Men's 14' 30-35 | 20 |
| 162 | Glenn BEADLES | 1:55:19 | 14' | Men's 14' 46-59 | 19 |
| 163 | Killa NIKAIDO | 1:55:30 | 14' | Men's 14' 46-59 | 20 |
| 164 | Dani RIGGS | 1:55:41 | 14' | Men's 14' 60-99 | 3 |
| 165 | Jill RIGGS | 1:55:53 | 14' | Women's 14' 30-45 | 6 |
| 166 | Abby STONER | 1:55:59 | 14' | Women's 14' 1-29 | 2 |
| 167 | Rachael TAYLOR | 1:56:28 | 14' | Women's 14' 1-29 | 3 |
| 168 | Martin VOLLERT | 1:56:51 | 14' | Men's 14' 46-59 | 21 |
| 169 | Geoffrey BOGAR | 1:57:08 | prone | Firefighters prone | 3 |
| 170 | Brian RICHARD | 1:57:46 | 14' | Men's 14' 30-35 | 21 |
| 171 | Marciano SADO | 1:57:57 | Unlimited | Men's Unlimited 60-99 | 4 |
| 172 | Taka IGUCHI | 1:58:23 | prone stock | Men's prone stock 30-45 | 6 |
| 173 | Jb GUARD | 1:58:26 | prone | Firefighters prone | 4 |
| 174 | Hillary RUNNER | 1:58:37 | Unlimited | Women's Unlimited 30-45 | 6 |
| 175 | Vince STEVES | 2:00:14 | 14' | Men's 14' 46-59 | 22 |
| 176 | Anonew CHUNCH | 2:00:29 | 12'6" | Men's 12'6" 46-59 | 2 |
| 177 | Mark DRIESSEN | 2:01:01 | 12'6" | Men's 12'6" 30-45 | 5 |
| 178 | Bruce MCKINNEY | 2:01:14 | 14' | Men's 14' 60-99 | 4 |
| 179 | Cady CADIZ | 2:01:16 | 14' | Women's 14' 1-29 | 4 |
| 180 | Grant MACDONALD | 2:01:23 | 12'6" | Men's 12'6" 30-45 | 6 |
| 181 | Tiffany WARD | 2:01:25 | Unlimited | Women's Unlimited 30-45 | 7 |
| 182 | Carl KIM | 2:01:39 | prone stock | Men's prone stock 46-59 | 11 |
| 183 | Richard FUJIOKA | 2:02:06 | 14' | Men's 14' 60-99 | 5 |
| 184 | Suzie COONEY | 2:02:14 | 14' | Women's 14' 30-45 | 7 |
| 185 | Nick SMITH | 2:02:35 | 14' | Men's 14' 17-29 | 4 |
| 186 | Ashley AKERS | 2:03:57 | Unlimited | Women's Unlimited 30-45 | 8 |
| 187 | Ben BLAND | 2:04:03 | prone | Firefighters prone | 5 |
| 188 | Kim VANDERLAAN | 2:04:20 | 14' | Women's 14' 46-99 | 2 |
| 189 | Sandy RODRIGUEZ | 2:04:25 | 12'6" | Women's 12'6" 30-45 | 2 |
| 190 | Kyle ELLISON | 2:04:27 | 12'6" | Men's 12'6" 17-29 | 5 |
| 191 | Gina LAWLESS | 2:05:57 | Unlimited | Women's Unlimited 30-45 | 9 |
| 192 | Victoria TAKAYESU | 2:06:05 | 14' | Women's 14' 46-99 | 3 |
| 193 | Scott METCALFE | 2:06:25 | Unlimited | Men's Unlimited 46-59 | 18 |
| 194 | Clare MAWAE | 2:06:41 | 14' | Women's 14' 46-99 | 4 |
| 195 | Don RICKERD | 2:07:13 | 14' | Men's 14' 60-99 | 6 |
| 196 | Alex HORVATH | 2:07:13 | 14' | Women's 14' 30-45 | 8 |
| 197 | Brett LICKLE | 2:07:25 | 12'6" | Men's 12'6" 46-59 | 3 |
| 198 | Holly AMODIO | 2:07:27 | 12'6" | Women's 12'6" 30-45 | 3 |
| 199 | Skylar LICKLE | 2:07:28 | 12'6" | Women's 12'6" 1-29 | 1 |
| 200 | Aranza RODRIGUEZ | 2:07:46 | 12'6" | Women's 12'6" 30-45 | 4 |
| 201 | Yuka MILLER | 2:07:51 | prone stock | Women's prone stock 1-99 | 4 |
| 202 | Alex MAWAE | 2:09:29 | 12'6" | Men's 12'6" 1-16 | 2 |
| 203 | Chris ADAMSON | 2:09:35 | 14' | Men's 14' 30-35 | 22 |
| 204 | Jay KAAWA | 2:09:55 | Unlimited | Women's Unlimited 30-45 | 10 |
| 205 | Tracie HAGER | 2:10:16 | 12'6" | Women's 12'6" 30-45 | 5 |
| 206 | Chris SAITO | 2:11:00 | prone stock | Men's prone stock 1-29 | 4 |
| 207 | Josh JACOBS | 2:12:31 | prone stock | Men's prone stock 30-45 | 7 |
| 208 | Robynne RILEY | 2:14:22 | prone stock | Women's prone stock 1-99 | 5 |
| 209 | David YOSHIDA | 2:14:38 | prone | Firefighters prone | 6 |
| 210 | Jennifer GLADWIN | 2:17:08 | 12'6" | Women's 12'6" 1-29 | 2 |
| 211 | Heidi SMITH | 2:17:18 | 12'6" | Women's 12'6" 46-99 | 1 |
| 212 | Chris HARPER | 2:17:29 | prone stock | Men's prone stock 46-59 | 12 |
| 213 | Shauneen SCHWEIGER | 2:17:47 | 12'6" | Women's 12'6" 46-99 | 2 |
| 214 | Shannon LICKLE | 2:17:57 | 14' | Women's 14' 46-99 | 5 |
| 215 | Sergi VIDAL | 2:18:14 | 14' | Men's 14' 30-35 | 23 |
| 216 | Josie MAWAE | 2:19:11 | 12'6" | Women's 12'6" 1-29 | 3 |
| 217 | Ben Jonah OWZINSKY | 2:19:58 | prone stock | Men's prone stock 30-45 | 8 |
| 218 | Marty SMITH | 2:24:33 | 14' | Men's 14' 46-59 | 23 |
| 219 | Nicola ADAMSON | 2:35:01 | 12'6" | Women's 12'6" 30-45 | 6 |
| 220 | Jimmy FRIEDRICH | 2:35:45 | 12'6" | Men's 12'6" 60-99 | 1 |
| 221 | Quinn BLAYLOCK | 2:42:53 | prone stock | Men's prone stock 46-59 | 13 |