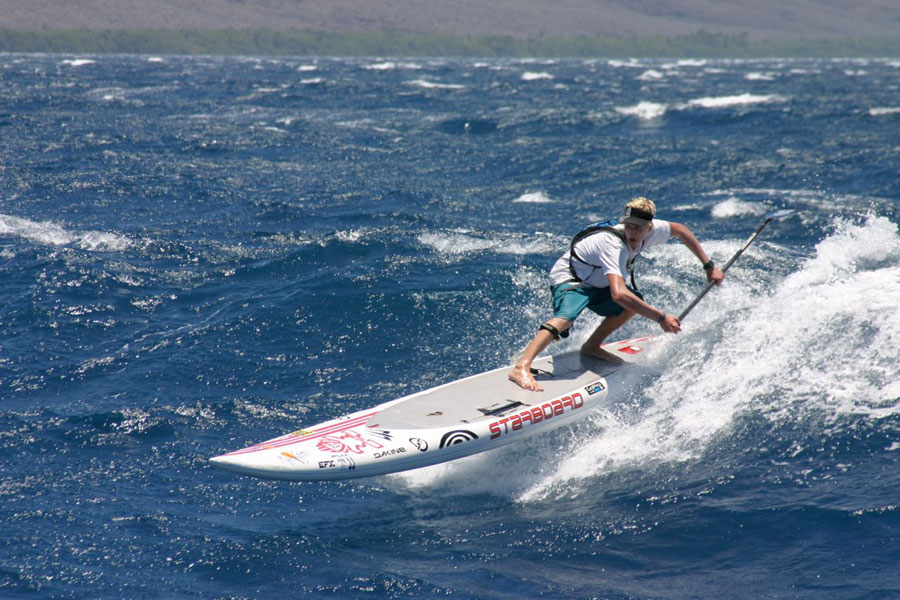 July 15, 2012
by Christopher Parker (@wheresbossman)
[RESULTS] Triple Crown Of SUP – Race #3 (Maui-Molokai)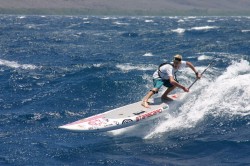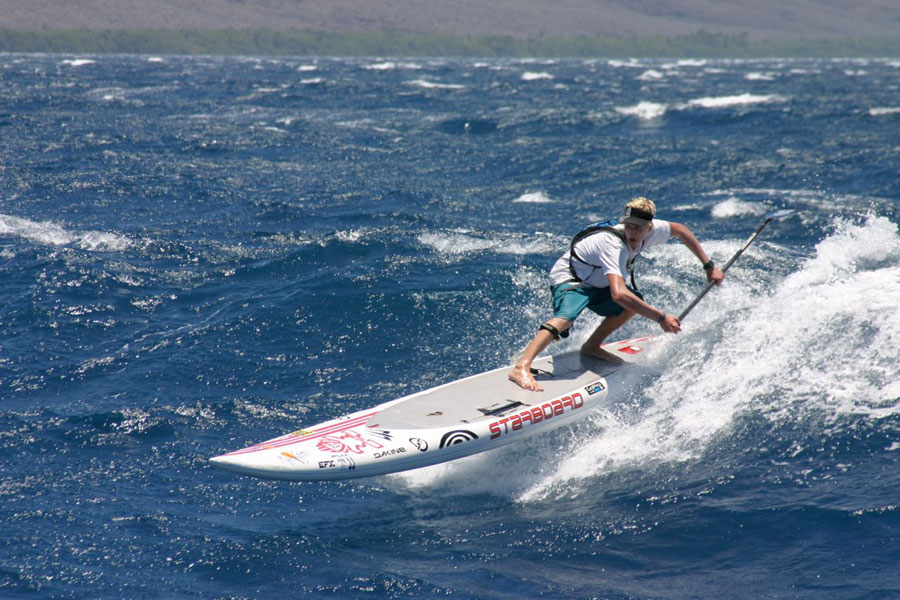 The 2012 Triple Crown of SUP wrapped up on Saturday with the Maui to Molokai race. The series saved the best for last, with epic conditions making way for some awesome SUP racing (and incredibly fast times).
Connor Baxter was first over the line in a time 2 hours and 55 minutes. With the course being roughly 26.5 miles long (42.6kms) that means the Maui wunderkind paddled at an average speed of 9.1 mph (14.6 kms/h) for almost three straight hours. Crazy…
Dave Kalama was in fine form as well, finishing in 2nd place just two and a half minutes behind Connor and setting up an exciting rematch at the Molokai-2-Oahu in two weeks. Livio Menelau was third while underrated Aussie charger Dave Kissane snagged fourth.
In the women's race it was Andrea Moller who again dominated. The Brazilian (who now calls Maui home) made it three from three in the 2012 Triple Crown of SUP, not only beating home 2nd place woman Terrene Black, but also out-paddling three quarters of the men…
Scroll down past the pics to see the full race results and check back soon for plenty more pics and video of the action. You'll also find a great race recap on the Zone forums.
To catch up on the rest of the Triple Crown of SUP series, take a look at results form the first two races:
– Triple Crown of SUP Race #2 (Kihei) RESULTS
– Triple Crown of SUP Race #1 (Maliko) RESULTS
*****
*****
Triple Crown of SUP – Race #3 (Maui to Molokai)
Click "Class" to sort results by Board Class/Gender
Click "Time" to reset the results

| Overall # | Name | Time | Class | Class # |
| --- | --- | --- | --- | --- |
| 1 | Connor BAXTER | 2:55:46 | Men's Unlimited | 1 |
| 2 | Dave KALAMA | 2:58:12 | Men's Unlimited | 2 |
| 3 | Livio MENELAU | 2:59:51 | Men's Unlimited | 3 |
| 4 | Dave KISSANE | 3:08:34 | Men's Unlimited | 4 |
| 5 | Scott TRUDON | 3:09:40 | Men's Unlimited | 5 |
| 6 | Kaeo ABBEY | 3:17:00 | Men's Unlimited | 6 |
| 7 | Zane SCHWEITZER | 3:21:15 | Men's Unlimited | 7 |
| 8 | Andrea MOLLER | 3:21:40 | Women's Unlimited | 1 |
| 9 | Mark RAAPHORST | 3:24:07 | Men's Unlimited | 8 |
| 10 | Robert STEHLIK | 3:24:12 | Men's Unlimited | 9 |
| 11 | Mo FREITAS | 3:27:32 | Men's Unlimited | 10 |
| 12 | Bart DE ZWART | 3:29:23 | Men's 14' | 1 |
| 13 | Masao FUKAYAMA | 3:33:51 | Men's Unlimited | 11 |
| 14 | Alessandro MATERO | 3:34:24 | Men's Unlimited | 12 |
| 15 | Luiz GUIDA | 3:34:25 | Men's Unlimited | 13 |
| 16 | Phil GREGORY | 3:35:13 | Men's Unlimited | 14 |
| 17 | Yves BOUWENS | 3:35:39 | Men's Unlimited | 15 |
| 18 | Chuck PATTERSON | 3:40:56 | Men's Unlimited | 16 |
| 19 | Dylan FRICK | 3:41:55 | Men's 14' | 2 |
| 20 | Renato SPIRITUS | 3:42:54 | Men's Unlimited | 17 |
| 21 | Terrene BLACK | 3:44:48 | Women's Unlimited | 2 |
| 22 | James MARTINDALE | 3:46:52 | Men's Unlimited | 18 |
| 23 | Claudio CHAIN | 3:49:30 | Men's Unlimited | 19 |
| 24 | Jeff CHANG | 3:50:24 | Men's Unlimited | 20 |
| 25 | Jim GLINN | 3:57:48 | Men's Unlimited | 21 |
| 26 | Noah GARFIELD | 3:59:42 | Men's Unlimited | 22 |
| 27 | Kaleo PADILLA | 4:02:06 | Men's Unlimited | 23 |
| 28 | Izaak TYRRELL | 4:08:41 | Men's 14' | 3 |
| 29 | Vetea RIBET | 4:11:56 | Men's Unlimited | 24 |
| 30 | Abby STONER | 4:16:39 | Women's Unlimited | 3 |
| 31 | Shep NELSON | 4:16:41 | Men's Unlimited | 25 |
| 32 | Ron GALLEMORE | 4:16:51 | Men's Unlimited | 26 |
| 33 | Zach HANSEL | 4:18:27 | Men's Unlimited | 27 |
| 34 | Teva FOURCADE | 4:19:29 | Men's Unlimited | 28 |
*****
2012 Triple Crown of SUP – Final Standings
MEN'S UNLIMITED
1st: Connor Baxter // 11,000 points (2nd & 3rd leg only)
2nd: Livio Menelau // 10,730 points
3rd: Scott Trudon // 9,780 points
WOMEN'S UNLIMITED
1st: Andrea Moller // 12,000 points
2nd: Terrene Black // 9,000 points (3rd leg only)
MEN'S 14′
1st: Dylan Frick // 10,950 points
2nd: Bart de Zwart // 10,000 points (2nd & 3rd leg only)