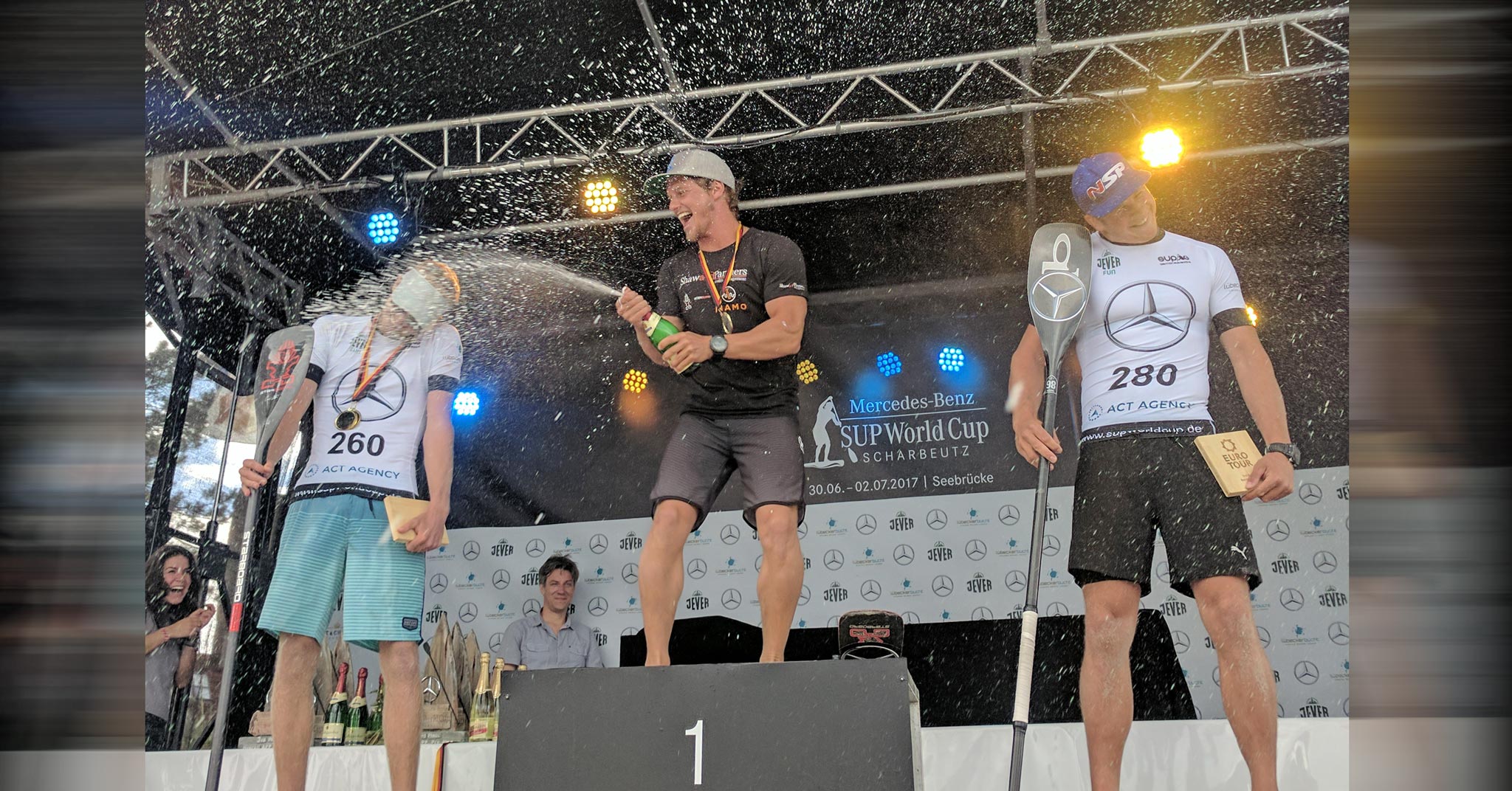 July 5, 2017
by Christopher Parker (@wheresbossman)
Michael Booth's Big Summer in Europe: Aussie Star Overpowers World's Best to Claim the 'EuroTour' Crown
The European Summer of SUP has a new king.
As a mix of light rain and sporadic sunshine drifted in across the Baltic Sea and onto the sands Scharbeutz, Germany late Sunday morning, Australia's Michael Booth could be seen doing what he does best: paddling away from a group of other world-class paddlers to record yet another win on the European Summer of SUP, aka the EuroTour.
With his victory at Scharbeutz on the weekend, Boothy added an exclamation point to an incredible European campaign that saw him win almost every major race en route to claiming the overall EuroTour champion's title. Along the way, he defeated the likes of Connor Baxter, Titouan Puyo and a dozen or so more of the world's best in addition to virtually all of Europe's finest. And he did it in style.
To label Boothy's EuroTour victory comprehensive would be an understatement.
The world number two won an incredible 5 out of 6 EuroTour 'Prime' events this year (the races that attracted the international athletes), cementing a runaway lead on the Tour Leaderboard where the top spots were set in stone in Germany despite three weeks left to run.
https://www.instagram.com/p/BVLC8KagPZg/
Boothy's dominance in Europe this summer has been utterly astounding. With five big victories (he was runner-up in the other), the Starboard 'Dream Team' rider finished his EuroTour campaign on a mammoth 164.00 points (despite only the best four results counting) — almost 40 points clear of previous title-holder and world number one Connor Baxter.
Boothy was consistently challenged throughout the summer by the 2015 and 2016 EuroTour champion, who finished runner-up on 124.90 points, as well as Europe's number one paddler Titouan Puyo, the only other athlete to cross the 100-point threshold (Titou finished on 109.70). But the Aussie powerhouse simply seems to have another gear when it matters most.
This became most apparent during the week 7 event in San Sebastian, a race that offered virtually every racing element – flat water, waves and open ocean bumps – to produce one of the most challenging and entertaining contests of the summer. Despite strong resistance from Connor all day, and a spirited effort from Titou, who looked like he could defend his 2016 race title until he fell in the waves, Boothy simply just paddled away from everyone. Again.
The Aussie went on to win by a minute and virtually lock up the EuroTour title right there (Connor had a mathematical but virtually impossible chance of winning in Scharbeutz).
Victories in San Sebastian matched his podium-owning exploits in St. Maxime, Thonon, Bilbao and here in Germany this past weekend.
But the thing about Michael Booth is that he's not just one of the most driven competitors on the water, he's also one of the most dedicated athletes off it.
Boothy has worked overtime to secure sponsorship from outside the SUP industry this season (the stickers on his board include investment firm Shaw & Partners and wireless payments innovator Inamo, along with Starboard and VMG Blades), while he's also become a leading voice of the athletes, regularly taking charge in athlete groups and meetings.
Michael Booth is one of the most professional athletes you'll ever meet.
All this explains why the current world number two – who's made it clear he wants to be ranked number one sooner rather than later – has achieved such great success on the water in a relatively short amount of time.
Of course he's not unbeatable – a late fade in Carolina and a mixed result in Germany on the weekend showed he's still vulnerable on occasion – but if anyone is ever going to dethrone Connor Baxter as the long-standing World Rankings leader, it's clearly going to be Boothy.
But that's an analysis for another day. In the meantime, a big congratulations to Boothy for a massive performance here on the EuroTour over the past six weeks.
You thoroughly deserve that champagne, mate.
https://www.instagram.com/p/BWFDUDNAKgC/

---
Michael Booth's Big Summer
EuroTour Week 3
St. Maxime, France
1st place (42.50 points)
Despite faltering in the beach race to finish third behind Titou and Connor, Boothy came home like a rocket in the long distance event, winning by almost two minutes to comfortably secure the overall event title in St. Maxime and set the tone for the rest of the summer.
EuroTour Week 4
Hossegor, France
2nd place (33.38 points)
The one asterisk in Boothy's otherwise flawless EuroTour points came in the famous French surf town of Hossegor, where Connor made it a clean sweep of both the distance race (where Boothy finished third behind Titou) and the surf race (where he was runner-up to the Hawaiian). It was the only EuroTour 'Prime' event that Boothy didn't win, and he still finished runner-up.
EuroTour Week 5
Lake Geneva, Switzerland/France
1st place (41.50 points)
One of the grandest races of the summer, the 18km crossing across from Switzerland to France was always going to favour Boothy unless it became an all-out downwinder. But with Lake Geneva as flat as a pancake, the other contenders – Connor, Titou, Georges Cronstseadt, Trevor Tunnington, Mo Freitas, Leo Nika and virtually all of Europe's finest – could only look on as the Aussie powerhouse pulled away at the 4km mark and continually extended his lead to win by over a minute. The victory also gave Boothy the largest winner's cheque of the summer (5,000 Euros).
EuroTour Week 6
Bilbao, Basque Country, Spain
1st place (40.00 points)
In the narrow, frantic course through Bilbao's central city river, Boothy controlled the 14km race and won the sprint to the line against Leo Nika, who became the only paddler other than Connor and Titou to join Boothy on a major EuroTour podium. Bilbao also offered Boothy some closure after he had lost to Connor in somewhat-dramatic circumstances 12-months earlier, where the Starboard duo had gotten into a heated, post-race exchange about home-straight-sprint tactics.
EuroTour Week 7
San Sebastian, Basque Country, Spain
1st place (40.00 points)
The most impressive victory of the summer (and the most impressive race of the summer, period), the Aussie paddled clear of Connor Baxter in conditions that would normally favour the Hawaiian – bumpy ocean – to confirm that he's become a complete, all-round paddle athlete that can win in virtually any conditions. One of Boothy's biggest threats, defending race champion Titouan Puyo, had looked good early but faltered in the waves to lose touch with the leaders.
EuroTour Week 8
Scharbeutz, Germany
1st placae (20.00 points)
On a cloudy morning in northern Germany, Boothy punctuated his European Summer of SUP by winning the 8km race by over half a minute from Leo Nika and Mo Freitas. He was officially presented with the EuroTour title at the post-race awards ceremony, where he bathed in a symbolic and very well-deserved champagne shower.
---
2017 EuroTour Top 20
European rankings after week 8 of 11
The top six spots are set in stone
Best four results count
View the full EuroTour Leaderboard
| | | | | | |
| --- | --- | --- | --- | --- | --- |
| # | Athlete | Points | Races | Brand | Nation |
| 1 | Michael Booth | 164.00 | 6 | Starboard | Australia |
| 2 | Connor Baxter | 124.90 | 5 | Starboard | Hawaii |
| 3 | Titouan Puyo | 109.70 | 5 | NSP | France |
| 4 | Trevor Tunnington | 80.00 | 5 | Starboard | NZ |
| 5 | Leo Nika | 77.59 | 6 | Starboard | Italy |
| 6 | Bruno Hasulyo | 74.55 | 6 | Starboard | Hungary |
| 7 | Mo Freitas | 51.30 | 6 | Focus | Hawaii |
| 8 | Paolo Marconi | 43.39 | 7 | RRD | italy |
| 9 | Federico Esposito | 38.34 | 6 | Fanatic | Italy |
| 10 | Slater Trout | 30.15 | 2 | Infinity | USA |
| 11 | Martino Rogai | 26.29 | 8 | Infinity | Italy |
| 12 | Giorgio Gomez | 26.20 | 2 | Infinity | USA |
| 13 | Gabriel Bachelet | 25.46 | 4 | NSP | France |
| 14 | Ludovic Teulade | 24.12 | 5 | OXBOW | France |
| 15 | Vinnicius Martins | 23.71 | 3 | JP | Brazil |
| 16 | Itzel Delgado | 22.34 | 5 | Infinity | Peru |
| 17 | Davide Ionico | 22.30 | 5 | Fanatic | Italy |
| 18 | Georges Cronsteadt | 20.10 | 2 | 425 | Tahiti |
| 19 | Giordano Capparella | 19.41 | 4 | BIC | Italy |
| 20 | Jeremy Teulade | 18.24 | 6 | OXBOW | France |
---
The European Summer Holiday
In my opinion, the best part about the EuroTour isn't so much the racing, it's the fact that we all (athletes + media, of course) get a summer holiday in Europe. In between each weekend race, athletes disperse across the Continent for a taste of local cultures. Or they just sit on the beach and relax, earning a well-earned break after a hard grind in the race jersey.
And while Boothy stayed pretty busy training and working when he wasn't competing, he sure as hell enjoyed himself as well. The newly-minted EuroTour champion was traveling the whole time with his beautiful partner Kristi Dreibergs — here's a selection of their happy snaps from around Europe:

https://www.instagram.com/p/BUXH0MyAC-g/
https://www.instagram.com/p/BVtziFtgJ9i/
https://www.instagram.com/p/BVAt_9SALAV/
https://www.instagram.com/p/BWJL6aJgE-F/
https://www.instagram.com/p/BVj5o0sBmz5/
https://www.instagram.com/p/BVe7bMzBWEJ/


* …in case you're confused or wondering about the results from this past weekend in Germany: The SUP World Cup in Scharbeutz was split in two this year: The standalone 'SUP World Cup EuroTour Race' on Sunday morning, which Boothy won, and the separate 'SUP World Cup' (combined sprints on Saturday and another distance race on Sunday afternoon) that was won by Connor. This event will likely be one single, unified race in the future.