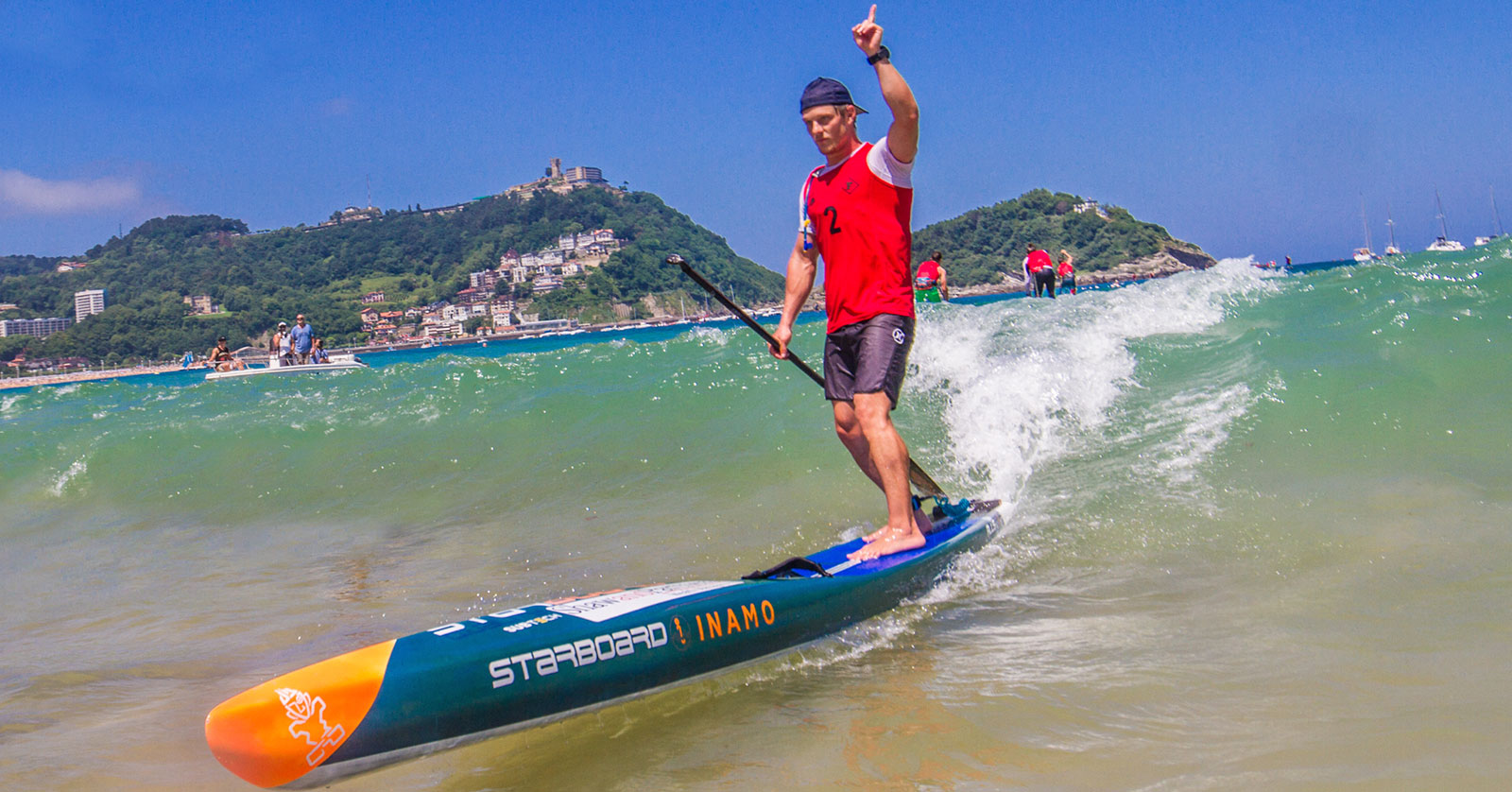 June 17, 2017
by Christopher Parker (@wheresbossman)
Boothy Overpowers Connor, Bruno and Titou to Punctuate His EuroTour Dominance; Olivia Piana Goes Back-to-Back
In brief: Michael Booth has firmly cemented his reputation as the strongest paddler on the planet, with the Aussie powerhouse taking out the showdown in San Sebastian this afternoon to make it four wins in the past five weeks and cement his spot on top of the 2017 EuroTour Leaderboard.
In a race that had a bit of everything – flat water, open ocean, waves, downwind bumps – and which was described by most finishers as the funnest contest of the year, Boothy outlasted world number one Connor Baxter and a hugely impressive Bruno Hasulyo to salute for the third week in a row, while defending champ and early race leader Titouan Puyo fought hard in the second half after getting unlucky in the waves to eventually finish just outside the podium but just ahead of Trevor Tunnington.
After originally being known as a flat water guy, Boothy has proved once and for all that he can win in any conditions; today's race was arguably the best "all round" test of paddling performance that we've seen all season.
Olivia Piana was too strong in the women's to make it two wins in two weeks and close the gap on an absent Sonni Hönscheid in the hunt for the EuroTour title.
Meanwhile, the highly under-rated Spaniard Susak Molinero fought proudly to finally get a well-deserved EuroTour podium spot for Team RRD, crossing the line all smiles exactly one minute ahead of Florida's Seychelle Hattingh.
Scroll down past the pics for the full results; full recap and photos coming soon; you can also catch a full replay of our EuroTour San Sebastian live stream below. But right now: time for some pintxos.
Big thanks to all the organisers for pulling off this event. What a race…
---
LIVE STREAM REPLAY
[notdevice][fbvideo link="https://www.facebook.com/supracerr/videos/1402481339835913/" width="645″ height="363″ onlyvideo="1″][/notdevice][device][fbvideo link="https://www.facebook.com/supracerr/videos/1402481339835913/" width="322″ height="181″ onlyvideo="1″][/device]
---
ELITE MEN'S RESULTS
| # | Athlete | Time | Points | Brand | Nation |
| --- | --- | --- | --- | --- | --- |
| 1 | Michael Booth | 1:22:39 | 40.00 | Starboard | Australia |
| 2 | Connor Baxter | 1:23:25 | 30.00 | Starboard | Hawaii |
| 3 | Bruno Hasulyo | 1:23:29 | 24.00 | Starboard | Hungary |
| 4 | Titouan Puyo | 1:23:35 | 20.00 | NSP | France |
| 5 | Trevor Tunnington | 1:23:40 | 17.00 | Starboard | New Zealand |
| 6 | Mo Freitas | 1:25:20 | 14.00 | Focus | Hawaii |
| 7 | Paolo Marconi | 1:25:55 | 12.00 | RRD | Italy |
| 8 | Federico Esposito | 1:26:13 | 10.00 | Fanatic | Italy |
| 9 | Gabi Bachelet | 1:26:58 | 9.00 | NSP | France |
| 10 | Itzel Delgado | 1:28:20 | 8.00 | Infinity | Peru |
| 11 | Jurgi Zulaika | 1:31:00 | 7.20 | Starboard | Basque |
| 12 | Marcus Hansen | 1:31:29 | 6.40 | NSP | New Zealand |
| 13 | Aaron Rowe | 1:31:38 | 6.00 | Lokahi | Jersey |
| 14 | Giordano Bruno | 1:32:30 | 5.60 | BIC | Italy |
| 15 | Martino Rogai | 1:33:25 | 5.20 | Infinity | Italy |
| 16 | Olivier Darrieumerlou | 1:33:32 | 4.80 | ? | France |
| 17 | Pepe Oltra | 1:34:49 | 4.40 | Kundaka | Spain |
| 18 | Miquel Roigé | 1:34:52 | 4.00 | ? | ? |
| 19 | Vincent Verhoeven | 1:35:23 | 3.60 | NSP | France |
| 20 | Roman Frejo | 1:36:21 | 3.20 | Starboard | Spain |
| 21 | Tomás Sánchez | 1:36:27 | 3.00 | ? | ? |
| 22 | Leonardo Toso | 1:37:33 | 2.80 | JP | Italy |
| 23 | Txema Landa | 1:37:49 | 2.60 | ? | Basque |
| 24 | Lois Chardebas | 1:38:10 | 2.40 | Fanatic | France |
| 25 | Peter Kosinski | 1:39:25 | 2.20 | Starboard | Ireland |
| 26 | Alan Fernandes | 1:41:20 | 2.08 | Naish | Jersey |
| 27 | Julen Juaristi | 1:40:36 | 1.96 | ? | ? |
| 28 | Chris Couve | 1:40:45 | 1.84 | Starboard | South Africa |
| 29 | Iker Barbarrubio | 1:41:21 | 1.72 | ? | ? |
| 30 | Federico Benettolo | 1:41:43 | 1.60 | BIC | Italy |
| 31 | Aure Medina | 1:41:53 | 1.52 | ? | Basque |
| 32 | Belar Diaz | 1:42:44 | 1.44 | F-ONE | Spain |
| 33 | Natxo Riera | 1:42:54 | 1.36 | ? | Basque |
| 34 | Charlie Jones | 1:46:30 | 1.28 | JP | UK |
| 35 | Eduardo Doriga | 1:47:10 | 1.20 | ? | ? |
| 36 | Alain Teurquetil | 1:48:44 | 1.12 | NSP | France |
| 37 | Andrew Weinbach | 1:49:28 | 1.04 | ? | ? |
| 38 | Omar Urdampilleta | 2:01:00 | 0.96 | ? | ? |
| 39 | Lurta Nikolas | 2:28:43 | 0.88 | ? | ? |
| 40 | Sylvain Gillet | DNF | 0.00 | ? | ? |
| 41 | Kiko Gobantes | DNF | 0.00 | ? | ? |
ELITE WOMEN'S RESULTS
| # | Athlete | Time | Points | Brand | Nation |
| --- | --- | --- | --- | --- | --- |
| 1 | Olivia Piana | 1:35:39 | 30.00 | Starboard | France |
| 2 | Susak Molinero | 1:38:27 | 22.50 | RRD | Spain |
| 3 | Seychelle Hattingh | 1:39:27 | 18.00 | SIC | USA |
| 4 | Susanne Lier | 1:51:24 | 15.00 | NSP | Germany |
| 5 | Cyara Palenzuela | 1:58:50 | 12.75 | F-ONE | Basque |
| 6 | Sofia Ilarduya. | 2:10:33 | 10.50 | ? | Basque |
OPEN RACE RESULTS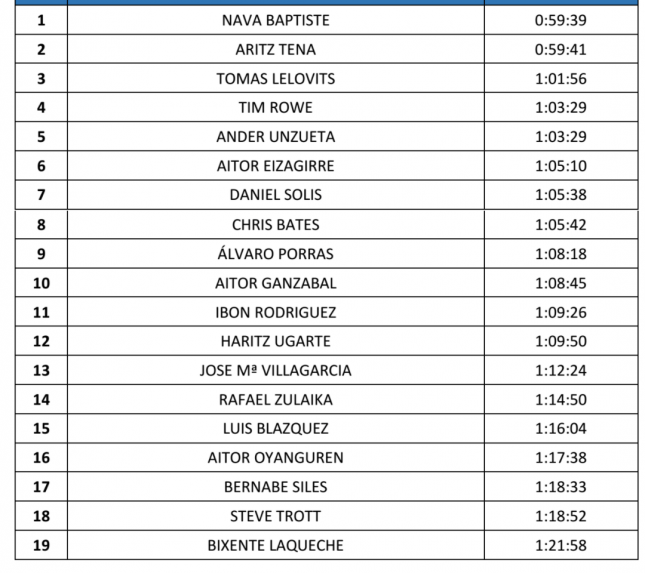 JUNIOR RACE RESULTS