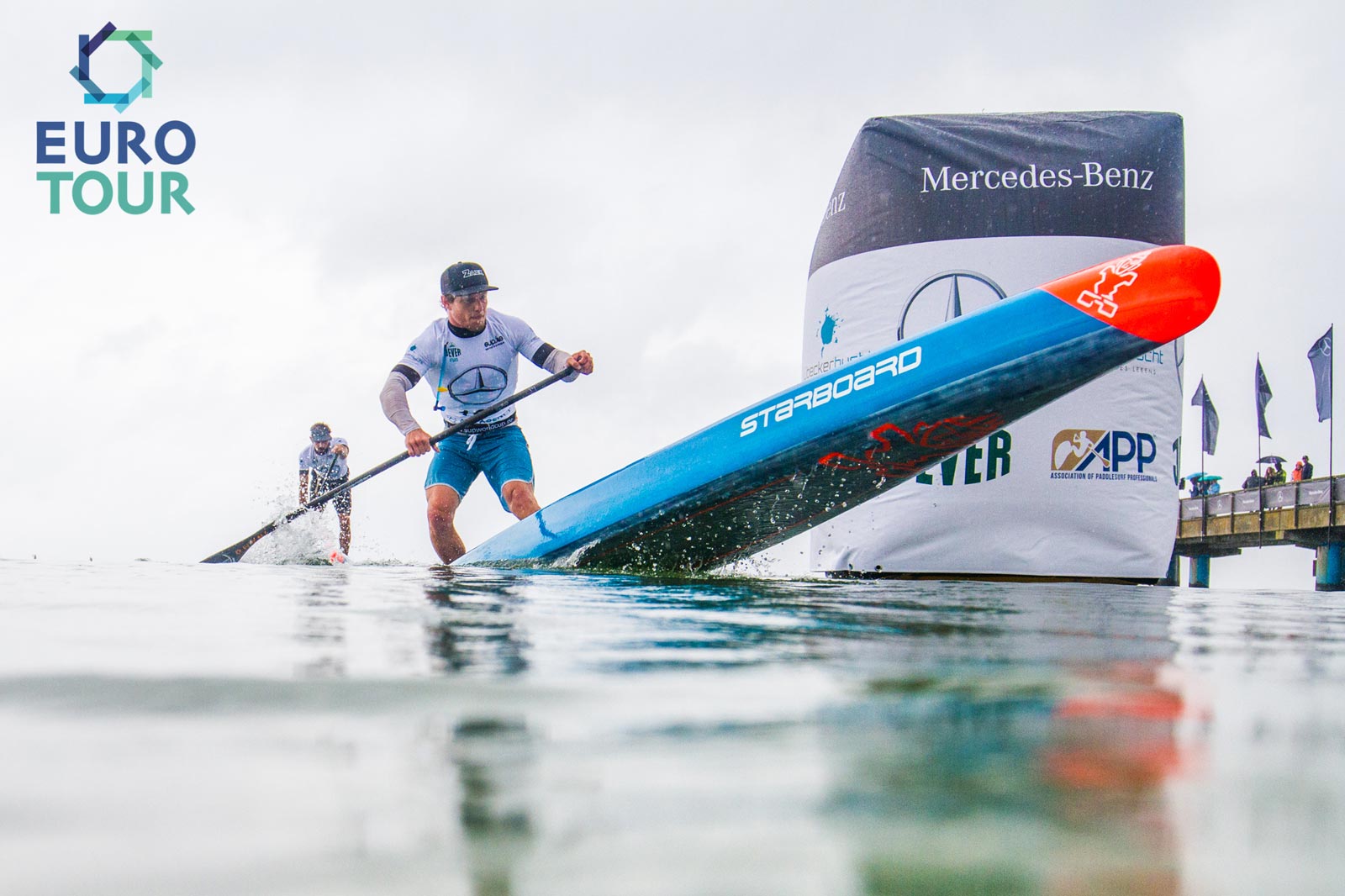 July 2, 2017
by Christopher Parker (@wheresbossman)
Michael Booth and Olivia Piana Win Week 8 of the EuroTour at the SUP World Cup in Germany (UPDATED)
In brief: Michael Booth and Olivia Piana have put an exclamation point on their European summers of SUP, with the Starboard duo taking out week 8 of the EuroTour here at the SUP World Cup in Scharbeutz, Germany.
Boothy won the ~8k distance race here on Sunday morning to the surprise of no one, which makes up for his early exit in yesterday's sprints. Coming home second was one of Europe's finest, Leo Nika from Italy, while Mo Freitas hit the podium for the first time this summer as the Hawaiian continues to regain his strength.
Meanwhile, while Olivia fought all the way with her team mate Sonni Honscheid before pulling clear in the final few hundred metres, giving the Frenchwoman three straight wins on the EuroTour. Unheralded Dutchwoman Petronella van Malsen from Team Mistral snagged the third spot on the podium with a strong performance.
It's a busy weekend here at the Mercedes-Benz SUP World Cup: In addition to the EuroTour race, we also have the SUP World Cup proper, which consists of Saturday's knockout sprints (where Lincoln Dews and Fiona Wylde saluted) followed by this afternoon's Super Lap race.
The two SUP World Cup disciplines (sprints/super lap) will be combined to crown the overall event champions, while the EuroTour is a one-off race that fits in with the broader Tour that's been running all summer.
We'll have a Facebook Live feed of this afternoon's distance race over on our Facebook page.
---
WOMEN'S PODIUM
1st: Olivia Piana (Starboard/France)
2nd: Sonni Honscheid (Starboard/Germany)
3rd: Petronella van Malsen (Mistral/Netherlands)
MEN'S PODIUM
1st: Michael Booth (Starboard/Australia)
2nd: Leo Nika (Starboard/Italy)
3rd: Mo Freitas (Focus/Hawaii)
---
MEN'S 14′ RESULTS
| # | Athlete | Time | Points | Brand | Nation |
| --- | --- | --- | --- | --- | --- |
| 1 | Michael Booth | 00:46:29:36 | 20.00 | Starboard | Australia |
| 2 | Leonard Nika | 00:47:07:36 | 15.00 | Starboard | Italy |
| 3 | Mo Freitas | 00:47:20:80 | 12.00 | Focus | Hawaii |
| 4 | Federico Esposito | 00:47:24:87 | 10.00 | Fanatic | Italy |
| 5 | Paolo Marconi | 00:47:28:51 | 8.50 | RRD | Italy |
| 6 | Martino Rogai | 00:47:30:73 | 7.00 | Infinity | Italy |
| 7 | Davide Ionico | 00:47:33:11 | 6.00 | Fanatic | Italy |
| 8 | Dylan Frick | 00:47:40:88 | 5.00 | Starboard | South Africa |
| 9 | Ricardo Haverschmidt | 00:47:41:43 | 4.50 | Mistral | Neatherlands |
| 10 | Paul Ganse | 00:47:44:62 | 4.00 | JP | Germany |
| 11 | Steven Bredow | 00:47:49:92 | 3.60 | JP | Germany |
| 12 | Thomas Reppich | 00:49:05:16 | 3.20 | | Germany |
| 13 | Federico Benettolo | 00:49:08:70 | 3.00 | BIC | Italy |
| 14 | Leo Tosso | 00:49:11:12 | 2.80 | JP | Italy |
| 15 | Sebastian Brendel | 00:49:25:62 | 2.60 | Focus | Germany |
| 16 | James van Druren | 00:49:57:55 | 2.40 | Mistral | Neatherlands |
| 17 | Peter Kosinski | 00:50:21:82 | 2.20 | Starboard | Ireland |
| 18 | Kjell de Bruyn | 00:50:44:24 | 2.00 | Fanatic | Belgium |
| 19 | Jan Vandrey | 00:52:54:28 | 1.80 | | Germany |
| 20 | Belar Diaz | 00:52:55:55 | 1.60 | F-One | Spain |
| 21 | Andreas Svensson | 00:52:59:81 | 1.50 | | Sweeden |
| 22 | Tomas Lelovits | 00:53:52:20 | 1.40 | Naish | Finland |
| 23 | Martin Teichmann | 00:54:02:76 | 1.30 | Starboard | Germany |
| 24 | Fritz Mayerle | 00:55:13:96 | 1.20 | Starboard | Germany |
| 25 | Dimitris Apalagakis | 00:55:18:74 | 1.10 | JP | Greece |
| 27 | Marcin Hokusz | 00:55:36:28 | 1.04 | Starboard | Poland |
| 28 | Lucas Bay | 00:55:52:04 | 0.98 | Naish | Denmark |
| 29 | Thomas Kreisel | 00:56:10:43 | 0.92 | Starboard | Germany |
| 30 | Dirk Worrmann | 00:56:45:80 | 0.86 | Fanatic | Germany |
| 31 | Dirk Bickert | 00:56:52:21 | 0.80 | Starboard | Germany |
| 32 | Kimo Kersting | 00:57:11:27 | 0.76 | Mistral | Germany |
| 33 | Ran Gaash | 00:57:15:59 | 0.72 | Focus | Israel |
| 34 | Dirk Herpel | 00:57:40:13 | 0.68 | Fanatic | Germany |
| 35 | Robert Glöckner | 00:58:07:96 | 0.64 | | Germany |
| 36 | Maui Sach | 00:58:57:04 | 0.60 | Naish | Germany |
| 37 | Stefan Straszburg | 00:59:15:72 | 0.56 | Starboard | Germany |
| 38 | Thomas Maier | 01:00:10:81 | 0.52 | | Germany |
| 39 | Pascal Wengerter | 01:01:14:23 | 0.48 | 404 | Germany |
| 40 | Axel Bischoff | 01:01:17:12 | 0.44 | Siren | Germany |
| 41 | Michael Ponggratz | 01:02:08:01 | 0.40 | Starboard | Germany |
| 42 | Willi Ganse | 01:05:01:87 | 0.38 | Starboard | Germany |
| 43 | Matthias Neumann | 01:05:54:23 | 0.36 | Fanatic | Germany |
| 44 | Tobias Blasé | 01:07:42:52 | 0.34 | Siren | Germany |
| 45 | Benny Kohl | 01:07:48:06 | 0.32 | Starboard | Germany |
| 46 | Soukup Jarno | 01:07:49:03 | 0.30 | | Germany |
WOMEN'S 14′ RESULTS
| # | Athlete | Time | Points | Brand | Nation |
| --- | --- | --- | --- | --- | --- |
| 1 | Olivia Piana | 0:49:55 | 20.00 | Starboard | France |
| 2 | Sonni Honscheid | 0:50:13 | 15.00 | Starboard | Germany |
| 3 | Petronella van Malsen | 0:53:26 | 12.00 | Mistral | Neatherlands |
| 4 | Susanne Lier | 0:53:33 | 10.00 | NSP | Germany |
| 5 | Hannah Krah | 0:55:51 | 8.50 | Siren | Germany |
| 6 | Emely Siewert | 1:00:31 | 7.00 | JP | Germany |
| 7 | Milanka Linde | 1:02:35 | 6.00 | Siren | Germany |
---
photos below by Georgia Schofield