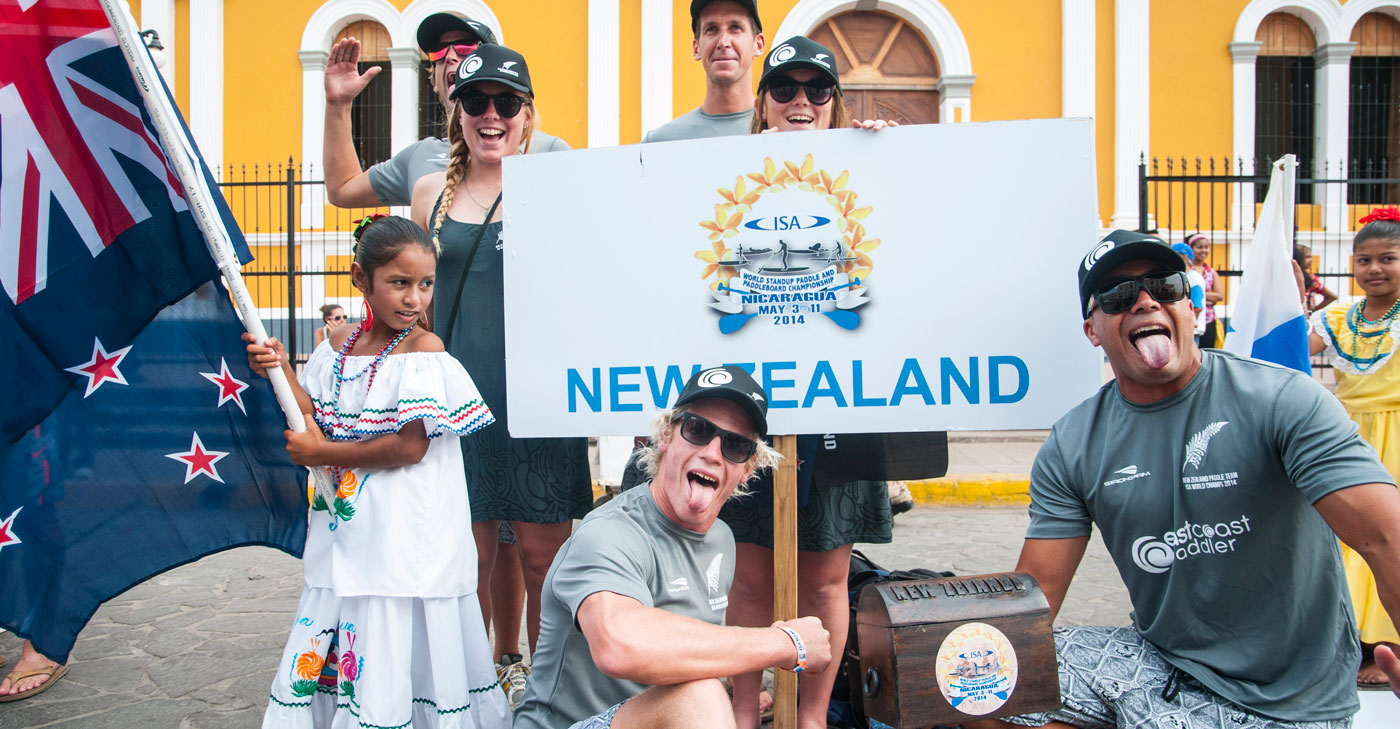 April 9, 2015
by Christopher Parker (@wheresbossman)
Team New Zealand Announce Full Squad For Sayulita: Are They A Top 4 Contender?
The ISA team announcements keep rolling in, with New Zealand the latest to throw their hat in the ring for the Showdown In Sayulita. There's plenty of talent in this lineup, with the Kiwis a serious contender for the overall Team Champions top four podium at next month's ISA World Stand Up Paddle and Paddleboard Championship in Mexico.
Leading the charge in the SUP racing events is NZ national champ Armie Armstrong, Olympic windsurfer JP Tobin and young gun Ollie Houghton. All three of these guys will give the more fancied international names a serious push next month. On the women's side it'll be 2014 Molokai podium-getter Penelope Strickland holding down the fort in both the distance and course events.
Annabel Anderson, New Zealand's most famous SUP export, was nominated but has a conflicting schedule – she'll be in Austin, Texas that week for the big "Annabel Anderson/SUP ATX Paddle For Humanity" event.
The team will be buoyed by the inclusion of Daniel Kereopa, who famously defeated Kai Lenny in the SUP surfing on his way to the overall Ultimate Waterman title last month.
Team New Zealand will also benefit from having several reserves in place. This covers any potential injuries or illness and is a luxury few teams enjoy. However the real card up New Zealand's sleeve may be its fleet of super strong prone paddlers….

New Zealand gave even the mighty Aussie paddlers a scare in Nicaragura last year and seem to be returning with an even stronger lineup this time round. Given the very large (some would say oversized) weighting that prone paddling has in the overall points system, New Zealand is a legitimate threat on the teams leaderboard.
I doubt anyone will keep up with the ruling triumvirate (Australia/Hawaii/USA), however I think NZ start slight favourites to fill the 4th and final spot on the Team Champions podium. Don't mention "4th place" to the Kiwis though, as I'm sure they'll be confident they can knock off their Trans-Tasman and Trans-Pacific rivals.
Outside of the Big Three, New Zealand's stiffest competition will likely be France (whose big question mark is whether their champion lifeguards join the team or not), host country Mexico, who'll be extremely motivated to make the Top 4 podium, and the always-passionate Brazilian contingent, who finished 3rd overall last year.
So as we remarked in announcing Team USA, Team Hawaii and Team Australia, this year's ISA Worlds look set to be next level…
Team New Zealand @ the 2015 Worlds
Men's SUP Racing
Armie Armstrong (Course + Distance)
Ollie Houghton (Course + reserve for distance)
JP Tobin (Distance + reserve for course)
Women's SUP Racing
Penelope Strickland (Course + Distance)
Men's SUP Surfing
Shayne Baxter
Daniel Kereopa
Braedon Williams (reserve)
Women's SUP Surfing
Alexis Poulter
Men's Prone
Cory Taylor (Course + Distance)
Sam Shergold (Distance)
Andrew Newton (Course)
Women's Prone
Katrina Madill (Distance)
Ashley Cochrane (reserve)
Jasmine Smith (Course)
Team Manager: Barbara Newton
Assistant Team Manager: Rosie Houghton