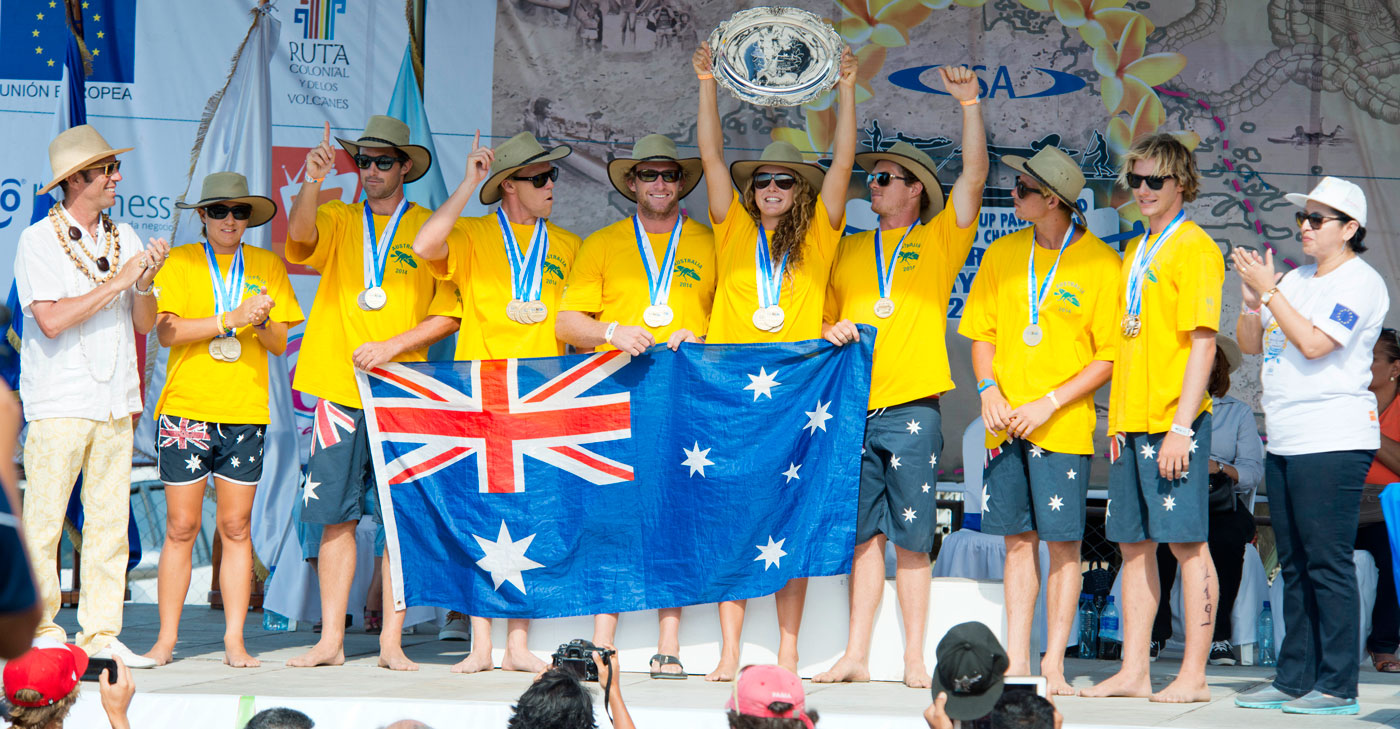 April 9, 2015
by Christopher Parker (@wheresbossman)
Australia Reveals Team Lineup For The Worlds – Can They Go Four In A Row?
And the pieces continue to fall into place for the ISA World Championship puzzle: The mighty Team Australia has just confirmed its lineup for next month's showdown in Sayulita, and as usual it's looking very solid.
After Team USA and Team Hawaii recently revealed uber squads, the pressure will be on Team Australia more than ever as they seek to retain the title they've never lost.
Leading the charge on the SUP racing side of the draw is world #9 Beau O'Brian, who'll be joined by the highly under rated Toby Cracknell and 2013 Molokai champion Terrene Black. On the prone racing side, Australia's official gold medal collector Jordie Mercer will once again torment the opposition, while Rhys Burrows returns alongside newcomer Lachie Lansdown.
The squad is rounded out with some world class SUP surfing talent, including former members Beau Nixon and Jackson Close along with first timer Emma Webb, which all means that Team Australia will be very hard to stop.
Team Australia @ the 2015 Worlds
Men's SUP Racing
Beau O'Brian (Distance + Course)
Toby Cracknell (Distance + Course)
Women's SUP Racing
Terrene Black (Distance + Course)
Men's SUP Surfing
Beau Nixon (Team Captain)
Jackson Close
Women's SUP Surfing
Emma Webb
Men's Prone
Rhys Burrows
Lachie Lansdown
Women's Prone
Jordie Mercer
Beau Nixon, a well respected stalwart of past ISA campaigns, has been handed the captain's hat and responsibility for rallying the troops as the Green & Gold face an unprecedented assault from the Hawaiians, Americans and several other top paddling nations. Australia totally dominated this event from 2012 to 2014, however the 2015 edition of the Worlds sees a whole new level of elite competition.
The daunting task of taking on Danny, Connor, Zane, Mo, Titou, Casper, Slater, and many other top names in the SUP racing, rests with Toby and debutante Beau O'Brian. Toby retained his spot after winning the course race at the 2014 Surfing Australia National SUP Titles (ahead of a very classy field), while Beau took the distance title on the same weekend.
Both of these guys are in good form and will be confident of featuring among the medals in Sayulita. Toby could easily upset his better known rivals, while Beau has enjoyed a string of big distance race results over the past six months. The Queenslander scored a third place finish behind Danny Ching and Travis Grant at the 2014 BOP Distance Race, before a pair of wins over Travis at home in Aus late last year.
Travis, who now lives in Hawaii, missed the National Titles last October and was therefore ineligible for selection. Jake Jensen was offered a spot in the distance race, following his runner-up finish to Beau at the Aussies, however he declined the offer. In a cruel twist, Jake said "no" only because he was scheduled for two draining trips in the lead up to Mexico: The world series races in Brazil and Dubai, both of which have been canceled.
Team Australia's hero from 2014, Shakira Westdorp, was pipped by the absolute narrowest of margins in the 2014 Aussie Titles surfing final, which paves the way for Emma Webb to make her debut.
Terrene will fly the Aussie flag for the first time in the women's SUP racing events. The New South Welshman famously won the 2013 Molokai-2-Oahu race ahead of more fancied rivals, and she'll look to take this kind of fighting spirit to Sayulita next month. Terrene will need it, as she's up against a field that includes the likes of World #2 Candice Appleby and World #3 Lina Augaitis.
In fact the entire Aussie team will need to be on their game, with both Hawaii and the U.S. sending full strength squads for the first time. Throw in the SUP racing specialists from Mexico, France, Tahiti, Denmark, Brazil, South Africa, Canada, New Zealand, Japan, UK, Spain, Italy, Holland… you get the point. The 2015 Worlds will see a whole new level of competition.
Team Australia may still begin as slight favourites, largely due to their supreme dominance of the prone discipline that is critical to the overall team standings. However it's going to be an epic battle with the Hawaiians, led by Connor Baxter, Zane Schweitzer and Mo Freitas, and the U.S. contingent, which features Danny Ching, Candice Appleby, Slater Trout and Chuck Glynn. You really can't split these three teams on paper.
Bring on Sayulita, the ISA Worlds are going to be a great show this year…