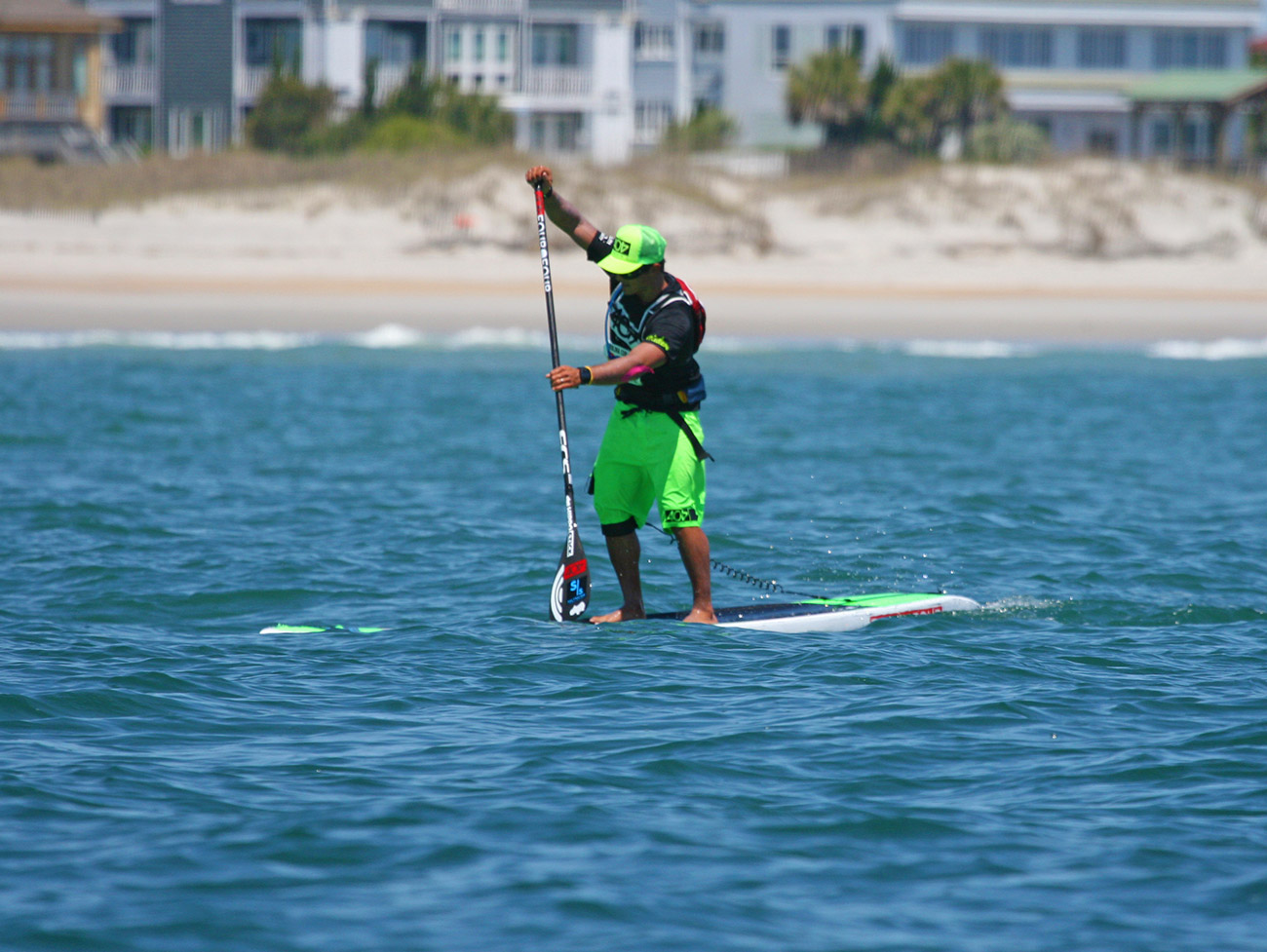 March 28, 2015
by Christopher Parker (@wheresbossman)
Danny Ching, Candice Appleby Set To Headline Team USA At The Worlds In May
Danny Ching and Candice Appleby are set to compete at the ISA World Stand Up Paddle and Paddleboard Championship for the first time, headlining a strong Team USA lineup. The duo will be joined in Sayulita, Mexico by 2014 team members Slater Trout and Chuck Glynn.
This is a huge boost for not only the Americans but the ISA Worlds in general.
Danny, who we currently rank #3 in the world but is widely considered the fastest/strongest paddler on the planet, is not only an instant favourite in every race he enters, the 404 front man also has one of the most recognisable names in the sport.
Meanwhile Candice is currently ranked #2 in the world and is perhaps the single most famous female in stand up paddling history.
So this is a huge coup for Team USA, who have struggled in the past to match Australia's all round dominance of this event. Though I should note this is not the official team announcement, this is just what I know so far. The official word is expected in a few days, however I'm absolutely certain the SUP racing lineup is already set.
The 2015 Worlds are happening in Sayulita, Mexico from May 10-17, and Team USA will be trying to go one better than their overall runner-up finish last year.
---
Team USA 2015
Men's SUP Racing
Danny Ching (distance)
Slater Trout (distance + course)
Chuck Glynn (course)
Women's SUP Racing
Candice Appleby (distance + course)
Men's Prone Racing
Shane Scoggins
Steve Shein
Women's Prone Racing
Carter Graves
Men's SUP Surfing
Sean Poynter
Dave Boehne
Women's SUP Surfing
Izzi Gomez
Team Management
Ian Cairns (surf coach)
Brody Welte (race coach)
Greg Cruse (head of Surfing America)
---
Danny will only be competing in the distance race and has to leave Mexico early for other commitments. Sounds like it was a struggle for him to fit this into his schedule at all – he's traveling for two weeks before it, a week after it and has his wife's birthday around the same time.
That leaves Slater Trout, perhaps the most patriotic paddler on the planet, to hold it down for Team USA in both the distance and course events. Slater went close to winning gold in the course race last year and will be joined once again by Chuck Glynn.
Chuck has been given a second chance to show his strength after what he readily admits were below-his-best results at ISA 2014. Chuck is one of the nicest guys in the sport but that hides a fiercely competitive streak – he'll be counting down the days until his shot at redemption.
Candice will compete in every event, which will include a spot in the all important Team Relay. That final race of the week counts for triple points and goes a long way to deciding overall team standings.
Two guys who were shortlisted for the race team but missed out on a spot are Ryan Helm and Chase Kosterlitz. And they can both count themselves somewhat unlucky. Chase is one of the strongest distance racers in the world and would be a walk-up starter for most teams, however his results are all on 14 footers and the ISA is a 12'6 event, which selectors focused on.
Meanwhile Ryan is in terrific form right now and would have been a contender in May. He also paddles the same course that we'll be using at the event every single day – Ryan has lived in Sayulita for much of the past 15 years. The decision not to pick him may come back to haunt the Americans though: Ryan is now free to focus on coaching rival Team Mexico, whose members come almost exclusively from Sayulita and will form one of the strongest teams in the event.
I believe Shae Foudy, a member of Team USA in 2014, and Fiona Wylde were also given consideration for the women's racing events.
Team USA managers admit they had no solid selection criteria to use this year, which made it difficult to compare individual athletes, however they have pledged a clear pathway to selection for 2016 and beyond.
But having too many good paddlers to choose from is a luxury problem that most teams can only dream of. Now Team USA, who've also selected a few world class SUP surfers and three very experienced prone paddlers, will be one of the hot favourites for the overall team trophy.
It's always going to be tough to overcome the Aussies, especially given the disproportionately large weighting prone paddling receives in this event (a discipline where the Aussies are virtually untouchable), however with Danny and Candice on board (pun intended), the contest should be closer than ever.
While Ian Cairns and Greg Cruse from Surfing America are still managing the team, Brody Welte has joined as the dedicated race coach and was almost entirely responsible for selecting the team. When I spoke with Ian, he largely credited Brody with having rebuilt the race team. Ian was also very excited about the prospects for not only the Americans, but the event in general this year. It echoes a sentiment I'm hearing more and more: That 2015 will be a real tipping point for the Worlds.
There has been a lot of work behind the scenes the past few months from a whole range of people, both within the ISA and out, to get the best paddlers to the start line in Mexico. The ISA have had an interesting first few years since their inaugural event in 2012, however I believe this 4th edition will see the Championship reach a new, far more legitimate level.
Not only are Danny and Candice very large additions, I'm almost fairly certain that Hawaii will be entering a team featuring the likes of Connor and Kai. Throw in Georges Cronsteadt competing for Tahiti, as well as the always-strong nations of Australia and France, and we're in for some fantastic competition.
Yes, the event still has some work to do (a LOT), but that's a debate for another time (perhaps next week?). For now it looks like the Worlds may finally be living up to its name.