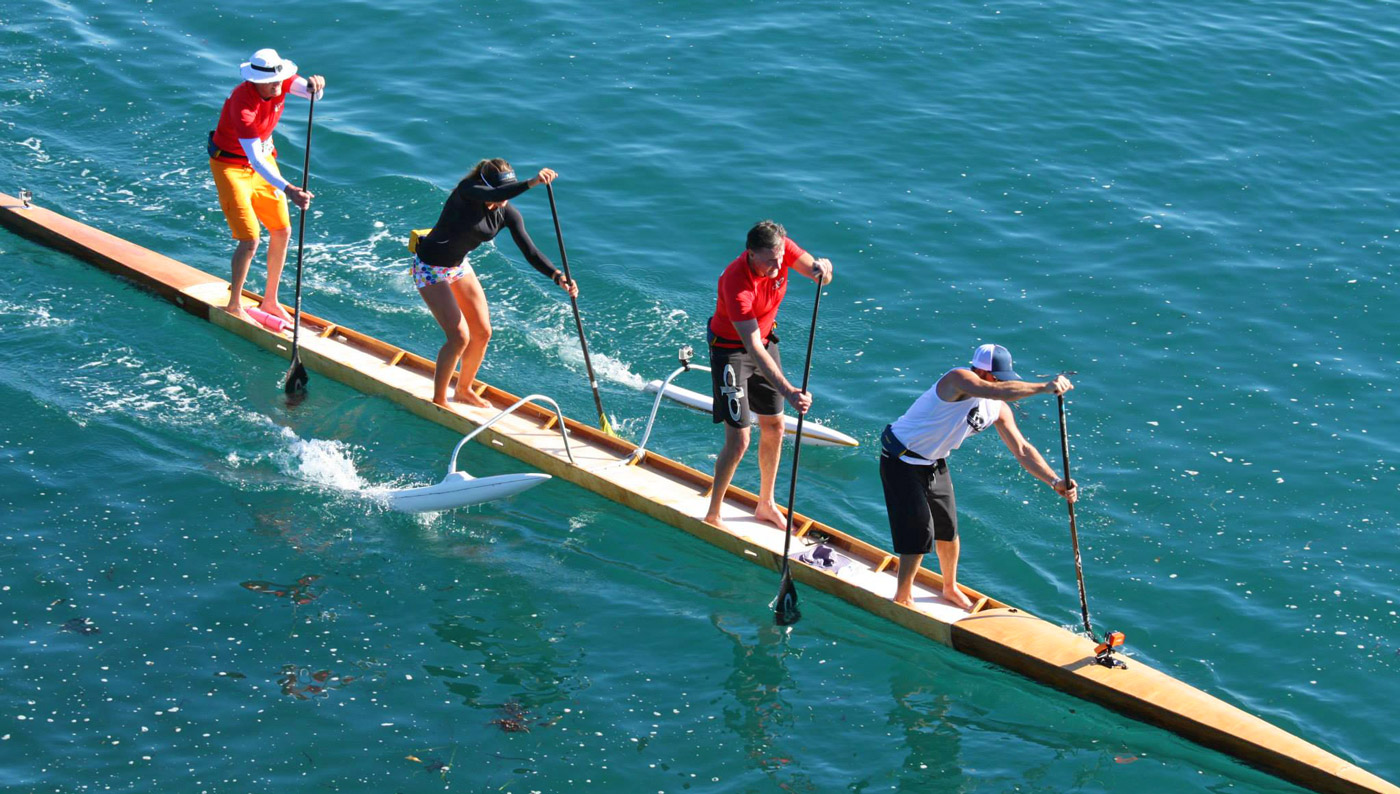 January 24, 2015
by Christopher Parker (@wheresbossman)
RESULTS: The Hanohano Race Attracts Over 500 Paddlers (And OMG That Board..!)

Results are in from today's massive Hanohano Huki Ocean Challenge down in Mission Bay, San Diego.
The Hanohano race, now in its 19th year, is one of the real gems on the racing calendar. This event always draws a big crowd and seems much more about having fun and getting out on the water than any kind of serious competition. It's one of those great community races that give our sport such a great foundation.
However it is still a race and there were some very fast paddlers out there today, with world #2 Candice Appleby the quickest of the women on her 12'6. Candice had some company today though, as Olympic gold medalist Krisztina Zur crossed only 3 seconds behind, while rising star Shae Foudy was a further 5 seconds adrift at the finish.
On the men's side it was one of the new names on the scene that saluted. Tamas Buday Jr, who just got his call up to the Canadian team for the ISA Worlds in Sayulita, took out the battle of the 14 footers ahead of world #13 Chase Koseterlitz, Noa Hopper and Chance Fielder. Everybody's favourite shaper/hipster/Instagrammer, Dave Boehne from Infinity boards, came home as the quickest 12'6.

While the Hanohano SUP Race is always a classic, this year it may have broken new ground. There were over 500 competitors in total across the SUP, prone, outrigger and surf ski divisions. There were a staggering 440 finishers in the short course race alone (there's also a 'Long Course' race at Hanohano, however that attracts a smaller field and is closed to SUPs).
Of those 440 finishers, a massive 302 were on stand up paddle boards. In fact there were a few more than 302, because a couple of the boards in this morning's race were carrying multiple paddlers. One in particular was carrying four…
"The Ark" – a monster of a creation from the DeBoer Brothers Dick and Dane, made its public debut at the Hanohano today and didn't disappoint. With Dick, Dane, Mike Vaughan and current world number one Annabel Anderson paddling in unison, The Ark took line hours in a time of 56 minutes 28 seconds.
This is the first time a multi-person SUP board has defeated all of the unlimited guys in the Hanohano race, with trophy collector Thomas Maximus having to settle for 2nd over the line today.
At 43.5 feet in length but just 21 inches in width, The Ark is surely the world's longest stand up paddle board. Imagine trying to ride a giant pencil… that's kinda what this thing must be like to paddle. Fortunately The Ark comes with a couple of outrigger canoe "amas" (stabilising arms) to make the whole show possible.
This is one of the coolest and funnest looking boards I've ever seen. Annabel Anderson was certainly impressed, commenting on Instagram that The Ark was the "Equal most fun I've ever had on a SUP board."

The start of today's Hanohano race was, in what has become something of a tradition, a bit "messy" to say the least. It's difficult to do an even water start in any race, let alone one with 400+ competitors. Though nobody suggested that took anything away from the race, with all reports saying the Hanohano has once again established itself as one of California's true staple races.
I had the Hanohano marked down as the world's 18th "Most Significant" Stand Up Paddle race of 2015, however in hindsight even that lofty ranking may have been a bit harsh. This truly does seem to be a magnificent event – no surprise considering the main organiser behind the scenes is Dan Van Dyck, aka the driving force behind the avalanche that is Stand Up For The Cure.
Anyway back to Mission Bay in San Diego, here are the full results from today's Hanohano short course race.
Check out BOGA's gallery on Facebook for some more pics. UPDATE: OnItPro have their usual five million shots posted as well – here's Gallery #1, Gallery #2 and Gallery #3.
---
RESULTS: 2015 Hanohano Huki Ocean Challenge – Short Course
[notdevice]Click "M/F" to switch between Men's and Women's Results
Click "Class" or "Division" to show results from the various board classes and age divisions
Click "Time" to reset the results

| # | Name | Time | M/F | Class | # | Division | # |
| --- | --- | --- | --- | --- | --- | --- | --- |
| 1 | DeBoer, DeBoer, Anderson, Vaughan | 0:56:28 | MF | Quad | 1 | 50-59 | 1 |
| 2 | Thomas Maximus | 0:57:05 | M | Unlimited | 1 | 40-49 | 1 |
| 3 | Tamas 'Tommy' Buday Jr. | 0:58:45 | M | 14' | 1 | 19-39 | 1 |
| 6 | Chance Fielder | 0:58:46 | M | 14' | 2 | 40-49 | 1 |
| 5 | Noa Hopper | 0:58:47 | M | 14' | 3 | 17-19 | 1 |
| 4 | Chase Kosterlitz | 0:58:48 | M | 14' | 4 | 19-39 | 2 |
| 7 | Daniel Russell | 0:59:12 | M | 14' | 5 | 19-39 | 3 |
| 8 | Scott Shoemaker | 0:59:52 | M | Unlimited | 2 | 40-49 | 2 |
| 9 | Dan Shoemaker | 1:00:07 | M | Unlimited | 3 | 40-49 | 3 |
| 10 | Ryan Murphy | 1:00:18 | M | 14' | 6 | 19-39 | 4 |
| 11 | Anthony Vela | 1:00:44 | M | 14' | 7 | 40-49 | 2 |
| 12 | Rob Rojas | 1:00:47 | M | 14' | 8 | 40-49 | 3 |
| 13 | Brent Campbell | 1:01:39 | M | 14' | 9 | 19-39 | 5 |
| 14 | Karl Ring | 1:01:45 | M | 14' | 10 | 50-59 | 1 |
| 15 | Dave Boehne | 1:02:00 | M | 12'6 | 1 | 19-39 | 1 |
| 16 | Zibi Wadzynski | 1:02:19 | M | 14' | 11 | 40-49 | 4 |
| 17 | Taylor Rambo | 1:02:23 | M | 14' | 12 | 19-39 | 6 |
| 18 | Jeramie Vaine | 1:02:28 | M | 14' | 13 | 19-39 | 7 |
| 19 | Tyler Schmuckle | 1:02:39 | M | 14' | 14 | 19-39 | 8 |
| 20 | Nick Scheel | 1:02:51 | M | 12'6 | 2 | U16 | 1 |
| 21 | Seth Springer | 1:02:52 | M | 14' | 15 | 19-39 | 9 |
| 22 | Rodney Ellis | 1:03:03 | M | 14' | 16 | 40-49 | 5 |
| 23 | David Meyler | 1:03:22 | M | 14' | 17 | 40-49 | 6 |
| 24 | Jared Vargas | 1:03:36 | M | Unlimited | 4 | 19-39 | 1 |
| 25 | Sean Pangelinan | 1:03:44 | M | 14' | 18 | 19-39 | 10 |
| 26 | Tyler Bashor | 1:03:47 | M | 12'6 | 3 | U16 | 2 |
| 27 | Max Fleming | 1:03:50 | M | 12'6 | 4 | 17-19 | 1 |
| 28 | Candice Appleby | 1:03:54 | F | F 12'6 | 1 | 19-39 | 1 |
| 29 | Krisztina Zur | 1:03:57 | F | F 12'6 | 2 | 19-39 | 2 |
| 30 | Shae Foudy | 1:04:02 | F | F 12'6 | 3 | 19-39 | 3 |
| 31 | Braly Joy | 1:04:20 | M | 14' | 19 | 40-49 | 7 |
| 32 | Ryan Knysh | 1:04:23 | M | 14' | 20 | 19-39 | 11 |
| 33 | Jedd Hasay | 1:04:24 | M | 14' | 21 | 19-39 | 12 |
| 34 | Michael Kelley | 1:04:34 | M | 14' | 22 | 40-49 | 8 |
| 35 | Dale Marnati | 1:05:05 | M | 14' | 23 | 60+ | 1 |
| 36 | Ron Remeyer | 1:05:31 | M | 14' | 24 | 50-59 | 2 |
| 37 | Eric Giddens | 1:05:35 | M | 12'6 | 5 | 40-49 | 1 |
| 38 | Michael Richards | 1:05:56 | M | 14' | 25 | 40-49 | 9 |
| 39 | Peggy Munoz, Lance Erickson | 1:06:01 | M | Tandem | 1 | 50-59 | 1 |
| 40 | Keith Meter | 1:06:08 | M | 12'6 | 6 | 40-49 | 2 |
| 41 | Eric Diggins | 1:06:14 | M | 12'6 | 7 | 40-49 | 3 |
| 42 | Mark Athanacio | 1:06:34 | M | 12'6 | 8 | 40-49 | 4 |
| 43 | Trevor Bashor | 1:06:37 | M | 12'6 | 9 | U16 | 3 |
| 44 | Ej Johnson | 1:07:04 | M | 12'6 | 10 | 50-59 | 1 |
| 45 | Matt Campbell | 1:07:06 | M | 14' | 26 | 40-49 | 10 |
| 46 | Haakon Hoyer Nielsen | 1:07:09 | M | 12'6 | 11 | U16 | 4 |
| 47 | Todd Drake | 1:07:17 | M | 14' | 27 | 40-49 | 11 |
| 48 | Jeremiah Murphy | 1:07:24 | M | 12'6 | 12 | 40-49 | 5 |
| 49 | Brad Rambo | 1:07:26 | M | 14' | 28 | 50-59 | 3 |
| 50 | Tyler Marshall | 1:07:29 | M | 12'6 | 13 | 19-39 | 2 |
| 51 | Robert Howson | 1:07:31 | M | 12'6 | 14 | 50-59 | 2 |
| 52 | Kevin Wakashige | 1:07:39 | M | 14' | 29 | 50-59 | 4 |
| 53 | Jake Clement | 1:07:42 | M | 14' | 30 | 19-39 | 13 |
| 54 | Patrick Cleveland | 1:07:57 | M | 12'6 | 15 | U16 | 5 |
| 55 | Derek Turner | 1:08:00 | M | 14' | 31 | 50-59 | 5 |
| 56 | Alan Chalom | 1:08:07 | M | 14' | 32 | 50-59 | 6 |
| 57 | Jeff Koch | 1:08:09 | M | Unlimited | 5 | 60+ | 1 |
| 58 | Erika Benitez | 1:08:11 | F | F 12'6 | 4 | U16 | 1 |
| 59 | Lexi Alston | 1:08:12 | F | F 12'6 | 5 | U16 | 2 |
| 60 | Dylan Goode | 1:08:18 | M | 14' | 33 | 17-19 | 2 |
| 61 | Justin Van Dyck | 1:08:21 | M | 12'6 | 16 | 40-49 | 6 |
| 62 | Dane Mcbride | 1:08:27 | M | 12'6 | 17 | 19-39 | 3 |
| 63 | John Bland | 1:08:34 | M | 14' | 34 | 60+ | 2 |
| 64 | Shawn Shamlou | 1:08:43 | M | 14' | 35 | 40-49 | 12 |
| 65 | Will Schmidt | 1:08:46 | M | 14' | 36 | 19-39 | 14 |
| 66 | Brad Kingsley | 1:08:57 | M | 14' | 37 | 40-49 | 13 |
| 67 | Greg Welch | 1:09:08 | M | 12'6 | 18 | 50-59 | 3 |
| 68 | Ryan Ekedal | 1:09:10 | M | 14' | 38 | 19-39 | 15 |
| 69 | Sean Sullivan | 1:09:14 | M | 14' | 39 | 50-59 | 7 |
| 70 | Kristin Thomas | 1:09:25 | F | F 12'6 | 6 | 50-59 | 1 |
| 71 | Mark Miyamoto | 1:09:36 | M | 12'6 | 19 | 19-39 | 4 |
| 72 | Mick Vollmer | 1:09:39 | M | 12'6 | 20 | 19-39 | 5 |
| 73 | Steven Vasquez | 1:09:46 | M | 14' | 40 | 40-49 | 14 |
| 74 | Tony Zandovskis | 1:09:52 | M | 12'6 | 21 | 40-49 | 7 |
| 75 | Karl Treiberg | 1:09:57 | M | 12'6 | 22 | 50-59 | 4 |
| 76 | Jeff Warner | 1:10:04 | M | 12'6 | 23 | 40-49 | 8 |
| 77 | Kristy Morris | 1:10:06 | F | F 12'6 | 7 | 19-39 | 4 |
| 78 | Ikaika Pidot | 1:10:14 | M | 12'6 | 24 | 19-39 | 6 |
| 79 | Matt Lennert | 1:10:19 | M | 14' | 41 | 40-49 | 15 |
| 80 | Ryan Maloney | 1:10:29 | M | 12'6 | 25 | U16 | 6 |
| 81 | Manny Vargas | 1:10:41 | M | 12'6 | 26 | 40-49 | 9 |
| 82 | Yann Lauletta | 1:10:45 | M | 12'6 | 27 | 19-39 | 7 |
| 83 | Matt Chebatoris | 1:10:48 | M | 14' | 42 | 40-49 | 16 |
| 84 | Danny Marron | 1:10:53 | F | F 12'6 | 8 | 19-39 | 5 |
| 85 | Norm Scheel | 1:11:01 | M | 14' | 43 | 40-49 | 17 |
| 86 | Adam Hart | 1:11:11 | M | Unlimited | 6 | 19-39 | 2 |
| 87 | Jennifer Polcer | 1:11:17 | F | F 14' | 1 | 19-39 | 1 |
| 88 | Michael Copley | 1:11:19 | M | 14' | 44 | 60+ | 3 |
| 89 | Carlos Perez | 1:11:29 | M | 14' | 45 | 19-39 | 16 |
| 90 | Stephen Baker | 1:11:43 | M | 12'6 | 28 | U16 | 7 |
| 91 | Brett Simpson | 1:11:49 | M | 14' | 46 | 19-39 | 17 |
| 92 | Jeff Sargeant | 1:11:51 | M | 14' | 47 | 60+ | 4 |
| 93 | Kelsa Gabehart | 1:11:55 | F | F 12'6 | 9 | 19-39 | 6 |
| 94 | Travis Cunningham | 1:12:01 | M | 14' | 48 | 19-39 | 18 |
| 95 | David Mallari | 1:12:07 | M | 14' | 49 | 40-49 | 18 |
| 96 | Ernie Villanueva | 1:12:15 | M | 14' | 50 | 50-59 | 8 |
| 97 | Rob Griffin | 1:12:19 | M | 12'6 | 29 | 40-49 | 10 |
| 98 | Giannisa Vecco | 1:12:22 | F | F 12'6 | 10 | 19-39 | 7 |
| 99 | John Stallone | 1:12:24 | M | Unlimited | 7 | 50-59 | 1 |
| 100 | Dale Goode | 1:12:26 | M | 14' | 51 | 50-59 | 9 |
| 101 | Tony Fajardo | 1:12:29 | M | 12'6 | 30 | 40-49 | 11 |
| 102 | Tony Forcier | 1:12:39 | M | 14' | 52 | 50-59 | 10 |
| 103 | Pete Bagoye | 1:12:46 | M | 14' | 53 | 50-59 | 11 |
| 104 | Mark Pighini | 1:12:49 | M | 14' | 54 | 50-59 | 12 |
| 105 | Lawrence Johnson | 1:12:54 | M | 12'6 | 31 | 50-59 | 5 |
| 106 | Matt Friedman | 1:12:57 | M | Surf | 1 | 50-59 | 1 |
| 107 | Court Fetter | 1:13:00 | M | 14' | 55 | 40-49 | 19 |
| 108 | Ray Nosse | 1:13:01 | M | 14' | 56 | 50-59 | 13 |
| 109 | Bill Randoll | 1:13:03 | M | 12'6 | 32 | 60+ | 1 |
| 110 | Garth Davis | 1:13:06 | M | 14' | 57 | 50-59 | 14 |
| 111 | Dwayne Bora | 1:13:08 | M | 14' | 58 | 50-59 | 15 |
| 112 | Eric Thompson | 1:13:15 | M | 14' | 59 | 60+ | 5 |
| 113 | Liko Mcbride | 1:13:24 | M | 12'6 | 33 | 17-19 | 2 |
| 114 | Rick Ranjo | 1:13:28 | M | 12'6 | 34 | 40-49 | 12 |
| 115 | Jeremy Decker | 1:13:30 | M | 12'6 | 35 | 19-39 | 8 |
| 116 | Kerstin Ouellet | 1:13:32 | F | F 12'6 | 11 | 40-49 | 1 |
| 117 | Karl Eugster | 1:13:34 | M | 12'6 | 36 | 50-59 | 6 |
| 118 | Erik Alston | 1:13:36 | M | 12'6 | 37 | 40-49 | 13 |
| 119 | Mykl Shannon | 1:13:44 | M | 12'6 | 38 | 40-49 | 14 |
| 120 | Cameron Fraser | 1:13:48 | M | 12'6 | 39 | 50-59 | 7 |
| 121 | Rosemary Vasquez | 1:13:55 | F | F 14' | 2 | 40-49 | 1 |
| 122 | David Shoemaker | 1:13:57 | M | 14' | 60 | 40-49 | 20 |
| 123 | Samson Grunwald | 1:13:59 | M | 14' | 61 | U16 | 1 |
| 124 | Dave Daum | 1:14:01 | M | 14' | 62 | 50-59 | 16 |
| 125 | Ruthy Vesler | 1:14:06 | F | F 12'6 | 12 | 19-39 | 8 |
| 126 | Yvonne Chavez | 1:14:24 | F | F 12'6 | 13 | 50-59 | 2 |
| 127 | Cole Vander Broek | 1:14:30 | M | 12'6 | 40 | U16 | 8 |
| 128 | Chris Moser | 1:14:36 | M | 14' | 63 | 19-39 | 19 |
| 129 | Jade Howson | 1:14:57 | F | F 12'6 | 14 | U16 | 3 |
| 130 | Nathan Parmentier | 1:14:59 | M | 14' | 64 | 19-39 | 20 |
| 131 | Maggie Adams | 1:15:01 | F | F 12'6 | 15 | 50-59 | 3 |
| 132 | Brian Stephens | 1:15:08 | M | 12'6 | 41 | 19-39 | 9 |
| 133 | Alexandria Higginson | 1:15:10 | F | F 12'6 | 16 | U16 | 4 |
| 134 | Gretchen Benedetto | 1:15:21 | F | F 12'6 | 17 | 50-59 | 4 |
| 135 | David Fune | 1:15:28 | M | 12'6 | 42 | 40-49 | 15 |
| 136 | Chelsea Wilder | 1:15:30 | F | F 12'6 | 18 | 19-39 | 9 |
| 137 | Thomas Good | 1:15:31 | M | 14' | 65 | 50-59 | 17 |
| 138 | Pat Ryan | 1:15:49 | M | 14' | 66 | 60+ | 6 |
| 139 | Juerg Geser | 1:16:12 | M | 14' | 67 | 40-49 | 21 |
| 140 | Jordan Mckee | 1:16:18 | M | Unlimited | 8 | 19-39 | 3 |
| 141 | Greg Renna | 1:16:22 | M | 14' | 68 | 50-59 | 18 |
| 142 | Susie Hopper | 1:16:31 | F | F 12'6 | 19 | 40-49 | 2 |
| 143 | Akoni Tenorio | 1:16:39 | M | 14' | 69 | 19-39 | 21 |
| 144 | Alley Miesch-nie | 1:16:45 | F | F 14' | 3 | 40-49 | 2 |
| 145 | Stephen Benkert | 1:16:52 | M | 12'6 | 43 | 19-39 | 10 |
| 146 | Helen Taylor | 1:16:55 | F | F 14' | 4 | 50-59 | 1 |
| 147 | Chris Sinatra | 1:17:00 | M | 14' | 70 | 40-49 | 22 |
| 148 | Raden Baldogo | 1:17:02 | M | 14' | 71 | 40-49 | 23 |
| 149 | Scott Cuda | 1:17:06 | M | 14' | 72 | 40-49 | 24 |
| 150 | Randy Strunk | 1:17:11 | M | 14' | 73 | 50-59 | 19 |
| 151 | Eric Enriquez | 1:17:14 | M | 12'6 | 44 | 19-39 | 11 |
| 152 | Peter Doody | 1:17:17 | M | 14' | 74 | 50-59 | 20 |
| 153 | Brennand Schoeffel | 1:17:34 | M | 14' | 75 | 40-49 | 25 |
| 154 | John Gates | 1:17:36 | M | 14' | 76 | 40-49 | 26 |
| 155 | Bill Carey | 1:17:38 | M | 14' | 77 | 40-49 | 27 |
| 156 | Esther Newman | 1:17:42 | F | F 12'6 | 20 | 60+ | 1 |
| 157 | Keagan Lamar | 1:17:48 | M | 12'6 | 45 | U16 | 9 |
| 158 | Rich D'souza | 1:17:53 | M | 14' | 78 | 50-59 | 21 |
| 159 | Todd Moffatt | 1:17:57 | M | 14' | 79 | 50-59 | 22 |
| 160 | Jenny Kingsley | 1:18:01 | F | F 12'6 | 21 | 40-49 | 3 |
| 161 | Richard Davidson | 1:18:03 | M | 14' | 80 | 60+ | 7 |
| 162 | Matthew Poth | 1:18:06 | M | 12'6 | 46 | 19-39 | 12 |
| 163 | Kai Dano | 1:18:09 | M | 14' | 81 | 50-59 | 23 |
| 164 | Elijah Schoenig | 1:18:17 | M | 12'6 | 47 | U16 | 10 |
| 165 | Trip Wood | 1:18:18 | M | 14' | 82 | 40-49 | 28 |
| 166 | Suzie Yeo | 1:18:22 | F | F 12'6 | 22 | 50-59 | 5 |
| 167 | Harold Fisher | 1:18:30 | M | 14' | 83 | 40-49 | 29 |
| 168 | Jared Bonnot | 1:18:34 | M | 12'6 | 48 | 19-39 | 13 |
| 169 | Sasha Unruh | 1:18:50 | M | Surf | 2 | 40-49 | 1 |
| 170 | Steffi Schulz | 1:19:02 | F | F 12'6 | 23 | 40-49 | 4 |
| 171 | Jeff Kauttu | 1:19:12 | M | 14' | 84 | 50-59 | 24 |
| 172 | John Geier | 1:19:30 | M | 14' | 85 | 50-59 | 25 |
| 173 | Jeff Lendrum | 1:19:39 | M | 12'6 | 49 | 50-59 | 8 |
| 174 | Zach Ott | 1:19:58 | M | 12'6 | 50 | 40-49 | 16 |
| 175 | Milo Hama | 1:20:02 | M | 14' | 86 | 50-59 | 26 |
| 176 | Michael Lester | 1:20:09 | M | 14' | 87 | 50-59 | 27 |
| 177 | Trevor Wessman-lavelle | 1:20:12 | M | 14' | 88 | 19-39 | 22 |
| 178 | Shannon Bannan | 1:20:22 | F | F 14' | 5 | 19-39 | 2 |
| 179 | Wayne Limm | 1:20:28 | M | Unlimited | 9 | 50-59 | 2 |
| 180 | Jim Craig | 1:20:31 | M | 14' | 89 | 60+ | 8 |
| 181 | Frankie Sevilleja | 1:20:43 | M | 14' | 90 | 40-49 | 30 |
| 182 | Steve Goebel | 1:20:46 | M | 14' | 91 | 60+ | 9 |
| 183 | Loraine Gruber | 1:20:50 | F | F 12'6 | 24 | 50-59 | 6 |
| 184 | Andy Hope | 1:20:58 | M | Surf | 3 | 40-49 | 2 |
| 185 | Terry Iles | 1:21:04 | M | 12'6 | 51 | 50-59 | 9 |
| 186 | Grant Heinz | 1:21:08 | M | 14' | 92 | 50-59 | 28 |
| 187 | Rich Landreth | 1:21:11 | M | 12'6 | 52 | 50-59 | 10 |
| 188 | Ron Mays | 1:21:15 | M | 14' | 93 | 40-49 | 31 |
| 189 | Tom Mccormack | 1:21:21 | M | Surf | 4 | 19-39 | 1 |
| 190 | Claudette Baker | 1:21:23 | F | F 12'6 | 25 | 40-49 | 5 |
| 191 | Lisa Hazelton | 1:21:26 | F | F 12'6 | 26 | 50-59 | 7 |
| 192 | Patricia Volger | 1:21:33 | F | F 12'6 | 27 | 40-49 | 6 |
| 193 | Susie Kiley | 1:21:38 | F | F 12'6 | 28 | 40-49 | 7 |
| 194 | Cindy Hull | 1:22:01 | F | F 12'6 | 29 | 50-59 | 8 |
| 195 | Mack Schmidt | 1:22:03 | M | Surf | 5 | 50-59 | 2 |
| 196 | Matix Springer | 1:22:07 | M | Surf | 6 | U16 | 1 |
| 197 | Terry Kipper | 1:22:11 | M | 12'6 | 53 | 60+ | 2 |
| 198 | Shonna Litton Brown | 1:22:39 | F | F 12'6 | 30 | 19-39 | 10 |
| 199 | Adam Bloomberg | 1:22:48 | M | 12'6 | 54 | 50-59 | 11 |
| 200 | Charles Webb | 1:22:54 | M | Adaptive | 1 | 40-49 | 1 |
| 201 | Conrad Rojas | 1:22:59 | M | 12'6 | 55 | U16 | 11 |
| 202 | Mark Geraghty | 1:23:05 | M | 14' | 94 | 60+ | 10 |
| 203 | Mike Guerrero | 1:23:08 | M | 12'6 | 56 | 50-59 | 12 |
| 204 | Tiffany Grunwald | 1:23:10 | F | F 12'6 | 31 | 40-49 | 8 |
| 205 | Jeff Bennett | 1:23:34 | M | 14' | 95 | 50-59 | 29 |
| 206 | Craig Meader | 1:23:38 | M | 14' | 96 | 50-59 | 30 |
| 207 | Jeanne Stavron | 1:23:53 | F | F 12'6 | 32 | 50-59 | 9 |
| 208 | Paul Gallo | 1:24:08 | M | 14' | 97 | 50-59 | 31 |
| 209 | Richard Davidson | 1:24:12 | M | 12'6 | 57 | 60+ | 3 |
| 210 | Tess Russell | 1:24:17 | F | F 12'6 | 33 | 19-39 | 11 |
| 211 | Scott Amos | 1:24:29 | M | 14' | 98 | 19-39 | 23 |
| 212 | Stephen Muller | 1:24:46 | M | 12'6 | 58 | 60+ | 4 |
| 213 | Paul Gagnon | 1:24:58 | M | 14' | 99 | 19-39 | 24 |
| 214 | Peter Simpson | 1:25:10 | M | 14' | 100 | 60+ | 11 |
| 215 | Chris Koerner | 1:25:15 | M | Surf | 7 | 50-59 | 3 |
| 216 | John Nordin | 1:25:17 | M | 12'6 | 59 | 40-49 | 17 |
| 217 | Mark Guthaus | 1:25:19 | M | 14' | 101 | 50-59 | 32 |
| 218 | Wayne Kuba | 1:25:23 | M | 14' | 102 | 50-59 | 33 |
| 219 | Harry Petersen | 1:25:27 | M | Unlimited | 10 | 50-59 | 3 |
| 220 | Kym Rodger | 1:25:33 | F | F 12'6 | 34 | 19-39 | 12 |
| 221 | Scott Dahlquist | 1:25:59 | M | Surf | 8 | 50-59 | 4 |
| 222 | Tyler Daigler | 1:26:04 | M | Surf | 9 | 19-39 | 2 |
| 223 | Stephanie Lindsay | 1:26:08 | F | F 12'6 | 35 | 19-39 | 13 |
| 224 | Gregory Crouse | 1:26:11 | M | Adaptive | 2 | 40-49 | 2 |
| 225 | Blake Dutter | 1:26:15 | M | Surf | 10 | 19-39 | 3 |
| 226 | Shad Eischen | 1:26:18 | M | Adaptive | 3 | 19-39 | 1 |
| 227 | Lisa Mclaughlin | 1:26:21 | F | F 12'6 | 36 | 40-49 | 9 |
| 228 | Bruce Wood | 1:26:28 | M | 12'6 | 60 | 60+ | 5 |
| 229 | Belah Ellis | 1:26:30 | F | F 12'6 | 37 | U16 | 5 |
| 230 | Pedro Miguel Parames | 1:26:31 | M | Unlimited | 11 | 19-39 | 4 |
| 231 | Jim Bannan | 1:26:33 | M | 12'6 | 61 | 50-59 | 13 |
| 232 | Wes Bishop | 1:26:38 | M | 12'6 | 62 | 19-39 | 14 |
| 233 | Sandy Davidson | 1:26:43 | F | F 12'6 | 38 | 50-59 | 10 |
| 234 | Jericho Poppler | 1:26:54 | F | F 14' | 6 | 60+ | 1 |
| 235 | Chris Wells | 1:27:04 | M | 14' | 103 | 50-59 | 34 |
| 236 | Alika Fajardo | 1:27:36 | M | 14' | 104 | 40-49 | 32 |
| 237 | Chris Bertolino | 1:27:46 | M | 12'6 | 63 | 19-39 | 15 |
| 238 | Steve Romeo | 1:27:49 | M | 12'6 | 64 | 40-49 | 18 |
| 239 | Janet Gavaldon | 1:28:02 | F | F 12'6 | 39 | 40-49 | 10 |
| 240 | Max Dugan | 1:28:15 | M | Surf | 11 | 19-39 | 4 |
| 241 | Thomas Arnold | 1:28:20 | M | 12'6 | 65 | 60+ | 6 |
| 242 | Chris Butler | 1:28:37 | M | 14' | 105 | 40-49 | 33 |
| 243 | Layton Petersen | 1:28:52 | M | Unlimited | 12 | 19-39 | 5 |
| 244 | Roy Thorne | 1:29:13 | M | 12'6 | 66 | 40-49 | 19 |
| 245 | Julie Timm | 1:29:16 | F | F 12'6 | 40 | 50-59 | 11 |
| 246 | Craig Kirk | 1:29:19 | M | 12'6 | 67 | 60+ | 7 |
| 247 | Lori Pighini | 1:29:23 | F | F 12'6 | 41 | 50-59 | 12 |
| 248 | Judith Walaszczyk | 1:29:29 | F | F 14' | 7 | 60+ | 2 |
| 249 | Mark Meierhoefer | 1:29:39 | M | Surf | 12 | 40-49 | 3 |
| 250 | Rose Calski | 1:29:58 | F | F 12'6 | 42 | 50-59 | 13 |
| 251 | Suzie Korth | 1:30:03 | F | F 12'6 | 43 | 50-59 | 14 |
| 252 | John O'hagan | 1:30:07 | M | 14' | 106 | 50-59 | 35 |
| 253 | Julie Garrido | 1:30:14 | F | F 14' | 8 | 40-49 | 3 |
| 254 | Kitsy Nipper | 1:30:56 | F | F 12'6 | 44 | U16 | 6 |
| 255 | Karen Hoyt | 1:31:02 | F | F 12'6 | 45 | 50-59 | 15 |
| 256 | Johanna Way | 1:31:31 | F | F Surf | 1 | 19-39 | 1 |
| 257 | Nate Gabehart | 1:31:36 | M | 12'6 | 68 | 40-49 | 20 |
| 258 | Cheryl Mcmurray | 1:31:47 | F | F Surf | 2 | 50-59 | 1 |
| 259 | Brenda Yanoschik | 1:32:19 | F | F 12'6 | 46 | 50-59 | 16 |
| 260 | James Yanoschik | 1:32:22 | M | 12'6 | 69 | 50-59 | 14 |
| 261 | Ruth Monahan-smith | 1:32:26 | F | F 12'6 | 47 | 50-59 | 17 |
| 262 | Hoku Agbayani | 1:32:34 | M | 14' | 107 | 40-49 | 34 |
| 263 | Charles Wright | 1:32:42 | M | 14' | 108 | 19-39 | 25 |
| 264 | Phillip Poth | 1:32:48 | M | 14' | 109 | 60+ | 12 |
| 265 | Rich Carreon | 1:33:01 | M | 12'6 | 70 | 40-49 | 21 |
| 266 | Olivia Poth | 1:33:16 | F | F 12'6 | 48 | 19-39 | 14 |
| 267 | Bill Walsh | 1:33:40 | M | Surf | 13 | 40-49 | 4 |
| 268 | Suzi Demaio-Donovan | 1:33:44 | F | F 12'6 | 49 | 40-49 | 11 |
| 269 | Alexis Lujan | 1:34:17 | F | F 12'6 | 50 | 19-39 | 15 |
| 270 | Patricia Barry | 1:34:34 | F | F 12'6 | 51 | 40-49 | 12 |
| 271 | Arvin Quiros | 1:34:43 | M | Surf | 14 | 19-39 | 5 |
| 272 | Bryant Della | 1:34:47 | M | Surf | 15 | 50-59 | 5 |
| 273 | Genevieve Kalt | 1:35:09 | F | F 12'6 | 52 | 19-39 | 16 |
| 274 | Veronica Kingsbury | 1:35:12 | F | F 12'6 | 53 | 40-49 | 13 |
| 275 | Chet Carney Ii | 1:36:51 | M | 12'6 | 71 | 50-59 | 15 |
| 276 | Suzanne Hawkins | 1:37:42 | F | F 12'6 | 54 | 60+ | 2 |
| 277 | Christophe Chevallier | 1:37:47 | M | 12'6 | 72 | 50-59 | 16 |
| 278 | Truitt Layman | 1:38:11 | M | Adaptive | 4 | 19-39 | 2 |
| 279 | Patricia Ochenduszko | 1:38:29 | F | F 14' | 9 | 50-59 | 2 |
| 280 | Derrick Villa | 1:38:35 | M | 12'6 | 73 | 19-39 | 16 |
| 281 | Jason Gonzales | 1:39:44 | M | 12'6 | 74 | 40-49 | 22 |
| 282 | Gavin Landreth | 1:40:02 | M | 12'6 | 75 | 19-39 | 17 |
| 283 | Michelle Renaud | 1:40:11 | F | F 12'6 | 55 | 40-49 | 14 |
| 284 | Alida Ramganesh | 1:40:18 | F | F 12'6 | 56 | 40-49 | 15 |
| 285 | Lance Roberts | 1:42:23 | M | 14' | 110 | 50-59 | 36 |
| 286 | Tamara Reed | 1:42:33 | F | F 14' | 10 | 50-59 | 3 |
| 287 | Ron Adelhelm | 1:43:31 | M | Surf | 16 | 50-59 | 6 |
| 288 | Sarah Eishen | 1:43:47 | F | F 12'6 | 57 | 40-49 | 16 |
| 289 | Michelle Bradley | 1:44:03 | F | F Surf | 3 | 40-49 | 1 |
| 290 | Shane Hanner | 1:44:38 | M | Surf | 17 | 19-39 | 6 |
| 291 | Viviana Pinilla | 1:44:53 | F | F 12'6 | 58 | 50-59 | 18 |
| 292 | Sandi Gates | 1:47:20 | F | F 14' | 11 | 50-59 | 4 |
| 293 | Cheryl Nolan | 1:49:31 | F | F Surf | 4 | 40-49 | 2 |
| 294 | Mary Mccarey | 1:50:03 | F | F Surf | 5 | 60+ | 1 |
| 295 | Nancy Eaton | 1:50:10 | F | F 12'6 | 59 | 50-59 | 19 |
| 296 | Inga Gleason | 1:52:06 | F | F Surf | 6 | 50-59 | 2 |
| 297 | Katie Miller | 2:00:35 | F | F Surf | 7 | 19-39 | 2 |
| 298 | Lauren Foulger | 2:00:45 | F | F Surf | 8 | 19-39 | 3 |
| 299 | Debra Arnold | 2:01:04 | F | F Surf | 9 | 60+ | 2 |
| 300 | Mike Nguyen | 2:02:24 | M | Surf | 18 | 19-39 | 7 |
| 301 | Jolene Vermillion | 2:02:31 | F | F Surf | 10 | 19-39 | 4 |
| 302 | Mike Donohue | 2:04:00 | M | Adaptive | 5 | 60+ | 1 |
[/notdevice][device]
| # | Name | Time | Class |
| --- | --- | --- | --- |
| 1 | DeBoer, DeBoer, Anderson, Vaughan | 0:56:28 | Quad |
| 2 | Thomas Maximus | 0:57:05 | Unlimited |
| 3 | Tamas 'Tommy' Buday Jr. | 0:58:45 | 14' |
| 6 | Chance Fielder | 0:58:46 | 14' |
| 5 | Noa Hopper | 0:58:47 | 14' |
| 4 | Chase Kosterlitz | 0:58:48 | 14' |
| 7 | Daniel Russell | 0:59:12 | 14' |
| 8 | Scott Shoemaker | 0:59:52 | Unlimited |
| 9 | Dan Shoemaker | 1:00:07 | Unlimited |
| 10 | Ryan Murphy | 1:00:18 | 14' |
| 11 | Anthony Vela | 1:00:44 | 14' |
| 12 | Rob Rojas | 1:00:47 | 14' |
| 13 | Brent Campbell | 1:01:39 | 14' |
| 14 | Karl Ring | 1:01:45 | 14' |
| 15 | Dave Boehne | 1:02:00 | 12'6 |
| 16 | Zibi Wadzynski | 1:02:19 | 14' |
| 17 | Taylor Rambo | 1:02:23 | 14' |
| 18 | Jeramie Vaine | 1:02:28 | 14' |
| 19 | Tyler Schmuckle | 1:02:39 | 14' |
| 20 | Nick Scheel | 1:02:51 | 12'6 |
| 21 | Seth Springer | 1:02:52 | 14' |
| 22 | Rodney Ellis | 1:03:03 | 14' |
| 23 | David Meyler | 1:03:22 | 14' |
| 24 | Jared Vargas | 1:03:36 | Unlimited |
| 25 | Sean Pangelinan | 1:03:44 | 14' |
| 26 | Tyler Bashor | 1:03:47 | 12'6 |
| 27 | Max Fleming | 1:03:50 | 12'6 |
| 28 | Candice Appleby | 1:03:54 | F 12'6 |
| 29 | Krisztina Zur | 1:03:57 | F 12'6 |
| 30 | Shae Foudy | 1:04:02 | F 12'6 |
| 31 | Braly Joy | 1:04:20 | 14' |
| 32 | Ryan Knysh | 1:04:23 | 14' |
| 33 | Jedd Hasay | 1:04:24 | 14' |
| 34 | Michael Kelley | 1:04:34 | 14' |
| 35 | Dale Marnati | 1:05:05 | 14' |
| 36 | Ron Remeyer | 1:05:31 | 14' |
| 37 | Eric Giddens | 1:05:35 | 12'6 |
| 38 | Michael Richards | 1:05:56 | 14' |
| 39 | Peggy Munoz, Lance Erickson | 1:06:01 | Tandem |
| 40 | Keith Meter | 1:06:08 | 12'6 |
| 41 | Eric Diggins | 1:06:14 | 12'6 |
| 42 | Mark Athanacio | 1:06:34 | 12'6 |
| 43 | Trevor Bashor | 1:06:37 | 12'6 |
| 44 | Ej Johnson | 1:07:04 | 12'6 |
| 45 | Matt Campbell | 1:07:06 | 14' |
| 46 | Haakon Hoyer Nielsen | 1:07:09 | 12'6 |
| 47 | Todd Drake | 1:07:17 | 14' |
| 48 | Jeremiah Murphy | 1:07:24 | 12'6 |
| 49 | Brad Rambo | 1:07:26 | 14' |
| 50 | Tyler Marshall | 1:07:29 | 12'6 |
| 51 | Robert Howson | 1:07:31 | 12'6 |
| 52 | Kevin Wakashige | 1:07:39 | 14' |
| 53 | Jake Clement | 1:07:42 | 14' |
| 54 | Patrick Cleveland | 1:07:57 | 12'6 |
| 55 | Derek Turner | 1:08:00 | 14' |
| 56 | Alan Chalom | 1:08:07 | 14' |
| 57 | Jeff Koch | 1:08:09 | Unlimited |
| 58 | Erika Benitez | 1:08:11 | F 12'6 |
| 59 | Lexi Alston | 1:08:12 | F 12'6 |
| 60 | Dylan Goode | 1:08:18 | 14' |
| 61 | Justin Van Dyck | 1:08:21 | 12'6 |
| 62 | Dane Mcbride | 1:08:27 | 12'6 |
| 63 | John Bland | 1:08:34 | 14' |
| 64 | Shawn Shamlou | 1:08:43 | 14' |
| 65 | Will Schmidt | 1:08:46 | 14' |
| 66 | Brad Kingsley | 1:08:57 | 14' |
| 67 | Greg Welch | 1:09:08 | 12'6 |
| 68 | Ryan Ekedal | 1:09:10 | 14' |
| 69 | Sean Sullivan | 1:09:14 | 14' |
| 70 | Kristin Thomas | 1:09:25 | F 12'6 |
| 71 | Mark Miyamoto | 1:09:36 | 12'6 |
| 72 | Mick Vollmer | 1:09:39 | 12'6 |
| 73 | Steven Vasquez | 1:09:46 | 14' |
| 74 | Tony Zandovskis | 1:09:52 | 12'6 |
| 75 | Karl Treiberg | 1:09:57 | 12'6 |
| 76 | Jeff Warner | 1:10:04 | 12'6 |
| 77 | Kristy Morris | 1:10:06 | F 12'6 |
| 78 | Ikaika Pidot | 1:10:14 | 12'6 |
| 79 | Matt Lennert | 1:10:19 | 14' |
| 80 | Ryan Maloney | 1:10:29 | 12'6 |
| 81 | Manny Vargas | 1:10:41 | 12'6 |
| 82 | Yann Lauletta | 1:10:45 | 12'6 |
| 83 | Matt Chebatoris | 1:10:48 | 14' |
| 84 | Danny Marron | 1:10:53 | F 12'6 |
| 85 | Norm Scheel | 1:11:01 | 14' |
| 86 | Adam Hart | 1:11:11 | Unlimited |
| 87 | Jennifer Polcer | 1:11:17 | F 14' |
| 88 | Michael Copley | 1:11:19 | 14' |
| 89 | Carlos Perez | 1:11:29 | 14' |
| 90 | Stephen Baker | 1:11:43 | 12'6 |
| 91 | Brett Simpson | 1:11:49 | 14' |
| 92 | Jeff Sargeant | 1:11:51 | 14' |
| 93 | Kelsa Gabehart | 1:11:55 | F 12'6 |
| 94 | Travis Cunningham | 1:12:01 | 14' |
| 95 | David Mallari | 1:12:07 | 14' |
| 96 | Ernie Villanueva | 1:12:15 | 14' |
| 97 | Rob Griffin | 1:12:19 | 12'6 |
| 98 | Giannisa Vecco | 1:12:22 | F 12'6 |
| 99 | John Stallone | 1:12:24 | Unlimited |
| 100 | Dale Goode | 1:12:26 | 14' |
| 101 | Tony Fajardo | 1:12:29 | 12'6 |
| 102 | Tony Forcier | 1:12:39 | 14' |
| 103 | Pete Bagoye | 1:12:46 | 14' |
| 104 | Mark Pighini | 1:12:49 | 14' |
| 105 | Lawrence Johnson | 1:12:54 | 12'6 |
| 106 | Matt Friedman | 1:12:57 | Surf |
| 107 | Court Fetter | 1:13:00 | 14' |
| 108 | Ray Nosse | 1:13:01 | 14' |
| 109 | Bill Randoll | 1:13:03 | 12'6 |
| 110 | Garth Davis | 1:13:06 | 14' |
| 111 | Dwayne Bora | 1:13:08 | 14' |
| 112 | Eric Thompson | 1:13:15 | 14' |
| 113 | Liko Mcbride | 1:13:24 | 12'6 |
| 114 | Rick Ranjo | 1:13:28 | 12'6 |
| 115 | Jeremy Decker | 1:13:30 | 12'6 |
| 116 | Kerstin Ouellet | 1:13:32 | F 12'6 |
| 117 | Karl Eugster | 1:13:34 | 12'6 |
| 118 | Erik Alston | 1:13:36 | 12'6 |
| 119 | Mykl Shannon | 1:13:44 | 12'6 |
| 120 | Cameron Fraser | 1:13:48 | 12'6 |
| 121 | Rosemary Vasquez | 1:13:55 | F 14' |
| 122 | David Shoemaker | 1:13:57 | 14' |
| 123 | Samson Grunwald | 1:13:59 | 14' |
| 124 | Dave Daum | 1:14:01 | 14' |
| 125 | Ruthy Vesler | 1:14:06 | F 12'6 |
| 126 | Yvonne Chavez | 1:14:24 | F 12'6 |
| 127 | Cole Vander Broek | 1:14:30 | 12'6 |
| 128 | Chris Moser | 1:14:36 | 14' |
| 129 | Jade Howson | 1:14:57 | F 12'6 |
| 130 | Nathan Parmentier | 1:14:59 | 14' |
| 131 | Maggie Adams | 1:15:01 | F 12'6 |
| 132 | Brian Stephens | 1:15:08 | 12'6 |
| 133 | Alexandria Higginson | 1:15:10 | F 12'6 |
| 134 | Gretchen Benedetto | 1:15:21 | F 12'6 |
| 135 | David Fune | 1:15:28 | 12'6 |
| 136 | Chelsea Wilder | 1:15:30 | F 12'6 |
| 137 | Thomas Good | 1:15:31 | 14' |
| 138 | Pat Ryan | 1:15:49 | 14' |
| 139 | Juerg Geser | 1:16:12 | 14' |
| 140 | Jordan Mckee | 1:16:18 | Unlimited |
| 141 | Greg Renna | 1:16:22 | 14' |
| 142 | Susie Hopper | 1:16:31 | F 12'6 |
| 143 | Akoni Tenorio | 1:16:39 | 14' |
| 144 | Alley Miesch-nie | 1:16:45 | F 14' |
| 145 | Stephen Benkert | 1:16:52 | 12'6 |
| 146 | Helen Taylor | 1:16:55 | F 14' |
| 147 | Chris Sinatra | 1:17:00 | 14' |
| 148 | Raden Baldogo | 1:17:02 | 14' |
| 149 | Scott Cuda | 1:17:06 | 14' |
| 150 | Randy Strunk | 1:17:11 | 14' |
| 151 | Eric Enriquez | 1:17:14 | 12'6 |
| 152 | Peter Doody | 1:17:17 | 14' |
| 153 | Brennand Schoeffel | 1:17:34 | 14' |
| 154 | John Gates | 1:17:36 | 14' |
| 155 | Bill Carey | 1:17:38 | 14' |
| 156 | Esther Newman | 1:17:42 | F 12'6 |
| 157 | Keagan Lamar | 1:17:48 | 12'6 |
| 158 | Rich D'souza | 1:17:53 | 14' |
| 159 | Todd Moffatt | 1:17:57 | 14' |
| 160 | Jenny Kingsley | 1:18:01 | F 12'6 |
| 161 | Richard Davidson | 1:18:03 | 14' |
| 162 | Matthew Poth | 1:18:06 | 12'6 |
| 163 | Kai Dano | 1:18:09 | 14' |
| 164 | Elijah Schoenig | 1:18:17 | 12'6 |
| 165 | Trip Wood | 1:18:18 | 14' |
| 166 | Suzie Yeo | 1:18:22 | F 12'6 |
| 167 | Harold Fisher | 1:18:30 | 14' |
| 168 | Jared Bonnot | 1:18:34 | 12'6 |
| 169 | Sasha Unruh | 1:18:50 | Surf |
| 170 | Steffi Schulz | 1:19:02 | F 12'6 |
| 171 | Jeff Kauttu | 1:19:12 | 14' |
| 172 | John Geier | 1:19:30 | 14' |
| 173 | Jeff Lendrum | 1:19:39 | 12'6 |
| 174 | Zach Ott | 1:19:58 | 12'6 |
| 175 | Milo Hama | 1:20:02 | 14' |
| 176 | Michael Lester | 1:20:09 | 14' |
| 177 | Trevor Wessman-lavelle | 1:20:12 | 14' |
| 178 | Shannon Bannan | 1:20:22 | F 14' |
| 179 | Wayne Limm | 1:20:28 | Unlimited |
| 180 | Jim Craig | 1:20:31 | 14' |
| 181 | Frankie Sevilleja | 1:20:43 | 14' |
| 182 | Steve Goebel | 1:20:46 | 14' |
| 183 | Loraine Gruber | 1:20:50 | F 12'6 |
| 184 | Andy Hope | 1:20:58 | Surf |
| 185 | Terry Iles | 1:21:04 | 12'6 |
| 186 | Grant Heinz | 1:21:08 | 14' |
| 187 | Rich Landreth | 1:21:11 | 12'6 |
| 188 | Ron Mays | 1:21:15 | 14' |
| 189 | Tom Mccormack | 1:21:21 | Surf |
| 190 | Claudette Baker | 1:21:23 | F 12'6 |
| 191 | Lisa Hazelton | 1:21:26 | F 12'6 |
| 192 | Patricia Volger | 1:21:33 | F 12'6 |
| 193 | Susie Kiley | 1:21:38 | F 12'6 |
| 194 | Cindy Hull | 1:22:01 | F 12'6 |
| 195 | Mack Schmidt | 1:22:03 | Surf |
| 196 | Matix Springer | 1:22:07 | Surf |
| 197 | Terry Kipper | 1:22:11 | 12'6 |
| 198 | Shonna Litton Brown | 1:22:39 | F 12'6 |
| 199 | Adam Bloomberg | 1:22:48 | 12'6 |
| 200 | Charles Webb | 1:22:54 | Adaptive |
| 201 | Conrad Rojas | 1:22:59 | 12'6 |
| 202 | Mark Geraghty | 1:23:05 | 14' |
| 203 | Mike Guerrero | 1:23:08 | 12'6 |
| 204 | Tiffany Grunwald | 1:23:10 | F 12'6 |
| 205 | Jeff Bennett | 1:23:34 | 14' |
| 206 | Craig Meader | 1:23:38 | 14' |
| 207 | Jeanne Stavron | 1:23:53 | F 12'6 |
| 208 | Paul Gallo | 1:24:08 | 14' |
| 209 | Richard Davidson | 1:24:12 | 12'6 |
| 210 | Tess Russell | 1:24:17 | F 12'6 |
| 211 | Scott Amos | 1:24:29 | 14' |
| 212 | Stephen Muller | 1:24:46 | 12'6 |
| 213 | Paul Gagnon | 1:24:58 | 14' |
| 214 | Peter Simpson | 1:25:10 | 14' |
| 215 | Chris Koerner | 1:25:15 | Surf |
| 216 | John Nordin | 1:25:17 | 12'6 |
| 217 | Mark Guthaus | 1:25:19 | 14' |
| 218 | Wayne Kuba | 1:25:23 | 14' |
| 219 | Harry Petersen | 1:25:27 | Unlimited |
| 220 | Kym Rodger | 1:25:33 | F 12'6 |
| 221 | Scott Dahlquist | 1:25:59 | Surf |
| 222 | Tyler Daigler | 1:26:04 | Surf |
| 223 | Stephanie Lindsay | 1:26:08 | F 12'6 |
| 224 | Gregory Crouse | 1:26:11 | Adaptive |
| 225 | Blake Dutter | 1:26:15 | Surf |
| 226 | Shad Eischen | 1:26:18 | Adaptive |
| 227 | Lisa Mclaughlin | 1:26:21 | F 12'6 |
| 228 | Bruce Wood | 1:26:28 | 12'6 |
| 229 | Belah Ellis | 1:26:30 | F 12'6 |
| 230 | Pedro Miguel Parames | 1:26:31 | Unlimited |
| 231 | Jim Bannan | 1:26:33 | 12'6 |
| 232 | Wes Bishop | 1:26:38 | 12'6 |
| 233 | Sandy Davidson | 1:26:43 | F 12'6 |
| 234 | Jericho Poppler | 1:26:54 | F 14' |
| 235 | Chris Wells | 1:27:04 | 14' |
| 236 | Alika Fajardo | 1:27:36 | 14' |
| 237 | Chris Bertolino | 1:27:46 | 12'6 |
| 238 | Steve Romeo | 1:27:49 | 12'6 |
| 239 | Janet Gavaldon | 1:28:02 | F 12'6 |
| 240 | Max Dugan | 1:28:15 | Surf |
| 241 | Thomas Arnold | 1:28:20 | 12'6 |
| 242 | Chris Butler | 1:28:37 | 14' |
| 243 | Layton Petersen | 1:28:52 | Unlimited |
| 244 | Roy Thorne | 1:29:13 | 12'6 |
| 245 | Julie Timm | 1:29:16 | F 12'6 |
| 246 | Craig Kirk | 1:29:19 | 12'6 |
| 247 | Lori Pighini | 1:29:23 | F 12'6 |
| 248 | Judith Walaszczyk | 1:29:29 | F 14' |
| 249 | Mark Meierhoefer | 1:29:39 | Surf |
| 250 | Rose Calski | 1:29:58 | F 12'6 |
| 251 | Suzie Korth | 1:30:03 | F 12'6 |
| 252 | John O'hagan | 1:30:07 | 14' |
| 253 | Julie Garrido | 1:30:14 | F 14' |
| 254 | Kitsy Nipper | 1:30:56 | F 12'6 |
| 255 | Karen Hoyt | 1:31:02 | F 12'6 |
| 256 | Johanna Way | 1:31:31 | F Surf |
| 257 | Nate Gabehart | 1:31:36 | 12'6 |
| 258 | Cheryl Mcmurray | 1:31:47 | F Surf |
| 259 | Brenda Yanoschik | 1:32:19 | F 12'6 |
| 260 | James Yanoschik | 1:32:22 | 12'6 |
| 261 | Ruth Monahan-smith | 1:32:26 | F 12'6 |
| 262 | Hoku Agbayani | 1:32:34 | 14' |
| 263 | Charles Wright | 1:32:42 | 14' |
| 264 | Phillip Poth | 1:32:48 | 14' |
| 265 | Rich Carreon | 1:33:01 | 12'6 |
| 266 | Olivia Poth | 1:33:16 | F 12'6 |
| 267 | Bill Walsh | 1:33:40 | Surf |
| 268 | Suzi Demaio-Donovan | 1:33:44 | F 12'6 |
| 269 | Alexis Lujan | 1:34:17 | F 12'6 |
| 270 | Patricia Barry | 1:34:34 | F 12'6 |
| 271 | Arvin Quiros | 1:34:43 | Surf |
| 272 | Bryant Della | 1:34:47 | Surf |
| 273 | Genevieve Kalt | 1:35:09 | F 12'6 |
| 274 | Veronica Kingsbury | 1:35:12 | F 12'6 |
| 275 | Chet Carney Ii | 1:36:51 | 12'6 |
| 276 | Suzanne Hawkins | 1:37:42 | F 12'6 |
| 277 | Christophe Chevallier | 1:37:47 | 12'6 |
| 278 | Truitt Layman | 1:38:11 | Adaptive |
| 279 | Patricia Ochenduszko | 1:38:29 | F 14' |
| 280 | Derrick Villa | 1:38:35 | 12'6 |
| 281 | Jason Gonzales | 1:39:44 | 12'6 |
| 282 | Gavin Landreth | 1:40:02 | 12'6 |
| 283 | Michelle Renaud | 1:40:11 | F 12'6 |
| 284 | Alida Ramganesh | 1:40:18 | F 12'6 |
| 285 | Lance Roberts | 1:42:23 | 14' |
| 286 | Tamara Reed | 1:42:33 | F 14' |
| 287 | Ron Adelhelm | 1:43:31 | Surf |
| 288 | Sarah Eishen | 1:43:47 | F 12'6 |
| 289 | Michelle Bradley | 1:44:03 | F Surf |
| 290 | Shane Hanner | 1:44:38 | Surf |
| 291 | Viviana Pinilla | 1:44:53 | F 12'6 |
| 292 | Sandi Gates | 1:47:20 | F 14' |
| 293 | Cheryl Nolan | 1:49:31 | F Surf |
| 294 | Mary Mccarey | 1:50:03 | F Surf |
| 295 | Nancy Eaton | 1:50:10 | F 12'6 |
| 296 | Inga Gleason | 1:52:06 | F Surf |
| 297 | Katie Miller | 2:00:35 | F Surf |
| 298 | Lauren Foulger | 2:00:45 | F Surf |
| 299 | Debra Arnold | 2:01:04 | F Surf |
| 300 | Mike Nguyen | 2:02:24 | Surf |
| 301 | Jolene Vermillion | 2:02:31 | F Surf |
| 302 | Mike Donohue | 2:04:00 | Adaptive |
[/device]
(Raw results, including prone/surf ski/outrigger divisions, available on Paddle Guru)