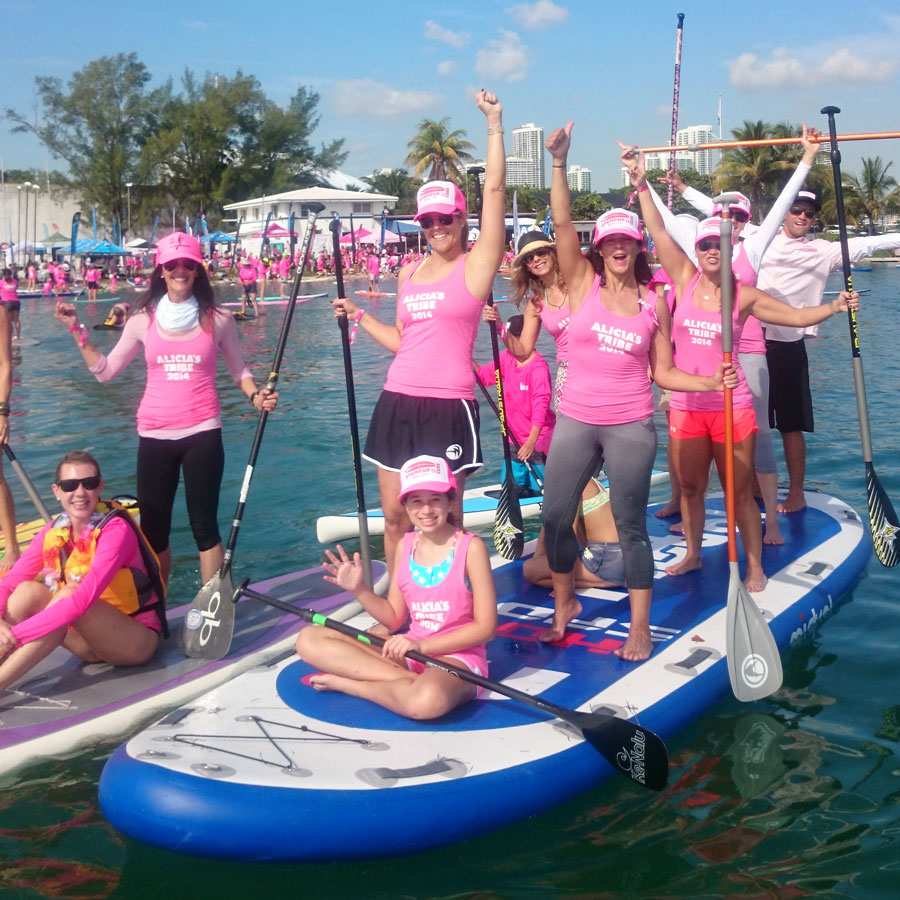 November 12, 2014
by Christopher Parker (@wheresbossman)
Sea Of Pink In Miami As Stand Up For The Cure Begins To Expand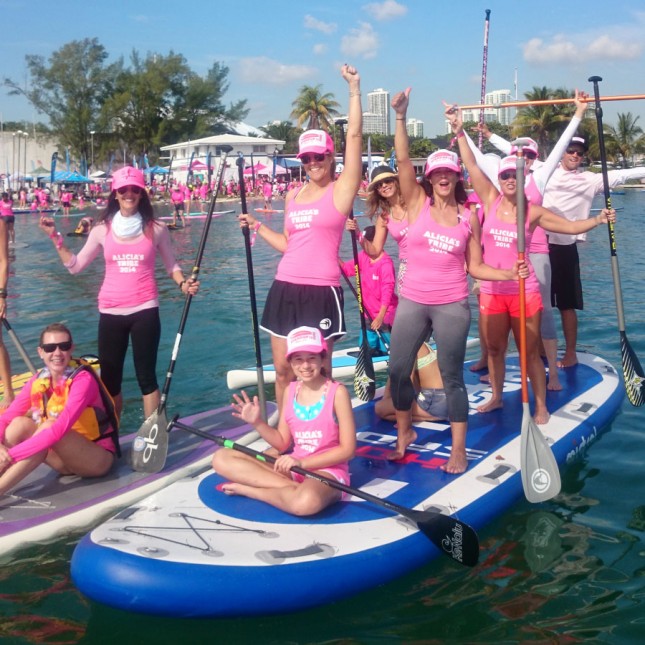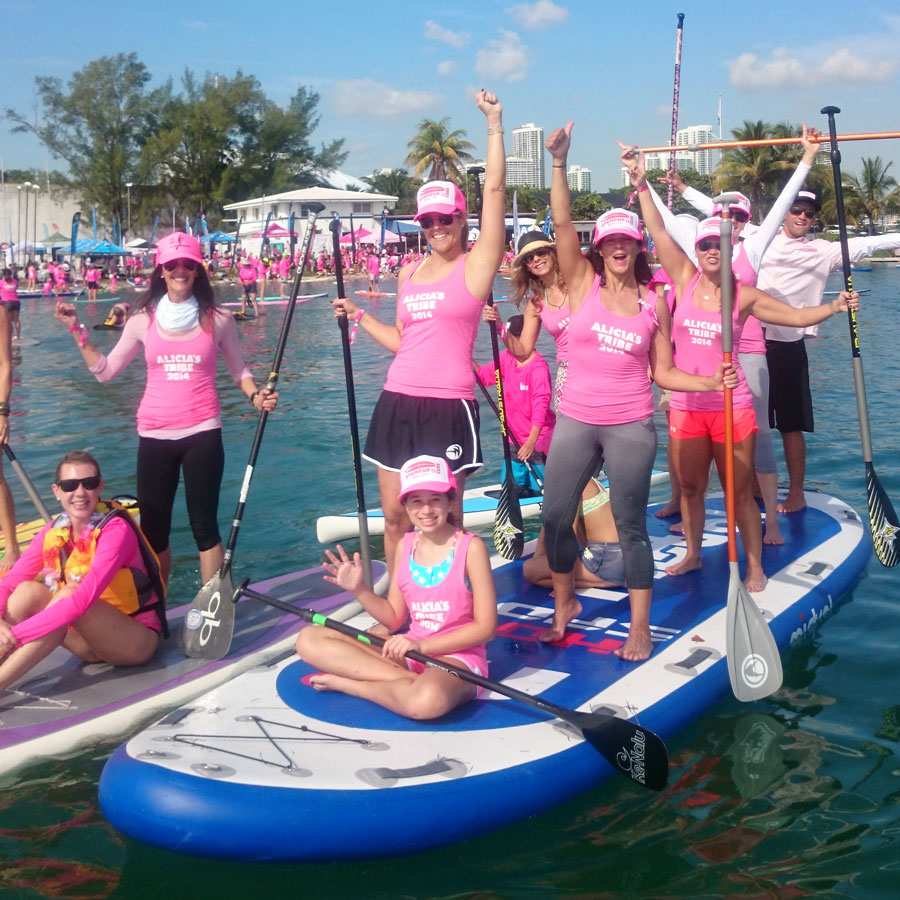 On Saturday I had the good fortune of being in Miami for Stand Up For The Cure, an annual charity SUP event that's raised over $300,000 (and will soon be raising a lot more) to support the Susan G. Komen foundation's fight against breast cancer.
Hundreds of paddlers, from total beginners to experienced athletes, showed up at the Miami Yacht Club to support and promote a good cause. The concept is fairly straightforward: You register, pay $30 or $40, get a pink shirt and go for a paddle.
The local SUP community turned out in force, Zane Schweitzer, Brennan Rose, Thomas Maximus and Oahu's surfing supremo, Kala Alexander, were all there to lend support, while Riviera Paddlesurf offered an endless selection of boards if you didn't have your own.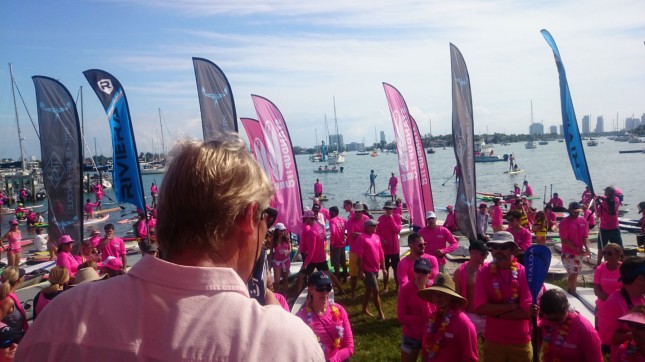 Zane and Brennan were giving free clinics all day, Kala gave the Hawaiian blessing to start the event, while the uber-competitive Maximus gave up his chance for yet-another-race-trophy in order to tow disabled campaigner Kerry Gruson around the course.
The weather gods also gave their blessing to the event: Blue skies and warm sunshine made it a perfect day for a paddle (though perhaps too perfect – I'm sure I wasn't the only one overheating during the race… I thought this was supposed to be November?!).
Though the highlight was the Paddle Circle, in which everyone did laps of the marina that turned the Yacht Club into a pink whirlpool. After that we had a fun 5k race, relays and demos.
http://instagram.com/p/vJp0-mSshV/
I believe the idea for Stand Up For The Cure was originally conceived by Riviera's Mike Muir and Dan Van Dyke (the "Hanohano" race organiser). Zane Schweitzer was another early supporter and has now become something of an ambassador for the event.
From its humble origins a few years ago, Stand Up For The Cure has grown at rapid speed – there were close to 1,000 paddlers at the California event earlier this year.
Saturday was the first official Stand Up For The Cure event held outside of California but it surely won't be the last: Organisers are already preparing for a multi-stop tour in 2015, with plans to turn this into a nationwide (and eventually, international) festival.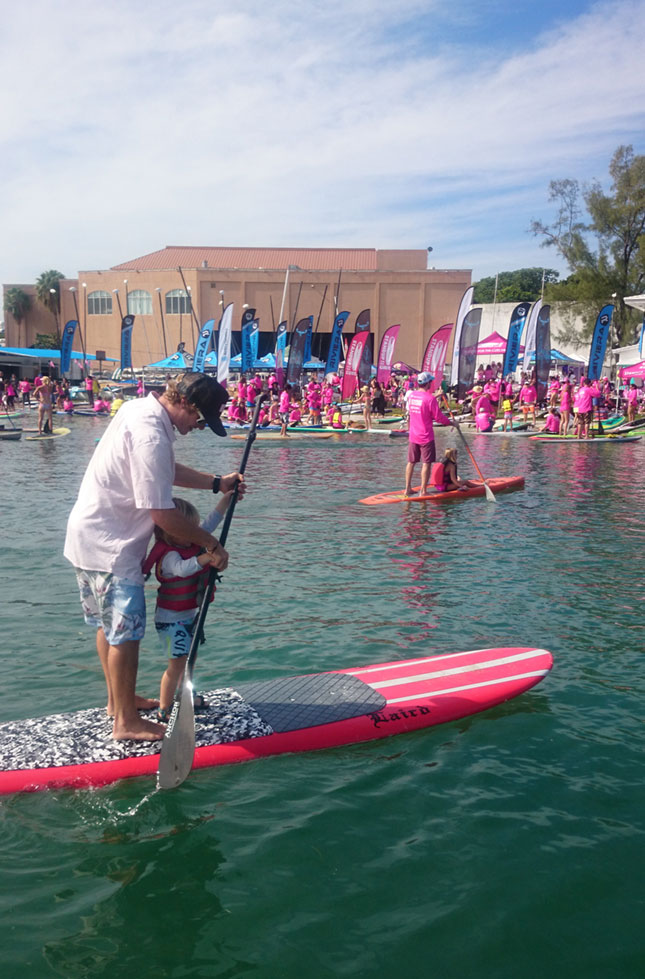 Miami seems to be the perfect venue. It's always summer, everyone loves playing on the water, while down on the beach every guy seems to be shirtless and most women are in skimpy bikinis, so an event supporting breast cancer research just kinda fits.
In fact I'd bet that within two years, the Miami event will be Stand Up For The Cure's largest event. The organisers nodded in agreement when I suggested this, so keep an eye out for the 2015 event.
Oh and if you're in California, next year's Stand Up For The Cure @ Newport is already set for May 2nd.
I've included a few of the shots I grabbed from my phone while there are more pics all over Facebook. And don't forget you can donate to breast cancer research more than once a year…