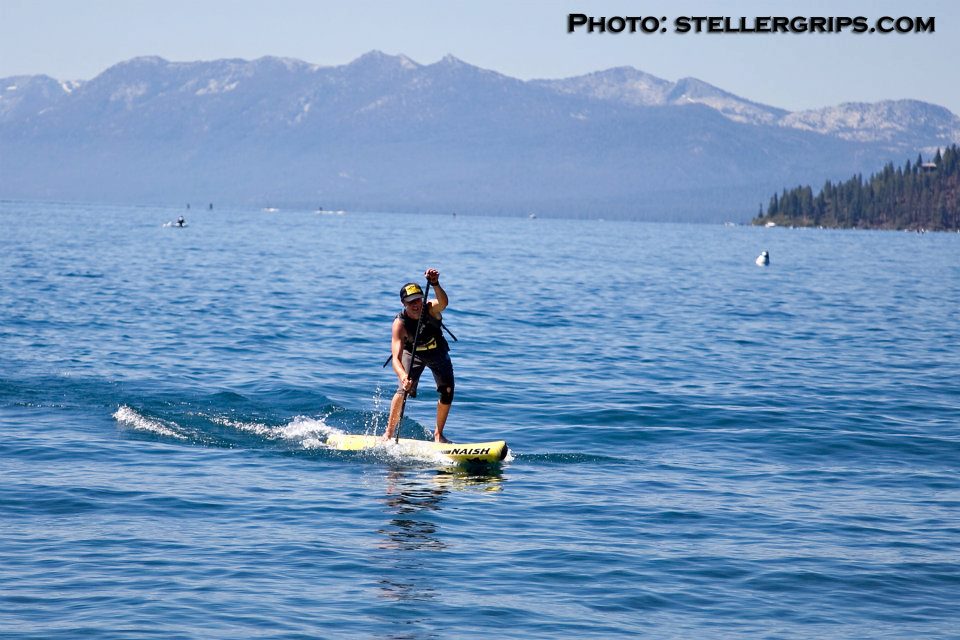 July 8, 2012
by Christopher Parker (@wheresbossman)
[RESULTS] Watermans Paddle For Humanity @ Lake Tahoe
Full results are in from the latest Watermans Paddle For Humanity race held at @ Lake Tahoe yesterday, where Hawaiian young gun Kody Kerbox continued his fine form on the Lake this year by claiming the Elite 10k Race.
Kerbox took out the SUP Cross race at last weekend's Race The Lake Of The Sky and won the Lake Tahoe Thunderbird Run a couple of weeks before that. The Maui young gun also scored a very close 2nd to local star Jay Wild in Tahoe's Donner Lake Memorial race back in May, giving himself an impressive string of results on the Lake this Summer.
Tahoe is fast becoming a hotspot for SUP races: it's hosted half a dozen high profile races this year and there are a couple more yet to come (which you can find on our Stand Up Paddle racing guide).
Take a look at the full race results below plus check out some great race pics from Steller Grips' Peter Spain.
SKIP TO RESULTS: Elite 10k Race | Recreational 5k Race | Chuck Patterson Rally Race
*****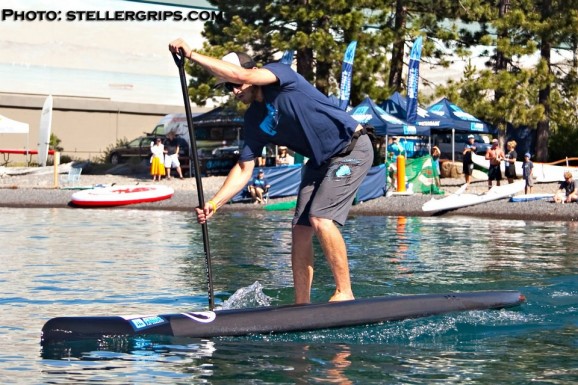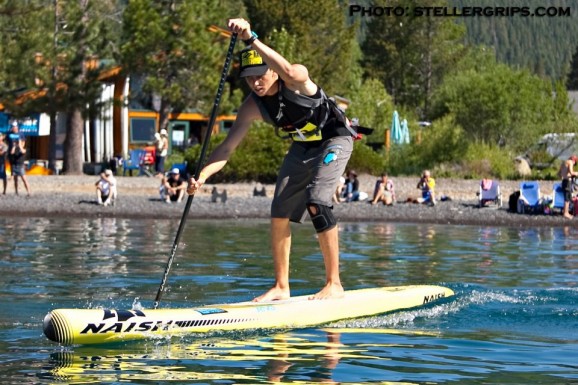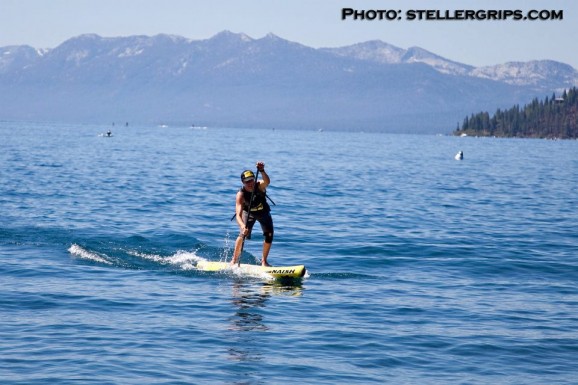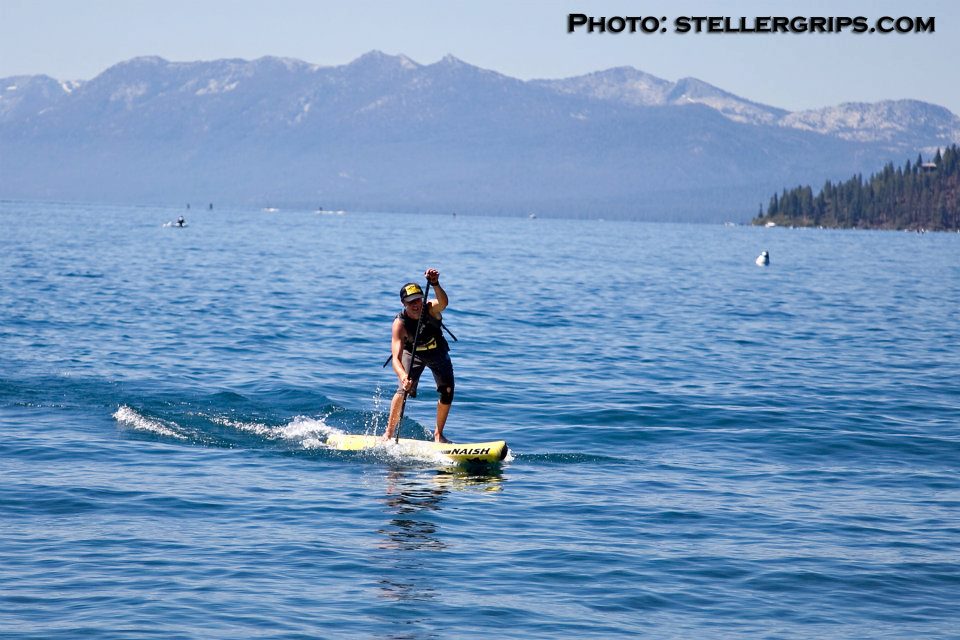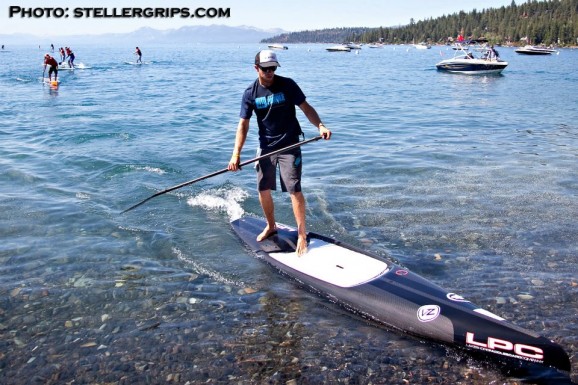 *****
Watermans Paddle For Humanity Lake Tahoe RESULTS
10km Elite SUP Race
Click "M/F" to switch between Men's and Women's results
Click "Class" to sort results by Board Class/Division
Click "#" to reset the results

| # | M/F | M/F # | Name | Time | Class | Class # | Age |
| --- | --- | --- | --- | --- | --- | --- | --- |
| 1 | M | 1 | Kody KERBOX | 1:07:22 | 14' | 1 | 18 |
| 2 | M | 2 | Dean CHRISTENER | 1:08:28 | 14' | 2 | 22 |
| 3 | M | 3 | Seth SPRINGER | 1:08:43 | 14' | 3 | 35 |
| 4 | M | 4 | Rand CARTER | 1:10:54 | 14' | 4 | 48 |
| 5 | M | 5 | Austin YOUNG | 1:11:55 | 12'6" | 1 | 20 |
| 6 | M | 6 | Jeramie VAINE | 1:12:06 | 12'6" | 2 | 32 |
| 7 | M | 7 | Scott ESTRADA | 1:12:46 | 14' | 5 | 44 |
| 8 | M | 8 | David MEYLER | 1:13:56 | 12'6" | 3 | 40 |
| 9 | M | 9 | Eli DELANHAY | 1:16:16 | 12'6" Youth | 1 | 15 |
| 10 | M | 10 | Charles BANFIELD | 1:16:37 | Men's 50+ | 1 | 50 |
| 11 | M | 11 | Reid HARVELL | 1:16:59 | 12'6" | 4 | 37 |
| 12 | M | 12 | Mike DAY | 1:17:42 | Men's 50+ | 2 | 60 |
| 13 | M | 13 | Geoff JAMES | 1:18:38 | 12'6" | 5 | 49 |
| 14 | M | 14 | Kevin CRIFASI | 1:19:48 | 14' | 6 | 38 |
| 15 | M | 15 | Doug STOUP | 1:20:29 | 14' | 7 | 48 |
| 16 | M | 16 | Ciro MANCUSO | 1:23:41 | Men's 50+ | 3 | 54 |
| 17 | M | 17 | Jim GRANGER | 1:24:15 | 14' | 8 | 59 |
| 18 | M | 18 | Walker LEWIS | 1:24:27 | 14' | 9 | 35 |
| 19 | M | 19 | Michael MELVILLE | 1:25:40 | Surfboard | 1 | 58 |
| 20 | M | 20 | Trey GRIFFIN | 1:25:44 | 12'6" | 6 | 36 |
| 21 | M | 21 | Josiah BRACKETT | 1:27:55 | 12'6" Youth | 2 | 15 |
| 22 | F | 1 | Valerie KHACHADOURIAN | 1:28:15 | Women's 50+ | 1 | 50 |
| 23 | M | 22 | Craig EISENBERG | 1:28:53 | 12'6" | 7 | 54 |
| 24 | M | 23 | Charlie BOWMAN | 1:29:05 | 14' | 10 | na |
| 25 | F | 2 | Brie MOORE | 1:33:07 | F12'6" | 1 | 36 |
| 26 | F | 3 | Kim FIELD | 1:38:09 | F12'6" | 2 | 39 |
| 27 | M | 24 | Matt LYLES | 1:38:45 | 12'6" | 8 | 42 |
| 28 | F | 4 | Julie STEVENS | 1:44:45 | F12'6" | 3 | 44 |
| 29 | F | 5 | Nancie SCHOENER | 1:47:41 | Women's 50+ | 2 | 53 |
| 30 | M | 25 | Garrett MUSCH | 1:49:00 | 12'6" | 9 | 36 |
| 31 | F | 6 | Marissa WERTHEIMER | 1:50:44 | Women's 50+ | 3 | 55 |
| 32 | M | 26 | Barney PUGH | 1:53:46 | Men's 50+ | 4 | 64 |
| 33 | F | 7 | Nancy BARNA | 1:55:02 | Women's 50+ | 4 | 53 |
*****
5km Recreational SUP Race
Click "M/F" to switch between Men's and Women's results
Click "Class" to sort results by Board Class/Division
Click "#" to reset the results

| # | M/F | M/F # | Name | Time | Class | Class # | Age |
| --- | --- | --- | --- | --- | --- | --- | --- |
| 1 | M | 1 | Jake LAMBERTH | 29:55:00 | Unlimited | 1 | 49 |
| 2 | M | 2 | Phil VOCI | 34:46:00 | 12'6" | 1 | 41 |
| 3 | M | 3 | Jay WILD | 36:03:00 | Prone | 1 | 32 |
| 4 | M | 4 | Jay VALOIS | 37:45:00 | 12'6" | 2 | 48 |
| 5 | M | 5 | Ward FIGGE | 38:18:00 | 12'6" | 3 | 48 |
| 6 | M | 6 | Cameron VALOIS | 39:00:00 | 12'6" Youth | 1 | 12 |
| 7 | F | 1 | Teressmarie TUCKER | 39:06:00 | Women's 50+ | 1 | 53 |
| 8 | F | 2 | Jane MCKENZIE | 39:39:00 | Women's 50+ | 2 | 57 |
| 9 | M | 7 | Trent CARTER | 41:43:00 | 12'6" Youth | 2 | 10 |
| 10 | M | 8 | Joshua BRACKETT | 41:44:00 | 12'6" Youth | 3 | na |
| 11 | F | 3 | Jenna GRANGER | 43:30:00 | F14' | 1 | 27 |
| 12 | F | 4 | Carol LYDA | 43:50:00 | Women's 50+ | 3 | 62 |
| 13 | F | 5 | Daphne JAMES | 44:50:00 | F12'6" | 1 | 13 |
| 14 | F | 6 | Anik & Elika | 44:52:00 | F12'6" | 2 | 40 |
| 15 | F | 7 | Gail DEMARCO | 46:01:00 | F12'6" | 3 | 54 |
| 16 | M | 9 | Dalton LAMBERTH | 46:58:00 | 12'6" Youth | 4 | 11 |
| 17 | F | 8 | Jessica TIMMONS | 46:59:00 | F12'6" | 4 | 31 |
| 18 | M | 10 | Jeff TIMMONS | 47:20:00 | 12'6" | 4 | 32 |
| 19 | F | 9 | Nickie MISFELDT | 47:23:00 | Women's 50+ | 4 | 60 |
| 20 | M | 11 | Max MONTGOMERY | 48:11:00 | Men's 50+ | 1 | 50 |
| 21 | M | 12 | John STIRLING | 48:13:00 | Prone | 2 | 62 |
| 22 | M | 13 | Matix SPRINGER | 48:18:00 | 12'6" Youth | 5 | 8 |
| 23 | M | 14 | Doug GREENWOOD | 50:18:00 | Men's 50+ | 2 | 55 |
| 24 | F | 10 | Jennifer ANDREWS | 50:39:00 | F12'6" | 5 | 43 |
| 25 | F | 11 | Palmira FARROW | 55:05:00 | F Surfboard | 1 | 32 |
| 26 | M | 15 | Anthony MUSCH | 56:09:00 | Surfboard | 1 | 13 |
| 27 | F | 12 | Kim FRIEDMAN | 56:46:00 | F Surfboard | 2 | 46 |
| 28 | M | 16 | Matt FRIEDMAN | 56:52:00 | Surfboard | 2 | 49 |
*****
Chuck Patterson Rally Race
MEN'S
1st: Kody KERBOX // 14′ // 0:47:01
2nd: Ronnie AYRES // 14′ // 0:47:59
3rd: Dean CHRISTENER // 14′ // 0:49:00
4th: Jay WILD // ?? // 0:49:23
5th: Jeramie VAINE // 12'6″ // 0:53:50
6th: Austin YOUNG // 12'6″ // 0:55:30
7th: Reid HARVELL // 12'6″ // 0:55:54
8th: Jake LAMBERTH // Unlimited // 0:56:24
9th: Seth SPRINGER // 14′ // 0:56:37
10th: Scott ESTRADA // 14′ // 1:00:58
11th: Geoff JAMES // 12'6″ // 1:01:20
12th: Charlie BOWMAN // 14′ // 1:06:58
13th: Max MONTGOMERY // 14′ // 1:09:04
WOMEN'S
1st: Teressmarie TUCKER // 14′ // 47:45
BOY'S
1st: Josiah BRACKETT // 12'6″ // 42:21
2nd: Joshua BRACKETT // 12'6″ // 44:45
3rd: Trent CARTER // 12'6″ // 47:20