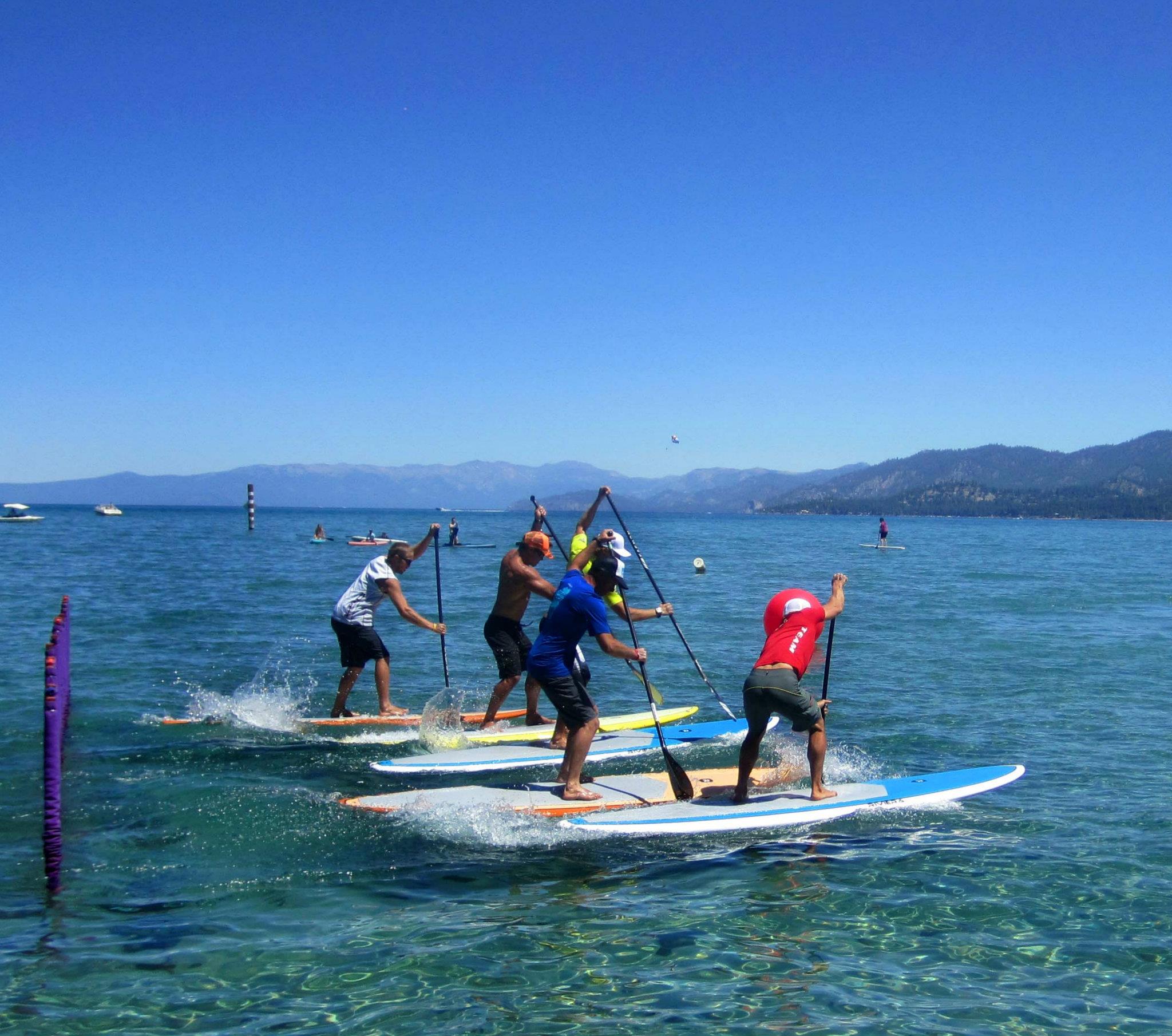 June 30, 2012
by Christopher Parker (@wheresbossman)
[RESULTS] Race The Lake Of The Sky (UPDATED)

UPDATE: Check out this great clip of the action, courtesy of JP Australia's Dean Christener: Race The Lake Of The Sky VIDEO
*****
Check out the action from the inaugural Race The Lake Of The Sky SUP race that went down @ Lake Tahoe (California) this weekend.
Plenty of pros made the trek to the lake, including Danny Ching, Jay Wild, Candice Appleby and Anthony Vela.
Saturday saw the "El Dorado 5 Miler" race, Grom Races and the awesome SUP Cross events, while Sunday was the main event: The Emerald Bay 14 Mile Distance Race.
Danny Ching and Candice Appleby were the big winners, though young gun Kody Kerbox managed to snag a victory over the champ in the SUP Cross race. Thomas Maximus claimed line honours in the Long Distance Race, while Jen Fuller won the 12'6″ women's and Anthony Vela the 12'6″ men's. Meanwhile in Saturday's El Dorado 5 Miler, Ben Sarrazin put in a massive effort to claim the 12'6″ class ahead of Vela and co.
Full race results below and check back soon for some great videos of the action.
SKIP TO: Emerald Bay 14 Mile Distance Race | El Dorado 5 Miler | Grom Race | SUP Cross
*****
2012 Race The Lake Of The Sky RESULTS
Emerald Bay 14 Mile Distance Race (Sunday)
Click "M/F" to switch between Men's and Women's Results
Click "Class" to sort results by Board Class
Click "#" to reset the results

| # | M/F | M/F # | Name | Time | Class | Class # | Age |
| --- | --- | --- | --- | --- | --- | --- | --- |
| 1 | M | 1 | Thomas MAXIMUS | 2:22:15 | Unlim | 1 | 43 |
| 2 | M | 2 | Danny CHING | 2:24:22 | 14' | 1 | 29 |
| 3 | M | 3 | Kody KERBOX | 2:29:13 | 14' | 2 | 18 |
| 4 | M | 4 | Cyril BURGUIERE | 2:31:44 | 14' | 3 | 32 |
| 5 | M | 5 | Brian HAAG | 2:33:11 | 14' | 4 | 21 |
| 6 | M | 6 | Lance ERICKSON | 2:36:18 | Unlim | 2 | 56 |
| 7 | M | 7 | Karl RING | 2:36:49 | 14' | 5 | 47 |
| 8 | M | 8 | Ronnie AYRES | 2:37:44 | 14' | 6 | 44 |
| 9 | M | 9 | Adam FREEMAN | 2:38:16 | 14' | 7 | 32 |
| 10 | M | 10 | Seth SPRINGER | 2:38:21 | 14' | 8 | 35 |
| 11 | M | 11 | Brad RAMBO | 2:40:20 | Unlim | 3 | 52 |
| 12 | M | 12 | Dean CHRISTENER | 2:40:38 | 14' | 9 | 22 |
| 13 | M | 13 | Rand CARTER | 2:40:51 | 14' | 10 | 48 |
| 14 | M | 14 | Chris STEPHAN | 2:43:09 | 14' | 11 | 39 |
| 15 | M | 15 | Anthony VELA | 2:44:18 | 12'6" | 1 | 38 |
| 16 | M | 16 | Charlie BANFIELD | 2:44:45 | Unlim | 4 | 50 |
| 17 | M | 17 | Jeramie VAINE | 2:45:31 | 12'6" | 2 | 32 |
| 18 | M | 18 | Damion ESTRADA | 2:48:41 | 14' | 12 | 36 |
| 19 | M | 19 | Dan MCCARTER | 2:49:17 | 14' | 13 | 55 |
| 20 | M | 20 | Chris GUTZEIT | 2:50:00 | 12'6" | 3 | 40 |
| 21 | M | 21 | Scott ESTRADA | 2:50:43 | 14' | 14 | 44 |
| 22 | M | 22 | Michael BOND | 2:51:03 | 14' | 15 | 56 |
| 23 | M | 23 | John ALEXIOU | 2:51:21 | 14' | 16 | 46 |
| 24 | M | 24 | Fred ANDERSEN | 2:53:33 | 14' | 17 | 60 |
| 25 | M | 25 | Jim MOORE | 2:53:51 | 14' | 18 | 49 |
| 26 | M | 26 | Dax WILLARD | 2:53:58 | 14' | 19 | 33 |
| 27 | M | 27 | Mike TESSIER | 2:54:47 | 14' | 20 | 43 |
| 28 | F | 1 | Candice APPLEBY | 2:56:28 | Prone | 1 | 26 |
| 29 | F | 2 | Jen FULLER | 2:57:11 | F12'6" | 1 | 49 |
| 30 | M | 28 | Chris BRACKETT | 2:57:55 | 14' | 21 | 43 |
| 31 | M | 29 | Matthew HUGHES | 2:58:08 | 12'6" | 4 | 17 |
| 32 | M | 30 | Chris CHANDLER | 2:59:15 | 12'6" | 5 | 19 |
| 33 | F | 3 | Julianne BRACKETT | 2:59:38 | F14' | 1 | 18 |
| 34 | F | 4 | Nina OAKLEY | 3:00:17 | F12'6" | 2 | 30 |
| 35 | M | 31 | Scott BOYLES | 3:02:25 | 12'6" | 6 | 49 |
| 36 | M | 32 | Clem SMITH | 3:02:45 | 14' | 22 | 34 |
| 37 | M | 33 | Jay GOMEZ | 3:03:17 | 12'6" | 7 | 35 |
| 38 | M | 34 | Ken ALTMAN | 3:03:42 | 14' | 23 | 69 |
| 39 | M | 35 | Roger KNOWLTON | 3:04:24 | 14' | 24 | 48 |
| 40 | M | 36 | Josh BRUNER | 3:05:04 | 14' | 25 | 33 |
| 41 | F | 5 | Kristin THOMAS | 3:05:15 | F12'6" | 3 | 49 |
| 42 | M | 37 | Michael DILLON | 3:06:03 | 14' | 26 | 60 |
| 43 | M | 38 | Evan DERDOWSKI | 3:06:05 | 12'6" | 8 | 24 |
| 44 | F | 6 | Kimberly GOMEZ | 3:16:07 | F14' | 2 | 33 |
| 45 | M | 39 | Joshua SLEIGH | 3:16:52 | 14' | 27 | 36 |
| 46 | F | 7 | Cynthia AGUILAR | 3:17:32 | Prone | 2 | 28 |
| 47 | M | 40 | Jordan DEAS | 3:17:41 | 12'6" | 9 | 13 |
| 48 | M | 41 | Norman SCHEEL | 3:17:55 | 14' | 28 | 46 |
| 49 | M | 42 | Michael MELVILLE | 3:19:51 | Surf | 1 | 58 |
| 50 | M | 43 | Trey GRIFFIN | 3:20:43 | 12'6" | 10 | 36 |
| 51 | F | 8 | Jennifer HIGGINSON | 3:20:54 | F12'6" | 4 | 43 |
| 52 | M | 44 | Paul ZARUBIN | 3:22:23 | 14' | 29 | 58 |
| 53 | M | 45 | David RUBY | 3:23:52 | 14' | 30 | 54 |
| 54 | M | 46 | Chris BERGSTROM | 3:24:32 | 14' | 31 | 35 |
| 55 | F | 9 | Brigid EHRLICH | 3:24:47 | F14' | 3 | 17 |
| 56 | M | 47 | Nick SCHEEL | 3:27:51 | 12'6" | 11 | 13 |
| 57 | M | 48 | Josiah BRACKETT | 3:27:56 | 12'6" | 12 | 12 |
| 58 | F | 10 | Valerie KHACHADOURIAN | 3:30:46 | F12'6" | 5 | 50 |
| 59 | M | 49 | Tom KALANGE | 3:32:25 | 14' | 32 | 50 |
| 60 | M | 50 | Trent CARTER | 3:33:05 | 12'6" | 13 | 10 |
| 61 | F | 11 | Nichole HULL | 3:33:21 | F12'6" | 6 | 33 |
| 62 | M | 51 | Joshua BRACKETT | 3:34:50 | Surf | 2 | 10 |
| 63 | M | 52 | Gary LEONG | 3:49:29 | 12'6" | 14 | 65 |
| 64 | M | 53 | Joe STEWART | 3:51:25 | 14' | 33 | 38 |
| 65 | F | 12 | Maria BOWMAN | 3:51:32 | F12'6" | 7 | 36 |
| 66 | M | 54 | Charlie BOWMAN | 3:51:59 | 14' | 34 | 37 |
| 67 | F | 13 | Teressmarie TUCKER | 4:00:51 | F12'6" | 8 | 53 |
| 68 | F | 14 | Jude MARKWARD | 4:22:30 | F12'6" | 9 | 52 |
| 69 | F | 15 | Tee WOLF | 4:26:35 | F12'6" | 10 | 56 |
*****
El Dorado 5 Miler (Saturday)
Click "M/F" to switch between Men's and Women's Results
Click "Class" to sort results by Board Class
Click "#" to reset the results

| # | M/F | M/F # | Name | Time | Class | Class # | Age |
| --- | --- | --- | --- | --- | --- | --- | --- |
| 1 | M | 1 | Danny CHING | 0:40:04 | 14' | 1 | 29 |
| 2 | M | 2 | Kody KERBOX | 0:40:58 | 14' | 2 | 18 |
| 3 | M | 3 | Cyril BURGUIERE | 0:41:21 | 14' | 3 | 32 |
| 4 | M | 4 | Lance ERICKSON | 0:42:31 | Unlim | 1 | 56 |
| 5 | M | 5 | Karl RING | 0:42:42 | 14' | 4 | 47 |
| 6 | M | 6 | Dean CHRISTENER | 0:42:48 | 14' | 5 | 22 |
| 7 | M | 7 | Seth SPRINGER | 0:43:00 | 14' | 6 | 35 |
| 8 | M | 8 | Chris STEPHAN | 0:43:24 | 14' | 7 | 39 |
| 9 | M | 9 | Ben SARRAZIN | 0:43:53 | 12'6" | 1 | 38 |
| 10 | M | 10 | Jack WYGAL | 0:44:28 | 14' | 8 | 40 |
| 11 | M | 11 | Austin YOUNG | 0:44:40 | 12'6" | 2 | 20 |
| 12 | M | 12 | Rand CARTER | 0:44:45 | 14' | 9 | 48 |
| 13 | M | 13 | Brad RAMBO | 0:44:57 | 14' | 10 | 52 |
| 14 | M | 14 | Anthony VELA | 0:45:23 | 12'6" | 3 | 38 |
| 15 | M | 15 | Michael GABOR | 0:45:36 | 14' | 11 | 43 |
| 16 | M | 16 | John ALEXIOU | 0:45:45 | 14' | 12 | 46 |
| 17 | M | 17 | Jeramie VAINE | 0:45:48 | 12'6" | 4 | 32 |
| 18 | M | 18 | Matthew HUGHES | 0:45:57 | 12'6" | 5 | 17 |
| 19 | M | 19 | Mike TESSLER | 0:46:07 | 14' | 13 | 43 |
| 20 | F | 1 | Candice APPLEBY | 0:46:27 | F12'6" | 1 | 26 |
| 21 | M | 20 | Tom GANDT | 0:46:31 | 12'6" | 6 | 52 |
| 22 | M | 21 | Jake LAMBERTH | 0:46:33 | 14' | 14 | 49 |
| 23 | M | 22 | Dave MEYLER | 0:46:53 | 12'6" | 7 | 40 |
| 24 | M | 23 | Brian HAAG | 0:47:23 | 12'6" | 8 | 21 |
| 25 | M | 24 | Roger KNOWLTON | 0:47:31 | 12'6" | 9 | 48 |
| 26 | M | 25 | Elijah DELAUNAY | 0:47:56 | 12'6" | 10 | 15 |
| 27 | M | 26 | Eric DIGGINS | 0:48:00 | 12'6" | 11 | 42 |
| 28 | M | 27 | Dale MELDEN | 0:48:08 | 14' | 15 | 26 |
| 29 | F | 2 | Jen FULLER | 0:48:10 | F12'6" | 2 | 49 |
| 30 | M | 28 | Dino WILSON | 0:48:17 | 12'6" | 12 | 50 |
| 31 | M | 29 | Mike DAY | 0:48:25 | 12'6" | 13 | 60 |
| 32 | M | 30 | Chris CHANDLER | 0:48:31 | 12'6" | 14 | 19 |
| 33 | F | 3 | Julianne BRACKETT | 0:48:34 | F12'6" | 3 | 18 |
| 34 | M | 31 | Fred ANDERSEN | 0:48:53 | 12'6" | 15 | 60 |
| 35 | M | 32 | Phil VOCI | 0:48:54 | 14' | 16 | 41 |
| 36 | M | 33 | Geoff JAMES | 0:48:58 | 12'6" | 16 | 49 |
| 37 | M | 34 | Garrett VILLANUEVA | 0:49:16 | 12'6" | 17 | 42 |
| 38 | M | 35 | Barklie GRIGGS | 0:49:19 | 12'6" | 18 | 49 |
| 39 | M | 36 | Ken ALTMAN | 0:49:20 | 14' | 17 | 69 |
| 40 | M | 37 | Kevin CRIFASI | 0:49:37 | 14' | 18 | 37 |
| 41 | M | 38 | Jay GOMEZ | 0:49:47 | 12'6" | 19 | 35 |
| 42 | M | 39 | Jason MUIR | 0:50:05 | 14' | 19 | 34 |
| 43 | M | 40 | Jim FRY | 0:50:23 | 14' | 20 | 47 |
| 44 | F | 4 | Betsy RISNER | 0:50:37 | F12'6" | 4 | 59 |
| 45 | M | 41 | Michael DILLON | 0:50:42 | 14' | 21 | 60 |
| 46 | M | 42 | Jeremy RHYNE | 0:50:47 | 12'6" | 20 | 38 |
| 47 | M | 43 | Nate LUDWIG | 0:51:02 | 12'6" | 21 | 34 |
| 48 | F | 5 | Susan NORMAN | 0:51:13 | F12'6" | 5 | 54 |
| 49 | M | 44 | Leroy BISHOP | 0:51:15 | 14' | 22 | 52 |
| 50 | M | 45 | Jay WILD | 0:51:33 | Prone | 1 | 32 |
| 51 | M | 46 | Ruben SANCHEZ | 0:51:37 | 14' | 23 | 42 |
| 52 | M | 47 | Mike KECK | 0:51:43 | 14' | 24 | 46 |
| 53 | M | 48 | Michael MELVILLE | 0:52:10 | Surf | 1 | 58 |
| 54 | F | 6 | Tracy DAY | 0:52:22 | F12'6" | 6 | 59 |
| 55 | M | 49 | Josiah BRACKETT | 0:52:41 | 12'6" | 22 | 12 |
| 56 | M | 50 | Nick SCHEEL | 0:52:43 | 12'6" | 23 | 13 |
| 57 | F | 7 | Cynthia AGUILAR | 0:53:03 | Prone | 1 | 28 |
| 58 | F | 8 | Jennifer HIGGINSON | 0:53:08 | F12'6" | 7 | 43 |
| 59 | M | 51 | Trey GRIFFIN | 0:53:22 | 12'6" | 24 | 36 |
| 60 | M | 52 | Darryl LEZAR | 0:53:26 | 12'6" | 25 | 49 |
| 61 | M | 53 | Jay VALOIS | 0:53:40 | 12'6" | 26 | 48 |
| 62 | F | 9 | Valerie KHACHADOURIAN | 0:53:57 | F12'6" | 8 | 50 |
| 63 | M | 54 | Richard SCHOUTEN | 0:53:58 | 12'6" | 27 | 45 |
| 64 | F | 10 | Peggy MUNOZ | 0:54:07 | F12'6" | 9 | 63 |
| 65 | M | 55 | Matt IVEY | 0:54:10 | 14' | 25 | 35 |
| 66 | M | 56 | Perry PETERSON | 0:54:21 | 14' | 26 | 51 |
| 67 | M | 57 | Charlie BOWMAN | 0:54:35 | 14' | 28 | 37 |
| 68 | F | 11 | Ashley CLARKIN | 0:55:01 | F12'6" | 10 | 27 |
| 69 | M | 58 | Andre KUPEURS | 0:55:06 | 12'6" | 28 | 37 |
| 70 | M | 59 | Joshua BRACKETT | 0:55:27 | Surf | 2 | 10 |
| 71 | M | 60 | Gary LEONG | 0:55:44 | 12'6" | 29 | 65 |
| 72 | M | 61 | Tom FORTUNE | 0:55:47 | 12'6" | 30 | 50 |
| 73 | M | 62 | Jeff TIMMONS | 0:55:52 | 12'6" | 31 | 32 |
| 74 | M | 63 | Mark MEIERHOEFER | 0:56:16 | 12'6" | 32 | 42 |
| 75 | M | 12 | Robert GUEBARD | 0:56:27 | 14' | 27 | 43 |
| 76 | M | 64 | Mitch BOOTHE | 0:56:46 | 14' | 29 | 52 |
| 77 | M | 65 | Bob STULAC | 0:56:55 | 12'6" | 33 | 50 |
| 78 | F | 13 | Brie MOORE | 0:57:03 | F12'6" | 11 | 36 |
| 79 | F | 14 | Teressmarie TUCKER | 0:57:09 | F12'6" | 12 | 53 |
| 80 | F | 15 | Connie ALTMAN | 57:19 | F12'6" | 13 | 61 |
| 81 | F | 16 | Jill JOHNSON | 0:57:27 | F12'6" | 14 | 31 |
| 82 | M | 66 | Andrew LAWSON | 0:58:02 | 12'6" | 34 | 23 |
| 83 | M | 67 | Jared POWER | 0:58:41 | 14' | 30 | 51 |
| 84 | M | 68 | Cameron VALOIS | 0:58:46 | 12'6" | 35 | 12 |
| 85 | M | 69 | Steve HARDING | 0:59:08 | 12'6" | 36 | 55 |
| 86 | F | 17 | Kim FIELD | 0:59:35 | F12'6" | 15 | 39 |
| 87 | M | 70 | Peter SERENO | 0:59:58 | Surf | 3 | 34 |
| 88 | M | 71 | Trent CARTER | 1:00:07 | 12'6" | 37 | 10 |
| 89 | F | 18 | Helen GALLAGHER | 1:00:07 | F12'6" | 16 | 52 |
| 90 | M | 72 | Reed NELSON | 1:00:33 | Surf | 4 | 53 |
| 91 | F | 19 | Tasha HAMMER | 1:00:42 | FSurf | 1 | 39 |
| 92 | F | 20 | Jeanette JONES | 1:01:56 | F12'6" | 17 | 47 |
| 93 | F | 21 | Kali'a ALEXIOU | 1:02:00 | F12'6" | 18 | 11 |
| 94 | F | 22 | Angela GARDNER | 1:02:20 | F12'6" | 19 | 40 |
| 95 | F | 23 | Jude MARKWARD | 1:04:47 | F12'6" | 20 | 52 |
| 96 | M | 73 | Rj CARPENTER | 1:05:49 | 12'6" | 38 | 52 |
| 97 | M | 74 | Mike PAPA | 1:05:54 | 12'6" | 39 | 55 |
| 98 | F | 24 | Lynn ZARUBIN | 1:05:59 | F12'6" | 21 | 55 |
| 99 | M | 75 | Kyle LY | 1:07:00 | 14' | 31 | 50 |
| 100 | M | 76 | Barney PUGH | 1:07:05 | 14' | 32 | 64 |
| 101 | M | 77 | Josh BRUNER | 1:07:10 | 14' | 33 | 33 |
| 102 | M | 78 | Chris BORRIS | 1:07:22 | 14' | 34 | 65 |
| 103 | F | 25 | Roxanne HARDING | 1:08:10 | F12'6" | 22 | 53 |
| 104 | M | 79 | Garrett MUSCH | 1:09:39 | 14' | 35 | 36 |
| 105 | F | 26 | Leah SAKELLARIDES | 1:13:46 | F12'6" | 23 | 34 |
| 106 | F | 27 | Julie DRENNAN | 1:15:03 | F12'6" | 24 | 53 |
| 107 | M | 80 | Erik SCHEEL | 1:15:07 | 12'6" | 40 | 11 |
| 108 | M | 81 | Norman SCHEEL | 1:15:12 | 14' | 36 | 46 |
| 109 | M | 82 | Randy WOOD | 1:15:30 | Surf | 5 | 38 |
| 110 | F | 28 | Lucija KORDIC | 1:15:39 | F12'6" | 25 | 53 |
| 111 | M | 83 | Jordan DEAS | 1:17:00 | 12'6" | 41 | 13 |
| 112 | F | 29 | Andrea SAADE | 1:20:36 | F12'6" | 26 | 52 |
| 113 | F | 30 | Kate CARPENTER | 1:21:28 | F12'6" | 27 | 50 |
| 114 | F | 31 | Faylan CANNON | 1:29:46 | FSurf | 2 | 48 |
*****
Grom Race – Boys
1st: NICK SCHEEL 01:50.2 (Elite)
2nd: JOSHUA BRACKETT 01:54.2 (Elite)
3rd: TRENT CARTER 02:24.1 (Elite)
4th: MATTIX SPRINGER 02:38.9
5th: AIDEN GOTTRON 02:45.3
6th: LUCAS VALOOIS 03:13.9
7th: ORION SHEA 03:25.8
8th: ERIK SCHEEL 03:28.0
9th: TREVOR VALOIS 03:30.3
10th: JADEN TESSIER 03:38.8
11th: DALTON LAMBERTH 03:42.3
12th: ETHAN NELSON 03:42.9
13th: LOGAN NELSON 03:57.1
14th: KADE SCHRABEN 04:08.9
15th: SPENCER BENDER 04:17.9
Grom Race – Girls
1st: KALI'A ALEXIOU 01:59.7
2nd: PIPER THRAMS 02:31.8
3rd: ILY LOGEAIS 02:40.3
4th: PHOENIX SANCHEZ 02:44.4
5th: VICTORIA HIGENSON 02:49.2
6th: SOPHIA SANCHEZ 03:27.0
7th: VENTURE BRUNNER 03:28.9
8th: ANDE DIGGENS 03:31.8
9th: LANEY MEIERHOEFER 03:47.5
10th: JESSICA BRACKETT 03:50.1
11th: ERIKA NEMETH 03:54.3
12th: EMMA JUNSCHK 04:02.2
13th: JILIAN SCANIO 04:09.7
14th: KYLA SCHRABER 04:21.8
15th: SIENNE JOHNSTON 05:01.9
16th: ANNA JANSON 05:02.8
17th: MALAYA RING 05:03.7
18th: ELLA FRY 07:38.3
*****
SUP Cross – Elite Men
1st: Kody KERBOX
2nd: Ben SARRAZIN
3rd: Danny CHING
4th: Taylor RAMBO
5th: Anthony VELA
6th: Austin YOUNG
7th: Dean CHRISTENER
8th: Seth SPRINGER
9th: Cyril BURGUIERE
10th: Brian HAAG
11th: Ryan GUAY
12th: Chris BRACKETT
SUP Cross – Boys 12 & Under
1st: Josiah BRACKETT
2nd: Joshua BRACKETT
3rd: Lucas VALOIS
4th: Trent CARTER
5th: Shea ORION
6th: Phoenix SANCHEZ
SUP Cross – Men's 13-49
1st: Jeramie VAINE
2nd: John ALEXIOU
3rd: Chris CHANDLER
4th: Tim GARRETT
5th: Kai PATTISON
6th: Brandon MILLER
SUP Cross – Men's 50+
1st: Brad RAMBO
2nd: Dino WILSON
3rd:  Fred ANDERSEN
4th: Mike DAY
SUP Cross – Elite Women's
1st: Candice APPLEBY
2nd: Anik WILD
3rd: Julianne BRACKETT
4th: Susan NORMAN
5th: Jen FULLER
SUP Cross – Girls 12 & Under
1st: Kali'a ALEXIOU
2nd: Ily LOGEAIS
3rd: Alex HIGGINSON
4th: Tori HIGGINSON
5th: Emma JURISCHK
6th: Venture BRUNER
7th: Jessica BRACKETT
8th: Elika NEMETH
9th: Ella FRY
10th: Sophia SANCHEZ
11th: Hailey JOHNSON
12th: Eva GOMEZ
SUP Cross – Women's 13-49
1st: Daniella HADAWAY
SUP Cross – Women's 50+
1st: Teresa TUCKER
2nd: Connie ALTMAN
*****