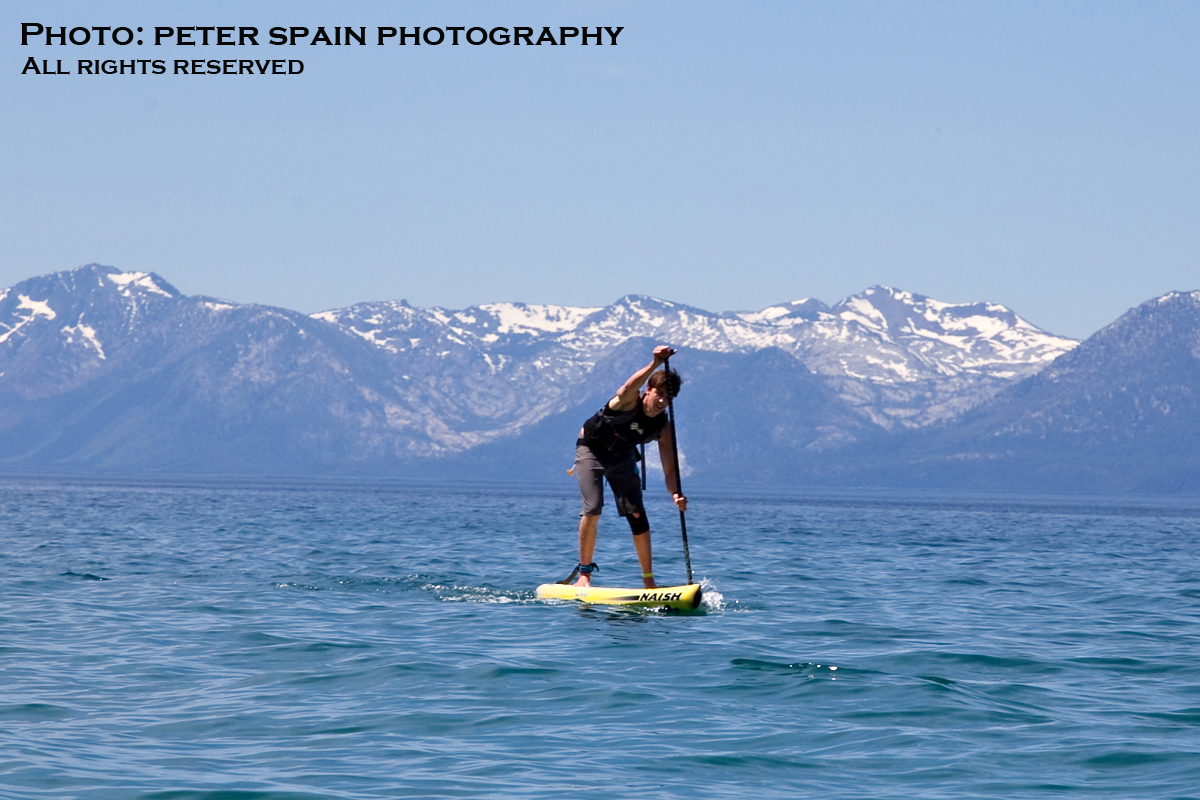 June 20, 2012
by Christopher Parker (@wheresbossman)
[RESULTS] Lake Tahoe Thunderbird Run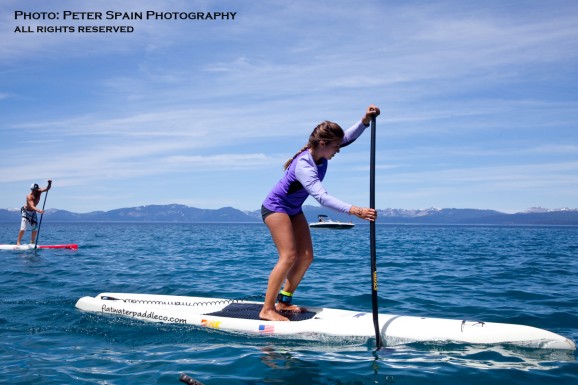 Check out the full results from the Thunderbird Run stand up paddle race that was held @ Lake Tahoe on the 16th June.
Young gun Kody Kerbox (Team Naish) took out the overall victory, making up for his narrow loss at the same venue last month. Meanwhile Jen Fuller made it two from two on Lake Tahoe this year after winning the women's division.
There was a little bit of drama on the lake after Julianne Brackett was the first female over the lane, before getting an automaic DQ for drafting one of the men. More details here (scroll down and check out the comments on that page 😉
>> RELATED POSTS: Drama On The Lake: Winner DQ'd For Drafting
Drafting dramas aside, it looked like an awesome day for paddling on Lake Tahoe, with plenty blue sky and snow capped peaks greeting the massive field of 91 paddlers.
Tahoe is becoming a pretty impressive SUP racing destination – there's plenty of local talent and a whole bunch of races in the region this year (…go check out our list of Stand Up Paddle races for the full guide).
But back to the Thunderbird Run… scroll down for full race results (and big thanks to Steller Grips' Peter Spain for awesome pics).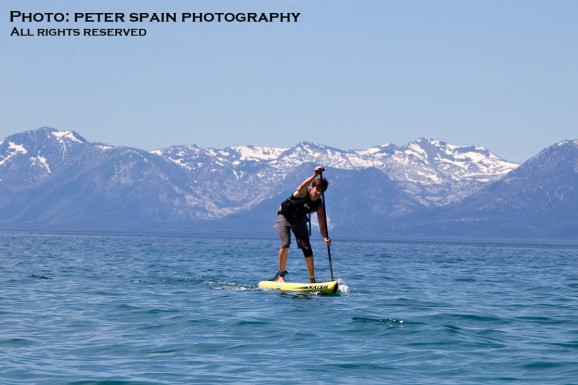 *****
2012 Thunderbird Run SUP Race RESULTS 
Click "M/F" to switch beween Men's and Women's Results
Click "Class" or "Class > Division" to sort results by Board Class or Age Division

| # | M/F | M/F # | Name | Time | Class | Class # | Age | Division | Div # |
| --- | --- | --- | --- | --- | --- | --- | --- | --- | --- |
| 1 | M | 1 | Kody Kerbox | 1:16:20 | 14' | 1 | 18 | Open | 1 |
| 2 | M | 2 | Mitch Kahn | 1:17:47 | 14' | 2 | 51 | 50+ | 1 |
| 3 | M | 3 | Rob Pelkey | 1:17:51 | 14' | 3 | 44 | Open | 2 |
| 4 | M | 4 | Ronnie Ayers | 1:18:07 | 14' | 4 | 44 | Open | 3 |
| 5 | M | 5 | Adam Freeman | 1:20:38 | 14' | 5 | 32 | Open | 4 |
| 6 | M | 6 | Dean Christener | 1:21:34 | 14' | 6 | 22 | Open | 5 |
| 7 | M | 7 | Patrick Ohea | 1:21:42 | 14' | 7 | 36 | Open | 6 |
| 8 | M | 8 | Rand Carter | 1:23:43 | 14' | 8 | 48 | Open | 7 |
| 9 | M | 9 | Corry Fitzgibbons | 1:24:13 | 14' | 9 | 42 | Open | 8 |
| 10 | M | 10 | Michael Gabor | 1:24:13 | 14' | 10 | 43 | Open | 9 |
| 11 | M | 11 | Austin Young | 1:24:43 | 12'6" | 1 | 20 | Open | 1 |
| 12 | M | 12 | Mike Bond | 1:25:14 | 14' | 11 | 56 | 50+ | 2 |
| 13 | M | 13 | Scott Estrada | 1:25:31 | 14' | 12 | 44 | Open | 10 |
| 14 | M | 14 | Dave Meyler | 1:25:58 | 12'6" | 2 | 40 | Open | 2 |
| 15 | M | 15 | Derek Dial | 1:26:25 | 12'6" | 3 | 42 | Open | 3 |
| 16 | M | 16 | Mike Tessier | 1:26:58 | 14' | 13 | 43 | Open | 11 |
| 17 | M | 17 | Marcus Tingle | 1:27:37 | 14' | 14 | 42 | Open | 12 |
| 18 | F | 1 | Jen Fuller | 1:28:03 | F12'6" | 1 | 49 | Open | 1 |
| 19 | M | 18 | Eli Delaunay | 1:28:55 | 12'6" | 4 | 15 | 17&U | 1 |
| 20 | M | 19 | Dino Wilson | 1:29:00 | 12'6" | 5 | 50 | 50+ | 1 |
| 21 | M | 20 | Dax Willard | 1:29:02 | 14' | 15 | 33 | Open | 13 |
| 22 | M | 21 | Kevin Crifasi | 1:30:29 | 14' | 16 | 37 | Open | 14 |
| 23 | M | 22 | Sean McHugh | 1:30:39 | 12'6" | 6 | 40 | Open | 4 |
| 24 | F | 2 | Nina Oakley | 1:30:48 | F12'6" | 2 | 30 | Open | 2 |
| 25 | M | 23 | Sam Solomon | 1:31:02 | 12'6" | 7 | 39 | Open | 5 |
| 26 | M | 24 | Ken Altman | 1:31:06 | 14' | 17 | 69 | 50+ | 3 |
| 27 | M | 25 | Fred Andersen | 1:31:40 | 12'6" | 8 | 60 | 50+ | 2 |
| 28 | M | 26 | Scott Boyles | 1:31:54 | 12'6" | 9 | 49 | Open | 6 |
| 29 | M | 27 | Geoff James | 1:31:57 | 12'6" | 10 | 49 | Open | 7 |
| 30 | M | 28 | Mike Day | 1:32:35 | 12'6" | 11 | 60 | 50+ | 3 |
| 31 | M | 29 | Stephen Pugh | 1:32:59 | 14' | 18 | 54 | 50+ | 4 |
| 32 | M | 30 | Alex Pappas | 1:33:20 | 14' | 19 | 28 | Open | 15 |
| 33 | M | 31 | Nick Vivar | 1:33:59 | 12'6" | 12 | 48 | Open | 8 |
| 34 | M | 32 | Larry Ferguson | 1:34:25 | 14' | 20 | 53 | 50+ | 5 |
| 35 | M | 33 | Doug Stoup | 1:34:39 | 14' | 21 | 48 | Open | 16 |
| 36 | M | 34 | Phil Regos | 1:34:43 | 14' | 22 | 43 | Open | 17 |
| 37 | M | 35 | Evan Derdowski | 1:35:04 | 12'6" | 13 | 24 | Open | 9 |
| 38 | M | 36 | Jason Hale | 1:35:14 | 12'6" | 14 | 39 | Open | 10 |
| 39 | M | 37 | Butch Martin | 1:36:37 | 14' | 23 | 65 | 50+ | 6 |
| 40 | F | 3 | Lel Tone | 1:37:16 | F12'6" | 3 | 41 | Open | 3 |
| 41 | M | 38 | Adam McCowen | 1:38:34 | 14' | 24 | 49 | Open | 18 |
| 42 | M | 39 | John Brimm | 1:39:39 | 14' | 25 | 40 | Open | 19 |
| 43 | F | 4 | Shana Kaplan | 1:40:08 | F12'6" | 4 | 42 | Open | 4 |
| 44 | M | 40 | Walker Lewis | 1:40:26 | 14' | 26 | 35 | Open | 20 |
| 45 | M | 41 | Jim Fry | 1:40:26 | 14' | 27 | 47 | Open | 21 |
| 46 | M | 42 | Charles Snyder | 1:41:27 | 12'6" | 15 | 31 | Open | 11 |
| 47 | M | 43 | Joe Quinn | 1:41:54 | 14' | 28 | 46 | Open | 22 |
| 48 | F | 5 | Nichole Hull | 1:42:52 | F12'6" | 5 | 33 | Open | 5 |
| 49 | M | 44 | Joe Bayliss | 1:43:20 | 14' | 29 | 50 | 50+ | 7 |
| 50 | F | 6 | Wendy Ackermann | 1:43:40 | F12'6" | 6 | 46 | Open | 6 |
| 51 | M | 45 | Dustin Ford | 1:44:36 | 14' | 30 | 39 | Open | 23 |
| 52 | M | 46 | Carlo Maravia | 1:44:45 | 14' | 31 | 37 | Open | 24 |
| 53 | F | 7 | Valerie Khachadourian | 1:45:48 | F12'6" | 7 | 50 | 50+ | 1 |
| 54 | M | 47 | Gary Leong | 1:46:15 | 12'6" | 16 | 65 | 50+ | 4 |
| 55 | M | 48 | Randall Urushima | 1:46:24 | 14' | 32 | 45 | Open | 25 |
| 56 | M | 49 | Jeff Timmons | 1:47:01 | 12'6" | 17 | 32 | Open | 12 |
| 57 | M | 50 | Matthew Kweder | 1:47:14 | 14' | 33 | 38 | Open | 26 |
| 58 | M | 51 | Mark Griffin | 1:47:23 | 14' | 34 | 43 | Open | 27 |
| 59 | M | 52 | Bill Schmidt | 1:47:25 | 14' | 35 | 67 | 50+ | 8 |
| 60 | M | 53 | Josiah Brackett | 1:47:31 | 12'6" | 18 | 12 | 17&U | 2 |
| 61 | M | 54 | Noel Young | 1:47:34 | 14' | 36 | 59 | 50+ | 9 |
| 62 | M | 55 | Alex Gutt | 1:47:41 | 12'6" | 19 | 40 | Open | 13 |
| 63 | F | 8 | Brie Moore | 1:47:57 | F12'6" | 8 | 36 | Open | 7 |
| 64 | M | 56 | Mitch Boothe | 1:48:06 | 14' | 37 | 52 | 50+ | 10 |
| 65 | M | 57 | Barnie Pugh | 1:48:18 | 14' | 38 | 64 | 50+ | 11 |
| 66 | M | 58 | Jeremy Shapiro | 1:49:01 | 12'6" | 20 | 33 | Open | 14 |
| 67 | F | 9 | Connie Altman | 1:49:38 | F12'6" | 9 | 61 | 50+ | 2 |
| 68 | M | 59 | Wayne Prouty Jr | 1:49:53 | 12'6" | 21 | 33 | Open | 15 |
| 69 | M | 60 | Dakar Holbrook | 1:50:43 | 14' | 39 | 47 | Open | 28 |
| 70 | M | 61 | Jared Power | 1:50:58 | 14' | 40 | 51 | 50+ | 12 |
| 71 | M | 62 | Charles Bowman | 1:51:52 | 12'6" | 22 | 37 | Open | 16 |
| 72 | F | 10 | Brenda McGirr | 1:52:06 | F14' | 1 | 57 | 50+ | 1 |
| 73 | F | 11 | Joan Vincent | 1:52:30 | F12'6" | 10 | 56 | 50+ | 3 |
| 74 | M | 63 | Connor Hollingsworth | 1:53:11 | 12'6" | 23 | 14 | 17&U | 3 |
| 75 | F | 12 | Teressmarie Tucker | 1:53:39 | F12'6" | 11 | 53 | 50+ | 4 |
| 76 | M | 64 | Dan Mathis | 1:54:16 | 14' | 41 | 63 | 50+ | 13 |
| 77 | M | 65 | Mike Thayer | 1:55:09 | 12'6" | 24 | 35 | Open | 17 |
| 78 | F | 13 | Kim Field | 1:56:11 | F12'6" | 12 | 39 | Open | 8 |
| 79 | M | 66 | Phil Segal | 1:57:12 | 14' | 42 | 66 | 50+ | 14 |
| 80 | M | 67 | Brady Flaherty | 1:58:23 | 12'6" | 25 | 41 | Open | 18 |
| 81 | M | 68 | Dan Quam | 2:04:24 | 12'6" | 26 | 53 | 50+ | 5 |
| 82 | F | 14 | Ashleigh Fisicaro | 2:04:42 | F12'6" | 13 | 31 | Open | 9 |
| 83 | F | 15 | Juliette Urushima | 2:09:48 | F12'6" | 14 | 41 | Open | 10 |
| 84 | F | 16 | Tricia Carter | 2:12:39 | F12'6" | 15 | 36 | Open | 11 |
| 85 | F | 17 | Suzanne Ruegg | 2:15:21 | Surf | 1 | 49 | Open | 13 |
| 86 | F | 18 | Nancy Barna | 2:21:33 | Surf | 2 | 53 | 50+ | 1 |
| 87 | F | 19 | Amy Carnevale | 2:24:38 | Surf | 3 | 45 | Open | 14 |
| 88 | F | 20 | Anne Greenwood | 2:38:04 | F12'6" | 16 | 52 | 50+ | 5 |
| 89 | F | 21 | Taylor Sperier | 2:39:25 | F12'6" | 17 | 15 | F17&U | 1 |
| 90 | F | 22 | Rachel Sperier | 2:39:26 | F12'6" | 18 | 13 | F17&U | 2 |
| 91 | F | 23 | Julie Mitchell | 2:51:39 | F12'6" | 19 | 43 | Open | 12 |