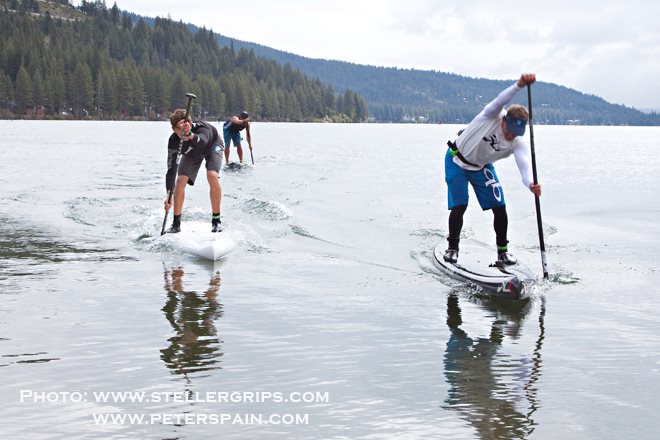 May 28, 2012
by Christopher Parker (@wheresbossman)
[RESULTS] 2012 Tahoe Cup – Donner Lake Memorial Paddle
Check out the action from Lake Tahoe on the weekend, which hosted the first of the 2012 O'Neill Tahoe Cup SUP Race Series events, the Donner Lake Memorial Paddle.
In true Tahoe fashion conditions were very fresh, with plenty of booties and long johns on display (and some snow cover on the surrounding mountains, just for good measure). The race saw a solid turnout with 68 paddlers crossing the finish line.
It was a super tight battle for victory in the men's race, with Rob Rojas, Kody Kerbox and Jay Wild sharing the lead the whole race. In the end it was a sprint to the finish with Jay Wild snagging the narrowest of victories over Kody Kerbox and Rob Rojas in third.
Meanwhile Jen Fuller dominated the women's race to claim the win (and beat two-thirds of the men's field in the process).
Scroll down past the pics for the full race results.
There's plenty of SUP racing action happening in Northern California this year – just check out our calendar to find the next Stand Up Paddle Races @ Lake Tahoe.
Plus a big thanks to Peter Spain Photography for the epic shots. Trivia: Peter's also the inventor of the new Steller Grips paddle handles…
*****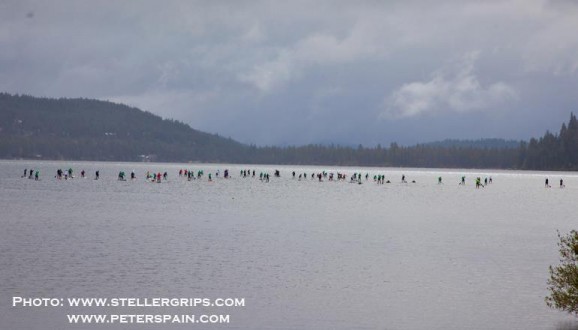 *****
Tahoe Cup SUP Race Series: Donner Lake Memorial
Click "M/F" to switch between Men's and Women's Results
Click "Class" or "Division" to sort results by Board Class or Age Division

| # | M/F | M/F # | Name | Time | Age | Class | # | Division | # |
| --- | --- | --- | --- | --- | --- | --- | --- | --- | --- |
| 1 | M | 1 | Jay WILD | 0:48:10 | 32 | 14' | 1 | Open Men | 1 |
| 2 | M | 2 | Kody KERBOX | 0:48:12 | 18 | 14' | 2 | M Youth | 1 |
| 3 | M | 3 | Rob ROJAS | 0:48:21 | 38 | 14' | 3 | Open Men | 2 |
| 4 | M | 4 | Rand CARTER | 0:51:16 | 48 | Unlim | 1 | Open Men | 1 |
| 5 | M | 5 | Ronnie AYRES | 0:51:30 | 44 | 14' | 4 | Open Men | 3 |
| 6 | M | 6 | Ben SARRAZIN | 0:51:39 | 39 | 12'6" | 1 | Open Men | 1 |
| 7 | M | 7 | Jake LAMBERTH | 0:51:46 | 48 | Unlim | 2 | Open Men | 2 |
| 8 | M | 8 | Seth SPRINGER | 0:51:50 | 35 | 14' | 5 | Open Men | 4 |
| 9 | M | 9 | Austin YOUNG | 0:54:26 | 20 | 12'6" | 2 | Open Men | 2 |
| 10 | M | 10 | Derek DIAL | 0:55:54 | 42 | 12'6" | 3 | Open Men | 3 |
| 11 | M | 11 | Mike TESSLER | 0:56:10 | 43 | 14' | 6 | Open Men | 5 |
| 12 | M | 12 | Adam FREEMAN | 0:56:12 | 32 | 12'6" | 4 | Open Men | 4 |
| 13 | M | 13 | Chris BRACKETT | 0:56:24 | 42 | 14' | 7 | Open Men | 6 |
| 14 | M | 14 | David MEYLER | 0:56:31 | 40 | 12'6" | 5 | Open Men | 5 |
| 15 | M | 15 | Scott ESTRADA | 0:56:33 | 44 | 14' | 8 | Open Men | 7 |
| 16 | F | 1 | Jen FULLER | 0:56:56 | 49 | F12'6" | 1 | Open Women | 1 |
| 17 | M | 16 | Michael BOND | 0:57:33 | 56 | 14' | 9 | Masters Men | 1 |
| 18 | M | 17 | Brian THOMAS | 0:57:57 | 47 | Prone | 1 | Open Men | 1 |
| 19 | M | 18 | MacRae WYLDE | 0:58:19 | 48 | 14' | 10 | Open Men | 8 |
| 20 | M | 19 | Dino WILSON | 0:58:31 | 50 | 12'6" | 6 | Open Men | 6 |
| 21 | M | 20 | Ken ALTMAN | 0:58:33 | 69 | 14' | 11 | Masters Men | 2 |
| 22 | M | 21 | James BRUCE | 1:00:03 | 31 | Prone | 2 | Open Men | 2 |
| 23 | M | 22 | Geoffrey JAMES | 1:00:04 | 49 | 12'6" | 7 | Open Men | 7 |
| 24 | M | 23 | Elijah DELAUNAY | 1:00:27 | 15 | 12'6" | 8 | M Youth | 1 |
| 25 | M | 24 | Scott BOYLES | 1:00:39 | 49 | 12'6" | 9 | Open Men | 8 |
| 26 | F | 2 | Julianne BRACKETT | 1:00:45 | 18 | F12'6" | 2 | F Youth | 1 |
| 27 | F | 3 | Fiona WYLDE | 1:02:39 | 15 | F12'6" | 3 | F Youth | 2 |
| 28 | M | 25 | Marcus TINGLE | 1:02:56 | 42 | 14' | 12 | Open Men | 9 |
| 29 | M | 26 | Michael MELVILLE | 1:04:25 | 58 | 12'6" | 10 | Masters Men | 1 |
| 30 | M | 27 | Jay VALOIS | 1:06:07 | 48 | 14' | 13 | Open Men | 10 |
| 31 | M | 28 | Patric HILLENBRAND | 1:07:10 | 47 | Unlim | 3 | Open Men | 3 |
| 32 | M | 29 | Paul ZARUBIN | 1:07:22 | 58 | 14' | 15 | Masters Men | 3 |
| 33 | M | 30 | Nick VIVAR | 1:07:22 | 48 | 14' | 14 | Open Men | 11 |
| 34 | F | 4 | Nina OAKLEY | 1:07:44 | 30 | F12'6" | 4 | Open Women | 2 |
| 35 | M | 31 | Brian MARTINEZ | 1:08:32 | 37 | 14' | 16 | Open Men | 12 |
| 36 | M | 32 | Leroy BISHOP | 1:09:08 | 52 | 14' | 17 | Open Men | 13 |
| 37 | M | 33 | Adam LAUBER | 1:09:50 | 40 | 12'6" | 11 | Open Men | 9 |
| 38 | M | 34 | Larry FERGUSON | 1:12:00 | 53 | 14' | 18 | Open Men | 14 |
| 39 | F | 5 | Nichole HULL | 1:12:02 | 33 | F12'6" | 5 | Open Women | 3 |
| 40 | M | 35 | Joe QUINN | 1:12:51 | 46 | Unlim | 4 | Open Men | 4 |
| 41 | F | 6 | Helen GALLAGHER | 1:13:21 | 52 | F12'6" | 6 | Open Women | 4 |
| 42 | M | 36 | Jared BRACKETT | 1:14:47 | 20 | 12'6" | 12 | Open Men | 10 |
| 43 | M | 37 | Richard SCHOUTEN | 1:15:18 | 45 | 12'6" | 13 | Open Men | 11 |
| 44 | F | 7 | Brie MOORE | 1:16:16 | 36 | F12'6" | 7 | Open Women | 5 |
| 45 | M | 38 | Mitch BOOTHE | 1:17:34 | 52 | 14' | 19 | Open Men | 15 |
| 46 | F | 8 | Connie ALTMAN | 1:19:03 | 61 | F12'6" | 8 | Masters Women | 1 |
| 47 | M | 39 | Gary LEONG | 1:19:14 | 65 | 12'6" | 14 | Masters Men | 2 |
| 48 | M | 40 | Phil SEGAL | 1:24:46 | 66 | 14' | 20 | Masters Men | 4 |
| 49 | M | 41 | Josiah BRACKETT | 1:25:33 | 12 | 12'6" | 16 | Open Men | 12 |
| 50 | F | 9 | Wendy ACKERMANN | 1:25:57 | 46 | F14' | 1 | Open Women | 1 |
| 51 | F | 10 | Brenda MCGIRR | 1:27:06 | 57 | F14' | 2 | Masters Women | 2 |
| 52 | M | 42 | John KEAGY | 1:27:18 | 44 | 14' | 21 | Open Men | 16 |
| 53 | M | 43 | Gibson BEELER | 1:28:59 | 53 | 12'6" | 17 | Open Men | 13 |
| 54 | M | 44 | Connor HOLLINGSWORT | 1:30:49 | 14 | 12'6" | 18 | M Youth | 2 |
| 55 | F | 11 | Maria-Elaina BOWMAN | 1:31:00 | 36 | F12'6" | 9 | Open Women | 6 |
| 56 | M | 45 | Charlie BOWMAN | 1:31:06 | 36 | 12'6" | 19 | Open Men | 14 |
| 57 | F | 12 | Kimmie FIELD | 1:31:33 | 38 | F12'6" | 10 | Open Women | 7 |
| 58 | F | 13 | Teressmarie TUCKER | 1:35:25 | 53 | F12'6" | 11 | Open Women | 8 |
| 59 | M | 46 | Jonathan TAY | 1:36:30 | 46 | 12'6" | 20 | Open Men | 15 |
| 60 | F | 14 | Jenna BRACKETT | 1:38:19 | 14 | F12'6" | 12 | F Youth | 3 |
| 61 | M | 47 | Cameron VALOIS | 1:39:35 | 12 | 12'6" | 21 | M Youth | 3 |
| 62 | F | 15 | Janessa BRACKETT | 1:41:54 | 16 | F12'6" | 13 | F Youth | 4 |
| 63 | F | 16 | Kelly WOO | 1:43:13 | 35 | F12'6" | 14 | Open Women | 9 |
| 64 | M | 48 | Brandon CARTER | 1:44:44 | 39 | 14' | 22 | Open Men | 17 |
| 65 | F | 17 | Angela GARDNERANGEL | 1:45:22 | 40 | F12'6" | 15 | Open Women | 10 |
| 66 | F | 18 | Nancie SCHOENER | 1:46:08 | 53 | F14' | 3 | Open Women | 2 |
| 67 | F | 19 | Tricia CARTER | 1:51:15 | 36 | F12'6" | 16 | Open Women | 11 |
| 68 | F | 20 | Kristina BERGSTRAND | 1:54:00 | 42 | F12'6" | 17 | Open Women | 12 |