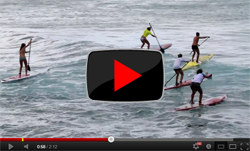 October 25, 2012
by Christopher Parker (@wheresbossman)
[VIDEO] Annabel Anderson's Stand Up World Series Championship Recap
Kai Lenny wasn't the only one to score a major victory at the Stand Up World Series Finals the other week. New Zealand's Annabel Anderson also went though that event undefeated to claim the inaugural Stand Up World Series Championship title.
Granted the women's side of the 2012 SUP World Series didn't get as much traction as the men's… Annabel was the only elite female at many events and faced just a handful of genuine challengers throughout the year. Most of the world's best women chose to skip the World Series events for one reason or another.
So while it may be a stretch to call this the "undisputed World Championship of SUP racing", there's no doubt Annabel is still worthy of the title. Her performance during the Battle of the Paddle at Dana Point highlighted that for the world to see.
Ironically, her results at the BoP would have done more to cement her as the "World's Best Female SUP Racer" than actually winning the "World Series Championship" title. That's the thing about the BoP, it's seen as the world's most prestigious and competitive SUP race, even though it doesn't actually market itself as a "World Championship" event.
Either way, Annabel had a kickass year and there's plenty of good action in the clip below. In addition to dominating the BoP, Annabel also made the news by defeating every single guy at the Oleron Long Distance Race (including a couple of Europe's best paddlers).