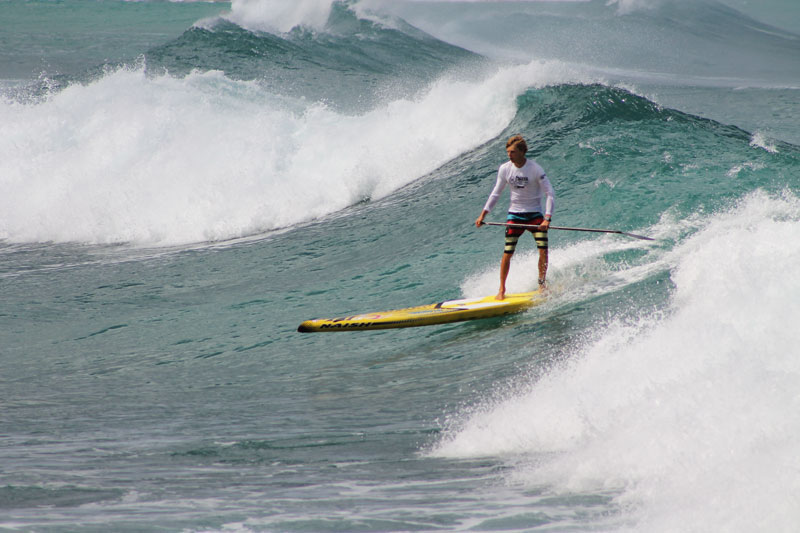 October 14, 2012
by Christopher Parker (@wheresbossman)
[RESULTS] Stand Up World Series Finals @ Turtle Bay (UPDATED)
The Stand Up World Series Finals have just wrapped up @ Turtle Bay on Oahu's North Shore (Hawaii). Saturday was the Long Distance race from Turtle Bay to Haleiwa, while today it was the awesome "Paddlecross" Knockout Sprint races.
This was the final event of the inaugural Stand Up World Series, with Kai Lenny and Connor Baxter coming into the weekend battling it out for the overall 2012 Series victory.
Kai drew first blood on Saturday, chasing down Connor Baxter to win the Distance Race by almost two minutes (WATCH: Stand Up World Series Finals – Distance Race Video).
Things were a little less predictable in Sunday's Sprint Races though, with a solid swell producing plenty of waves (and carnage). But despite the conditions and the talent that was on display, Kai Lenny managed to take out the win for the second day in a row. Kai snatched first place in a four-way photo finish to make it a double victory this weekend.
Crossing the line just centimetres behind Kai were Casper Steinfath (aka the Danish Viking), Slater Trout and Zane Schweitzer. Steinfath's result in the sprints, combined with his solid effort in the Distance Race gave him third place overall for the weekend. Not a bad effort for a guy who lives in the cold of Scandinavia and trains solo most of the year.
Kai's victory on the North Shore means the young gun from Maui also takes out the inaugural Stand Up World Series Championship title; another trophy to go along with his 2x SUP surfing World Titles.
Meanwhile in the women's race this weekend, Annabel Anderson was too strong for the competition. The New Zealander took out both the Distance Race and Knockout Sprints, and in doing so was crowned the 2012 Stand Up World Series Women's Champion.
Scroll down for the full results from the weekend, then take a look at all the action with our Stand Up World Series Finals photo gallery.
*****
Stand Up World Series Finals @ Turtle Bay: MEN'S RESULTS
Click "Distance" or "Sprint" to sort results from each separate race

| # | Name | Distance | Sprint | Combined |
| --- | --- | --- | --- | --- |
| 1 | Kai Lenny | 0.7 | 0.7 | 1.4 |
| 2 | Connor Baxter | 2 | 6 | 8 |
| 3 | Casper Steinfath | 7 | 3 | 10 |
| 4 | Jake Jensen | 4 | 8 | 12 |
| 5 | Noa Ginella | 5 | 9 | 14 |
| 6 | Zane Schweitzer | 13 | 4 | 17 |
| 6 | Eric Terrien | 6 | 11 | 17 |
| 6 | Slater Trout | 15 | 2 | 17 |
| 9 | Kody Kerbox | 11 | 7 | 18 |
| 9 | Ryan Helm | 8 | 10 | 18 |
| 11 | Andrew Logreco | 3 | 16 | 19 |
| 12 | Riggs Napoleon | 9 | 12 | 21 |
| 13 | Mo Freitas | 19 | 5 | 24 |
| 14 | Fernando Stalla | 12 | 13 | 25 |
| 15 | Kaeo Abby | 10 | 16 | 26 |
| 16 | Belar Diaz | 17 | 13 | 30 |
| 17 | Bart de Swart | 14 | 19 | 33 |
| 18 | Matt Becker | 16 | 23 | 39 |
| 19 | Ingo Rademacher | 27 | 13 | 40 |
Stand Up World Series Finals @ Turtle Bay: WOMEN'S RESULTS
Click "Distance" or "Sprint" to sort results from each separate race

| # | Name | Distance | Sprint | Combined |
| --- | --- | --- | --- | --- |
| 1 | Annabel Anderson | 0.7 | 0.7 | 1.4 |
| 2 | Halie Harrison | 3 | 2 | 5 |
| 3 | Olivia Piana | 4 | 3 | 7 |
| 4 | Rachel Bruntsch | 2 | 5 | 7 |
| 5 | Vanina Walsh | 5 | 3 | 8 |
| 6 | Mariko Strickland | 6 | 6 | 12 |
| 7 | Alison Fullagar | 7 | 6 | 13 |
(*Olivia and Rachel were tied for points so they had a one-lap tie-breaker race, which Olivia narrowly won)
*****
2012 Stand Up World Series: Overall Championship Rankings
Overall Championship Rankings based on the best result from the 2012 season + the result from the Finals

| # | Name | Season Best Result | Finals Result | Total |
| --- | --- | --- | --- | --- |
| 1 | Kai Lenny | 0.7 | 0.7 | 1.4 |
| 2 | Connor Baxter | 2 | 2 | 4 |
| 3 | Slater Trout | 3 | 6 | 9 |
| 4 | Eric Terrien | 4 | 6 | 10 |
| 5 | Zane Schweitzer | 5 | 6 | 11 |
| 6 | Jake Jensen | 8 | 4 | 12 |
| 7 | Ryan Helm | 6 | 8 | 14 |
| 8 | Casper Steinfath | 11 | 3 | 14 |
| 9 | Mo Freitas | 4 | 13 | 17 |
| 10 | Kody Kerbox | 10 | 8 | 18 |
| 11 | Noa Ginella | 14 | 5 | 19 |
| 12 | Fernando Stalla | 7 | 14 | 21 |
| 13 | Bart de Swart | 15 | 17 | 32 |
| 14 | Belar Diaz | 18 | 16 | 34 |
| 15 | Andrew Logreco | 24 | 11 | 35 |
| 16 | Gaeten Sene | 9 | 29 | 38 |
| 17 | Kaeo Abbey | 23 | 15 | 38 |
| 18 | Leonard Nika | 12 | 29 | 41 |
| 19 | Gregory closier | 13 | 29 | 42 |
| 20 | Arthur Daniel | 17 | 29 | 46 |
WOMEN
1st: Annabel Anderson
(full results for the women's championship coming soon)
*****
CLICK HERE FOR MORE PHOTOS OF THE ACTION