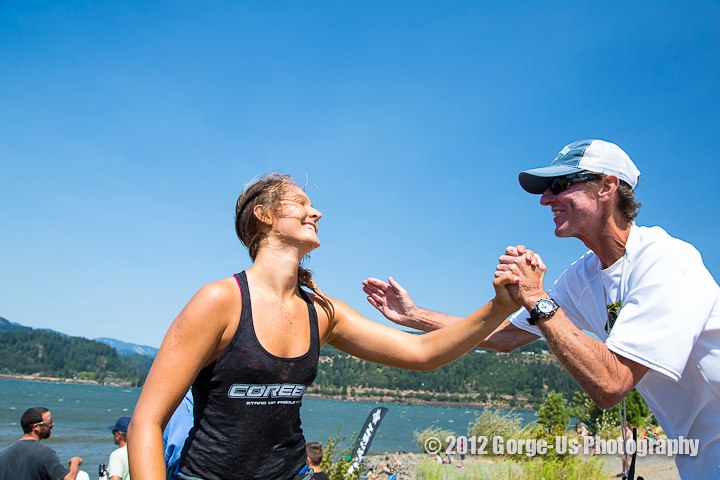 August 21, 2012
by Christopher Parker (@wheresbossman)
Talia Gangini Disqualified For Paddling "Wrong" Board
If you've taken a look at SUPracer.com at any point in the past five days, you couldn't have missed our coverage of the Naish Columbia Gorge Paddle Challenge. The event was massive. It drew one of the most elite fields of any SUP race this year, and with conditions turning it on, became an instant classic.
Saturday saw a hard-fought Elite Course Race while Sunday produced strong winds for an epic Downwind Race. Talia Gangini, fresh from winning Molokai in record time, was one of the favourites for the Downwinder. And the young Maui paddler delivered. Talia put in a very strong performance to claim second place in the women's race, behind only Candice Appleby and ahead of the extremely talented Jenny Kalmbach.
However Talia didn't make the podium. She didn't even get an official place. All she got was a DQ next to her name…
Why?
There was a rule put in place before the event that said "Elite paddlers must use the same board for both races". That meant competitors had to paddle the exact same board in Saturday's flat-water Elite Course Race as well as Sunday's Elite Downwinder. Two totally different races in two totally different sets of conditions. Same board.
Sounds kinda crazy at first glance, so why was the rule there at all?
The basic idea is that it would level the playing field and make the travel & logistics a lot easier. Not every paddler had the luxury of having their boards waiting for them at the Gorge, courtesy of helpful sponsors. For many, travelling with just one board was a pain in the ass. The idea of taking two boards all the way to Oregon to race would've been borderline impossible for some.
So in that respect, the rule makes sense. It kept things simple and easy for everyone and potentially even made the races a bit more interesting (less about the "best board" and more about the "best paddler"?).
But it also hurt the racing: You can't max out a downwinder on a flat-water board, and vice versa.
Some paddlers chose to voluntarily DQ themselves so they could test out different boards in each race, or just so they could enjoy the downwinder on a downwind-specific board. But for the Elites who were chasing the prize money, there was no choice. It was one board for the whole weekend and nothing else.
We don't know how well the rule was conveyed to the paddlers, but Talia clearly didn't know it was in place. As you can see, Talia had no idea she was about to be disqualified until after the downwinder was over:

The mistake cost Talia $1,000 in prize money and the chance to stand on the podium as a deserving runner-up.
But rules are rules. It was the same rule for every paddler. The women around her had to use the same board, so Talia gained an advantage by switching up to a downwind-specific board. Talia simply made an unfortunate (and quite innocent) error.
Using the "wrong" board was a mistake Talia obviously won't make again. But will she, or anyone else, even have the opportunity to make that mistake again? Will this rule catch on at other races, or will it be seen as hampering performance and get thrown out straight away?
It could go either way.
I still haven't decided whether I like this rule or not, but I can definitely appreciate the logic to it. I think it's too early to tell whether it's good or bad, but you could easily argue it has a place in SUP racing. You could also very easily argue that it doesn't.
Generally, I think the more rules you have in SUP racing the worse it is. The more rules you have, the harder the sport is to understand, the less fun it is, and the less appealing it is to spectators. Just think of the contentious drafting rules…
Keep it simple.
But in a strange way, maybe this new rule would do just that: make things simpler…
With this rule you only need one board instead of two, which helps with travel headaches and levels the playing field a bit more. The rule could possibly even help solve the "fragmentation" issue (i.e. having three different board classes in the one race) which is often very hard to understand even for some paddlers, let alone the spectators we're trying to attract…
So maybe this "one board" rule should be introduced at other major races, especially events where there's a lot of international paddlers flying in from overseas (such as the Battle).
But on the other hand, it sounds absolutely absurd to disqualify someone from a downwinder for paddling a downwind board…
What do you think though?
Is this rule good or bad?
Is it crazy to hold back SUP race performance just for the sake of "making it easier to travel"? Or does this rule level the playing field and take a lot of the hassle and stress out of racing?
Leave a comment below and share your opinion with us…