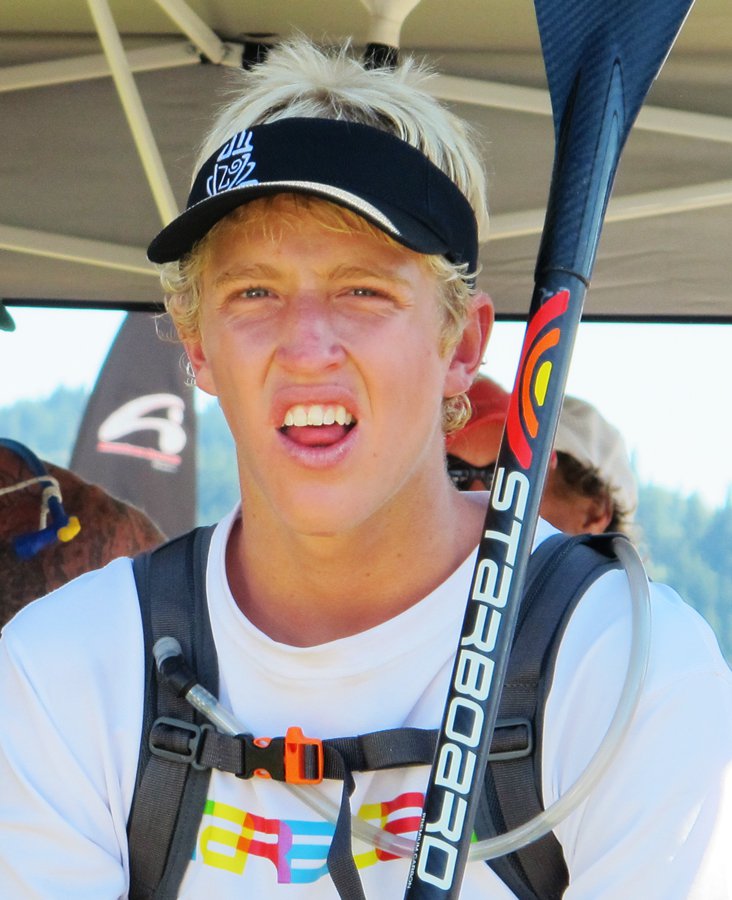 August 17, 2012
by Christopher Parker (@wheresbossman)
Gorge Paddle Challenge: $18,000 Plus A Good Chunk Of The World's Best Paddlers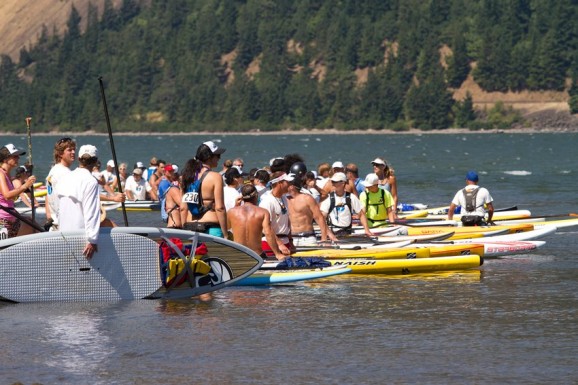 ————————————————————————————————————————————————————–
UPDATE: The event is now ON, so check out the Columbia Gorge Paddle Challenge RESULTS
————————————————————————————————————————————————————–
The Naish Columbia Gorge Paddle Challenge is happening this weekend and looks set to be one of THE biggest SUP races of 2012.
There's $18,000 in prize money up for grabs, which has attracted a heap of the world's best stand up paddlers to Oregon. Just some of the stars that'll be racing at the Gorge include:
Jamie Mitchell, Kai Lenny, Chase Kosterlitz, Talia Gangini, Slater Trout, Chuck Patterson, Candice Appleby, Fernando Stalla, Anthony Vela, Jim Terrell, Matt Becker, Tucker Ingalls, Dave Kalama, Noa Ginella, Dan Gavere, Jay Wild, Jenny Kalmbach, Thomas Maximus and the list goes on…
You can assume defending champ Connor Baxter will be in town as well, which would almost make the Gorge Paddle Challenge the most competitive SUP race of 2012 (the only event that could definitely say it attracted more talent was the Waikiki Paddle Festival).
————————————————————————————————————————————————————–
Gorge Paddle Challenge 2011 Elite Course Race highlights:

————————————————————————————————————————————————————–
So yeah, the 2012 Gorge Paddle Challenge is gonna be one of those rare SUP races where even finishing at the bottom of the Top 10 is worth a genuine podium spot.
As for the race itself, Saturday features the Course Race, which is like an hour-long sprint with a heap of buoy turns. It's a flat-water Battle of the Paddle, basically. Then on Sunday, conditions are looking good for the 8 mile Downwinder along the famed Columbia Gorge.
But who's going to rise above the stacked field and take the glory?

Gorge Paddle Challenge Predictions!
Alright, I'm putting SUPracer's good name on the line and calling the winners early.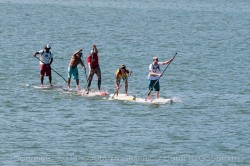 Saturday's flat-water Course Race will no doubt see a lot of draft trains, just like last year's event. Some people are against drafting, but I love it. It adds different strategies and tactics to a SUP race, plus it keep things exciting by making a close finish way more likely.
So a good sprint at the start (see Connor's nice attempt at that in the video above) or some sharp buoy-turns are the only real chance for the top few elite paddlers to break away from each other.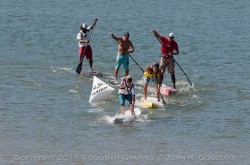 I'm thinking there'll be a good five or six guys in the lead draft train all the way to the end (similar to last year). Then in the final couple of hundred metres it'll be a mad sprint to the line, which will separate those who were setting the pace from those who were just hanging on.
Though in the end I say it's going to be Kai Lenny to win the Course Race in a mad sprint to the line, just a few seconds ahead of Jamie Mitchell, Connor Baxter and Chase Kosterlitz. Candice Appleby will win the women's.
Sunday's race is a bit more open; it's a downwinder so drafting is largely impossible. The field will be spread out and there's every chance of an upset. But I don't think that's gonna happen. I'm picking Jamie Mitchell to take out the downwinder ahead of Connor.
If the downwind conditions are ON, then in the women's race side I see Talia Gangini using her Maui downwind experience to sneak home in front of Candice and Jenny Kalmbach.
But no matter what happens, make sure you're following SUPracer all weekend (especially on Facebook) to get the Gorge Paddle Challenge results as they happen. In the meantime you can get more info on the official site or check out the 2011 Gorge Paddle Challenge results below.
*****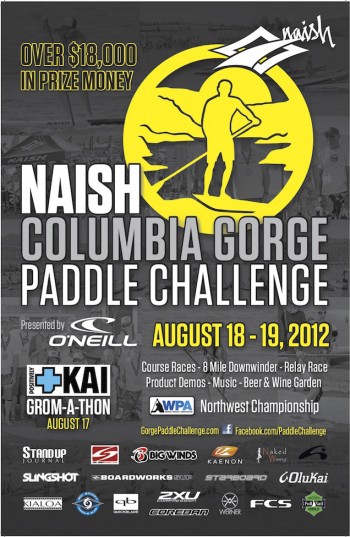 Last year's Gorge Paddle Challenge results…
Elite Course Race (Women)
1st: Candice Appleby (0:50:45)
2nd: Annabel Anderson (0:50:53)
3rd: Brandi Baksic (0:51:17)
Elite Course Race (Men)
1st: Connor Baxter (1:00:49)
2nd: Kai Lenny (1:00:51)
3rd: Chase Kosterlitz (1:00:55)
Downwinder (Men)
1st: Connor Baxter (1:11:35)
2nd: Kai Lenny (1:12:06)
3rd: Dave Kalama (1:15:18)
Downwinder (Women)
1st: Candice Appleby (1:25:04)
2nd: Jenny Kalmbach (1:26:49)
3rd: Annabel Anderson (1:28:23)