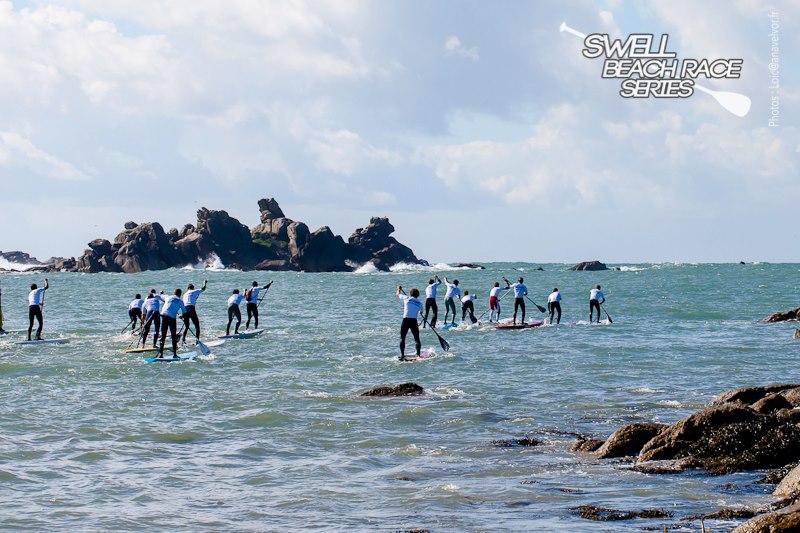 March 18, 2013
by Christopher Parker (@wheresbossman)
Eric Terrien Retains His Crown As King Of French SUP Racing


France's Swell Beach Race Series continued yesterday, with European #1 Eric Terrien making his series debut and showing straight away that he's still the King of SUP Racing in his home country.
The air looked cold. The water looked cold. Yet there were still almost 40 die hard SUP racers out in the water, including almost all of France's top guys. As well as Terrien there was also international elite paddlers such as Gaetene Sene, winner of the first two events Greg Closier, and young gun Arthur Daniel. Only Yoann Cornelis was missing.
The race was held in Porspoder (North Finistère), and apart from the freezing conditions there was also a light wind/cross chop to make things even trickier. But in the end experience won, with Eric Terrien ending Greg Closier's unbeaten streak in the Series (see the results from the Race #1 and Race #2).
You can check out the full recap of the race in French (or dodgy English) or simply just take a look at the full race results and photos below.
France's Swell Beach Race Series – Race #2 RESULTS
| # | Name | Time | Division | Board |
| --- | --- | --- | --- | --- |
| 1 | Eric Terrien | 41'59 | Men's | BIC |
| 2 | Gaetan Sene | 42'34 | Men's | Starboard |
| 3 | Greg Closier | 43'14 | Men's | Hobie |
| 4 | Arthur Daniel | 44'53 | Junior | F-One |
| 5 | Amaury Dormet | 45'23 | Men's | Fanatic |
| 6 | Vincent Verhoeven | 45'43 | Men's | Surftech |
| 7 | Marco Juliot | 46'16 | Men's | Fanatic |
| 8 | Olivier Garet | 46'29 | Men's | Fanatic |
| 9 | Martin Letourneur | 47'35 | Junior | Hobie |
| 10 | Thomas Kimpflin | 48''15 | Men's | Fanatic |
| 11 | Gregoire Vitry | 48'23 | Men's | Nah |
| 12 | Fred Istin | 48'26 | Men's | Starboard |
| 13 | Franck Leven | 49'28 | Men's | Naish |
| 14 | Pierre Le Coq | 50'13 | Men's | Fanatic |
| 15 | Vincent Guillaume | 50'24 | Men's | Nah |
| 16 | Jeremy Branchu | 50'34 | Men's | Naish |
| 17 | Thomas Hebert | 51'03 | Junior | Naish |
| 18 | Stephane Guiomar | 51'11 | Men's | Jimmy |
| 19 | Pascal Pouget | 51'59 | Men's | Starboard |
| 20 | Renaud Noyelle | 52'11 | Men's | Nah Skwell |
| 21 | Philippe Biarnes | 52'49 | Men's | 404 |
| 22 | Martin Vitry | 53'02 | Junior | Nah Skwell |
| 23 | Ronan Botrel | 53'05 | Men's | Fanatic |
| 24 | Stive Lener | 53'35 | Men's | Red |
| 25 | Ildut Marzin | 54'03 | Men's | Nah |
| 26 | Christophe Ly | 54'24 | Men's | Nah |
| 27 | J.P Letourneur | 55'02 | Men's | Jimmy Lewis |
| 28 | Eric Gricourt | 56'26 | Men's | F-One |
| 29 | Patrice Mercereau | 57'13 | Men's | JP Australia |
| 30 | Jean Letourneur | 57'18 | Junior | Jimmy Lewis |
| 31 | Anne Crozet | 58'33 | Women's | Jimmy Lewis |
| 32 | Solange Pruvost | 58'36 | Women's | Fanatic |
| 33 | Alain Geffrault | 61'02 | Men's | Jimmy Lewis |
| 34 | Karine Dormet | 61'19 | Women's | Fanatic |
| 35 | Jean Marc Hebert | 63'44 | Men's | Naish |
| 36 | Tanguy Richard | 73'00 | Junior | Nah Skwell |
| 37 | Celine Salles | 75'00 | Women's | n/a |
| 38 | Catherine Letourneur | 76'00 | Women's | n/a |
Photos © SwellAddiction.com/Loic Olivier