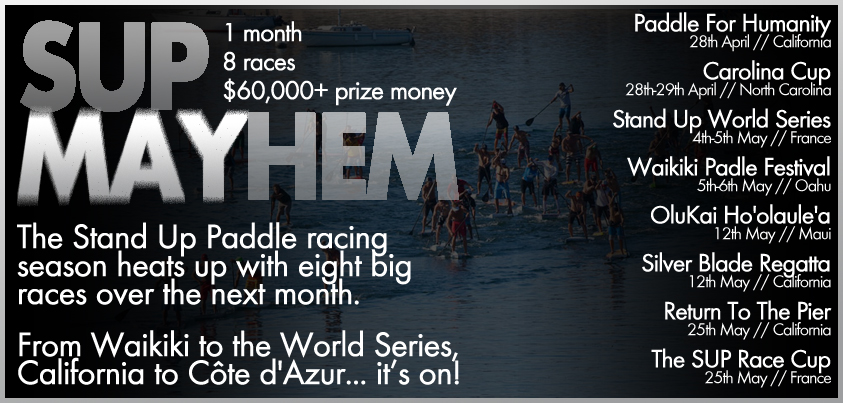 SUP MAYHEM: 1 Month, 8 Races, $60,000+ Prize Money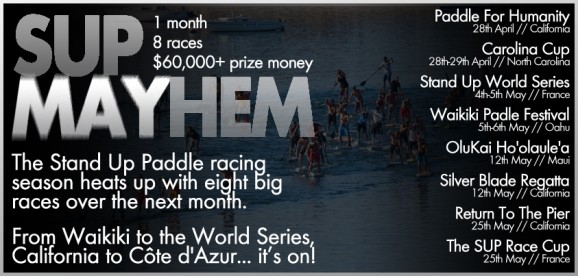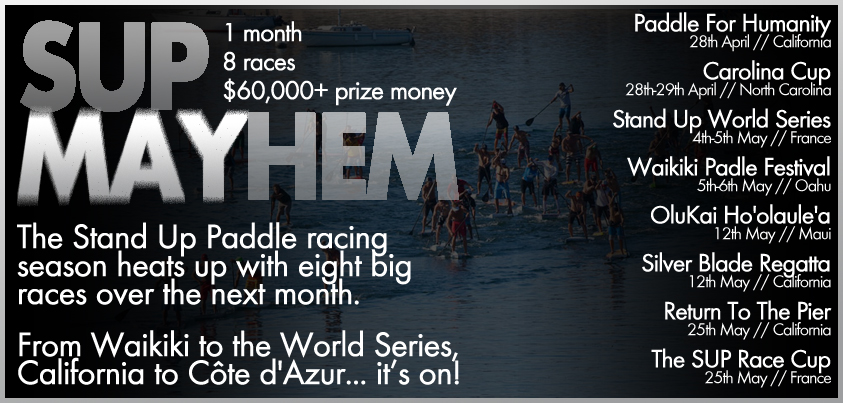 The next month is shaping up to be a massive time for Stand Up Paddle racing. From the last weekend in April to the end of May, there are eight stand-out events that have a combined prize purse of over $60,000.
Check out the full run down of races below.
(…and remember, these are just the BIG stand up paddle races – according to our list of stand up paddle races, there are 48 different races happening around the world in the next month!)
*****
Paddle For Humanity
28th April // Dana Point, California
The world's most successful charity SUP race series, the Watermans Paddle For Humanity is bigger and better than ever in 2012.
There are five races across the States this year, with the opener happening this weekend at Dana Point.
Connor Baxter and Slater Trout are flying in for the event to challenge guys like Rob Rojas and Chuck Patterson (who's designed a special new race format – the "Chuck Patterson Rally SUP Race").
Check out the official Paddle For Humanity site for more info.
*****
Carolina Cup
28th-29th April // North Carolina
This year's Carolina Cup is set to be the biggest SUP race ever held on the East Coast, with 300-400 paddlers expected to trek out to North Carolina.
There are a bunch of top paddlers from California making the trip as well, including Danny Ching, Candice Appleby and Jim Terrell.
Plenty of different races are on offer, with the highlight being the 12.5 mile Elite Race on the "Graveyard" course. There's also a 6 mile Open Race (on the "Money Island" course) plus fun races and kids events.
Get all the info @ CarolinaCup-SUP.com and follow the locals @ DistressedMullet.com for updates.
*****
Stand Up World Series
4th-5th May // La Torche, France
Although it got off to a delayed start, the Stand Up World Series has the potential to be the biggest (let's face it: the only) worldwide SUP racing league.
Next week's event, Stand Up World Series @ La Torche, will run directly after the Stand Up World Tour event at the same location (SUP World Series = racing // SUP World Tour = surfing).
Many of the world's best paddlers will be competing, including Kai Lenny, Zane Schweitzer and European guns Eric Terrien, Belar Diaz and the Danish Viking himself, Casper Steinfath.
*****
Waikiki Paddle Festival
5th-6th May // Oahu, Hawaii
One of the biggest Stand Up Paddle races of 2012, Quiksilver Waterman Collection's Waikiki Paddle Festival is less than a week away.
This event is taking over from where the Battle of the Paddle Hawaii left off (the BoP is only going to be in California this year).
The event is set to debut the epic new race format – the "Survivor SUP Race" – as well as the "Ultimate Waterman Challenge" (a combination of stand up paddling, prone paddling and swimming). Plus there will be all the usual races: Open Race, Long Distance race (Hawaii Kai run), Team Relays as well as OC and prone paddleboarding events.
With $25,000 prize money and the likes of Jamie Mitchell, Danny Ching, Travis Grant, Connor Baxter, Candice Appleby (and a tonne of other pros) all confirmed, the Waikiki Paddle Festival is going to be BIG. So stay tuned to SUPracer.com for all the live action, interviews and results (we're on location baby).
Whether you want to race against the world's best paddlers, or simply just soak up the atmosphere of a great weekend in Waikiki: CLICK HERE to register now.
*****
OluKai Ho'olaule'a
12th May // Maui, Hawaii
Not long after the Waikiki Paddle Festival wraps up, many of the world's best stand up paddlers will be hopping on a plane to Maui to prep for the OluKai Ho'olaule'a stand up paddle race.
The OluKai Ho starts from the famous Maliko Gulch, one of the world's most famous SUP downwind runs.
There's $15,000 in prize money, split evenly between men and women. Several of the top pros from Australia and California will be battling it out against the super-strong the Maui locals (last year's Top 5 was: Kai Bartlett, Livio Menelau, Ekolu Kalma, Mark Raaphorst and Jeremy Riggs).
CLICK HERE to register and make sure you're following SUPracer for live updates on race day.
*****
Silver Blade Regatta
While it's traditionally an event for kayakers, the Silver Blade Regatta has been gaining momentum with stand up paddle racers as well. The fact it's an Olympic training venue gives it added weight.
Expect to see many of SoCal's finest racing over the 200m and 2,000m courses.
More info on the official Silver Blade Regatta site.
Jim Terrell won the 200m sprints @ the 2011 Silver Blade Regatta with the "Plunge Stroke" – a technique heavily inspired by Terrell's days as an Olympic Sprint Canoer. Check out the video below to see it in action:
*****
Return To The Pier
25th May // Hermosa Beach, California
The 2012 Hennessey's Paddleboard Racing series kicks off at Hermosa Beach with the Return To The Pier race.
Famous for hosting the World Paddleboard Championships at the end of each year, Hennessey's also have a full series of SUP races throughout the year. That includes the Return To The Pier, US Championships and South Bay Dozen races.
Closely linked with the World Paddle Association, Hennessey's events are always a good show, so the Return To The Pier race should attract the best from California's stand up paddle race scene.
*****
The SUP Race Cup
The SUP Race Cup has become a permanent fixture on the European stand up paddle racing circuit. Held at St. Maxime on the world famous Côte d'Azur, and with St. Tropez just around the corner, it's in a picture perfect location.
It also seems every year at least one big name paddler from the U.S. makes the trip over to France for this event. In the past it's been Byron Kurt and Chuck Patterson, while this year it'll be Chase Kosterlitz battling it out against Europe's best, such as the Frechmen Eric Terrien and Gatene Sene.
Stand Up Paddling races in Europe has been exploding over the past 12 months, and with over 5,000 Euros in prize money on offer in St. Maxime, the SUP Race Cup should enjoy another huge event this year.
Get more info on the official SUP Race Cup Facebook event page.
The SUP MAYHEM World Tour:
Watermans Paddle For Humanity // 28th April // Dana Point, California
Carolina Cup // 28th-29th April // North Carolina
Stand Up World Series @ La Torche // 4th-5th May // Brittany, France
Quiksilver Waterman Collection's Waikiki Paddle Festival // 5th-6th May
OluKai Ho'olaule'a // 12th May // Maui
Silver Blade Regatta // 12th May // San Diego, California
Hennessey's Return To The Pier // 25th May // Hermosa Beach, California
The SUP Race Cup // 26th-27th May // St. Maxime, France
*****
★★WIN!★★
Leave a comment on our Facebook page in the next 48 hours and you could win an Epic SUP Cap.
Simply CLICK HERE then leave a COMMENT telling us which of these eight races you're most looking forward to.
Winner announced in 48 hours…. Go!