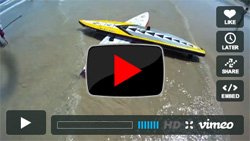 November 5, 2012
by Christopher Parker (@wheresbossman)
[VIDEO] Battle of the Inflatables
Inflatable SUP boards have always been seen as a bit of novelty. They've never really been taken seriously by paddlers (with the exception of the river crew) and the thought of racing on them seemed insane just 12 months ago. But this year we've seen a bunch of new inflatable Stand Up Paddle boards hit the market that have been aimed squarely at the more serious paddlers. And the thing is, they'e actually not so bad… They're no longer those dodgy, bouncy, 10 foot plastic hulks of a few years ago, suddenly they're 12'6″ or 14′ feet long and aimed squarely at the top end.
Naish launched their NiSCO SUP Racing format, where every paddler is on a new Naish One inflatable (the same yellow board that's in the video below). France's Gaetene Sene even paddled one of Starboard's new prototype inflatable SUPs (similar to the white board below) in the Battle of the Paddle Elite Race. He finished 30th. In the biggest race of the year.
Clearly the manufacturing is hitting a decent level, and while inflatable SUP race boards will never overtake carbon models, they're at least starting to look like a decent alternative. Plus this way you don't have to carry around 14 feet of excess baggage…
So check out this video for a solid look at two new 12'6″ inflatable SUP race boards in action. They're both 12'6″ models, with one coming from Starboard and the other out of the Naish stable.
This vid comes from Melbourne's David John, who's also been responsible for some extreme, home-made SUP GoPro mounts.
[Hat tip: the Breeze]