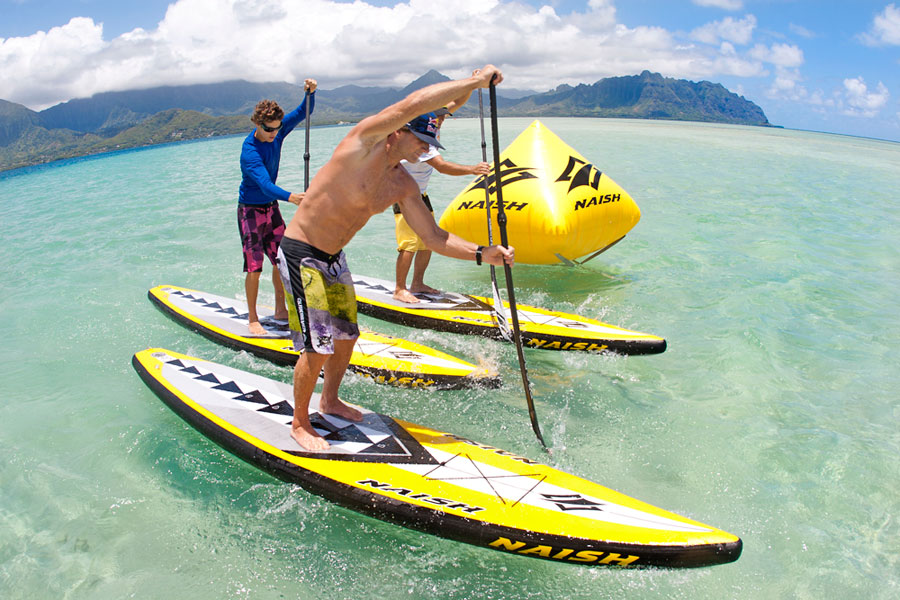 September 6, 2012
by Christopher Parker (@wheresbossman)
Naish Officially Launches The "ONE" Inflatable Race Board + NiSCO One Design Race Series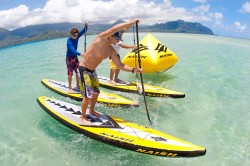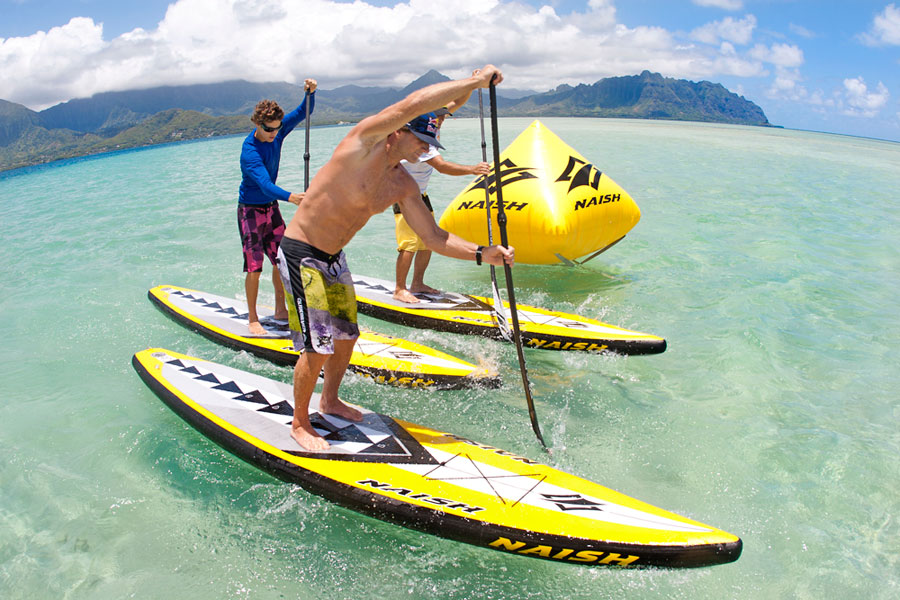 Naish have just officially announced their new Inflatable SUP race board, the 12'6″ "ONE" inflatable. The launch coincides with the big surf trade show happening in Florida this week, though the board was first spotted six weeks ago at the Outdoor Retailer event.
Specs for the Naish ONE inflatable are: 12'6″ long, 30 inches wide, 6 inches thick, 265L volume and the board weighs in at 10.8kg (24 pounds).
But is an inflatable SUP a serious race board, or just a convenient novelty that you'd use for touring and fun races? I've paddled inflatable SUP race boards before and they've been pretty dodgy, at least when compared to a real carbon race board. They're so flexy that it feels like you're paddling a banana. But maybe Naish have done it right? They're certainly talking up this new board: "Provides an accessible, easy to ride yet high performance racing design." "Fun, stable and unbelievably fast."
Though the performance quality might not matter so much, as it looks like Naish is pushing this towards newer paddlers and those just looking for some fun SUP racing action without the hassle that comes with owning a 12'6″ carbon SUP. But either way, Naish has got pretty big plans for this board, because along with the launch of the ONE inflatable comes a new "one design" racing series/format…
NiSCO SUP Race Series
The NiSCO (or N1SCO) SUP race series will see all paddlers on the same board (the ONE inflatable SUP) with set courses at all events (ranging from 100m sprints to 6km distance races). NiSCO officially stands for: Naish International SUP Class Organization (though NiSCO is a little catchier…).
The launch of NiSCO comes just a week or two after BIC UP announced their own One Design race series. It'll be interesting to see if either series takes off. One Design SUP racing isn't new; there's often "fun races" at major events, where all paddlers use the same board (usually 11ft SUP surfboards). Though up until now all of these One Design races have been novelty races off to the side of the main event, so we'll have to wait and see if Naish or BIC's latest efforts can become anything more than a novelty.
But maybe that's just the point of the ONE inflatable and the NiSCO race series, that Naish want it to be a fun, novelty type of SUP racing. The aim is probably to get first time/newbie stand up paddlers into the racing side of things, as it's obviously not going to be targeting many paddlers at the elite level. Plus of course if your first experience of SUP racing is on a bright yellow board with Naish stickers all over it, you're a lot more likely to buy another Naish board if/when you step up to a real SUP race board. So it's probably less about creating a serious new class of SUP racing, and more about spreading the "Naish = SUP Racing" message and cornering the market for newer paddlers.
There's already a few N1SCO SUP races announced, with the first race set for this weekend in Lyon, France, which will be part of the big Open de Lyon SUP race. The other races announced so far are all at boat shows/trade shows, which shows the NiSCO is probably more about marketing than serious SUP racing.
Still, kinda looks like fun: