November 1, 2012
by Christopher Parker (@wheresbossman)
Kai Lenny Hits Australia For A (Very Busy) Week [UPDATED]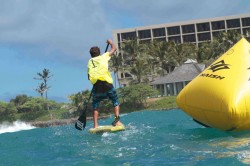 Fresh from claiming the Stand Up World Series Championship a few weeks back, Kai Lenny is hitting Australia this week for a promo tour.
As part of a trip organised by his main sponsor, Naish, the new all-star of SUP racing will be hitting Sydney, Melbourne and the Gold Coast over the next ten days, with plenty of Stand Up Paddling on the menu.
One of the first stops will be the Downwind Race @ Narrabeen on Saturday, which is part of the 2012 Sydney Ocean Series. Kai will be up against some of Australia's finest downwind paddlers, including Sam Parker (who held pace with Connor Baxter @ The Doctor earlier this year) and Dave Kissane (who was on a tear in Maui a few months back).
Then it's up to sunny Queensland for some play time and schmoozing, before hitting Melbourne for some NiSCO racing, then finishing off at the Jetty To Jetty SUP race over in Adelaide.
Although Kai's unlikely to have anyone feeling sorry for him, seeing he's getting flown around the world to play in the ocean, Kai's trip to Oz isn't exactly laid-back either: there's 23x scheduled appearances (across four different states) packed into just 10 days…
SUPracer.com will be catching up with Kai when he hits the Gold Coast on Monday, so stay tuned for an interview with the champ next week.  For the Aussies out there, scroll down to see the official flyer and find out when & where you can paddle with the young champ.
UPDATE:
Here's Kai's first day in Oz. Hanging with surfing legend Tom Carroll, not a bad way to start your trip…