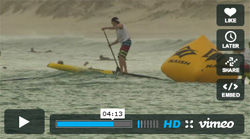 June 2, 2012
by Christopher Parker (@wheresbossman)
[VIDEO] Cold Hawaii: Casper Steinfath (the Danish Viking)
This is Casper Steinfath. At the age of 18 he's already one of Europe's best Stand Up Paddle racers (and surfers), despite having to train in the ice for almost half the year.
2011 was a breakout year for young SUP racer from Denmark. After dominating every race in Northern Europe all summer, he travelled to Holland for the gruelling 11 City Tour race (a five-day, 220km ultra-marathon…). The young Dane beat home a bunch of highly fancied racers to snag a spot on the overall podium plus grabbed a couple of stage wins along the way.
Casper then went and snared a 15th in the 2011 Battle of the Paddle California Elite Race, finishing ahead of a lot of international talent. He backed it up with a 3rd in the 14′ Long Distance race.
This year the Danish Viking has been on a tear, finishing near the top of every major race in Europe. That includes a 3rd place @ the La Torche Stand Up World Series and a 4th at last week's big SUP Race Cup in France.
The Stand Up Paddle race scene in Europe is growing like crazy. This weekend Casper is back in France for the Massilia SUP Race, while next week it's one of the continent's most lucrative races of all time; the €20,000 Lost Mills SUP Race in Bavaria, Germany.
Steinfath will be looking to make his permanent mark on the European race scene, though he'll be up against the undisputed Euro #1, Eric Terrien, as well as international stars such as Chase Kosterlitz.
Team SUPracer will be on location to follow the action, so keep an eye out for live updates from Germany on June 9th.
In the meantime check out Casper's ice training and SUP racing video below. Oh and if you ever complain about it being too cold to train for your own races, come back and watch this…