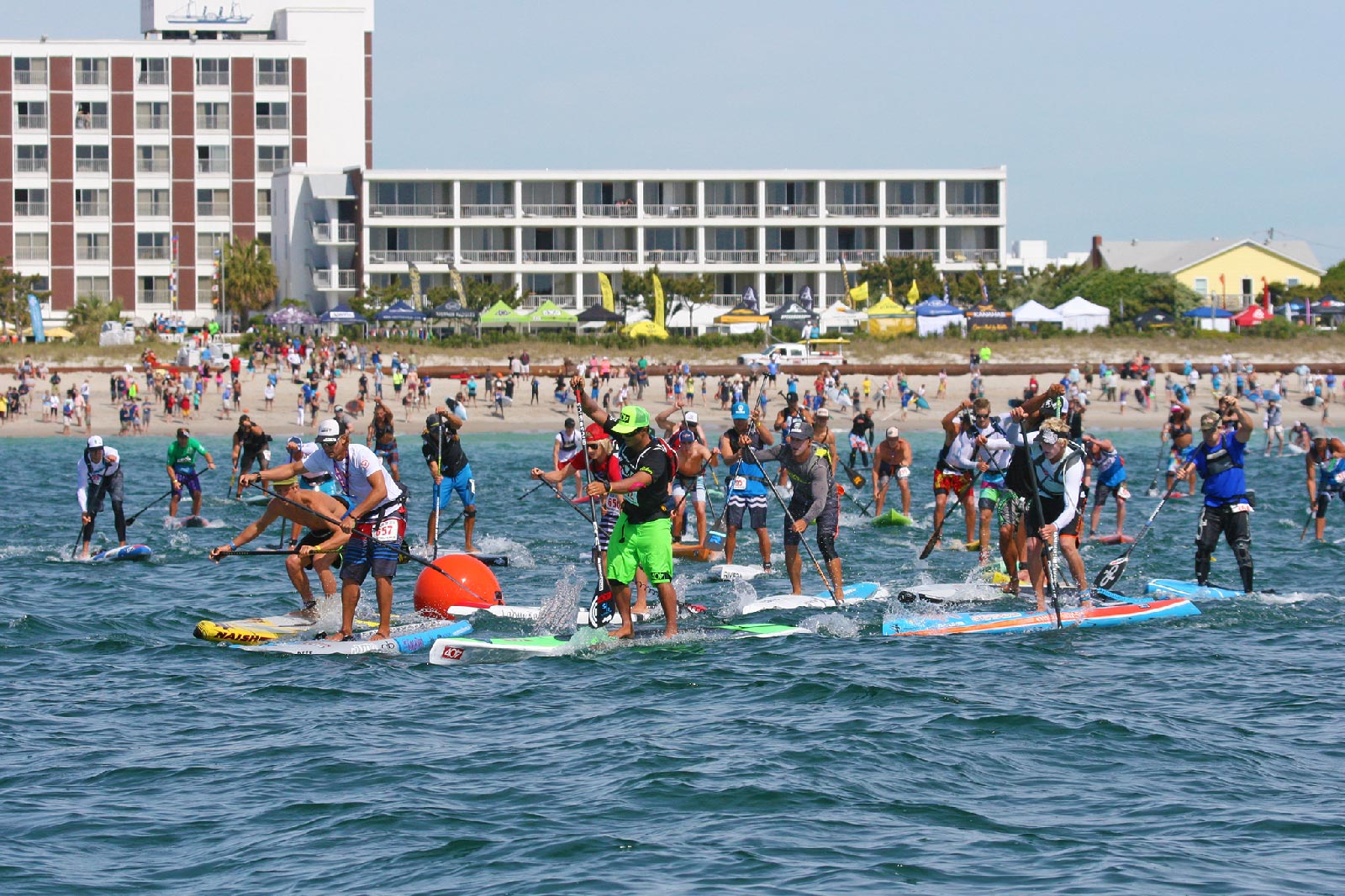 April 13, 2017
by Christopher Parker (@wheresbossman)
A Brief History of the Carolina Cup: Here's Every Champion (and Podium-Getter) from 2011-2016
The Countdown to Carolina is officially underway, with almost all of the world's best paddlers getting ready to hop on a plane to Wilmington, North Carolina for the 7th Annual West Marine Carolina Cup aka the first major race of the season.
This year's event is set to be the most competitive yet, with an absolutely stacked field of elite talent joining hundreds of amateur paddlers for a major festival of stand up paddling.
That elite talent is why Carolina earned a mammoth 7-star rating on our Season 2017 race schedule, making it one of the most significant SUP events on the planet and setting up a mouth-watering clash of the titans in just over a week's time.
But just how well do you know your Carolina history? What went down in the first half a dozen editions of this iconic race? Well here's your official cheat sheet…
Down below we've listed the top three finishers, both men and women, from every edition of the Carolina Cup dating going right back to the inaugural event in 2011 (yes, it's been going that long).
Two names stand out: Danny Ching and Annabel Anderson have have thoroughly dominated this race over the years, with three and four wins respectively. Annabel is on a hot-streak and going for her fifth straight title in 2017, while Danny won three straight from 2012-2014 and has an additional two podiums to highlight just how consistent he's been over the past half a decade.
There are also an even 10 athletes that have podium'd at least twice. And just look at those names: Ching, Grant, Kalmbach, Baksic. It's a who's who of SUP racing's modern greats.
But who will add their name to the trophy this year? Given the level of talent and the number of fast-rising new stars, the 7th Annual Carolina Cup is going to be mighty competitive and mighty tough to predict.
But predict we shall try.
Next Friday April 21st, SUP Racer will host a special Carolina Cup "Preview & Predictions" show on Facebook Live with Jim Terrell and the Quickblade family. We're going to run you through the race, the form guide and try to predict who's going to finish top 10.
Then on Saturday April 22nd @ 10am local time, we're going to bring you a front row seat for the Carolina Cup with our Facebook Live Stream presented by Quickblade.
(And speaking of Quickblade: look who was standing on the third step of the podium at the inaugural Carolina Cup way back in 2011.)
So check out the winners list below, and keep checking back every day over the next week as we preview the big dance.
---
2017
?
2016
Champions: Titouan Puyo, Annabel Anderson
Runners-up: Travis Grant, Candice Appleby
Third place: Danny Ching, Sonni Honscheid
More: 2016 Carolina Cup results
2015
Champions: Travis Grant, Annabel Anderson
Runners-up: Danny Ching, Sonni Honscheid
Third place: Georges Cronsteadt, Lina Augaitis
More: 2015 Carolina Cup results
2014
Champions: Danny Ching, Annabel Anderson
Runners-up: Georges Cronsteadt, Jenny Kalmbach
Third place: Travis Grant, Lina Augaitis
More: 2014 Carolina Cup results
2013
Champions: Danny Ching, Annabel Anderson
Runners-up: Eric Terrien, Jenny Kalmbach
Third place: Jamie Mitchell, Brandi Baksic
More: 2013 Carolina Cup results
2012
Champions: Danny Ching, Heather Baus
Runners-up: Chase Kosterlitz, Brandi Baksic
Third place: Matt Becker, Candice Appleby
More: 2012 Carolina Cup results
2011
Champions: Anthony Vela, Karen Wrenn
Runners-up: Chase Kosterlitz, Heather Baus
Third place: Jim Terrell, Candice Appleby
More: 2011 Carolina Cup results (external)
Course Records
Travis Grant @ 2:04:42 (2015)
Annabel Anderson @ 2:17:07 (2016)
Winningest Athletes
Annabel Anderson: 4x champion (2013-)
Danny Ching: 3x (2012-2014)
Most Podiums
Danny Ching: 5x
Annabel Anderson: 4x
Travis Grant: 3x
Candice Appleby: 3x
Jenny Kalmbach: 2x
Brandi Baksic: 2x
Georges Cronsteadt: 2x
Chase Kosterlitz: 2x
Sonni Honscheid: 2x
Lina Augaitis: 2x