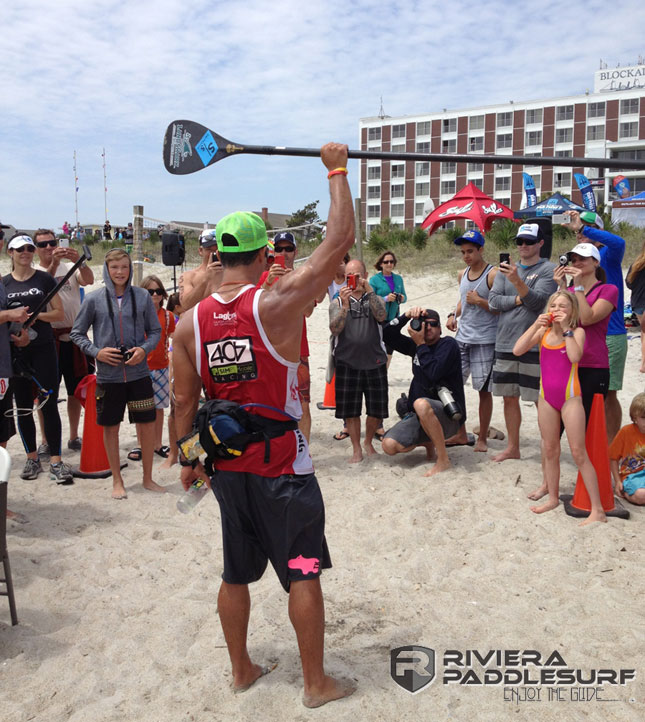 April 27, 2013
by Christopher Parker (@wheresbossman)
Danny Ching, Annabel Anderson Win The 2013 Carolina Cup In Style (UPDATED RESULTS)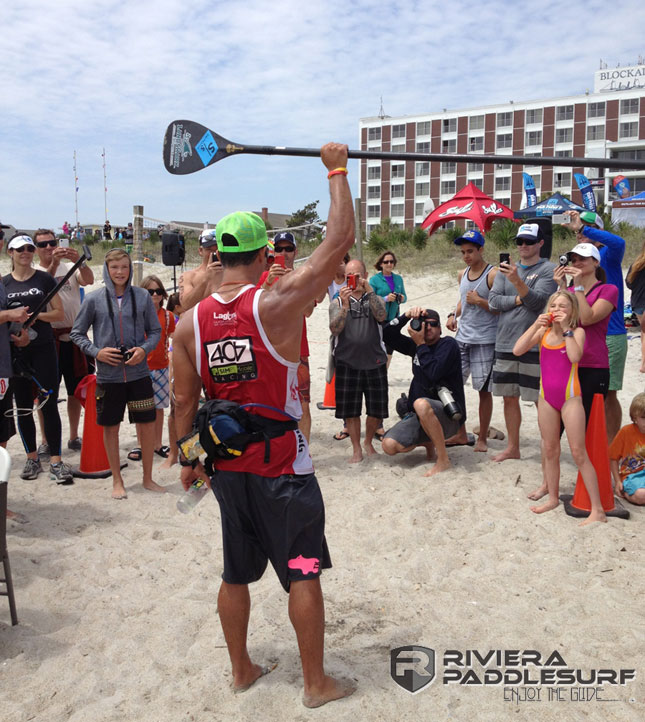 Danny Ching has won the 2013 Carolina Cup at Wrightsville Beach, claiming his second straight title in emphatic style to cement his position as the world's fastest stand up paddler. Danny opened up a big gap on the field and was well clear by the end of the 12.5 mile "Graveyard" Elite Race course, crossing the line exactly four minutes ahead of his nearest rival.
France's Eric Terrien also paddled extremely well to claim 2nd ahead of an all-star cast that included Jamie Mitchell (3rd), Chase Kosterlitz (4th), Ryan Helm (5th) and Matt Becker (6th).
Meanwhile Annabel Anderson put on a dominant display to claim victory ahead of Jenny Kalmbach and Brandi Baksic.
Check out the top results below. Full race results, recap and photos of the action coming very soon…
2013 Carolina Cup SUP Race Results
"The Graveyard" Men's Elite Race
Distance: 12.5 miles
1st: Danny Ching (2:14:40)
2nd: Eric Terrien (2:18:40)
3rd: Jamie Mitchell (2:19:42)
4th: Chase Kosterlitz (2:21:32)
5th: Ryan Helm (2:23:59)
6th: Matt Becker (2:24:17)
7th: Nick Leason (2:29:23)
8th: Thomas Maximus (2:30:28)
9th: Larry Cain (2:30:51)
10th: Jeramie Vaine (2:31:05)
11th: Jim Terrell (2:31:30)
12th: Belar Diaz (2:32:02)
13th: Tyson Poppler (2:32:13)
14th: Matthew McDonald (2:32:25)
15th: Charlie Howden (2:34:04)
16th: Brandon Rambo (2:37:30)
17th: Rami Zur (2:38:50)
18th: Billy Miller (2:40:51)
19th: Rand Perkins (2:42:15)
20th: Brian Szymanski (2:43:15)
21st: Jarrod Covington (2:44:01)
22nd: Greg Jaudon (2:44:20)
23rd: Jason Colclough (2:44:34)
>>> FULL RESULTS
"The Graveyard" Women's Elite Race
Distance: 12.5 miles
1st: Annabel Anderson (2:32:32)
2nd: Jenny Kalmbach (2:39:58)
3rd: Brandi Baksic (2:41:24)
4th: Krisztina Zur (2:43:42)
Heather & Savannah Baus [tandem] (2:44:06)
5th: Bailey Rosen (2:57:19)
6th: Olivia Piana (2:59:08)
7th: Mary Miller (2:59:34)
8th: Alison Riddle (3:01:55)
9th: Mary Anne Boyer (3:09:07)
10th: Kimberley Sutton (3:09:10)
11th: Karen Millenbrink (3:15:17)
12th: Dani Schmidt (3:17:36)
13th: Terri Plunkett (3:23:02)
14th: Kacie Wallace (3:26:52)
15th: Kerstin Ouellet (3:28:03)
16th: Kate Lewis (3:28:20)
17th: Bernadette Leach (3:30:49)
18th: Jenny ALderan (3:42:42)
19th: Trish Miller (3:44:43)
20th: Danielle LIcari (3:48:03)
21st: Mary Scheerer (3:52:23)