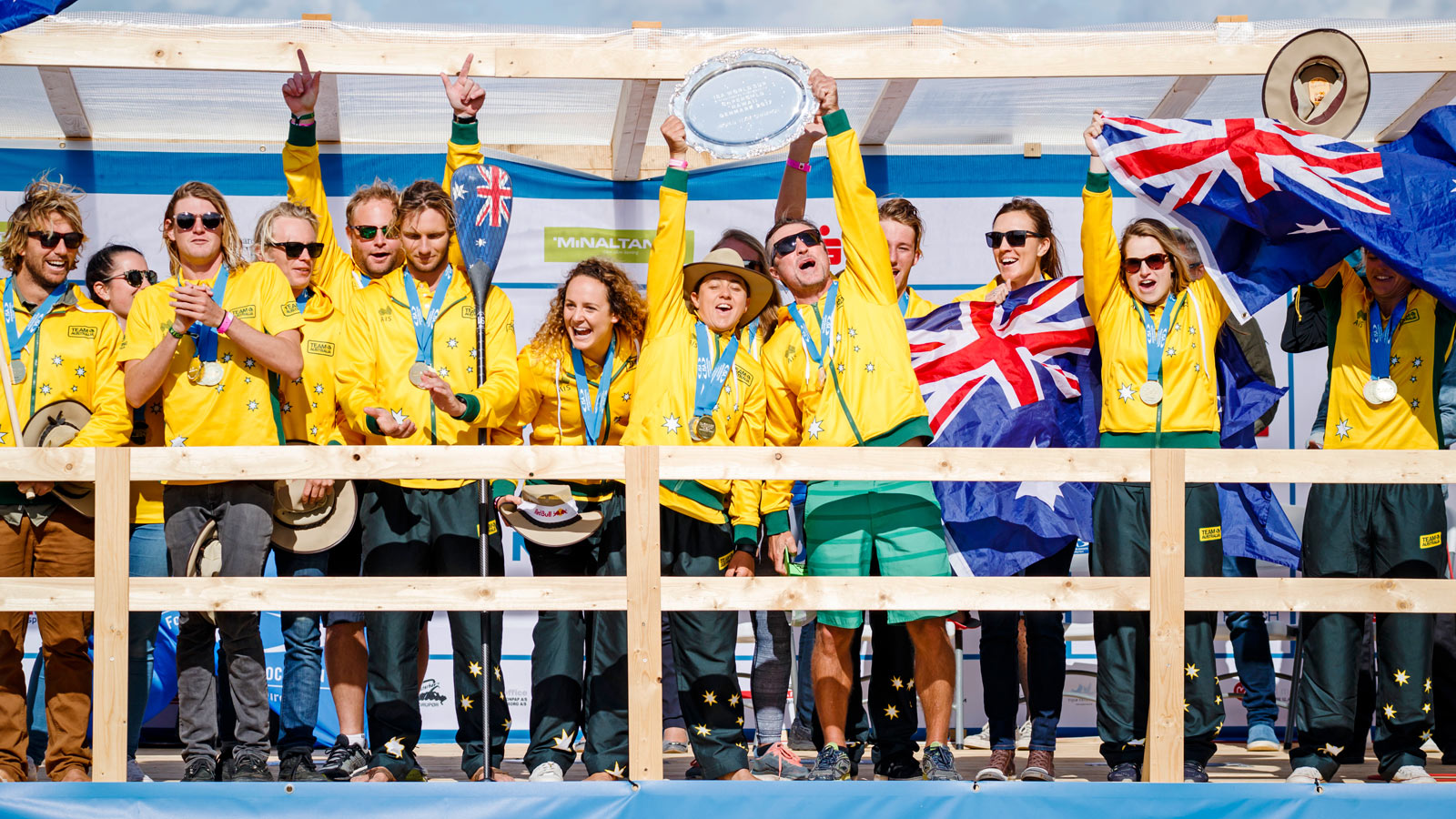 November 5, 2018
by Christopher Parker (@wheresbossman)
Your breakfast briefing: Team Australia's lineup for China
Good morning and welcome to episode #019 of Brekkie Bites–your daily breakfast briefing about the world of SUP. Here's the latest…

TEAM AUSTRALIA LINEUP REVEALED
The virtually-unbeatable Australians have revealed their lineup for the 7th annual edition of the ISA championships. Here's the team that will be flying the green & gold on the shores of China later this month.
I've also done some extended analysis of Team Australia for the superfans.
While we haven't heard much from the ISA about this year's Worlds (the event starts in just 18 days but the official site still points to last year's championships), national teams have been busy prepping squads for the annual showdown, which this year is set for Hainan, China from November 23 – December 2. Original host Brazil lost the event a few months ago.
We've already seen the lineups of other top contenders Team France and Team USA, and Australia now completes the "big three" announcements.
Check out the full analysis of Team Australia or simply take a look at the team lineup below.
You can watch the 2018 ISA Worlds on Facebook Live starting November 23rd. Or at least, I presume there will be a webcast — SUP Racer wasn't invited to participate this year (the ISA doesn't handle criticism very well, apparently).
---
TEAM AUSTRALIA 2018
WOMEN'S DISTANCE
Terrene Black, Shakira Westdorp
MEN'S DISTANCE
Michael Booth, Ty Judson
WOMEN'S BEACH RACE
Terrene Black, Shakira Westdorp
MEN'S BEACH RACE
Ty Judson, Harry Maskell
SPRINTS
Terrene Black, Michael Booth
WOMEN'S SURFING
Terrene Black, Shakira Westdorp
MEN'S SURFING
Harry Maskell, Ty Judson
JUNIOR BEACH RACE
Sam McCullough, Abbie Walkerdene
PRONE
Lachie Lansdown, Jordie Mercer
TEAM COACH
Troy Pease
See also:
– Team France
– Team USA
---