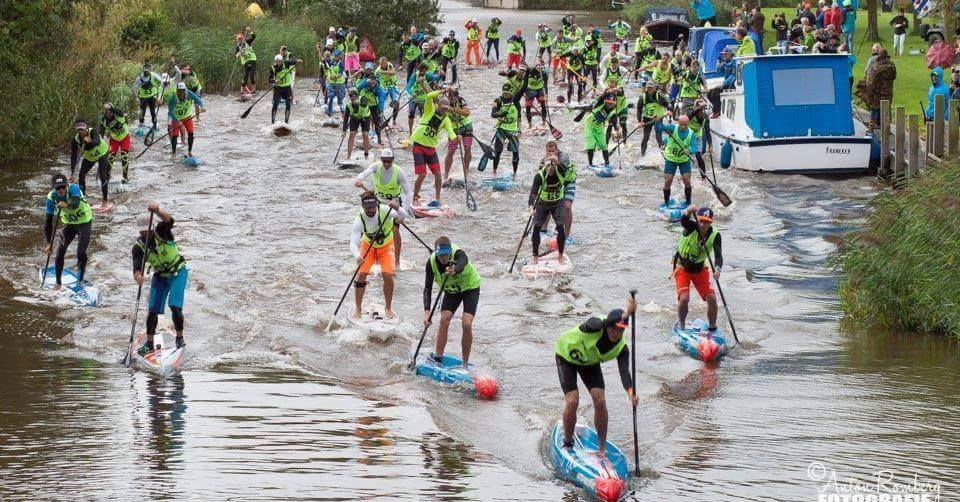 September 5, 2016
by Christopher Parker (@wheresbossman)
The 11 City Tour – The "Ultimate Challenge" – Takes Centre Stage in the Netherlands This Week
"The Ultimate Challenge" is about to begin again. On Wednesday morning, a hundred odd paddlers will be gathered on the water in Leeuwarden, a small city in the rural Dutch province of Friesland. Staring down in front of them will be 220 kilometres (136 miles) of canals and lakes, along with eleven cities (or mostly towns) that make up one of the most special races in the world of stand up paddling: The SUP 11 City Tour.
Now in its eighth year, the 11 Cities has grown to become one of the true classics on the international calendar. The race occupies a unique position in the world of SUP, providing paddlers with an extreme test: Five straight days of racing with an average of more than 40km (25 miles) per day.
Throw in the "inclement" weather (and that's putting it mildly), the unpredictable winds, the lakes that can either be sheet glass or raging downwinders, the impossibly long, straight stretches of canal that seemingly never end, the painfully fast pace during the opening few kilometres of each stage ("Why are we sprinting guys?! We've still got five hours to go!") and you can see why the official tagline of this race is The Ultimate Challenge.
But it's also a very special challenge, with a series of unique features, outside of the race itself, that make this more of an adventure than anything. Everything from the 100-year-old Dutch ships that act as floating hostels for the competitors to the morning ritual of free pancakes, the post-race ritual of free massages, and the army of volunteers and support crew that help make it all possible.
UPDATE: Gather some interesting insights into this race with Bart de Zwart's special guest post about the 11 City Tour
The 11 Cities is a race of extremes. It'll test you, and it'll probably break you. Even those who are addicted and keep coming back every year will admit to a rollercoaster of emotions during the race, while it's no surprise that many paddlers choose do it once and never again.
Given its unique "stage race" format, I look at the 11 Cities as being the Tour de France of SUP, however it's actually rooted in a different race, the fabled "Elfstedentocht.
Literally meaning "11 City Tour" in Dutch, the Elfstedentocht is a famous skating marathon that dates back to the 1700s. The race covers the exact same course as the SUP 11 City Tour (albeit a little quicker) but is only held in extremely cold winters when the ice is thick enough to safely carry the 16,000 participants over the canals.
The last Elfstedentocht was in 1997.
And despite the "cities" name, most of the 11 are actually just towns; a couple of them barely qualify as villages. You can get to know your Sneeks from your Hindeloopens and Slotens with our original 11 City Tour course maps from a couple years back.
When I first tackled the SUP 11 City Tour two years ago, I didn't know what to expect. But I do know one thing: I was completely unprepared. Not just physically but also mentally.
While it's extremely tough on the body, this race is even tougher on the mind. And the 11 Cities broke me on the very first day back in 2014. It broke me even more during the second stage. By the third stage I felt a ray of hope, during the fourth I could see light at the end of the tunnel, and by the time I'd reached the start/finish line all the way back in Leeuwarden on day five, I actually wanted to keep going. I was hooked, and that's what brought me back again last year.
Perhaps the best way to describe the SUP 11 City Tour is that it's like a bootcamp for both your body and mind. This is no ordinary SUP race. It will almost certainly break you to some degree at some point, but if you're willing to push yourself, it'll also give you strength. You'll probably learn a thing or two about yourself along the way.
Unfortunately, for a variety of reasons, I won't be back in Holland this year, which is both a huge relief (especially to my hands; see the gruesome photo below) and an extreme disappointment at the same time; when I tell people this is my favourite race in the world, I mean it.
But while I won't be in Friesland this week, I will be following the 11 Cities very closely from afar, and I will be sharing the highs, the lows and the daily results and recaps right here on SUP Racer.
https://www.instagram.com/p/7Xk1v9yssc/
[notdevice] [/notdevice]
While it's nowhere near the level of the Gorges and Carolinas of the world in terms of top ranked athletes on the start line, the 11 City Tour seems to grow in stature every year, attracting more prestige, notoriety and an adventurous band of paddlers from far and wide (there are 27 nations represented this year). The first official race was 2009 and it's been held every September, or SUPtember as they like to call it, since, though race founder Anne-Marie Reichman actually paddled it solo in 2008 just to test it out.
We've given it a 3-star rating on the SUP Racer World Rankings this year. It would have earned half that rating on its own, while the other half it receives based on its history, prestige and most of all, the ultimate challenge that it represents.
But enough with the backstory; who's going to win?
This year's sentimental favourite will surely be Bart de Zwart, who's competed in every single 11 City Tour and is now going for a record fifth title. No other man has won it more than once; Byron Kurt in 2009, Peter Bartl in 2013 and Steeve Teihotaata in 2015 are the only other champions of the men's race.
But now Bart is twice the age (or more) of many of his rivals, and while he still has the physical conditioning, and definitely still has the mental willpower to win, there's a new generation of hungry paddlers getting hooked on the ultra long distance, endurance-style racing that he pioneered (this style of racing now includes the epic Yukon River Quest and MR340 that Bart won a couple of months ago).
I can confidently say there is nobody in this field that can out race Bart at the 11 Cities – he'll have a better race strategy than anyone else – but there are a few young guns that can out muscle him. It will be an intriguing battle between the different generations, and I think any of the top four or five guys could realistically win it.
(Heads up: We'll have a special guest post form Bart on Tuesday afternoon, where he'll share his unique insights into what makes this race so amazing. UPDATE: Here's the post: Bart de Zwart's Interesting Insights into the 11 City Tour)
The defending champ, Steeve Teihotaata, is probably the one to watch again this year. He was flawless 12 months ago, finishing each stage on top seemingly without even breaking a sweat. Although he's a relative newcomer to SUP racing, the Tahitian is something of a god in the world of outrigger canoe racing, captaining the legendary EDT Va'a six-man team and having won pretty much every prestigious one-man canoe race as well. He has to start favourite in Friesland this week.
Steeve will not only return to defend his title this year, he'll also be aiming to give Team Mistral another clean sweep — he and Floridian Seychelle Hattingh won every single stage of the 2015 SUP 11 City Tour.
While I haven't seen the final start list just yet, my money is already on Seychelle in the women's race. The current 24 hour distance world record holder is an absolute machine in these distances, as she proved last year, and will be very hard to keep up with over the distance.
Seychelle is fresh off a big win at the SEA Paddle NYC a couple of weeks ago, and, judging by her Instagram, is in better shape than ever. I doubt anyone will match her, though keep an eye on young gun Caren Forbes, who is tackling her first 11 Cities and looking to cement her position on the Starboard international dream team.
Speaking of Team Mistral, Steeve and Seychelle will be joined in Friesland by Jonas Leteiri, the inspirational paddler from Brazil who seems to be always smiling and enjoying life wherever he goes. Jonas has been able to compete at a few of the really big races over the past couple of years, but this will be his biggest test yet, just as it is for every 11 Cities debutante.
Jonas' compatriot, Arthur Santacreu, one of the top guys on the Brazilian domestic circuit, will also be making his 11 Cities debut this week and is probably a top five contender. Speaking of internationals, one name I forgot to mention in my first draft of this article is Marcus Hansen from New Zealand, a guy that certainly has the speed to stick with the top group but has never competed in Friesland before, he'll lack the intimate course knowledge that can sometimes be key.
I'm also interested to see the growth of the European guys that keep coming back to this race every year, such as Pepe Oltra, who trains like an animal, and who fought back to finish 7th overall last year despite snapping his paddle in the first 10 minute of the opening stage. Italian Dark horse Martino Rogai has the talent to go top five, however this is his first Tour plus he only decided to enter a few weeks ago.
I've also been following the progress of James van Drunen, who last year became one of the youngest ever finishers of this race, and who this year has been on an absolute training bender according to his Instagram; James finished 27th last year but I expect to see him pushing up into the top 15, and perhaps even top 10 this year.
(You can check out the 2015 SUP 11 City Tour results to see who else was in form 12 months ago.)
But at the pointy end of the field, the ones to really keep an eye on will be the Hasulyo Brothers, Bruno and Daniel.
After a breakout performance 12 months ago, where they both finished top four overall, the Hasulyos have taken their already-intense training to a whole new level in their quest for 11 Cities glory. If you ask these guys what one race they'd love to win more than any other, they'll enthusiastically shout "11 Cities!" without a second thought. Some of us get infected with the 11 Cities bug; these guys have been consumed by it.
The brothers (or SUPBROz as they're known) are incredibly quick off the line, and actually led every stage last year for the first 30 or 40 minutes before Steeve inevitably reeled them in with his metronome-like rhythm. However if the Hasulyos have learned how to pace themselves in the past 12 months, they'll be genuine contenders for the title this time round. And no matter what the result, their explosive starts add an interesting new element to a race that hasn't always been associated with the word excitement.
Bruno and Daniel race for Team Starboard, just like Bart, and from what I hear all three of these top contenders will be on the new 2017 Sprint boards that are just 21.5 inches wide (or narrow). Connor Baxter and Trevor Tunnington famously unveiled these weapons at the Lost Mils a few months ago, and now it'll be very interesting to see just how well they perform in the unique confines of the 11 Cities.
The weather will play a big role: If it's windy, it's much easier to break away from the draft trains, especially on the big open lake near the end of the first stage. However if the weather is good – and the forecast looks excellent right now – it'll be a long, hot, grind of a race.
But while all of the paddlers I've mentioned above are in for a big challenge this week, they're all doing it the easy way, at least relatively speaking. Because there's also a thing called the Non-Stop Tour at the 11 Cities, which is exactly what it sounds like: a truly mind-boggling race that covers the entire 220km course in one go.
That race started early Monday morning, with the top finishers expected just before lunch on Tuesday and the stragglers coming in late Tuesday night.
The five day tour starts on Wednesday morning, and apart from our daily recaps, photos and video, you'll be able to follow the 11 City Tour as it happens on the live GPS tracking map. You can also follow the official Facebook page for regular photos and updates.
While we're waiting for the classic edition of the 11 City Tour to begin, you can already start following Non-Stop Tour on the GPS map. I believe there are 13 adventurers taking part in the non-stop race this year, though it's less of a race and more of a personal challenge for those who enter.
As I write this, it's around 4am Tuesday in the Netherlands, and, judging by the live tracking map, last year's five day runner-up, Frenchman Florent Dode, along with his compatriot Olivier Darrieumerlou, is leading the course; Joanne Hamilton-Vale, who mastered the ultra long distance MR340 race just six weeks ago, is leading the women's race.
Amazingly, Florent, who would be the odds-on favourite to win the non-stop race right now, is apparently going to turn around and do the five day race as well. So he'll paddle all day and all night Monday, finishing at about lunchtime on Tuesday, then take a break for less than 24 hours before doing the entire course again in five stages. Like I said: some people seriously get bitten by the 11 Cities bug…
Anyway that's all for now. Check back this afternoon for Bart de Zwart's insights, then check back all throughout the week and into the weekend to see who can conquer The Ultimate Challenge.
UPDATE (11am Tuesday local time): Florent is on track to finish in the 45 minutes, which would be an approximate race time of 25 hours 45 minutes. The fastest non-stop time stands at 26:20:31 (by Arnaud Frennet in 2014), so it looks like the Frenchman will win in record time.
[device]
[/device][notdevice] [/notdevice]