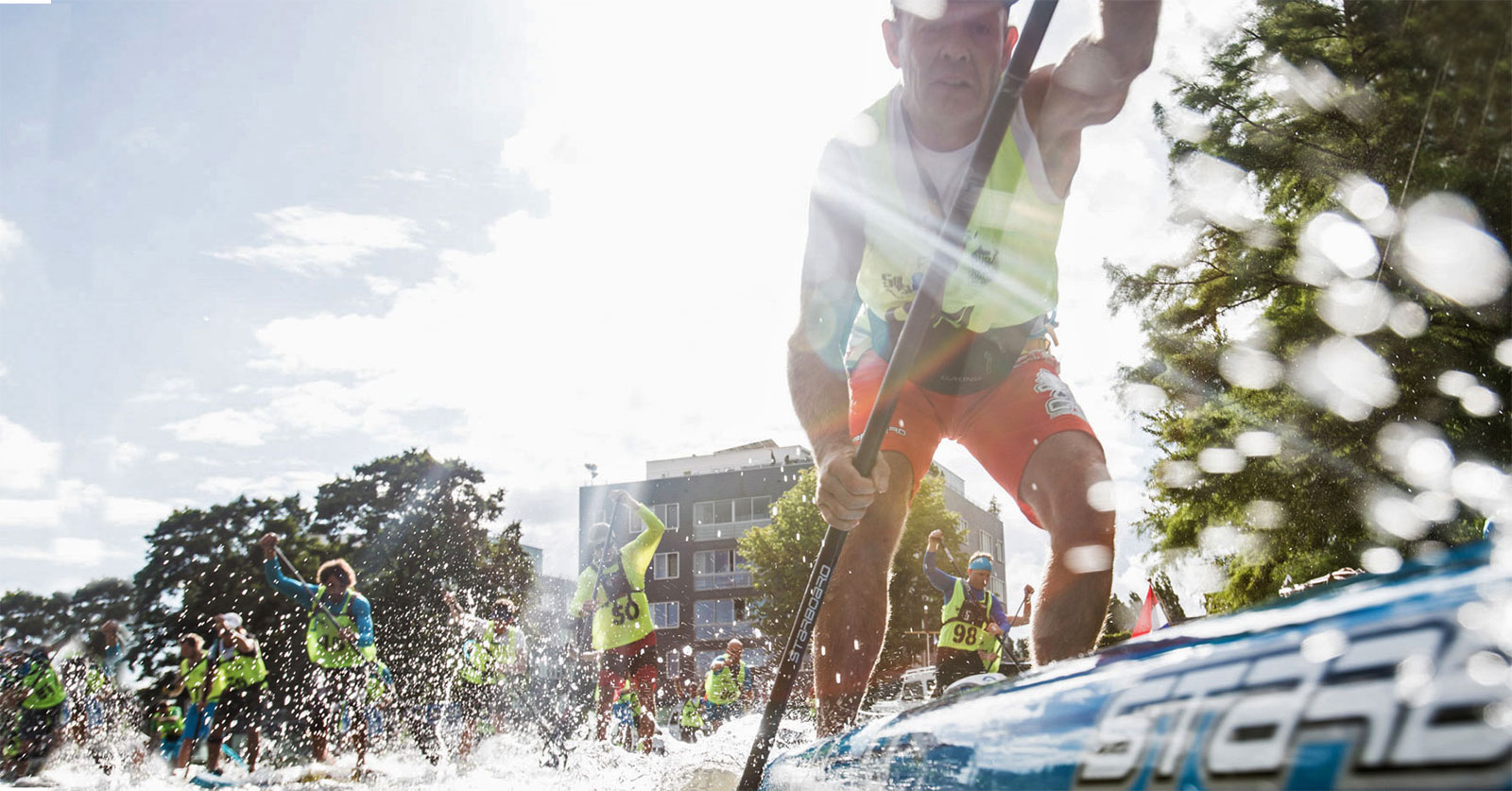 September 6, 2016
by Bart de Zwart
"This Race Will Change You" — Bart de Zwart's Interesting Insights into the 11 City Tour
Boss Man's note:
Yesterday I
previewed the SUP 11 City Tour
, aka "The Ultimate Challenge", the classic five day stage race that begins tomorrow in the Netherlands. It's one of the grandest events in the world of stand up paddling.
But while I've had a bit of experience with this race myself, absolutely nobody can match the experience of Bart de Zwart, the four-time champion who tomorrow will line up for his eighth-straight 11 City Tour; he's been there every year since this race began way back in 2009.
So on the eve of the race, I asked Bart to share some of his personal insights into what makes this race unique and special. Here's what he had to say…
---
This race has evolved a lot over the years. What started out as an invite only event back in 2009 has grown into a field of over 100 paddlers from 27 countries. In the early days, this was considered by far the longest SUP race in the world; now we're doing races three times the length.
But the SUP 11 City Tour is still unique within our sport. And it's still one of my absolute favourite races. I love the stage race format, the atmosphere among the competitors and the whole "Tour de France of SUP" feeling. It's a really well organised event that has a very special "vibe" about it. Sometimes it feels like a camping adventure for (almost) grown ups.
There are very few races around the world where you get to really know your fellow competitors while at the same time racing and pushing yourself very hard. For many paddlers the 11 City Tour is the ultimate distance race they will ever do.
This year for me has been all about doing the ultra long distance SUP races. The 11 Cities is only one part of the many kilometres I will paddle this year (Boss Man's note: Bart is being modest — "many" means 1,845km to be precise), but it's the only race I have competed in so many times. This is my eighth year racing at home in Holland (I live on Maui but was born and raised in the Netherlands, just in case my surname didn't make that obvious enough already).
I believe it's quite interesting to look back at not only the evolution of this particular race but also the boards we are paddling. Back in 2009 when I first did the 11 City Tour, Starboard had only been making stand up paddle boards for two years. We've come a long way since then.
For the very first edition of the 11 City Tour I paddled the old "K15" — a board that would technically be a foot too long by today's 14′ standards. Plus that board was 30 inches wide, so it would also be totally obsolete by today's race board standards.
After that I started racing on the 14′ Ace, first the 26 inch wide and then the 25 inch model. By 2012, Starboard boss Svein Rasmussen had started pushing for pure flat water race boards, which is when the famous "Sprint" design started appearing. I began by using the 14 ft by 25 inch wide model, then the 24″ and then the 23.5″ model.
But this year, tadaaa! We now have a 21.5 inch wide Starboard Sprint. But the crazy thing is, it feels almost as stable as the 23.5″ model… A few years ago I would have said it's impossible to race on a 21 inch wide board, but even for me (and I'm no world champion in balancing) the board works totally fine.
So from 2009 to 2016, my board is now almost one third narrower than when I started.
Each of my four victories in the SUP 11 City Tour have been tough battles. I've always had to fight right til the end. Last year I had my worst result ever, which was a 6th place finish, and I still had to fight even for that.
After my bad result last year, I said I would only return this year if I thought I could win it… So I've been training hard to be able to offer my rivals some resistance.
The Hasulyo Brothers (Bruno and Daniel) have returned for their second attempt and have been training and racing very strong this year. Last year's champion was Steeve Teihotaata from Tahiti — he's another really strong competitor that can paddle all day at the same pace.
I also believe that Florent Dode (runner-up to Steeve last year) will be doing the five day race again. Amazingly, Florent is actually out on the course right now completing the "Non-Stop" version of this race [EDIT: He just won it in a record time of 25 hours!]. It's quite remarkable that he will turn around and do the exact same 220km (136 mile) course all over again with less than a day's rest in between.
The only guy missing from last year's top 7 finishers is Peter Bartl (2013 champion) who was a late withdrawal from injury but sounds eager to return in the future.
Apart from the experienced 11 City campaigners, there are always some dark horses in this race. I know this year there will be competitors from far and wide including nations such as Brazil and Israel. It's also great to see the battles in the middle of the pack, where competitors are fighting hard to get the final place in the top 10 or the top 20 or just to beat their friends and training buddies. There are so many races within the race.
Right now the weather forecast looks quite good for this week. I was actually hoping for a rough, stormy week, which would really challenge everybody and allow some big time gaps to open up instead of one long draft train. Those are my kind of conditions. But with no wind and lots of sunshine (which I admit most competitors will be quite happy with) I expect the overall times to be very close this year.
I still hope we can force some breakaway moves (like what we see in the Tour de France) to keep things exciting and unpredictable. This race can easily be won or lost on the first stage, especially the infamous lake that we paddle across right before the finish. It's often windy and bumpy and can produce some big time gaps in a short distance.
If you get a big lead on your rivals on day 1 then all you have to do is sit on their tail for the rest of the week. So the opening stage is key. But every day it's possible to lose or make up time. The 11 City Tour is such a long race — we're paddling for at least five hours per day, so even a 1% positive or negative can create a big gap by the end of the stage.
During the ultra long distance races I've already done this year (the Yukon River Quest and the Missouri River MR340), I have learned a lot about which foods work for me and how important drinking electrolytes are on the warm and sunny days. To do well in a race like the 11 Cities, the food and drink are probably the most important factors (apart from the training of course).
I will race with an endurance drink (Hammer) in my water pack, which I take no matter how long or short a race is. This is important because using gels might be ok in a two hour race, but most people don't have the stomach to use them for several hours in an endurance race.
The other thing I love about the 11 City Tour is the race strategy. This race is so complex that a good or bad strategy can easily mean the difference between a good (or bad) result, no matter how well you have trained.
You can't race at 95% for five hours per day, five days in a row. You need to be smart and divide your energy during each stage. You need to calculate when to sit in the train, when to push hard at the front, and when to try and break away from the pack.
Unfortunately in stand up paddling you can't sprint away like they do in cycling. Sprinting in SUP is more like a slow motion version of the "attacks" you see in the classic cycling races like the Tour de France. Even increasing your paddling speed by just a few tenths of a kilometre can take a lot of effort, so if you put in a burst and attack, you really need to make sure it's going to be worth it otherwise you're wasting valuable energy.
Finally: these ultra long distance races are very much a mental challenge. We can throw around clichés such as "Mind over matter" and "Pain is only temporary" but these are actually very true in the SUP 11 City Tour. If you believe you can do it, you really can.
Good long distance paddlers learn two things over time: One is how to delay (or ignore) the temporary physical discomfort (aching muscles, blisters and other pains), while the second is being able to embrace the feeling of joy and happiness when you actually cross the line to finish the race and conquer the challenge.
So for everybody doing the race this year, I wish you good luck, or rather, I wish you a good effort and to enjoy the arrival at the finish line.
For everybody following from home, I hope you can learn and be inspired by this ultimate challenge, and perhaps next year we will see you on the start line of this very special race. This is a unique challenge; completing a race such as the 11 City Tour will really force you to learn something about yourself. This race will change you; mostly for the better!
Bart is sponsored by STARBOARD, Patagonia, Supskin, Maui Jim, Robijns bv, Camelbak, Suunto, Black Project Fins, Kanaha Kai Maui and his wife Dagmar
The SUP 11 City Tour begins on Wednesday morning local time. You can follow the race from Wednesday to Sunday with the live GPS tracking map; SUP Racer will post results and daily recaps, while the official Facebook page has lots of photo updates as well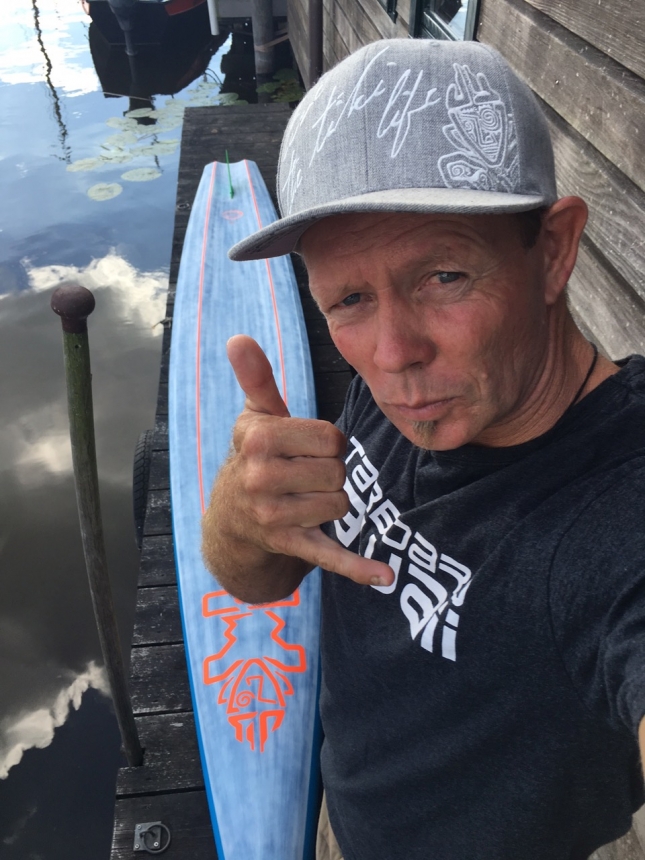 [notdevice] [/notdevice]