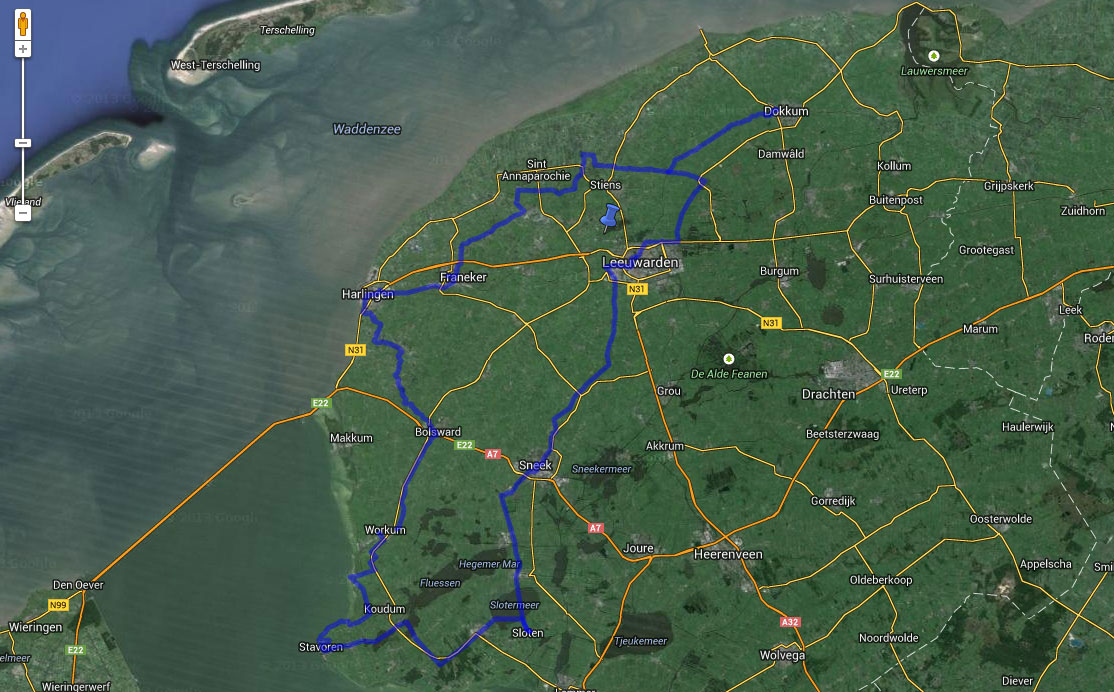 August 30, 2014
by Christopher Parker (@wheresbossman)
Sneek? Hindeloopen?! Get To Know The SUP 11 City Tour (All 200kms Of It…) With These Interactive Course Maps
We're just a couple of days away from the start of the 2014 SUP 11 City Tour… [notdevice]As that anxiety-inducing clock over there to the right suggests, we're into the final countdown for the world's longest/craziest/why-oh-why-did-I-agree-to-this SUP race.[/notdevice]
Just over 200 kilometres (124 miles) of racing across five days. It truly is an epic adventure. Though with its maze of canals, endless green fields and place names that sound like they were plucked straight out of a Harry Potter novel (Sneek? Hindeloopen?!), the SUP 11 City Tour certainly takes some navigating.
So to give you an idea of exactly where we'll be this week, here are the full course maps for the SUP 11 City Tour, thanks to the official 11 Cities organising crew.
These are fully interactive Google Maps, so you can play around, zoom in and out and see exactly where on earth the SUP 11 City Tour takes place.
And remember we'll have full coverage of the 2014 SUP 11 City Tour thanks to the good ship Mistral. I'll be racing all week on a Mistral inflatable, while Steve West and the Mistral crew will be tracking my journey and sending out daily recaps and photos of the pain adventure.
The official 11 City Tour organisers were also the pioneers of live GPS tracking chips in SUP racing and we'll have those real-time maps available for you as well.
Should be a fun trip.
In the meantime, here's exactly what I've gotten myself into…

Day 1: Leeuwarden to Sloten (via Sneek and Ijlst)
Stage 1 / Wednesday 3rd September / 43km (26.7 miles)
Start time: 9am / Finish time: 2pm-6pm

View SUP 11 City Tour stage 1 in a larger map
Day 2: Sloten to Workum (via Stavoren and Hindeloopen)
Stage 1 / Thursday 4th September / 45km (28 miles)
Start time: 9am / Finish time: 2pm-6pm

View SUP 11 City Tour stage 2 in a larger map
Day 3: Workum to Franeker (via Bolsward and Harlingen)
Stage 3 / Friday 5th September / 42km (26 miles)
Start time: 9am / Finish time: 2pm-6pm

View SUP 11 City Tour stage 3 in a larger map
Day 4: Franeker to Dokkum
Stage 4 / Saturday 6th September / 43km (26.7 miles)
Start time: 9am / Finish time: 2pm-6pm

View SUP 11 City Tour stage 4 in a larger map
Day 5: Dokkum to Leeuwarden
Stage 5 / Sunday 7th September / 27km (16.8 miles)
Start time: 10am / Finish time: 1pm-4pm

View SUP 11 City Tour stage 5 in a larger map
SUP 11 City Tour: Complete Course

View SUP 11-City Tour – complete course in a larger map