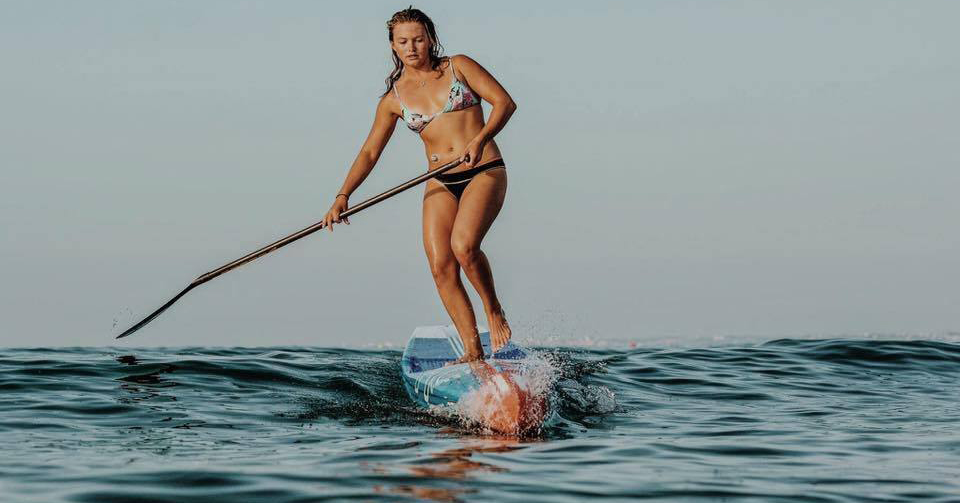 June 10, 2016
by Christopher Parker (@wheresbossman)
EuroTour Week 6: Preview of the Showdown in San Sebastian (plus the Live Stream Countdown)
After the easiest travel week of the summer, the 2016 EuroTour presented by Starboard continues on to Week 6, with tomorrow's San Sebastian Paddle Tour set to be another entertaining (and highly competitive) showdown between the internationals and the Europeans. And you can watch the whole thing LIVE with our EuroTour Starboard Live Stream presented by VMG Blades on Saturday morning.
Following the big battle of Bilbao last weekend, the Tour has stayed within the beautiful Basque Country for the next stop, moving just half an hour up the road to the awesome seaside city of San Sebastián (or "Donostia" as it's known in the Basque language) — home to some of the finest pintxos on the planet.
The light travel week gave both athletes and organisers alike (not to mention the media…) a chance to relax, recover and take in a few of the sights around this amazing part of the world. But tomorrow it's race day once more, and once again it looks set to be a mighty competitive battle on what might just be the most interesting race courses of the entire summer.
We had a feeling the European Summer of SUP would start calming down after the three EuroTour "Headline Events" in St. Maxime, Lost Mills and Bilbao, but it looks like tomorrow's race will be yet another big one.
The San Sebastian Paddle Tour is a 2-star event on the SUP Racer World Rankings, meaning it'll score a guaranteed minimum of 20% on the Race Index. However the men's event will easily exceed its minimum and will land somewhere closer to 30%, with the likes of Connor Baxter, Titouan Puyo, Michael Booth, Jake Jensen, Leo Nika, Trevor Tunnington, Martin Letourneur, Roman Frejo, Zane Schweitzer and a whole stack of top gun Europeans ensuring this is yet another super competitive week for the Tour.
It'll be very interesting to watch the battle between Starboard team mates Connor and Boothy continue, with the Aussie no doubt itching to get one back after a close (and somewhat heated) finish in Bilbao last weekend.
And there could be a LOT at stake; If Boothy wins tomorrow, he'll go very close to claiming the overall EuroTour championship title for 2016. We're doing some last minute calculations right now, but if Boothy does win this weekend, it's going to be a photo finish between him and Connor.
UPDATE: I've run the numbers and if the current starting lineup of elite athletes holds, San Sebastian will score 29.0% on the Race Index. And if Boothy wins, he'll move up to 107.00 points on the EuroTour Leaderboard — Connor is currently on 106.50… So if Boothy wins tomorrow, he will almost certainly win the 2016 EuroTour title, and he'll do it with the slimmest of margins. I'll confirm these numbers in the morning, but it looks like we could be in for a whole new dimension being added to this race!
Titou is certainly due for a win though, with the NSP/Quickblade team rider having a heartbreaking finish last weekend where he was knocked off his board at the final, chaotic buoy turn and had to settle for an uncustomary 7th place. That came after two straight third-place finishes behind Boothy and Connor, so no doubt the Frenchman will have plenty of motivation. Though will he be tired? Titou has been competing up the road in France for the national selection week, earning a ticket to Fiji after doing four races in the past four days.
These three guys – Connor, Boothy and Titou – along with Italy's Leo Nika are currently holding down the top four spots on the EuroTour Leaderboard, and will no doubt start as favourites once again.
But really, any of the names I mentioned above could win this thing. It's also great to see so many second-tier European athletes stepping up and keeping pace with the top-tier internationals this summer, with Leo in particular leading the charge for the new wave of Italian paddlers (who have been affectionately nicknamed the "Italian Mafia").
Also keep an eye on Trev, who will be hunting a good result before heading back home to Oz next week. Jakey boy has been improving every week and will fancy his chances as well, while the always-energetic Zane Schweitzer makes his EuroTour debut and will no doubt add some flair to the proceedings.
On the women's side, world number four Fiona Wylde will surely start favourite, though she'll have some stiff competition from the likes of newly-crowned French champ Olivia Piana, fellow Top 10 athlete April Zilg, Spanish hopefuls Laura Quetglas and top junior prospect Cyara Palenzuela, as well as a few other dark horses from France and Spain.
The San Sebastian Paddle Tour also has the honour of hosting one of the biggest kids races in Europe, with the "niños y niñas" traveling from far and wide to compete this weekend in what is a great sign for the future of the sport in the region.
(Oh and don't forget the epic Red Paddle Co "XL Race For Glory" as part of the Sunday Funday.)
The course here in San Sebastián – the picturesque seaside town that is the official 2016 European Capital of Culture – will test the paddlers, with a cominbation of ocean, wind, waves and flat water. The course begins on the main beach – La Concha – that's somewhat protected by a giant rocky island, but the paddlers will soon navigate out into the open ocean, which is looking mighty bumpy and backwashy today, before heading round the corner into the protected river.
This will be the most interesting part of the race — this river is so shallow that you can't even paddle there on low tide, so even at high tide (when the race begins) there's still a good chance of waves, or at least rideable swells, running throuhg the river mouth. So if the backwash from the sloping cliffs of the main headland didn't already do the job, look for the draft trains to get totally broken up — this is definitely where the top paddlers will want to make a move…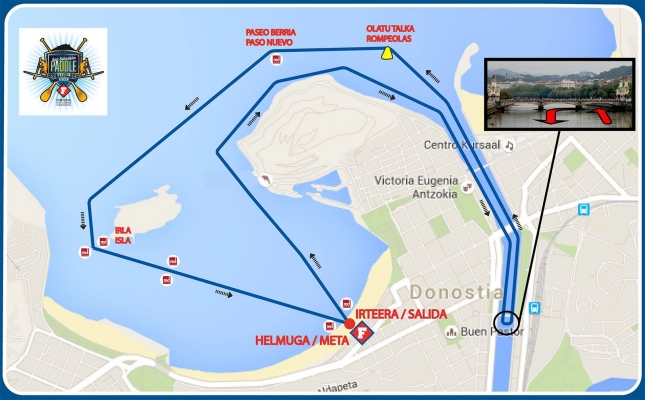 [notdevice] [/notdevice]
Here's a full map of the long distance course, which certainly is long this week — at approximately 17kms, this is almost the same as the Lost Mills (18km), and considering the conditions, it'll be even tougher (and more entertaining). The elite paddler will do two laps of the course above to complete the full 17kms.
Once again we'll have our EuroTour Starboard Live Stream presented by VMG Blades up and running over on the SUP Racer Facebook page, and once again you can win a pro carbon race fin designed in Australia with our VMG Blades Predictions Contest — simply jump on at the start of our live stream, leave your prediction of who's going to win, and you could be a winner too.
After some annoying internet drop-outs during the race last weekend, we've found a stronger mobile connection this week. Will it go smoothly? Who knows, but I feel like that's the beauty of these live streams — it's totally unscripted and on the fly, which means literally anything can happen (as we saw with the interesting twist that happened during the post-race interviews in Bilbao).
It's also great to see the interactive community element play out, with everyone being able to see everyone else's comments rolling through the live stream during the race. So jump on there tomorrow and give a shout out to your favourite paddler.
While it's not quite ESPN, hopefully these live streams give you a nice little window into the fun and excitement of this year's EuroTour, which has certainly taken us to some incredible locations. And San Sebastian is one of the best, so check back tomorrow to see how it unfolds.
The main event, the elite distance race (which holds all the points and prize money), starts at 11:30am local time on Saturday, and we'll try to be on air 5-10 minutes before that to bring you a quick preview from out on our lead boat (check below for your own time zone).
After a week of warm sunny conditions, it's a little rainy here in San Sebastian today, however it should clear up before the horn blows in the morning to give us a clean view of the action. Though there's certainly been no lack of wind, so we should see quite a few lumps and bumps out there tomorrow.
See you in the morning. Now, time for some more pintxos…
---
Countdown to the EuroTour "Starboard Live Stream" presented by VMG Blades
San Sebastian Paddle Tour – Week 6 of the 2016 EuroTour presented by Starboard

[notdevice][tminus t="2016-06-10 23:25:00″ style="hoth" omitweeks="true" /][/notdevice][device]### Sorry, our funky countdown clock doesn't work on mobile view, so just be sure to check back in at 11:30am local time on Saturday morning ###[/device]

Remember to jump on at the start of the stream and leave a comment with your predictions, and you could win yourself a brand new VMG Blades carbon race fin.
Race starts 11:30am local time on Saturday, which is on the same timezone as our loyal crew that's been tuning in every week from South Africa.
For everyone else, 11:30am in the Basque Country is 11:30pm Friday night Hawaii time, 5:30am Saturday morning Florida, 4:30pm Saturday afternoon in Thailand, and for once it's *prime time* in Australia — around 7:30pm Saturday night on the East Coast.
Google "What's the time in San Sebastian right now?" to calibrate with your own part of the world.
We use 'Facebook Live' for our streams, so head on over to the SUP Racer Facebook page as soon as the timer hits zero…
---