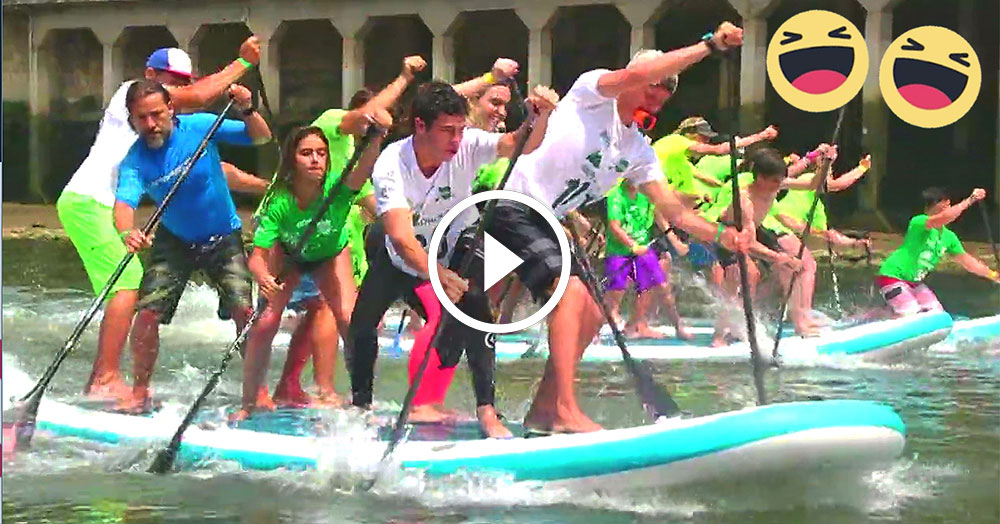 June 6, 2016
by Christopher Parker (@wheresbossman)
The Most Entertaining Race of the Summer; The Red Paddle Co "XL Race For Glory"
[notdevice][fbvideo link="https://www.facebook.com/goSUPracer/videos/1036814253069292/" width="645″ height="363″ onlyvideo="1″][/notdevice][device][fbvideo link="https://www.facebook.com/goSUPracer/videos/1036814253069292/" width="322″ height="181″ onlyvideo="1″][/device]
Ok so this was definitely the most entertaining race of the EuroTour so far; The Red Paddle Co "XL Race For Glory" at the Iberdrola Bilbao World SUP Challenge here in the beautiful Basque Country yesterday.
Forty paddlers. Five giant inflatable paddleboards. One crazy fun sprint race.
Congrats to Mo Freitas and Noa Hopper, who I believe captained the winning team. Kinda hard to tell who really won though, as the whole show descended into a chaotic free for all at the finish line. Good fun!
For the board lovers and curious minds, were using the "XL Ride" board from Red, which is 17 feet long and 60 inches wide; You can get more info about this board over on the official site.
The XL Race For Glory will feature at several more stops on the EuroTour through June and July, so keep an eye out for more cool footage like this.
Oh and here's the reverse angle:
[notdevice][fbvideo link="https://www.facebook.com/hotelmiro/videos/10154292538987009/" width="645″ height="363″ onlyvideo="1″][/notdevice][device][fbvideo link="https://www.facebook.com/hotelmiro/videos/10154292538987009/" width="322″ height="181″ onlyvideo="1″][/device]