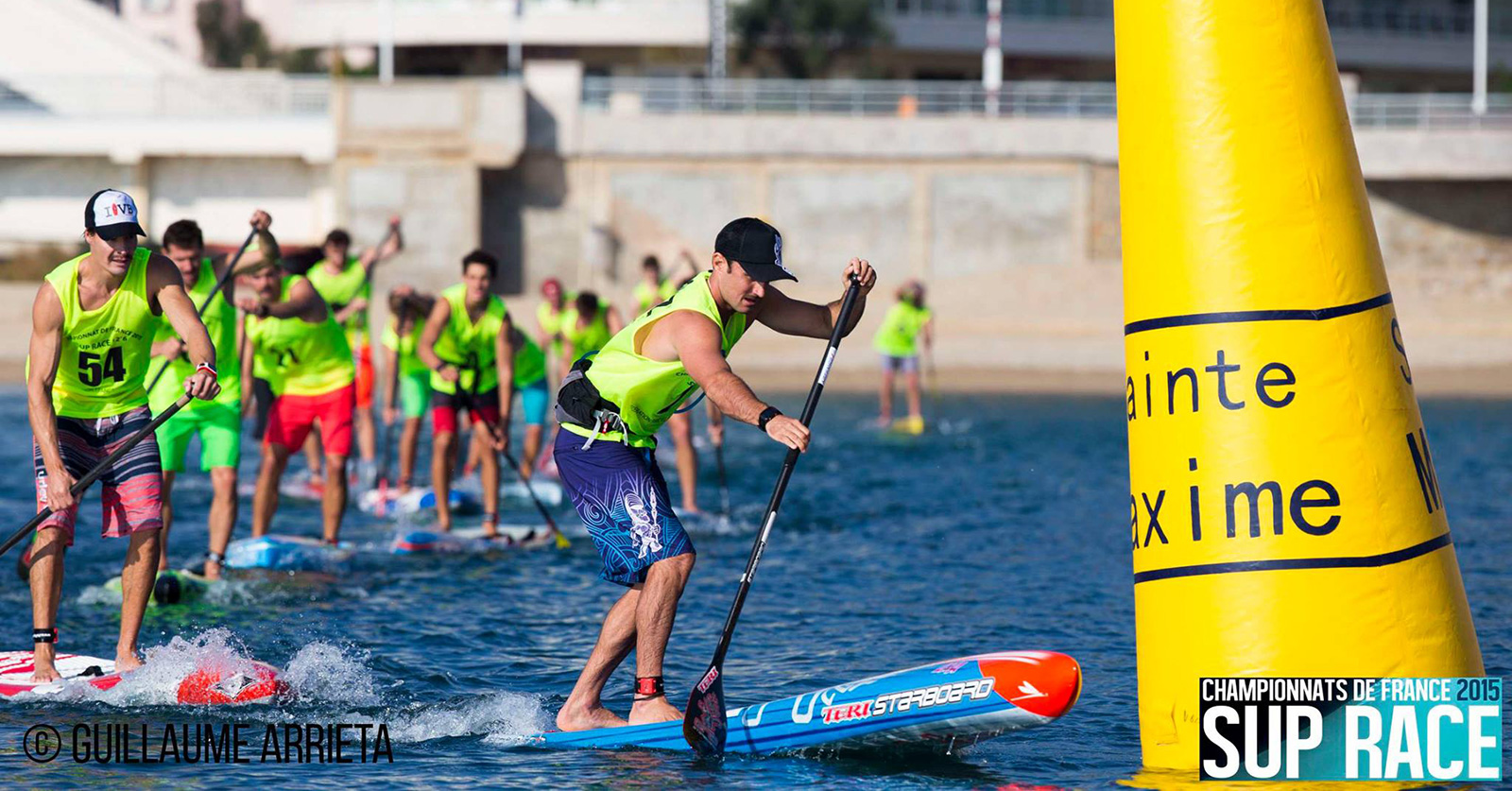 November 14, 2015
by Christopher Parker (@wheresbossman)
Champions of France: Titouan Puyo, Céline Guesdon Sweep National Titles, Look Ahead to 2016 Worlds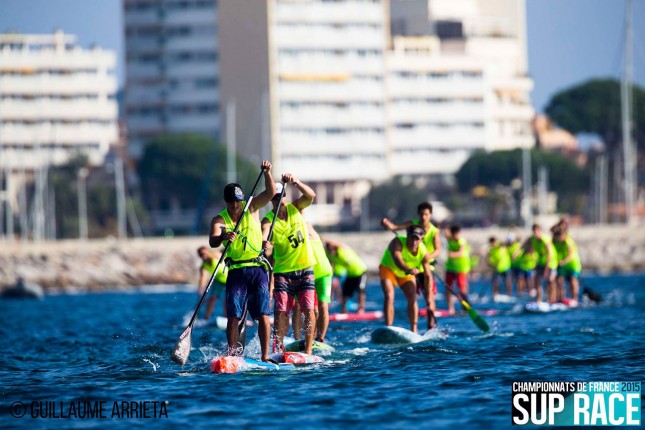 Sunday update (distance race)
Titouan Puyo and Céline Guesdon are the undisputed champions of France, making a clean sweep of the national titles in St. Maxime this weekend. Titou and Celine both pulled off the double, winning Saturday's course race before backing up a day later in the distance event.
This caps off a big year for Titou, with the Starboard team rider enjoying a string of big results to move inside the top five on the world rankings leaderboard. France's other top 10 world ranked paddler (and defending event champion), Arthur Arutkin, gave Titou the most resistance this weekend and bagged a pair of very solid runner-up finishes.
France is one of the strongest paddling nations on the planet and the talent pool runs deep, which made the 2015 French Championships an extremely competitive affair.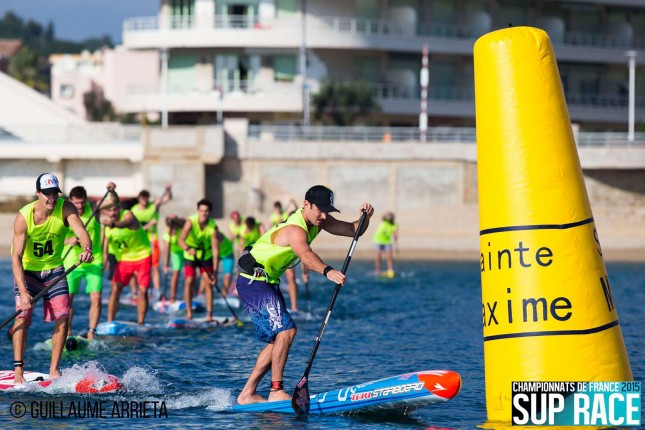 The 2015 Championnats de France de SUP Race act as the main selection event for the French team that will compete at next year's ISA Worlds. The winners today go a long way towards securing a spot, with the final lineup decided next month during France's traditional 'Selection Week' event.
Others to impress were rising star Martin Letourneur (3rd yesterday and 4th today), while Eric Terrien had something of a return to form after a horror year of results. French paddling stalwart Greg Closier had a great result on Saturday, coming home 4th in what was a vintage performance.
Greg was one of the guys celebrating Movember, with Titou, Vincent Verhoeven, Florent Dode and a few of the other boys turning back the clock to the '70s:
[device] [/device]
It was also good to see the juniors stepping it up with strong performances this weekend: Martin Vitry was not only the champion junior, he was also very competitive in the open division, finishing 5th today after a 6th place finish in Saturday's course race. Titou's fellow New Caledonian, Clément Colmas, took out the under 15 division ahead of another name to watch in the future, Jules Langlois.
The women's podium was identical in each race, with Olivia Piana scoring a double runner-up while Amandine Chazot was third on both days.
Looked like a great weekend in St. Maxime, with clear skies and relatively warm conditions (at least for this time of the year) setting up perfect conditions for racing. Though no doubt there was a sombre mood in the air, with Friday night's horrific attacks in Paris casting a shadow over the event. Competitors observed a minute's silence before the start of today's competition.
As always, check both the French Surfing Federation on Facebook and TotalSUP for full coverage. Here's a great photo gallery from yesterday.
(Click to view the FULL RESULTS)
Open Men Distance
1st: Titouan Puyo
2nd: Arthur Arutkin
3rd: Eric Terrien
4th: Martin Letourneur
5th: Martin Vitry
Open Women Distance
1st: Céline Guesdon
2nd: Olivia Piana
3rd: Amandine Chazot
Under 18 Boys Distance
1. Martin Vitry
2. Gabriel Bachelet
3. Yanis Maire
Under 15 Boys Distance
1st: Clément Colmas
2nd: Jules Langlois
3rd: Victor Heyberger
Get the full results including finishing times right here
And here are Saturday's results again…
Open Men – Course Race
1. Titouan Puyo
2. Arthur Arutkin
3. Martin Letourneur
4th: Greg Closier
5th: Eric Terrien
6th: Martin Vitry
7th: Gaetan Sene
8th: Gaby Bachelet
9th: Arthur Daniel
10th: Joseph Gueguen
Open Women – Course Race
1. Céline Guesdon
2. Olivia Piana
3. Amandine Chazot
Under 18 Boys – Course Race
1. Martin Vitry
2. Gabriel Bachelet
3. Jean Letourneur
Under 15 Boys – Course Race
1. Clément Colmas
2. Jules Langlois
3. Victor Heyberger
---
Monday Update…
Here's the official recap from Surfing France, including quotes from the winners…
Technical race and Long Distance winners, Titouan Puyo and Celine Guesdon were untouchables during the two days of the French National Sup Championships, held in Sainte-Maxime this week end, a tiny mediterranean village in the south east of France.
Conditions were just perfect despite a very flat stretch of water and a quite small breeze. In full autumn, the temperature in this region was very favorable (20° celsius) on this sunny week end.

Despite the terrorist attacks in Paris the day before, the annual championship was confirmed by the French Surfing Federation. In memory of the victims, an emotional minute of silence was fully observed by all the athletes, volunteers and officials on saturday.

On one year after the Arthur Arutkin's great doubled at Quiberon (Brittany), Titouan Puyo imitated his friend by removing both major titles of the sixth French championships of Sup race. Hardly of its four national titles (Open and U18 in 2014), Arutkin thus stayed twice in the trail of Puyo this year. The Nordist recognized he even on arrival as the New Caledonian had been above all year.

Arutkin explodes the pack, Puyo attacks with power

Surprising Long Distance French champion in 2013, Puyo gets back his crown, once more in the Mediterranean Sea. On Sunday, the New Caledonian perfectly managed his business on a plan following the coast to the south of Ste Maxime, before going back on the island of the sandbank, to finish by a very slippery straight line of 3 km. At first by letting Arutkin make the job by attacking, then by controlling the pack to return towards the titleholder.

In the bend of the island, Puyo then placed a high-powered attack which only Arutkin was able, one moment, to follow. Doubtless more freshly than his opponents at this end of season, because he did not wish to follow the Sup World Series this year, Puyo, ISA 2014 world champion of the speciality, confirms that he is french n.1 in 2015. Although dispossessed of its titles, Arutkin positions at the same level on the performance and the regularity. In any case, both rowers dominate the french SUP.

Bow of hat to Terrien

Bow of hat to Eric Terrien who, as the last year, mounts the podium. At 34 years old, the captain of the French team and with times french, knew how to contain in the physical appearance and in the experience the ardour of the young Martin Letourneur (4th place) and Martin Vitry (5th place) to offer itself a new podium. Terrien is « the intruder » of the top 5 French riders compound of rowers from 18 to 24 years old, what demonstrates that French Sup has a great generation.

Céline Guesdon definitively #1

French Champion of France titular on the Long Distance, Céline Guesdon keeps her crown and, especially, realizes too him doubled after her victory of the day before. In a new duel of Mediterranean, Guesdon has second time in 24 hours got the upper hand over Olivia Piana. Placed in its trail from the beginning, Piana tried for a long time to take over that prevented him the rhythm and the insurance of its strength of Guesdon. In a last uncertain quarter of race, Guesdon finally accelerated with the light wind in the back, to put down Piana.

The return of Olivia Piana on Nationals after missing it last year and a long wound in the foot, allowed to judge the level both better French riders. At the end of this weekend, it is clear that Céline Guesdon is definitively n.1 French. A status which Piana is obviously going to try to push knock down in the coming years. Pulling in her trail of new heads as Amandine Chazot, champion of France 14 feet last month to Crozon, necessarily is to be kept a close watch.

The rising of the new generation

As Puyo and Guesdon, two other competitors made the doubled on these championships. Double champion of France titular to under 15 years, the New Caledonian Clément Colmas widely dominated his category of age both races of the weekend. Better, he offered the luxury to run with Open the long distance on Sunday and to take the overall 12th place ! Almost identical report for Martin Vitry, doubles champion in under 18 division and 5th of the Long Distance Open division. You said succession?

REACTIONS

Titouan Puyo (French champion Open division)

"I am very satisfied to take back this title because it is the one who had allowed me to know me in the small world of the French SUP (victory in 2013, editor's note). I had been left unsatisfied last year on a complicated race (at Quiberon, Brittany, editor's note). I was really eager to take back this title. That of yesterday (Saturday) on the technical race, it is of the bonus! I had a little of evil over the beginning of the race today (sunday).

I always have from the difficulty to balance with the crosswind and a narrow board. Arthur Arutkin made the gap on this passage but I knew that we were going to resume him. And I trusted because we were going to have the wind in the back in the last part. I turned in head in the island and with Arthur we left It was testing because he returned ceaselessly. I was rather regular on all this part, by sliding well. Arthur has can be a little drawn from the first part. This result confirms that we are both on a good season."

Céline Guesdon (french champion ladies division)

"I am delighted to have these two titles. It was important to have that of yesterday (Saturday) in technical race. As a result, I did not see making 2nd or 3rd today (sunday). Even if I thought of it … I am thus delighted by this victory. We left to the sprint, I passed in head in the first buoy. Olivia Piana and Amandine Chazot were behind me in the draft. Chazot had a blow of warmth and broke us. Olivia stayed in the draft."

Arthur Arutkin (2nd place Open division)

"I very satisfied with this second place. Titouan Puyo is great rower. He was in front of all the season. This year is one year of the second places for me because I also made second in the French championships of windsurfing (two weeks ago, editor's note). That is the way it is. I shall more be motivated last year by the blow! I attacked in the first quarter of the race to get loose and be placed well for the last part. I knew that Puyo was going to return and that that would happen over the end. It is what crossed. We left both. But I was a little bit soft over the end, especially morally. And I had difficulty in giving myself physically."

Eric Terrien (3rd of the Long Distance Open division)

"I am hyper satisfied. I have to have that I had a big stroke of luck for the podium: a boat passed and created bumps youngs, I was able to return on both Martin (Letourneur and Vitry, editor's note) who were in front of me. I am really very impressed by these two boys, they have a big level both. Next year, they will be in front of. That pleases to see this change of generation, as we had moreover planned it this year. At the end of the race, I had small blow of lung, and a problem with my camel back, but I especially tried to moderate and to control. I imagined more the fight for the 4th place. But I had the opportunity of these bumps with the boat. I passed and I turned rushed for the podium."

Olivia Piana (2nd place ladies division)

"I am satisfied but it is not a victory. The victory, it is Céline (Guesdon) who has it. Having said that, I progressed well. I was hurt in the foot for a long time and I was not ready for « France » 2014. I trained to return this year. I knew that the quite flat stretch of water was not going to be favorable for me. But I worked to be successful above. I do not want to be categorized as an athlete of downwind but to be multi-purpose. I wanted to be in the fight with Céline. We paddled for a long time together on this race, I followed her all the way. I proposed her that we take turns but she refused because she felt very well and it is normal. I said to myself, after the island, that I could go there. I have ceaselessly to boost, I gave everything. But she better slid than me. She put me 250 meters. So, nothing to say. I am satisfied by this place. I was burst this weekend."
---
Saturday update (course race)
In brief: Titouan Puyo and Celine Guesdon have been crowned French Champions on day one of the national titles in St. Maxime.
Titou took the title ahead of young guns Arthur Arutkin and Martin Letourneur, while French paddling stalwarts Greg Closier and Eric Terrien rounded out the top five. The field was whittled down to the final after two heats earlier in the day.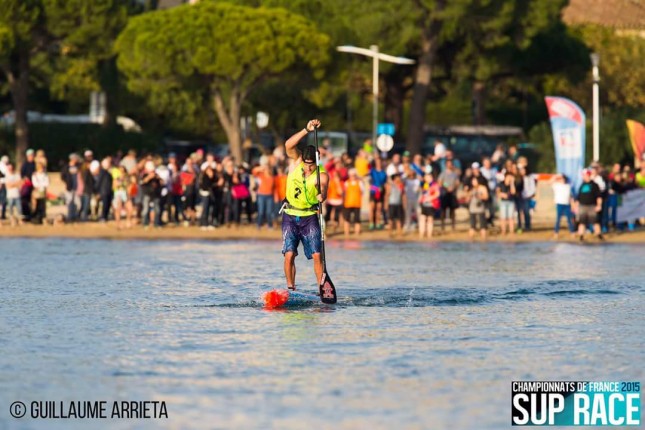 Looks like conditions were perfect for a race. Despite it being late in the year it looked like St. Maxime was bathed in sunshine today though there was presumably a sombre mood in the air though given the tragic events in Paris overnight.
The weekend started with the course race and will finish up tomorrow with the distance event. The 2015 French Championship will help decide the lineup of Team France for the 2016 ISA Worlds, which are due to be held in Fiji, Mexico, Argentina or China.
The final selections for Team France will be decided after France's traditional "Selection Week" event next month.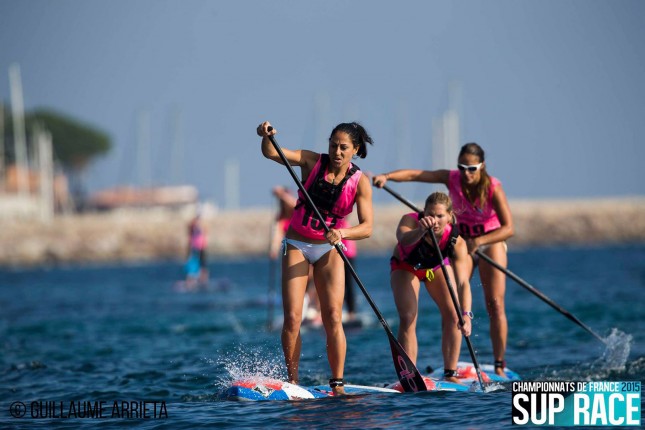 Full results from today's race coming soon. Check the French Surfing Federation on Facebook for rolling updates, photos and video.
There are also more results, photos and videos over on TotalSUP.
Open Men
1. Titouan Puyo
2. Arthur Arutkin
3. Martin Letourneur
4th: Greg Closier
5th: Eric Terrien
6th: Martin Vitry
7th: Gaetan Sene
8th: Gaby Bachelet
9th: Arthur Daniel
10th: Joseph Gueguen
Open Women
1. Céline Guesdon
2. Olivia Piana
3. Amandine Chazot
Under 18 Boys
1. Martin Vitry
2. Gabriel Bachelet
3. Jean Letourneur
Under 15 Boys
1. Clément Colmas
2. Jules Langlois
3. Victor Heyberger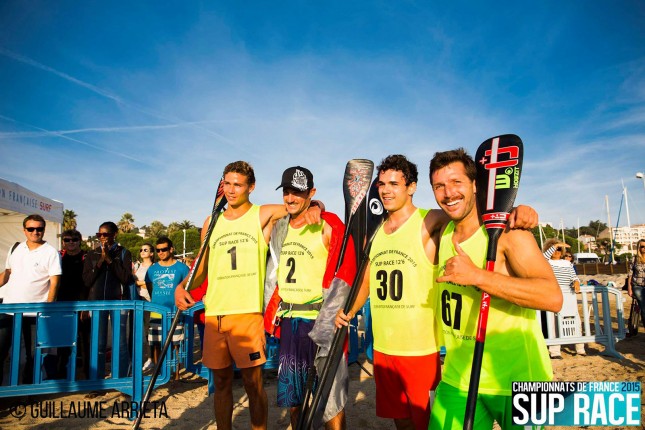 ---
Thursday update (brief preview)
In brief: The 2015 French Championships are happening this weekend in St. Maxime. The winners of these national titles, aka the Championnats de France de SUP Race, Winners will go a long way towards earning a ticket for the 2016 ISA Worlds.
Look out for the likes of Titouan Puyo, Arthur Arutkin, Eric Terrien, Arthur Daniel, Martin Letourneur, Florent Dode, Greg Closier, Martin Vitry, Vincent Verhoeven, Gaby Bachelet, Celine Guesdon, Olivia Piana and the rest of France's finest to battle for the top spots.
(and I'm probably forgetting a few names – France has some serious depth in talent)
We'll have results over the weekend… In the meantime I'll leave you with this great shot from Michel Terrien. This was the 2014 French Championships over on the west coast.
Unfortunately/fortunately (depending on who you ask), conditions won't be anything like this on the weekend. St. Maxime is over on the east coast (home of the SUP Race Cup).